News
Finishing With A Flourish: Mahan, whose previous tour victory came in 2007, secured his second win by playing the last six holes in four under, with an eagle at No. 13.
TGIF, the PGA Tour must have said to itself last week. Thank God It's Feenix. The Waste Management Phoenix Open is less a tournament than a party, one on which it could rely to re-introduce fun to a tour seeking respite from the pall that has been dogging it.
Every hour is happy hour here, a headache in its formative stages. The 16th hole at TPC Scottsdale is a college kegger. The 18th is flanked by dueling beer gardens and a Heineken Skybox, each of them a preliminary to the main event, the 19th hole, better known as the Birds Nest.
"Stage side for OAR at the Birds Nest...nothing like the Waste Management Open!!" Rickie Fowler wrote on Twitter Saturday night.
O.A.R. is a rock band wildly popular among college kids, which is what Fowler would have been had he not elected to leave Oklahoma State after his sophomore season last year. Fowler's got his own medicinal properties for a tour suffering from scandal fatigue, among them style that will wear well with his youth and talent. At 21 though, Fowler is still more about the future. Prepared to claim the present is Hunter Mahan, who at 27 might finally cross the threshold of stardom expected of him. He won for the second time in his six-plus years on tour by playing the weekend in matching 65s that beat Fowler by a shot.
Together the two put on a compelling show to reclaim the tournament from the entity responsible for providing the entertainment for 54 holes -- the crowd, which numbered an estimated 425,905 for the week. Mahan played the last six holes in four under par, while Fowler missed birdie putts of 15, 16 and 34 feet on the final three holes to tie and force a playoff.
Extra holes would only have extended a West Coast swing that mercifully ended as scheduled Sunday. It had been a long two months for a tour marred by mud and mudslinging. It rained in the Palm Springs area, in Los Angeles, in Tucson and even in Phoenix, on Sunday morning at least. There was also the flap caused when Scott McCarron accused Phil Mickelson of cheating with his Ping Eye 2 wedge, and the Tiger Woods controversy that the tour hasn't escaped.
Isn't golf supposed to be fun?
It is at the Phoenix Open.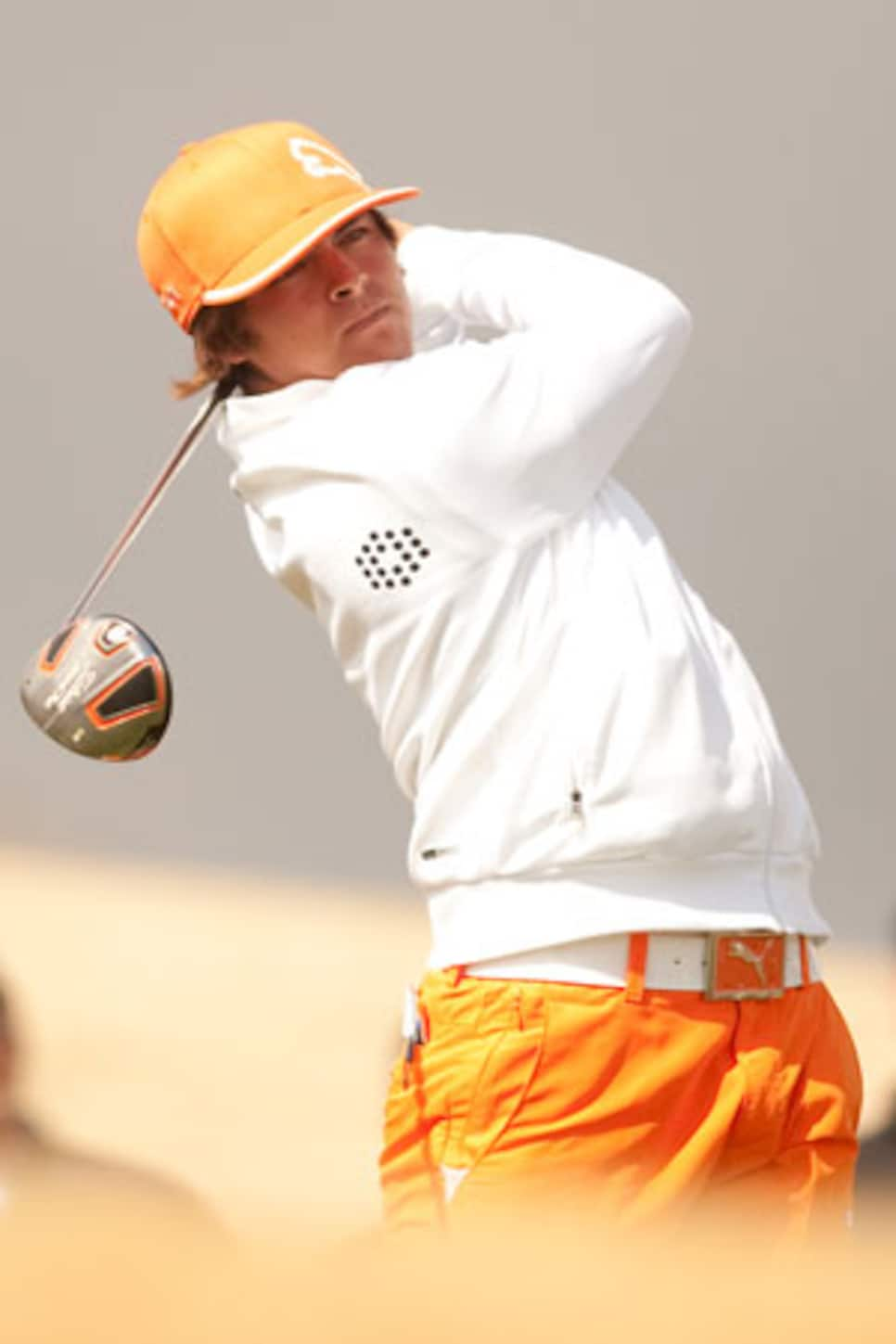 runner-up finish in just 10 starts on the PGA Tour, and
both of them have come in Scottsdale.
"Jenna Jameson," the crowd at the stadium surrounding the 16th hole chanted when Scott Piercy arrived there on Saturday.
"She went to the same high school as me," Piercy said of the adult film star. The school was Bonanza High in Las Vegas, and lest anyone conclude there was anything more to their association, he quickly added, "Not an old girlfriend."
The par-3 16th is the epicenter for the raucousness that separates this tournament from the staid affairs that dominate the rest of the tour schedule. There are no whispers here, no golf claps. It's Animal House with golfers playing through, though Waste Management CEO David Steiner is no Dean Wormer. On Saturday morning, responding to 16th-hole chants of "send us beer, send us beer," Steiner procured a case and distributed it to his thirsty, young constituents in the crowd.
"We need people out here having fun, being excited about being at a golf tournament," third-round leader Brandt Snedeker said in defense of the 16th. "If you can't take it for one hole, good God, get over yourself and have some fun."
Two streakers interrupted play Sunday, a surprise only in that they were a day late; Saturday at this event is the rowdiest day in golf. "Unique," PGA Tour commissioner Tim Finchem said regarding Phoenix. "I don't think it comes as a shock that we've had years where we've had some concerns about pushing the edge a little bit in terms of the atmosphere that's created."
Fowler was more modestly presented than the streakers, even in Cowboy orange pants, though there's scant evidence that a cowboy in this wild west precinct was ever so colorfully attired. Mahan, who also played at Oklahoma State, opted for blue, though he stood out in this crowd anyway. "All around, yes," he said in response to a question as to whether this is as well as he has ever played. "That's why I was so excited about it."
Mahan has been stuck on good for a while now, great eluding him. He won the Travelers Championship in 2007, but nothing else before his Phoenix triumph. In the interim he played on two Presidents Cup teams and a Ryder Cup squad, indicating a level of talent and consistency that lacked only the validation that winning can provide.
"Frustrating," he said. "I've had a lot of success, I just haven't been able to win. It's just finding a way to win. I haven't been able to do it." His form chart suggested he'd have to resume his search in Florida. He came to Phoenix having finished no better than T-27 in four 2010 starts. Twenty-eight holes into start No. 5, his talent took over of its own volition, four birdies in the final eight holes and setting in motion a stretch of golf that flirted with perfection.
"All year everything's been there," said his caddie, John Wood, "but he really hasn't just gone out and played golf. Finally, after 10 holes Friday, he just played. He saw the shots and played them. That was the key. Everybody says you learn the golf swing so you can forget it out there. He just let it go from that point on, and it just was flawless. It almost felt like he couldn't hit a bad shot. His bad shots were going to 20 feet. You can do a lot of damage doing that."
Wielding an old putter he resurrected from his past and a stroke refined through work with Dave Stockton and his son Dave Jr., Mahan made a variety of important putts Sunday, including an eight-footer for eagle at 13 (after a brilliant 246-yard 3-wood second shot), an 18-footer for birdie at 14, a 14-footer for birdie at 16 and a pair of par-saving putts on the final two holes.
Mahan also was unperturbed by a final-round equipment malfunction. On the second tee he cracked the face of his driver. He was fortunate to have done so on a hole adjacent to the players' parking lot. He dispatched his girlfriend, Kandi Harris, to the car to retrieve his backup driver, and it arrived in time for him to use it at the par-5 third.
"The cracked one I've had for three years," he said. "It's been money. So I was a little curious to see how the other one was going to perform. It performed great."
He also was playing without the beryllium Ping Eye 2 wedge, pre-1990, that he has used in recent years. It has the square grooves at the root of the controversy in which McCarron and Mickelson became enmeshed, and he replaced it before the WGC-Accenture Match Play to avoid joining the controversy.
The only controversy turning up Sunday was Fowler's decision to lay up with his second shot at the par-5 15th to a green that offers risk and reward in equal doses. He was left with an 80-yard third shot that spun off the front of the green. He ended up making par, when a birdie would have erased his one-shot deficit.
Fowler was adhering to his belief that anything more than a 5-iron shot tilted the odds in favor of risk prevailing over reward. "It was either a smooth 4-iron or a soft 20-degree hybrid," he said. "It was a front pin and [the green is] not very wide. Obviously, there's water, but a miss right or left, the up-and-down wasn't very easy. If I was a couple back in that position and feeling that I needed to make a few birdies coming in, I would have gone for it. But one back, putting a wedge in my hands from 80 yards, a lot of times I do make birdie there. I felt that instead of bringing trouble into play, I took the safe route, an easy lay-up, an easy wedge shot with a soft green."
The odds of his hitting that green in two, incidentally, weren't necessarily good; of 246 players who attempted to reach it in two, only 76 succeeded, none of them in contention late Sunday.
If the rookie's decision qualified as a mistake, it was the only one he made in a bogey-free round. Maybe his most costly error occurred Friday, when he hit his drive on the short par-4 17th to the front of the green, then four-putted for a bogey that proved the difference Sunday.
Fowler at least is still young enough that losing with victory in reach is not a setback. It was his second runner-up finish in 10 PGA Tour starts as a professional, each of them coming in Scottsdale. Last October he lost in a playoff at the Frys.com Open. "Obviously I'm going to try to play out here as much as I can," he said.
Fowler's future is bright, but Mahan's may be now. "His game's more complete than it's ever been, top to bottom," Wood said. "It was just a matter of time to put things together all in one week."
Mahan is one of only seven Americans in their 20s to have won at least twice. This was an important victory, one that erased self-imposed pressure that could have become an obstacle to winning. "I thought it was important for me to get at least one win this year," he said.
He did so in the midst of a circus, too, fending off a challenge that gave this tournament its imprimatur, a duel in the fun.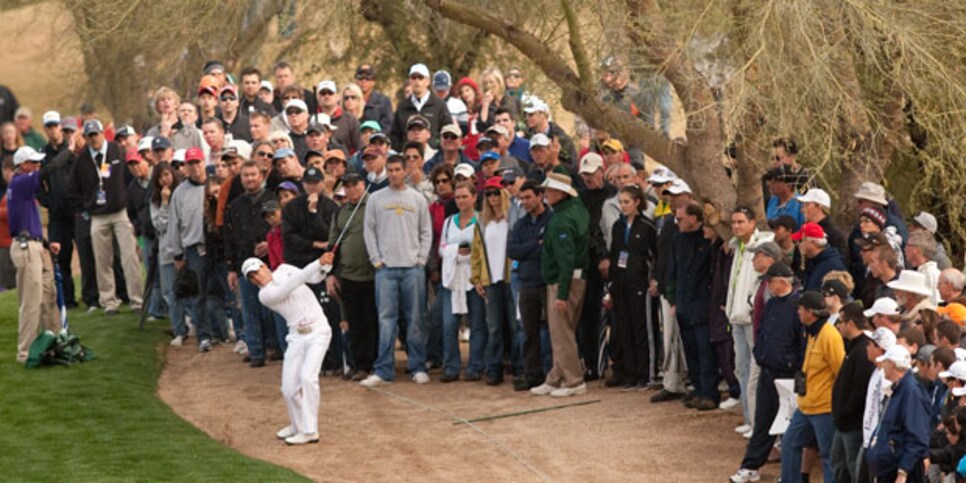 Drawing A Crowd: Even with the week's attendance at TPC Scottsdale off by nearly 10 percent from 2009, Camilo Villegas had a sizable gallery as he played a shot on the fifth hole Sunday.