News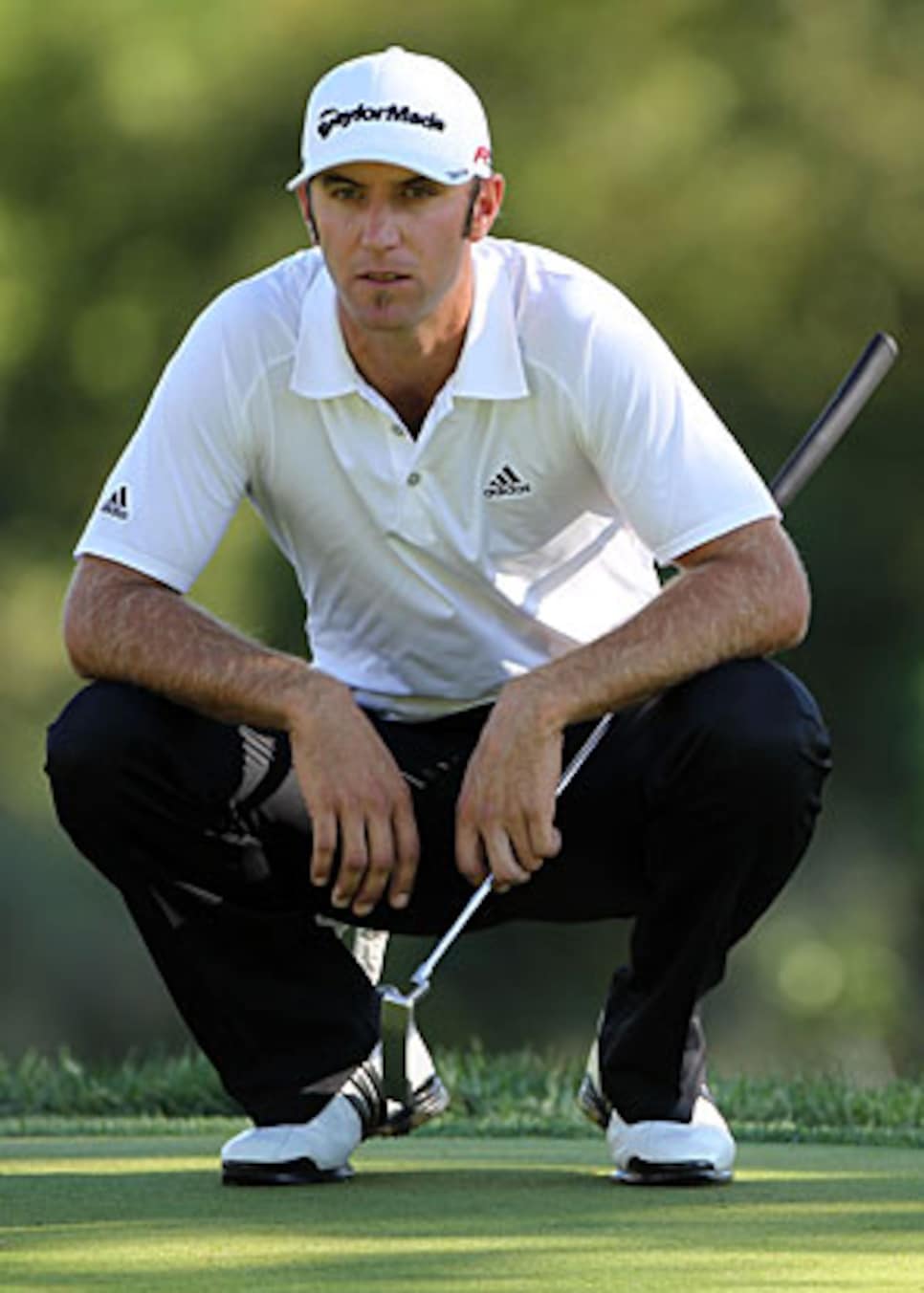 Johnson picked up his second win of 2010 at Cog Hill.
sees lines on golf course that don't exist, his innate ability allowing him to navigate obstacles, even those attempting to infiltrate his head.
On Sunday at the BMW Championship, Johnson maneuvered his golf ball over and around trees and did so with the club that's least amenable to acquiescing to even a great player's manifold skills. On the final two holes, victory within reach, Johnson carved a pair of drivers onto fairways, one helping produce a birdie that gave him the lead, the other a par that gave him a victory.
Those concerned about golf after Tiger
-- not that Woods' career obituary ought to be written just yet, notwithstanding yet another finish outside the top 10 -- ought to start by watching Johnson, who seems to be taking a linear path to superstardom. Only 26, he has risen to 12th in the World Ranking. He's won three times, twice this year, and threatened to win a couple of major championships along the way.
About those majors. Johnson took a three-stroke lead into the final round of the U.S. Open
, shot 82 and tied for eighth. He took a one-stroke lead into the final hole of the PGA Championship
, made a bogey, then was assessed a two-stroke penalty that cost him a place in the playoff.
A pair of catastrophes on the international stage might have buried lesser talents. Johnson, meanwhile, apparently has no scar tissue from his failures. It's the mark of a champion.
"Good athletes don't look at failures," his first coach Jimmy Koosa, at Weed Hill Driving Range in Columbia, S.C., said a few months ago. "They only deal with their successes. I know that Dustin always believes that his next shot is going to be perfect."
Likewise, golf ought not concern itself with what is behind Johnson, instead focusing on what lies ahead of him.
Ordinarily this time of the year Woods would be looking forward to victories in the Tour Championship and abroad to provide the exclamation point to another dominant year.
Now? He will seek to erase the last vestiges of the question mark that has come to punctuate his career. He has left on his schedule the Ryder Cup
and a pair of international tournaments, the WGC-HSBC Champions and the JBWere Masters, otherwise known as the Australian Masters, the last tournament title he has to defend.
"His game is like inches from being there," playing partner Phil Mickelson said on Sunday.
His year might not be salvageable from a performance standpoint, but if he can erase the inches to which Mickelson was alluding, it will have the dual effect of re-igniting his passion for the game and serving notice to the rest of the golf world that 2011 won't resemble 2010.
This wasn't a memorable week for a golf course built with major championship aspirations. It might instead have been a setback for the #4 course at Cog Hill
(nicknamed Dubsdread) based on the headlines emanating from the BMW Championship:
"Dubsdread draws heavy criticism from players." -- Chicago Tribune
"Tour players in one voice taking wrench to Cog Hill." -- CBS Sportsline
"Golfers criticize Cog Hill." -- Los Angeles Times
"Revamped Cog Hill not a hit with pro golfers." -- NBC Chicago
The Dubsdread is 45th in Golf Digest's most recent ranking of "America's 100 Greatest Public Courses," but it historically has aimed higher. It was the late Joe Jemsek's intention to lure a U.S. Open there, a goal that has been pursued by son Frank Jemsek in recent years. Rees Jones, the so-called Open Doctor, was hired to renovate the course with the purpose of enhancing its attractiveness to the USGA.
This can't help: "I am going to echo what Zach Johnson told me," Stewart Cink said. "He said that on a scale of one to 10, this course is a minus three."
The Ryder Cup teams have been set, and though the Europeans likely rate an advantage, the more entertaining team surely belongs to the U.S., which, pounding for pounding, at least, is the better team.
This is Murderer's Row, the long ball its forte. Bubba Watson and Johnson are second and third on the PGA Tour in driving distance, Phil Mickelson 12th, Jeff Overton 18th, Woods tied for 25th. Stewart Cink and Rickie Fowler are also in the top 50, Hunter Mahan just outside it. And to think it could have added J.B. Holmes (ranked fourth) to the mix.
Fowler's selection to the U.S. Ryder Cup team, odd though it was, has people salivating over the possibility of a match of the game's preeminent 21-year-olds, Fowler and Europe's Rory McIlroy, who have been vying for PGA Tour rookie of the year honors.
The vital statistics favor McIlroy:
-- Victories. McIlroy has one in 2010, at the Quail Hollow Championship. Fowler has yet to win on the PGA Tour, though he has finished second twice this year, once in '09.
-- Earnings. McIlroy is 23rd ($2,554,280), Fowler 26th ($2,332,790)
-- Top 10s. Each has five.
-- Scoring average. McIlroy is 28th (70.35), Fowler T-58th (70.66).
-- World Ranking. McIlroy is eighth, Fowler 32nd.
European Ryder Cup members have now won tournaments five weeks running, a streak that began with Martin Kaymer's victory in the PGA Championship and continued on Sunday with Kaymer's win in the European Tour's KLM Open. In between were European Tour victories by Peter Hanson, Edoardo Molinari and Miguel Angel Jimenez.
WHY PLAYERS DON'T LIKE HIM...
...but you should: NBC's Johnny Miller won't hesitate to render an opinion, even at the risk of alienating the players. Maybe this doesn't make him unique in golf broadcasting, but it makes him a part of a very small minority.
Miller apparently criticized Ian Poulter's ball-striking capabilities, prompting a Twitter response from Poulter, part of which was this: "He talks such bollocks at times."
Dictionary.com defines bollocks as a British term for rubbish or nonsense.
Neither Tiger Woods nor Phil Mickelson does Twitter, so they won't be invoking bollocks, but Miller hit them both while discussing their head-to-head play in the final round of the BMW Championship:
"The mojo of Tiger is just going down, down, down. It used to be that people were just in awe of him, fellow players, and figuring they got no chance to beat Tiger if he's playing well. That's gone, it really is gone. And every time that Phil beats Tiger it just proves a point. And right now I don't think Phil's a bit scared of Tiger. What he's scared of is getting to be number one. How many chances has he had?"
His partner in the booth, Dan Hicks, was ready with the answer: This was the 10th tournament that Mickelson has played with a chance at wresting the No. 1 ranking from Woods, and he's 0 for 10.
Of course Miller is always capable of the "say what?" moment, as when, in the midst of Paul Casey's quest for a second PGA Tour victory on Sunday, he declared him "definitely the best player in the world with one win in the U.S."
He might be, but it's certainly not definite. Indeed, the World Ranking says otherwise. Kaymer, whose sole victory in the U.S. came in the PGA Championship last month, is No. 5 in the World Ranking, Casey No. 7.
Incidentally, when Casey hit one into the woods on the heels of back-to-back bogeys while leading the BMW Championship on Sunday, Miller said, "You think the pressure isn't getting to him? Like I said, there's a reason why he only won once on the PGA Tour."
The four Koreans entered in the Champions Tour's first Korean event, the Posco E&C Songdo Championship, are illustrative of the progress their country has made on the golf front. None of them finished better than 48th in a 56-player field.
Given their ages, 50 or older, they represent an era when the game was still an obscure one in Korea and its better players weren't good enough to occupy an international stage.
Flash forward to 2010, when three Korean-born players, Charlie Wi, Kevin Na and K.J. Choi all finished in the top eight in the BMW Championship. And nothing further needs to be said about the Koreans' domination of the women's game.
Often in her formative years as a professional (wait, at 20 isn't she still in her formative years?), Michelle Wie expressed pride in herself in the wake of failure. This time, she was welcome to do so, notwithstanding the three-stroke lead she took into the final round of the P&G Northwest Arkansas Championship.
She was outplayed by the de facto best player in the game, Yani Tseng, but more to the point, she fell behind two strokes with two holes to play and finished birdie-birdie. Tseng, also 20, closed her out with her own birdie at 18 for her third victory of the year (the other two being major championships).
Wie no longer seems to be shying from pressure. This represents progress, no small feat in a career that too frequently had seemed to be regressing.
British Petroleum has pledged $65 million to the state of Alabama for economic and environmental damage caused by the oil spill, a part of which will go to the Bell Micro LPGA Classic, played in Mobile. Ala.
The city, which annually contributes to the LPGA tournament, said it would contribute $350,000 from BP to the event, the Mobile Press-Register reported.
Matt Kuchar tied for third at the BMW Championship. That's seven top 10s in his last 10 starts...Fowler finished T-45. That's no top 10s in his last nine starts ... Phil Mickelson's T-8 was his first top 10 since the U.S. Open (T-4) ... Tom Pernice Jr. intends to continue pursuing PGA Tour golf at the expense of Champions Tour play. He has said he will play all five Fall Series events in an effort to earn a PGA Tour exemption for 2011. Pernice, 51, ranks 140th on the money list and will need to get into the top 125 to earn a card for next year ... Juli Inkster, at 50, might be less a player than she was at 40 and 30 (who isn't?), but she's still productive. Inkster tied for ninth on Sunday, her second top 10 of the year.
From Christina Kim: "evian tastes like rocks. Gross. I can barely keep that stuff down. Spell it backwards. Naïve."
Comment: Evian is a sponsor of the Evian Masters, which offers a purse equal to the richest in women's golf, $3.25 million. Bad form, criticizing a sponsor, especially a generous one.
"I'll probably be called 'Captain Useless' if we lose." -- European Ryder Cup captain Colin Montgomerie
"Congrats Rickie!!" Peter Jacobsen wrote on Twitter in the wake of Fowler's selection to the U.S. Ryder Cup team. "Very happy for you. You're earned this spot!!"
Jacobsen no doubt was echoing what many thought. It is hard not to like Fowler given his talent, flamboyance and youth, and who doesn't want to see him in the Ryder Cup (other than those snubbed to make way for Fowler, of course)? But the idea that he earned this spot, well, it's bollocks, to appropriate Poulter's word.
This is no reflection on Fowler, but there is no justification for his having been a captain's pick other than the reason that Pavin eventually gave himself -- a gut feeling.
It's an acceptable reason, surely, a captain's prerogative, and it injects the Ryder Cup with more intrigue. But to suggest that he's on the team based on merit is misguided. If merit were the gauge, J.B. Holmes, not Fowler, would be headed for Wales.