News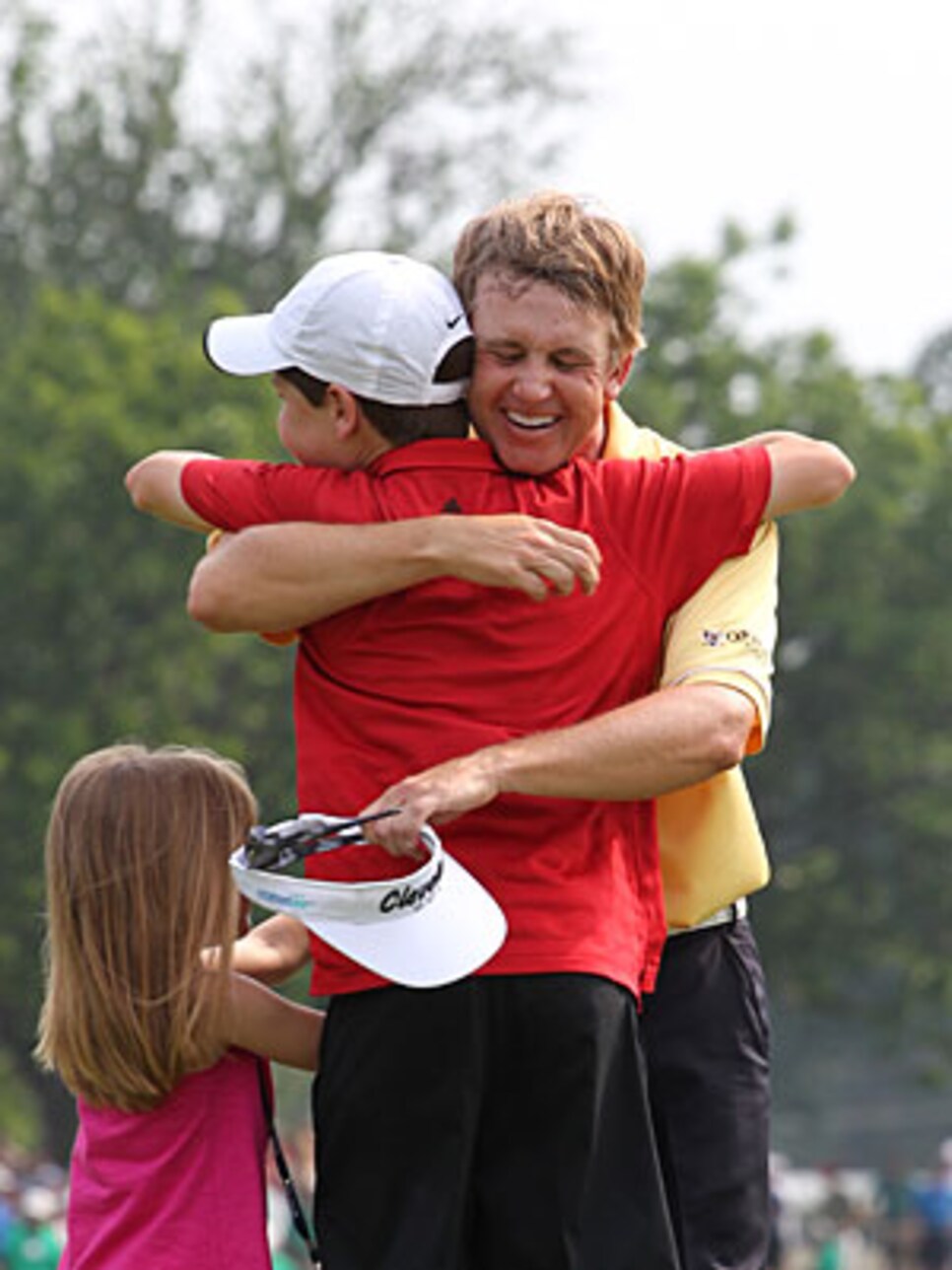 Toms celebrates with his children after ending his winless drought.
It was another emotional Sunday for David Toms, this time for celebratory reasons that confirmed what already was known: Players get old, but winning doesn't.
A week earlier, Toms was undone by a short par putt that young nerves would have considered kick-in distance, a three-and-a-half footer that was wide left. It allowed K.J. Choi to win the Players Championship, but more than that, it allowed doubts greater access to Toms' psyche, already battered by five winless years and a horde of injuries.
At 44, would he ever win again?
The answer was emphatic with Toms winning the Crowne Plaza Invitational at Colonial on Sunday by a shot over Charlie Wi, the 13th victory of a career that has regained its equilibrium.
"It took a lot of guts," an obviously emotional Toms said moments after receiving congratulatory embraces from the same two children that consoled him with hugs the week before. "That's really all. Another tough day on the golf course. I played a great round of golf. I felt so blessed.
"Crazy game," he added unnecessarily. "I'm just glad to be a part of it."
Toms might have felt that Colonial Country Club owed him one, given the fourth, third and second-place finishes he had had there prior to winning. It also is a course that caters to his kind of player.
Bombers have won there before, Phil Mickelson among them, but so have bunters (at least by comparison), Corey Pavin and Zach Johnson among them. It's a fairways-and-greens course, where length is less a necessity than keeping the ball out of the trees and water and keeping it in play.
Accuracy, whatever the club, is Toms' forte, which was on display last week. He hit 13 of 14 fairways on Sunday and for the week tied for fourth in driving accuracy and greens in regulation. He was first in putts per green.
"I've wanted this tournament for a long time," said Toms, whose consecutive 62s to open the tournament gave him the cushion that allowed him to remain in contention even after a third-round 74. "It's a great course for me."
Look for more stellar golf from Toms in the near future; he is known for playing well in streaks. The last time he won, the Sony Open in 2006, he followed with a 19th, a T-9, a T-2 and a T-3. In a five-tournament stretch in 2005 (not including the Colonial, when he withdrew), he won twice, and also had a T-5 and a T-6.
One of the issues with match play is that television is unable to script it, which occasionally leaves it with Jeff Maggert vs. Andrew Magee in the final (the 1999 WGC-Accenture Match Play Championship). No disrespect intended toward either, but it wasn't Ali-Frazier or the Lakers-Celtics.
Accordingly, the Volvo World Match Play Championship failed to deliver the two best players in the field to the final. At least it produced the next best thing: Arguably the two best match play players in the world.
Ian Poulter, the winner of the WGC-Accenture Match Play Championship in 2010, prevailed over Luke Donald, who won the Accenture this year. Each has had a strong Ryder Cup record, too: Poulter is 7-3 overall, 3-0 in singles, Donald 7-2-1 overall, 2-1 in singles.
On Twitter, Paul Azinger called Poulter, "the best in the world right now" at match play.
When NBC's Johnny Miller questioned Poulter's ball-striking abilities last year, Poulter was miffed. His infamous Twitter post on the matter: "Johnny miller saying today I wasn't a good ball striker. I guess I do alright for a duffer then. He talks such bollocks at times."
On Saturday, Poulter defeated his friend Lee Westwood in the Volvo World Match Play. Westwood seemed to confirm Miller's assessment. "You know he's not going to hit it great," Westwood said, "but he's going to make a lot of putts and get up and down from everywhere."
TIGER, A CAMPFIRE, SONGS AND S'MORES
PGA Tour rookie Andres Gonzales had his best finish of the year, a tie for third that, alas, did not come in a PGA Tour event, but in the Washington Open Invitational in Bellevue, Wash. Alas, because the PGA Tour needs more like him.
First there's the fu manchu and long hair and his Twitter description of himself as "half man, half amazing." Better are his mocking attempts to engage Tiger Woods on Twitter, where he frequently exhorts Woods to follow him, despite the fact that he likely has never met him. A sampling:
-- "@TigerWoods as you probably know, my birthday was this week. I believe you owe me a night around a camp fire with songs and smores."
-- "@TigerWoods do you room with anyone on the road ever? Letsget some guys in a house together. Don't worry, you can host and I will co-host."
-- "@TigerWoods if you have some time off, come up to Olympia, WA. We will play and talk about memories past. The rain stopped, ya dig?!?"
It might be too much to expect that his golf will rise to the level of his panache (he's missed the cut in five of seven starts and finished T-58 and T-59 in the other two), but if it at least can approach it, the PGA Tour will be better for it.
Who knows how the PGA Tour defines conduct unbecoming a professional, but the interview that John Daly gave to Playboy magazine and posted on the Internet last week surely is conduct unbecoming something. A parent, maybe?
No details here, other than to note that it isn't a story most fathers would want their children to read about them.
Does he need the attention? His golf isn't doing it for him. Daly missed the cut at the Crowne Plaza Invitational at Colonial, his seventh MC in nine starts. He hasn't had a top 10 in more than five-and-a-half years.
Somehow, he still garners invitations. His next two starts come on the European Tour, at the BMW PGA Championship at the Wentworth Club this week and the Saab Wales Open at Celtic Manor Resort the following week.
Bubba Watson wasn't idle on Sunday. He was winning the men's club championship at Old North State Club in New London, N.C., by 16 strokes. Watson set the course record with a 63 in the second of two rounds. He opened with a 66.
Prior to the final round, Old North State Club pro James Stewart posted this on Twitter: "Let's see if @bubbawatson can win his first major today: The @ONSCGolf Club Championship!"
Suzann Pettersen's return to the winner's circle after a two-year hiatus was so impressive as to suggest that she ought to have won more in a career that is in its ninth year. Her victory in the Sybase Match Play Championship was her seventh, but five of those came in her breakout year of 2007.
Her six victims in the Sybase included Yani Tseng, Na Yeon Choi, Stacy Lewis and in the final, Cristie Kerr. Pettersen is among the best athletes in women's golf and maybe no one is more physically fit. The fact that she won four of her matches on the last hole, including the final, when she holed a 15-foot birdie putt, indicates that she isn't lacking mentally, either.
She's built to win. Maybe this victory will have lifted the curtain on a re-enactment of 2007.
Luke Donald's wife Diane: "What I learned today, in Spain they don't say 'chunked' a chip instead they describe it as 'a leap of the frog.' Brilliant description!"
Jim Furyk opened the final round of the Crowne Plaza Invitational with an eagle and added an ace on the eighth to play the front nine in four-under par 31. On the back nine, he started bogey, bogey, bogey, double-bogey to give it all back, plus one. Furyk tied for 32nd...Stuart Appleby had missed six straight cuts before getting within a stroke of the lead on Sunday at the Crowne Plaza. This time he saved his worst for last, taking himself out of contention with a bogey, bogey and triple-bogey on holes 12 through 14 and a back-nine 43. Appleby fell to a T-16...Dept. of Impressive Comebacks: The Nationwide Tour's Brendon Todd, who finished T-10 at the BMW Charity Pro-Am, has now made three cuts in a row. Prior to that, he had missed 28 consecutive cuts, including three on the Nationwide Tour this year and 13 last year and 10 on the PGA Tour and two on the Nationwide Tour in 2009.
PGA Tour: HP Byron Nelson Championship at TPC Four Seasons Resort Las Colinas, Irving, Texas. Defending champion Jason Day. Champions Tour: Senior PGA Championship at Valhalla Golf Club, Louisville, Ky. Defending champion Tom Lehman. European Tour: BMW PGA Championship at Wentworth Club, Surrey, England. Defending champion Simon Khan. LPGA: HSBC Brazil Cup at Itanhanga Golf Club, Rio de Janeiro, Brazil. Defending champion Meaghan Francella.
World No. 1 Lee Westwood leads a stellar field in what for him is the de facto fifth major, the BMW PGA Championship. Luke Donald, Martin Kaymer, Graeme McDowell, Rory McIlroy, Charl Schwartzel and Ian Poulter also are entered.
The HP Byron Nelson has only four of the top 20 from the World Ranking and none higher than Matt Kuchar at No. 10. Also playing are Dustin Johnson (13), Nick Watney (15) and K.J. Choi (16).
Jack Nicklaus last week brought to the fore the idea of 12-hole courses designed to remove one impediment to the growth of the game: The time commitment. Presumably it should also cut the cost, another obstacle.
Here's another idea (albeit not an original one): Charge by the hole. Then you've got your 12-hole course as well as 17 other options.