News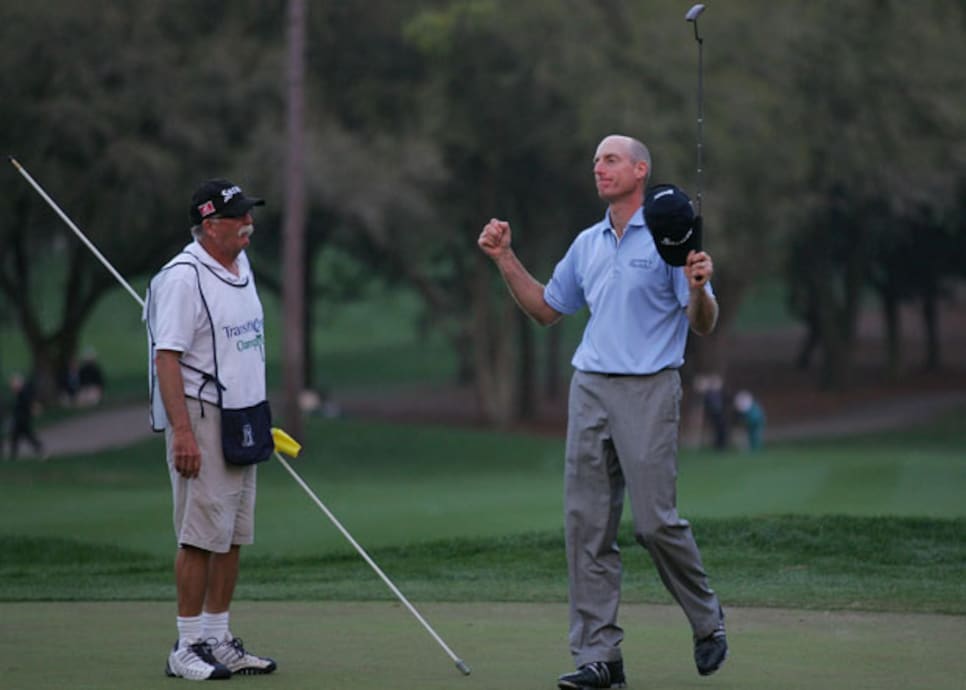 Jim Furyk notched his 14th career victory Sunday.
Golf never has had a galaxy of stars illuminating the sport in a given year, if stardom is defined by winning. They tend to shine one or two at a time, though there have been years that even a telescope couldn't find them.
In 1983 and 1991, no player won more than twice and the group that did so in the latter year included Billy Andrade, Tom Purtzer, Mark Brooks and Andrew Magee. We call them the good old days.
Thirteen tournaments into the 2010 PGA Tour season, there have been 13 different winners, the latest Jim Furyk, who won the Transitions Championship on Sunday. It's the longest stretch since Phil Mickelson won the for the second time in the 15th tournament of the 2004 season.
Furyk, in fact, is representative of this quirk that the defense would argue is the result of golf's depth. (Probably so, but that doesn't diminish the drag it has on the popularity of the sport.) Furyk went into the Transitions ranked No. 9 in the world (he's now No. 6), despite not having won a tournament since the summer of 2007.
The blame for the inability of any one player to distance himself from the pack belongs to Tiger Woods, of course. Were this a normal year, he already would have won the Farmers Insurance Open at Torrey Pines (a tournament he's won six times) and either the WGC-Accenture Match Play Championship (three victories) or the WGC-CA Championship (six victories), maybe both. For good measure, he'd win the Arnold Palmer Invitational (six victories) on Sunday.
But this is an abnormal year. Woods hasn't played yet, which takes us to the news story of the week that doesn't involve text messages. But first, a word from the man himself.
"Excerpts from Tiger Woods interviews," read headlines in several online publications. How much can you say in five minutes? The interviews themselves were excerpts.
Here's what we learned definitively: Woods, who describes himself as a control freak, hasn't changed in that regard. Putting a five-minute limit on the interviews with ESPN and Golf Channel is evidence of that.
Then again, the interviews could have gone on for 30 minutes each and what more might we have learned? Probably not much. Woods is famously reluctant to open up, the master of the illusion that he's answering questions thoughtfully.
Besides, there are topics that remain off limits, for instance, a full explanation for what happened on the night of the accident. "Well, you know it's all in the police report," he told ESPN's Tom Rinaldi. "Beyond that everything's between Elin and myself and that's private." Even had he been pressed on the issue, he would not have budged from his answer.
Still, it might have served him better had he agreed to answer every question, even in his own evasive way, if only to provide the illusion (there's that word again) that he's humbly agreeable to a public flogging that so many feel he justly deserves.
Then he can get back to talking about golf, which, incidentally, is how the week began.
WOODS ANNOUNCES HIS RETURN
Augusta National and the Masters won the Woods' lottery (or drew the short straw, depending on the analyst), a decision that drew an inordinate amount of scrutiny that ran the gamut from East Coast to West Coast, as these headlines show:
"The Masters was obvious" -- Boston Globe
"Tiger Woods picks the wrong spot for a comeback" -- Los Angeles Times
He was criticized for returning too soon (should be taking more time to repair his marriage) and for not returning soon enough (should have played the Arnold Palmer Invitational as a tuneup for Augusta).
Some of the criticism bordered on the inane. For instance, my old friend Bill Plaschke wrote in the Los Angeles Times that Woods would be desecrating sacred ground by returning at Augusta National. A church, he called it. His returning there, he wrote, "is like a shamed senator making his political comeback on Easter Sunday at New York's St. Patrick's Cathedral."
Really? Hallowed ground? A place that never extended an invitation to Charlie Sifford to play in the Masters, that never had an African-American play in it until Lee Elder in 1975? A club that had no African-American members until one of its own members, Hall Thompson, founder of Shoal Creek, infamously and inadvertently began the debate on discrimination that was instrumental in both clubs finally integrating their memberships in 1990?
History can't be conveniently ignored in the interest of taking a swipe at Woods. Augusta National is a storied site, to be sure, but saintly? No.
Is he an overachiever who somehow cobbled together a lucrative career from an unorthodox swing that should have been a roadblock? Is he an underachiever, who should be winning more?
Here's a third question: Is he a potential Hall of Famer? In 2007, after Furyk won the Canadian Open, I wrote for Golf World that he was "a marquee player who methodically has been constructing a record that eventually might warrant Hall of Fame consideration." At that time, he had won at least one tournament every year since 1998 (excluding '04, when he played only eight times as a result of surgery on his wrist). Then he went dry.
Sunday's victory was the 14th of his career, one of them a major, the U.S. Open in 2003. There is no defined standard for Hall of Fame induction, but 20 wins, including a major, is probably a lock. A dogged competitor, he also has played on six Ryder Cup teams and will serve as a captain eventually, which helps the resume, too.
Maybe his victory at the Transitions will resume his once methodical march toward 20. Time is not yet an asset, but at 39 (he'll turn 40 in May), neither is it yet a liability.
Woods' announcement on his return triggered a series of stories on who his playing partners at Augusta might be. Any volunteers? Here's one:
"Just seen debate for who Tigers [sic] playing partners will be at Masters. Surely everyone would want to be in that pairing? It would be amazing!" Oliver Wilson wrote on Twitter.
This time, it's not bad. For the first time since August of 2005, Daly has made the cut in three consecutive tournaments. He has little to show for it other than a modest example of what he says is a serious commitment to resurrecting his career. Maybe it will help him secure additional sponsor exemptions.
Daly finished tied for 55th in the Transitions Championships. In two previous starts, he tied for 67th and tied for 24th. He's earned $45,941.
It's a start. With Daly, any news that isn't made off the course is a welcome relief.
MORE FROM THE DERAILED GRAVY TRAIN
Garrett Willis, first-round leader at the Transitions Championship, wore wasn't an endorsement of the university (he's an East Tennessee State graduate) so much as a lack of an endorsement from anyone else. No one was willing to pay him to wear a cap with their logo.
Willis gets it, too, to his credit. Asked to describe the climate for sponsorships, he replied: "I would say between cold and frigid. As we all know, this isn't the best time for the economy, and you know, people are out there losing jobs. So you've got to do whatever you can to keep jobs first and kind of cut back on advertisements. It's very understandable."
Those who lament golf as an elitist sport perennially have the Tavistock Cup at which to point as exhibit A. Its seventh playing begins today.
It is an inter-club competition between Isleworth and Lake Nona, a pair of expensive, private clubs in the Orlando area, featuring 10-man teams of PGA Tour players from each club. That would be fine, if it ended there. It doesn't.
They will be playing for a purse of $2.45 million (what recession?). The winning team splits $1 million, the losing team $500,000. The medalist will receive $300,000. Four closest-to-the-pin prizes of $50,000 will be awarded. Another $100,000 will be split among the members of the winning team of a long-drive contest.
The visiting team, in this case Lake Nona, will be transported the short distance to Isleworth via helicopter.
The public is not invited. It can watch on television.
Not a fan of the Tavistock Cup.
Retief Goosen revealed that his grandmother celebrated her 100th birthday last week. Good genes that portend a long life for Goosen?
"Well, I hope so, yes," he said. "Some days, the way you hit the golf ball, you're not really sure how long you're going to live."
Ryo Ishikawa's round of 83 in the Transitions Championship on Thursday wasn't good enough to better his 13-year-old sister, Yoko, an amateur, who shot 81 in her debut on the Japan LPGA, in the T-Point Ladies. Ryo restored order in the second rounds, shooting a 71, while Yoko shot 87. Each missed the cut...Eight of 13 PGA Tour events this year have had weather delays...Two top 10s in a row for Padraig Harrington (T3 at the WGC-CA Championship, T8 at the Transitions Championship), who seems to have found his form in the run-up to the Masters. He has one more start between now and then, at the Shell Houston Open...Rhys Davies, 24, of Wales won the Trophee Hassan II on the European Tour and is hinting at joining the UK's roster of stars. His victory followed a tie for third at the Malaysian Open and was his third top 10 in his last five starts on the European Tour. In this his first season as a member of the European Tour, he's risen to No. 81 in the world.
From Bo Van Pelt: "What's [sic] happens to the guy that loves hoops but is 2 short, 2 slow, and not athletic enough?? He becomes a pro golfer."
PGA Tour: The Arnold Palmer Invitational at Bay Hill Club and Lodge in Orlando. 2009 champion Tiger Woods. LPGA: Kia Classic presented by J Golf at La Costa Resort and Spa in Carlsbad, Calif.
Nearly three months into the new year, the LPGA finally makes its domestic debut, with a new tournament, the Kia Classic presented by J Golf. It will be interesting to gauge local interest; when the PGA Tour played at La Costa, be it the Mercedes Championship or the WGC-Accenture Match Play Championship, crowds were generally sparse. It's hard to image the LPGA will do better.
Only a fool would predict that Woods will win the Masters, but only the naive would predict that he can't win it.
Woods has played the Masters 13 times as a professional and won four of them, an average of a victory once every three-plus years. So in a year in which he's fully prepared, it's still a questionable proposition. Now throw in the fact that he hasn't played a tournament since November and the odds aren't particularly good.
But this is Tiger Woods, for whom odds mean nothing. He took two months off after knee surgery in 2008, returned for the U.S. Open and limped to a victory.
There is this, too: If, privately, he has concluded that the public scorn and ridicule he has endured is out of proportion to his private misconduct, anger (misguided or not) will heighten his resolve to succeed. The ability to tap into anger to raise his level of performance has been one of his best weapons dating to his junior golf days.
More recently, recall the 2006 WGC-Accenture Match Play Championship. Two days before his first-round match with Woods, Stephen Ames said this in a Golf Channel interview: "How he goes about scoring from where he hits it -- that's the amazing thing. That's the mark of a true champion. As bad as he hits it, he still manages to win golf tournaments."
When their match had concluded, Woods was asked whether he was aware of Ames' comments.
"Nine and eight," he replied, reciting the score by which he defeated Ames.