News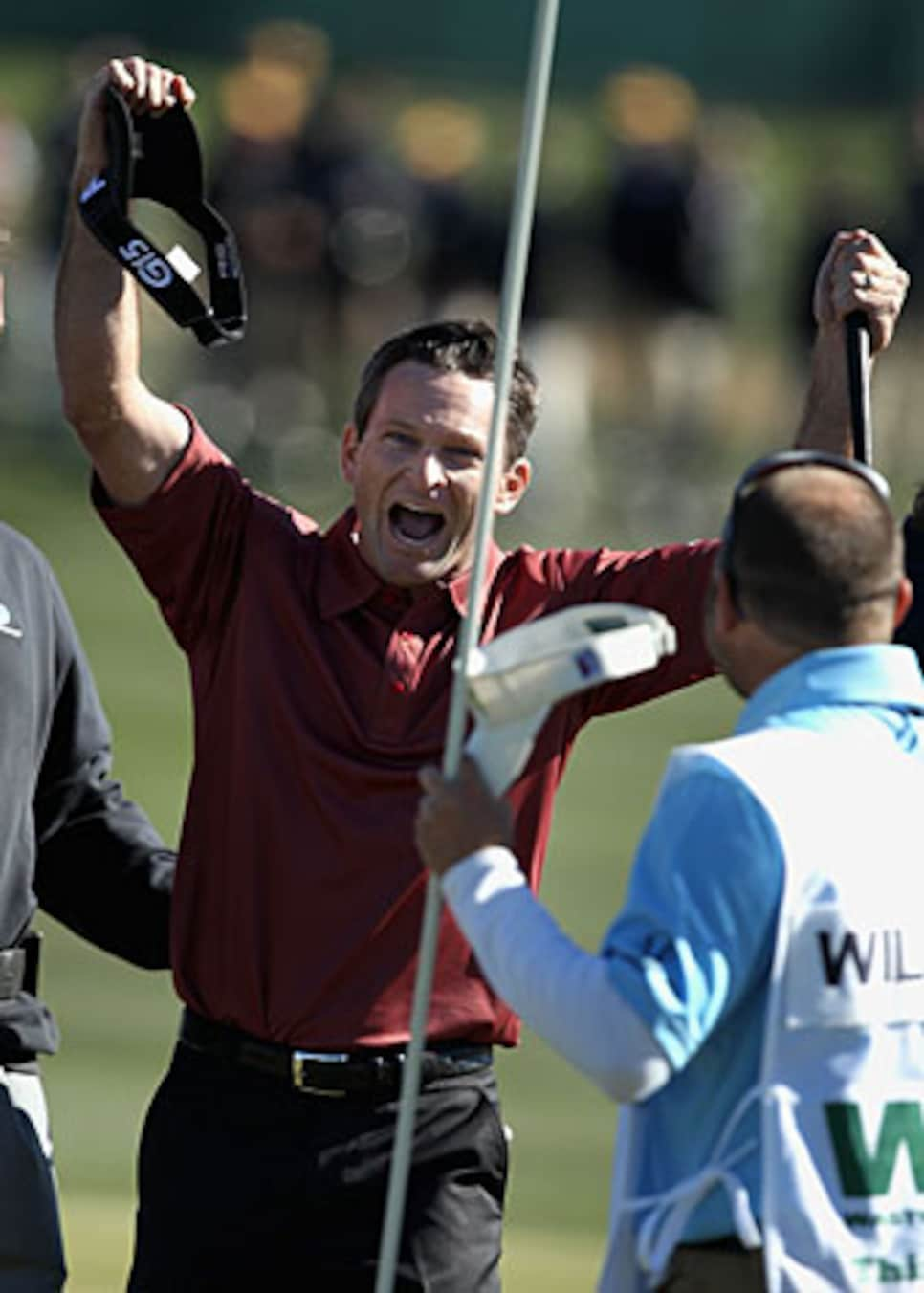 Wilson has won twice in three starts in 2011.
Mark Wilson is a Wisconsin native and Illinois resident for whom cold is less an inconvenience than a way of life. The chill that put the contradiction in the Valley of the Sun last week did not take him out of his comfort zone.
He has one story in particular, about a winter round with a friend on a course on the Wisconsin-Illinois border, some snow still on the ground.
"Most of the greens were frozen solid," he told Midwest Golfing Magazine a few years ago. "One of us would hit a great looking shot right at the pin and see it land on the green, bounce like it hit a cart path, and bound way over the green. After a few holes, we realized that we had to treat it like a U.S. Open and run the ball up to the greens. It was great for the imagination."
Frozen greens and frost at the Waste Management Phoenix Open last week kept delaying the start of play and eventually pushed the tournament into Monday, where Wilson defeated Jason Dufner
with a birdie on the second playoff hole.
Wilson had two victories in 216 starts on the PGA Tour through 2010. In 2011, he has two victories in three starts. He has earned $2,080,700, already his best earning season since joining the PGA Tour in 2003.
made at the 17th hole on Monday cost him $246,000.
Gainey was alone in third at the time, a stroke behind the leaders. Had he concluded play alone in third, he would have earned $408,000. Instead, he slipped to a tie for eight with four other players and earned $162,000.
It was a forgettable week for the top two players in the World Ranking. Lee Westwood, No. 1, missed the cut at the Commercialbank Qatar Masters, the first time he failed to make a cut since the 2010 Abu Dhabi Championship, more than a year ago. Martin Kaymer, No. 2, tied for 28th at Qatar.
"I put it all down to early-season rust," Westwood said, before heading to Dubai to work out the kinks in advance of the Omega Dubai Desert Classic next week.
COMEBACK PLAYERS OF THE YEAR?
One tournament doesn't constitute a comeback (unless it's a victory), but two formerly elite players demonstrated form that resembled better days.
Vijay Singh, once No. 1 in the World Ranking, tied for third, his best tournament since a T-4 at the Honda Classic nearly a year ago. Singh hasn't won since the Deutsche Bank Championship in 2008.
"This is the first time that I've actually felt good and coming back to the way I know how to play golf," Singh said. "Whatever happens (on Monday), I'm very satisfied with my result this week."
Sergio Garcia, who once was ranked second in the world, tied for ninth at Qatar, his best finish in a stroke-play event since tying for seventh at the Dubai World Championship in November, 2009.
"Before you head to Arizona to escape winter's doldrums know this: At 8 a.m. Friday morning, it's 17 degrees warmer in Seattle (48) than in Phoenix (31)," a Seattle Times blogger wrote in discussing the freeze at the Waste Management Phoenix Open.
It was too cold to play golf at the Waste Management Phoenix Open (at least in the mornings), yet the weather forecast for the AT&T Pebble Beach National Pro-Am this week is generally good -- sunny (or mostly sunny) with temperatures in the 60s. Go figure.
The winner: Henrik Stenson, who at his 18th hole (the par-5 ninth) of the second round of the Commercialbank Qatar Masters, needed only a bogey to make the cut. Playing his fourth out of a bunker, he bladed it over the green and into the water. He took a drop, then chunked his chip, then flung his wedge back over his head and into the water. He took a quadruple-bogey nine.
He'll receive a fine, no doubt, for conduct unbecoming a professional, but for those at home viewing such meltdowns it's always somewhat amusing, no? Been there, done that?
NORMAN ON TIGER: 'WITH HIS DEMISE'
Whenever Greg Norman discusses Tiger Woods, it would be prudent to keep in mind that a rift developed between the two dating to 1997, when Woods snubbed Norman by declining to play in Norman's Shark Shootout. Here's what Norman told the Jamaica Observer regarding Tiger and the state of his game:
"I don't think Tiger will ever play the way he did in the past. I think he'll still win, but he's got a different world around him now.
"I think golf has grown globally with European players such as Lee Westwood and Rory McIlroy. I think America has been impacted because I think they put all their eggs in one basket, which is the Tiger Woods basket, and with his demise it probably affected golf in that country more than anybody cares to admit."
SHE'S NO 1 (OR WILL BE SOON)
It would help were the LPGA to end its winter hibernation (it will do so, finally, at the Honda LPGA Thailand next week), but the competition for No. 1 in the Rolex Rankings should be exceedingly spirited this year.
Yani Tseng of Taiwan is poised to ascend to the throne. No. 5 entering the week, Tseng won the Australian Open by seven strokes on Sunday. Jiyai Shin, ranked No. 1, tied for second.
Tseng is lacking only consistency; last year, Shin had 14 top 10s in 18 starts, while Tseng was in the top 10 in eight of 19 starts. Moreover, she followed each of her three wins (two of them majors) with indifferent performances (33rd or worse).
She staked her claim in Australia. "As the performance of a player whose aim is the No. 1 world ranking," Martin Blake wrote in the Sydney Morning Herald, "it was a statement of vigorous intent." Indeed.
The LPGA's postponement of the Tres Marias Championship, scheduled for April in Morelia, Michoacan, Mexico, was a fait accompli as long ago as Sept. 10, 2010, when the State Department posted this travel warning: "Recent violent attacks and persistent security concerns have prompted the U.S. Embassy to urge U.S. citizens to defer unnecessary travel to Michoacan...and to advise U.S. citizens residing or traveling in those areas to exercise extreme caution."
Japan's Ryo Ishikawa, 19, has yet to demonstrate that his game will travel. Already a star on the Japan Golf Tour, he has yet to have an impact elsewhere. He intends to rectify this hole in his resume in 2011, starting with the Masters.
"I want to play golf over there just like I do when I play in Japan," Ishikawa told Kyodo News International. "I want to show people what a Japanese golfer can do in the Masters.
"This is my third year of playing on the U.S. tour. I'm hoping that I continue to get used to playing over there. I think I understand a little more of what is expected of me in the Masters."
It was not a wasted trip -- there was a healthy appearance fee, surely -- but going from Milwaukee to Qatar was, for Steve Stricker, a long way to travel only to finish T-45th ... Jhonattan Vegas' remarkable rookie start finally hit a roadblock at Phoenix, where he missed the cut in the wake of a victory and a T-3 ... Camilo Villegas no doubt would like a mulligan on 2011. He was disqualified from the Hyundai Tournament of Champions, missed the cut at the Sony Open of Hawaii, tied for 44th at the Farmers Insurance Open and withdrew at Phoenix, citing a back injury ... Remember Danny Lee? In 2008, the New Zealand native became the youngest ever to win the U.S. Amateur, then won the Johnnie Walker Classic the following year to become the youngest ever to win on the European Tour. In 2010, he missed the cut in 12 of 22 starts on the European Tour and did not finish higher than 25th. Lee missed the cut in Qatar and was 52nd and 53rd in his other two starts in 2011 and had fallen to 526th in the World Ranking.
"It seems like every time [Martin Kaymer] tees it up he's at the top of the leader board. He seems unflappable. We've not really had a guy like that before, apart from Tiger, who once he gets a lead he just keeps on going." -- Paul Casey (from ESPN.com.uk)
From Geoff Ogilvy: "I know it is a lot colder in a lot of other places right now, but pampered pros used to summer all year are not well prepared for this"
From Sam Saunders, on grandfather Arnold Palmer, who gave up his pilot's license last week: "yes as hard as it was for him to not be able to compete on the golf course losing his ability to fly may be tougher for him!"
PGA Tour: AT&T Pebble Beach National Pro-Am at Pebble Beach Golf Links, Spyglass Hill Golf Course and the Shore Course at Monterey Peninsula Country Club, Pebble Beach, Calif. Defending champion Dustin Johnson. European Tour: Omega Dubai Desert Classic at Emirates Golf Club, Dubai, UAE. Defending champion Miguel Angel Jimenez. Champions Tour: Allianz Championship at the Old Course at Broken Sound, Boca Raton, Fla. Defending champion Bernhard Langer.
Tiger Woods returns to the Omega Dubai Desert Classic for the first time since winning the event in 2008. Woods also won there in 2006.
The top three from the World Ranking -- Westwood, Kaymer and Woods -- are entered at Dubai.
The AT&T Pebble Beach National Pro-Am has Phil Mickelson, Jim Furyk, Dustin Johnson, Hunter Mahan and Padraig Harrington.
It is the tournament that wouldn't die, despite its lack of a pulse. The PGA Grand Slam of Golf will go on for at least another two years, it was announced, a cause for celebration in Bermuda and befuddlement everywhere else.