News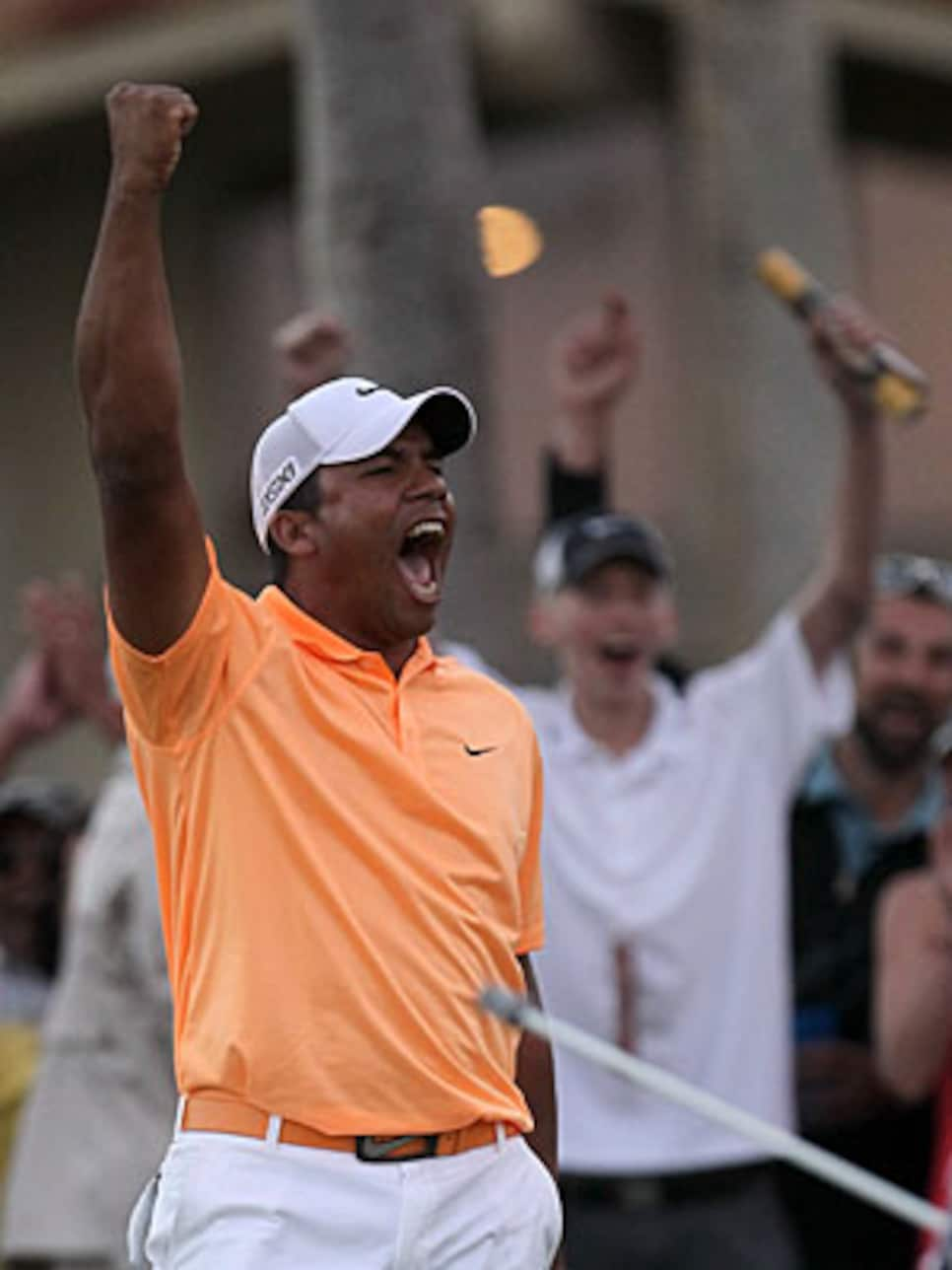 Vegas is the first Venezuelan player on the PGA Tour.
on Sunday might have gone largely unnoticed in U.S. precincts preoccupied with football. But it was a resounding victory nonetheless.
"'Es un sueño hecho realidad,'" the headline in El Universal, a Caracas, Venezueala, newspaper read. "Is a dream come true."
The Venezuela Golf Federation's website wrote this (a loose Internet translation from the Spanish version): "Today was a pleasure to see how all those who love this sport, we were awaiting action by Jhonattan, and not lying in saying that the emotion was overwhelming every time holed the putt Jhonattan to make a birdie or recover from a bad tee shot."
The headlines and stories are the counterpoint to the argument made by Venezuela's president Hugo Chavez, that golf is a bourgeois sport. This victory apparently was enjoyed by the masses there. The question is: Will it matter?
Vegas is the first Venezuelan to play the PGA Tour, but whether others will follow might depend on factors beyond Vegas' victory inspiring young Venezuelan golfers. Chavez has said that Venezuela's golf courses should be expropriated, the land used for purposes that would benefit a greater number of citizens -- housing, for instance.
However the future of the game plays out there, Vegas and his humble beginnings provide a convincing case against Chavez' bourgeois argument.
WHAT'S NOT TO LIKE ABOUT VEGAS?
Nothing, perhaps. He is self-effacing and polite and usually grinning, but it all might have gone unnoticed were it not for a game that is appealing, too.
At the Hope, Vegas was both long and accurate (notwithstanding a water ball on the second playoff hole on Sunday), a lethal combination provided the putter is complying.
In the first three rounds of the Hope, he missed only two of 41 fairways. He was perfect in round one on the Palmer Course at PGA West (13 of 13) and in round three at SilverRock (14 of 14). For the week, he was third in driving distance (308.8 yards) and tied for 13th in fairways hit (75 percent).
Then there was this: When he fell five shots off the lead on Saturday and appeared to be listing, he birdied his last five holes at La Quinta Country Club to regain a share of the lead heading into the final round.
"He's got a lot of talent and he'll be out here for a long time," said Gary Woodland, one of those he defeated in a playoff.
The World Ranking says that Lee Westwood is No. 1 and Martin Kaymer is No. 2. It says here that the order is wrong. It's all about the wins.
, against a stellar field, was his fifth victory in 12 months and his fourth since August, when he won the PGA Championship.
Westwood, who tied for 64th at Abu Dhabi, has won once since his victory in the Dubai World Championship in November of 2009 -- in the PGA Tour's St. Jude Classic last June.
The uncomfortable notion that an encore might be required in the wake of his PGA Tour-leading 2010 season came and passed quickly for Matt Kuchar.
"That was a thought that went through my head," he said Sunday. "I didn't make it last long. In golf there are so many things you can improve upon. You can't improve on number one on the money list or stroke average, but the game of golf provides you so many different things to get better at. That's what I look to do. You can always be a better putter, a better chipper, a better ball-striker."
That said, he has begun to assemble a notable encore. In three starts, Kuchar has had three top-10 finishes, including a T-7 at the Bob Hope Classic on Sunday. Last year, he led the tour with 11 top 10s.
"Basically, I took October and November off from golf," he said, the down time spent moving into a new house. "I got back to working on things in December. I'm hoping to continue. I think last year was a big year for me, a huge amount of consistency. I knew it wasn't a fluke thing. I knew there was a real foundation there. I also know that golf's a fickle game. Things can change. You can wake up one morning and it can be gone. I think the work I've put in with Chris O'Connell has made me a better and more consistent player. I feel like week in and week out I have chances."
'IT WON'T HAPPEN WITH THIS COMMISSIONER'
Another week, another rules violation, another disqualification and another round of debate. This time it was Padraig Harrington disqualified from the Abu Dhabi HSBC Golf Championship for a penalty assessed after he had signed his scorecard.
In the wake of the latest DQ, news emerged that the USGA and R&A are willing to reassess the disqualification rule regarding penalties assessed after a scorecard has been signed. This no doubt was welcome news on many fronts.
The always-outspoken Joe Ogilvie, a member of the PGA Tour's player advisory council, said last week that it is incumbent on the two governing bodies to affect a change, inasmuch as the PGA Tour has been reluctant to take the lead on the issue.
"This commissioner [Tim Finchem] is certainly not going to do anything about it," Ogilvie said last week before the news came out about the USGA and R&A taking up the issue. "The next commissioner might. Tim's always deferred to the USGA, which I think, quite frankly, has been a mistake.
"The best thing about golf is also the worst thing about golf, the tradition. The tradition of the game is fantastic. That's why it's such a great game. But it also kind of pigeonholes you into thinking the way we thought in the 1900s, before you had all the technology and all the spectators. They didn't have scorers in every group. They didn't have spotters in every group. Yet we still treat the game like it was a long time ago."
(see above note), beginning with his leaking the news of the possibility that Bill Clinton might come aboard, possibly as host, to help resuscitate the moribund Bob Hope Classic.
He also weighed in on the fact that the Hope field could have used an assist from the PGA Tour.
"We've got guys who are not at Abu Dhabi and aren't playing this week," he said. "One of them [Anthony Kim] is in town. It's sort of low-brow, in my opinion. The tour has to really lean on guys."
A year ago, Kim, a La Quinta High graduate, rankled Hope hierarchy (and others) by opting to play at Abu Dhabi at the expense of what is tantamount to his hometown tour stop.
Was this Kim's payback? He was not in Abu Dhabi last week. There were Kim sightings in La Quinta, meanwhile, yet he declined to play in the Hope.
Zero clouds. Five sun-splashed days at the Bob Hope Classic in the Southern California desert, all of them in the 70s, not a single cloud was visible.
Vegas jumped to 86th in the World Ranking, up from 187th the week before…Rory McIlroy, who finished second at Abu Dhabi, jumped from 12th to seventh in the World Ranking...Brian Gay closed with a 10-under par 62 at the Hope on Sunday to finish in a tie for fifth, his first top 10 since he tied for second in the Byron Nelson last May...
Keegan Bradley, nephew of LPGA Hall of Famer Pat Bradley, tied for seventh in the second PGA Tour of his career.
From Jerry Foltz: "Trying to introduce Michael Breed to twitter. It's not fast or loud enough for him. He'd likely use all caps." Breed is the high-energy, fast-talking host of "The Golf Fix" on the Golf Channel.
From Ian Poulter: "Rules of Golf Book Rule 22-4 paragraph 3 line 7, 'the rules of golf are complete bollocks and are stuck back in 1932'. Couldn't agree more"
PGA Tour: Farmers Insurance Open at Torrey Pines Golf Course, La Jolla, Calif. Defending champion Ben Crane. European Tour: Volvo Golf Champions at the Royal Golf Club, Kingdom of Bahrain, Bahrain. Inaugural event. Champions Tour: Champions Skins Game at Royal Kaanapali Golf Course, Lahaina, Maui, Hawaii. Defending champions Jack Nicklaus and Tom Watson.
Tiger Woods makes his 2011 debut on a golf course on which he's won the last five times he's played there, including the 2008 U.S. Open.
Lee Westwood isn't likely to have much time to enjoy the No. 1 ranking, given Martin Kaymer's swift ascent to No. 2. Westwood won't likely have much time to enjoy the No. 2 ranking, either, given that Tiger Woods begins his 2011 season on Thursday