News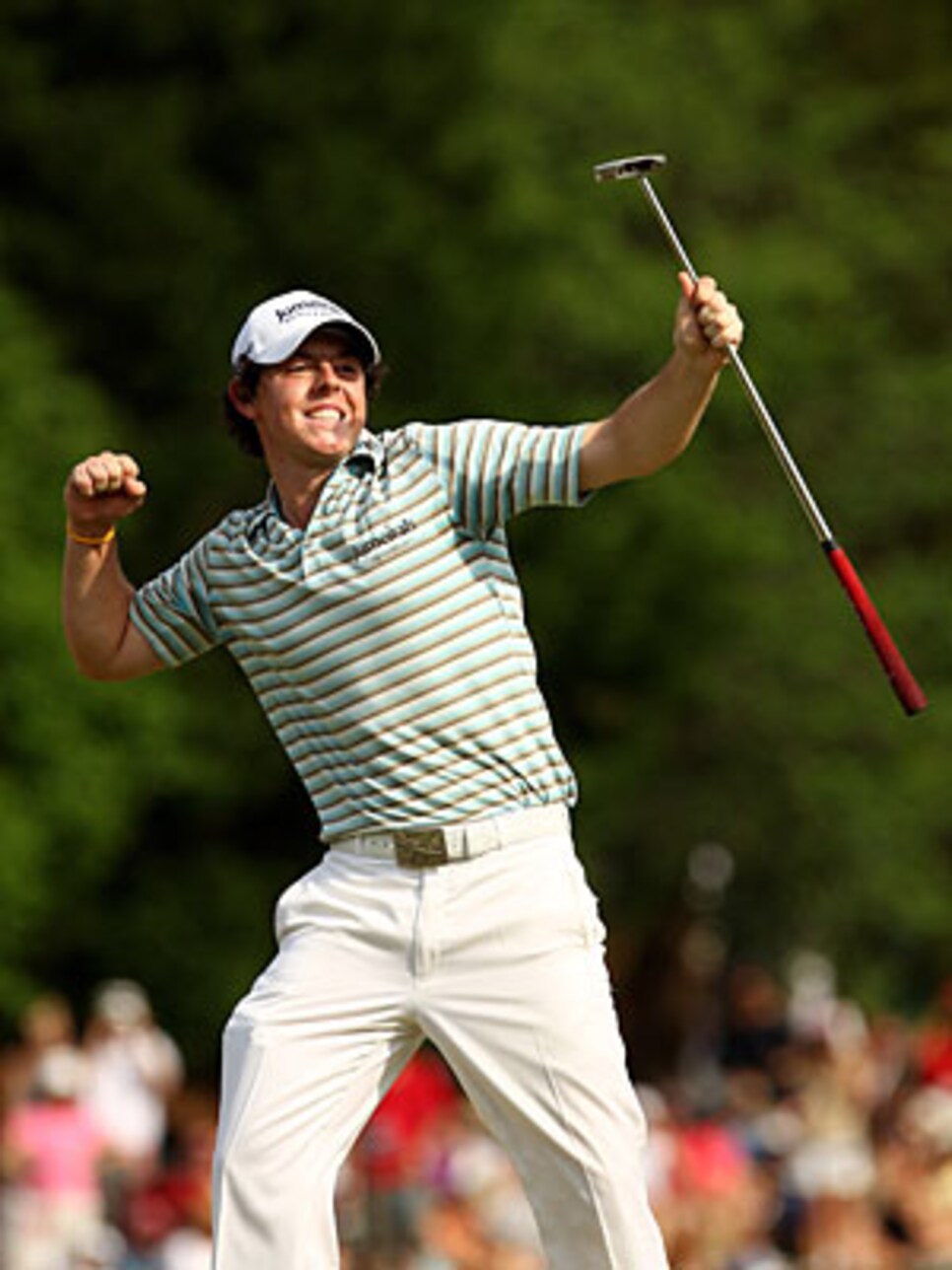 McIlroy was five under on his final five holes Sunday.
CHARLOTTE, N.C. -- At Formby, a venerable old golf club in England, there is a solarium bar favored by the older members for its warmth while they enjoy an adult beverage. The younger members, who frequent a different watering hole in the clubhouse, refer to the sun-drenched bar as "the departure lounge," with typical English whimsy and avoid it at all cost.
There was a point Sunday at which the Quail Hollow Championship had such a feel to it, not that anyone had one foot in the grave, but certainly a toe in the Champions Tour. With Tiger Woods home watching on TV, the final-round leader board included 43-year-old Billy Mayfair, who last won in 1998 -- or 64 Woods wins ago -- Davis Love III, 46, and Paul Goydos, 45. Then 20-year-old Rory McIlroy said, "Step aside, old dudes."
On the same day that 18-year-old Ryo Ishikawa shot a 58 to win on the Japan Tour half a world away, McIlroy joined in an international celebration of the bright future of men's golf with a final-round 62 that was nothing short of spectacular, finishing with six consecutive 3s in a back-nine 30. A cross-country birdie on the 18th hole gave McIlroy the course record by two strokes. At 15-under-par 273, he was four better than runner-up Phil Mickelson and five clear of Angel Cabrera.
"He gets 58 to win and I shoot 62," McIlroy said about Ishikawa, whose exploits he had read about before he teed off Sunday. "I'm just trying to keep up with him," he added laughing. "I've played that course. It's an impressive round. It looks good for the future of golf."
When McIlroy, who turns 21 on Tuesday, would lean over the fence surrounding the practice green at The Quail Hollow Club to sign autographs for his teenage groupies, it was easy to lose sight of the player. McIlroy's youthful face and shaggy, curly locks fit right in with his followers. He could be mistaken for a standard bearer, but instead becomes the first 20-year-old to win on the PGA Tour since Woods did it twice in 1996.
The youngest winner of a professional tournament in the United States was Johnny McDermott, who took the 1911 U.S. Open at the age of 19. Others besides Woods and McIlroy to win at 20 include Mickelson, Francis Ouimet and Gene Sarazen who, like Woods, did it twice. That's a pretty impressive club to join.
As well as McIlroy played -- he started Sunday four strokes behind 54-leader Billy Mayfair after making the cut Friday right on the number -- he got some help from his more experienced rivals. Cabrera missed a half-dozen putts inside 10 feet and Mickelson drove the ball off the planet a couple of times. They both closed with impressive 68s but were dusted by McIlroy. Mayfair faltered with a 76.
The young Irishman -- those from Northern Ireland prefer to be called Ulsterman -- went nuts beginning on No. 7, playing the final 12 holes nine under par, including the three extremely difficult closing holes two under. He put the tournament away when he birdied the 282-yard par-4 14th hole, eagled the par-5 15th and birdied No. 16 to take a four-stroke lead.
"It started on the range," McIlroy said of his great round. "I absolutely flushed it on the range. With the way I played [Saturday], I knew I was playing well. That 66 [in the third round] was the highest I could have shot. I didn't feel 62 was coming, but I was confident."
If there was a key shot it may well have been McIlroy's second shot to the par-5 seventh green on Friday. Having played the back nine first, he hit a 4-iron from 206 yards to six feet and made the eagle putt. Without that, he doesn't make the cut.
"That was the most important shot of the year," McIlroy said. "Without that, I'm down at Sawgrass on the weekend practicing for The Players."
McIlroy is from Holywood, Northern Ireland. It's got one "L" fewer than Tinsletown in California but McIlroy, who won the 2009 Dubai Desert Classic on the European Tour at the age of 19, appears to be short nothing needed to be a star. He has talent, youth and charisma -- on several occasions when he hit a great shot he'd twirl the club and jauntily toss it to his caddie.
His decision to become a member of the PGA Tour this year and not focus entirely on the European PGA Tour is a statement in itself on the scope of his ambition. Many talented Europeans who came before him -- Colin Montgomerie, Darren Clarke and Lee Westwood come to mind == chose to stay at home and, perhaps because of that decision, have a combined zero major championships.
Since three of the four majors are played in the United States, it would seem that being acclimated to playing here might be part of the formula for success. The challenge for McIlroy is to build on success and not disappoint the way the last great sensation to come out of Europe -- Sergio Garcia more than a decade ago -- has.
Certainly, in Padraig Harrington, who is from Dublin, Ireland, McIlroy has a great role model. Harrington has not only won three major championships but he effortlessly interacts with fans, sponsors and media -- a challenge not all great players are able to meet. Early indications are that Rory also has his head screwed on straight.
There has been nothing good for golf in the Woods scandal that has unfolded since November, but on this breathtaking day, two remarkable young players playing 10,000 mille apart made statements that all is well with the future of men's professional golf, and Woods has a lot to do with that. "He's been the reason so many of us have flourished at such a young age," McIlroy said of Woods. "He set the bar so high."
Now there is no reason the think the bar cannot be raised higher. Ishikawa from Japan and McIlroy from Northern Ireland are destined to have a shootout somewhere soon in the United States -- perhaps at Pebble Beach in the U.S. Open next month. Given the uncertainty surrounded the current world's No. 1, the timing couldn't be better. This will never get old.