News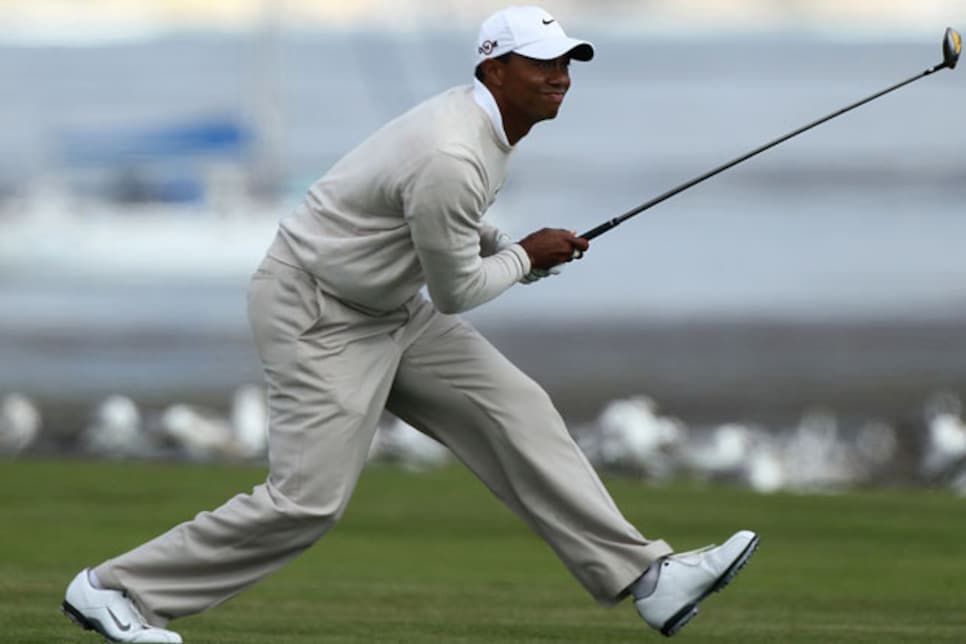 Despite inconsistent play since his return, Woods' scoring average is eighth-best on tour.
NEWTOWN SQUARE, Pa. -- Lebron James. Okay, now that we have that out of our system let's talk about why the best story in all of sports at this very minute is Tiger Woods. One year ago, was there any doubt about the identity of the best player in the world? Can that be said now? Fascinating, isn't it?
When Woods tees it up Thursday afternoon at Aronimink Golf Club as defending champion in the AT&T National the energy that will surround him will be that of anticipation. Only now that expectation does not come wrapped in the assumption he will win, but rather in the uncertainty of how he will perform. And that, my friend, is very exciting.
Is Tiger the guy who finished in the top five in both the Masters and the U.S. Open, or is he the guy who missed the cut at the Quail Hollow Championship and dropped out during the final round of the Players Championship? Try some of these numbers on for size:
Woods is 78th on the PGA Tour in driving distance; 147th in driving accuracy; 109th in greens in regulation and 77th in putts per round. Very unTiger-like numbers. Still, his scoring average of 70.01 is eighth-best on tour. That speaks volumes about Woods' competitive fire, just as it shouts about the talent he still possesses.
Since Woods returned at the Masters from his five-month, self-imposed absence from the game he has yet to put together a complete round of A-game golf. The closest he's come was the brilliant back-nine 31 on Saturday at Pebble Beach in the third round of the U.S. Open.
"It was nice to have that happen, especially in a major championship and especially when I needed it to get back in the tournament," Woods said Tuesday at Aronimink. "As for [when] winning [will happen], just being more consistent. I put together about 12 really good holes [on Saturday at Pebble Beach]. I was right there, I just didn't get it done on the final day."
But even though he was fourth at both the Masters and the U.S. Open, he was never really in the hunt to win either of those tournaments. To look at the glass half full, Woods has shown improved play with a T-19 at the Memorial and T-4 at the U.S. Open. To view the glass half empty, his putting continues to be erratic and he has uncharacteristically stumbled at the end of rounds. Woods says rust is still part of the problem.
"The number of rounds I've played this year is about what I normally would have played by March," he said, adding that he is studying video of his swing as he continues to be his own coach in the wake of his separation from Hank Haney.
"Your golf game is never where you want it to be," he said assessing his play. "Things are coming around.''
What Tiger is right now is a veteran pitcher toiling on a hot, humid day without his best stuff, getting by on guile and determination. The difference is that 34 is not old for a golfer. There is every reason to believe he will once again become a dominant player. The emotional issues surrounding his personal life will recede. But, for the first time, we are seeing a struggling Tiger Woods.
Twice before he has hit lulls -- both times going 10 majors without winning -- while he rebuilt his golf swing. The current drought is now six majors without a victory, going back to his remarkable playoff triumph on one leg at Torrey Pines in the 2008 U.S. Open.
Not that it is needed, but there is one other bit of drama that will hang over Woods at Aronimink this week. The tournament sponsor -- AT&T -- is one of the companies that severed endorsement ties with Woods after the scandal involving his personal life broke and his named was dropped from the event title as its host.
"I'm still part of the event, working very hard behind the scenes as always." Woods said. "We're glad AT&T wanted to be part of the event. If you are going to choose one over the other, [having AT&T as an endorsement partner or sponsor of the tournament] we'd want it this way. It is benefitting lots of children through the charities."
There are few athletes in any sport who can find motivation in as many places as Woods. Rest assured he will have a whole lot of wanna going on this week. He's gonna wanna win to prove AT&T wrong. Wouldn't there be delicious irony if Woods' first post-scandal victory were at an event hosted by a company that dumped him? Wouldn't it be just like Tiger Woods -- the old Tiger Woods -- to do that?
Just one more reason why Tiger Woods, right now, is the most interesting story in sports. As for that other story, the Lebron story: "I would like to see him go to the Lakers," Woods said. "I'm an LA guy." And right now he is just a guy trying to once again become THE guy.