News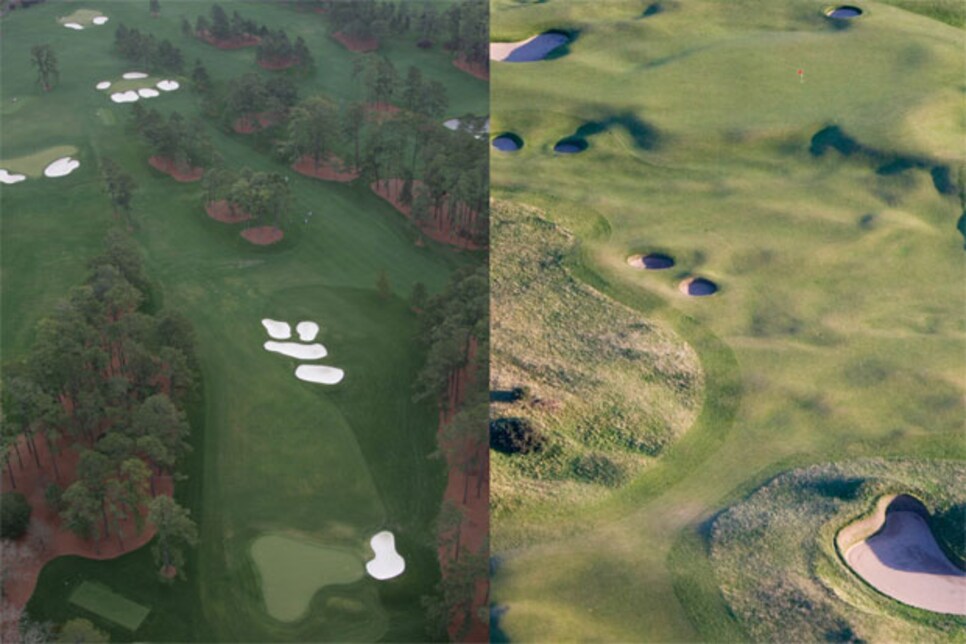 Overseas Influence: The Old Course's (right, by Iain Lowe) strategic genius inspired Jones and Mackenzie when they built Augusta National.
The offspring? A hilly, tree-lined, florally abundant agronomic wonderland. The parent? A rumpled, treeless slice of links long abandoned by the sea. Other than playing to pars of 72 and hosting major championships in 2010, it seems unfathomable that Augusta National GC and the Old Course at St. Andrews could be related. Embedded deep within Augusta National's soil, however, rest architectural nucleotides that, upon DNA testing, reveal a golf course almost entirely sired by its Scottish forebear.
Given Bobby Jones and Alister Mackenzie's deep ties to St. Andrews, it comes as little surprise that the Old Course was on their minds during Augusta National's 1931 design phase and 1932 construction. But the extent to which St. Andrews influenced the genetic code of several key holes has been understood by a select few.
"They created so many shots that remind one of how you think and play your way around St. Andrews," says two-time Masters champion Ben Crenshaw. "They really were 'extravagant admirers' of the Old Course."
Jones and Mackenzie are believed to have met during the 1927 British Open at St. Andrews when Jones, then 25, was in his playing prime while Mackenzie was a 56-year-old doctor-turned-golf architect who had surveyed the Old Course just three years prior. Mackenzie supplemented his now legendary Old Course map -- which still adorns many pro shop and locker-room walls -- with an R&A championship hole-location plan that likely influenced the '27 Open. (Jones won that event by six strokes.)
Though Jones was six years removed from his infamous tantrum and withdrawal at the 1921 Open and had been part of a winning U.S. Walker Cup team there in 1926, his relationship with St. Andrews blossomed at that 1927 Open. His lone British Amateur came three years later on the Old Course during the Grand Slam year and 28 years later he received the Freedom of the City, only the second American to be so honored after Benjamin Franklin.
When Jones' post-retirement plans to build a golf course began in earnest after he was ousted in the first round of the 1929 U.S. Amateur at Pebble Beach, it allowed for time to savor Mackenzie's Cypress Point design and to inaugurate the doctor's new Pasatiempo course in Santa Cruz. When Jones returned to California in early 1931 to film the "How I Play Golf" series, much of his recreational golf was played at North Hollywood's Lakeside GC, a Max Behr design enthusiastically inspired by links golf and in particular, the Old Course.
Both Mackenzie and Jones were great admirers of Lakeside and in particular Behr, a complicated figure who gained prominence as an elite amateur golfer, reaching the 1908 U.S. Amateur final. Later he worked as Golf Illustrated's editor until 1918, before moving to California where he became known for his design work and profound written pleas for the spread of St. Andrews-inspired golf emphasizing the use of natural or "seemingly natural" ground features.
"To Bobby Jones golf is a diversion, a pleasant way of spending his time," Behr once wrote. "Thus, with an open mind, he brought and applied to St. Andrews the greatest golfing skill in the world today. And the reaction of his skill against the character of the Old Course precipitated an opinion that might well revolutionize the prevailing ideas as to what a golf course should be."
Because as Behr noted, "Golf at St. Andrews is all strategy. The taint of penalty is absent. The steamroller of logical thought has not been allowed to destroy it. St. Andrews violates every conception of what we think a golf course should be."
Behr was speaking to an American audience that had little concept of strategic design and the ground game. Jones and Mackenzie appeared determined to change that with Augusta National.
"An underlying thread for [Jones and Mackenzie] was the use of ground features and how to incorporate them into play," Crenshaw says. "Even though it's hard to pull those off on heavy clay soil like you find [at Augusta], they did it."
With little doubt about their purpose, Jones and Mackenzie met on site for three days in July 1931 to route and plan Augusta National over the Berckmans' nursery site. Jones later described their simple goal: reward "the good shot by making the second shot simpler in proportion to the excellence of the first."
The reward could be one of four possibilities: a better view of the green; an easier angle of attack around a slope; an open approach past guarding hazards; or "a better run" to the tee shot itself.
"A course which is constructed with these principles in view must be interesting, because it will offer problems which a man may attempt, according to his ability," Jones wrote. "It will never become hopeless for the duffer, nor fail to concern and interest the expert. And it will be found, like old St. Andrews, to become more delightful the more it is studied and played."
This meant a design with wide playing corridors, subtle ground features and a limited number of well-placed bunkers (less than 30), which also had the intended effect of setting a positive example for a sport facing economic uncertainty. But more than the desire to cut down on bunker maintenance, Jones and Mackenzie sought to import the intricacies that made St. Andrews such a delightful day-to-day adventure.
"They wanted to show that there are different hazards in golf other than bunkers and water to extract penalties," Crenshaw says. "The concept is so very simple. You play over here to get there. But it's got to be accommodated for and presented that way with width."
Six holes of Jones and Mackenzie's original design featured unmistakable Old Course bloodlines -- the third, fourth, fifth, seventh, 14th and 17th, as currently numbered -- while several others included St. Andrews-inspired strategic touches. Initially, the duo wasn't shy in letting it be known where the seeds for their Augusta design were sewn. Starting in December 1931, when final preliminary design details were wrapping up, Jones' pal O.B. Keeler penned an American Golfer column under the subtitle, "There'll be a notable trace of Old St. Andrews in the new club at Augusta."
However, both Jones and Mackenzie made clear they were not building replica holes, even though they repeatedly invoked specific Old Course landmarks in describing their Georgian creation. Mackenzie clarified their thinking by suggesting they had a "mental picture" of the world's great holes to reproduce their finest features.
"At Augusta we tried to produce eighteen ideal holes, not copies of classical holes, by embodying their best features suggested by the nature of the terrain."
In his 1960 Golf Is My Game, Jones explained that tribute holes were not their intent.
"This was, at best, a bit naïve, because to do such a thing, we would have had literally to alter the face of the earth. It was to be expected, of course, that the new layout would be strongly influenced by holes which either Mackenzie or I had admired, but it was only possible that we should have certain features of these holes in mind and attempt to adapt them to the terrain with which we were working."
Yet for all of the attempts to defend the originality of their design, Augusta National's initial incarnation featured extensive use of mounding to obstruct views of poorly placed tee shots, while several undulating greens featured wave-like fronts novel to American design and only traceable to one other course on the planet. The first less-than-subtle Old Course tribute hole came on the 350-yard third. Keeler noted that it would be one of Augusta's two short par 4s and called it "a rather glorified replica" of St. Andrews' much-loved 12th hole.
"It will not be too easy a par 4," Jones told Keeler. "You remember that perilous little plateau green on the twelfth at St. Andrews? Well, this green will be quite similar; and you know it's not so simple, even after a big drive on the twelfth at St. Andrews to get the ball anywhere near the flag."
Immediately after that came two more not-so-distant Old Course relatives. Augusta's par-3 fourth paid direct homage to St. Andrews' 11th, the Eden, a.k.a. home to the Hill bunker where young Bobby threw his now legendary 1921 Open Championship tantrum.
"Our [fourth] will be much like the eleventh at St. Andrews," he told Keeler of the then 190-yard hole. "Remember the ample green with two big bunkers at the front and a tiny opening between, sloping up to a back with nothing but trouble beyond? Something like that."
Mackenzie was more forthright about the fourth hole's link to St. Andrews in his description for the inaugural Augusta National Invitation Tournament program.
"There have been scores of attempted copies of this famous hole but there is none that has the charm and thrills of the original. Most copies are failures because of the absence of the subtle and severe slopes which create the excitement of the original hole, and also because the turf is usually so soft that any kind of sloppy pitch will stop."
Jones told Keeler that none of his par 3s would require the use of a wood.
"My idea of the proper place for the display of talent with the brassie or the spoon primarily is on the second shot -- not from the tee."
The next St. Andrews homage came at the fifth, rounding out the front nine's three-hole stretch -- Auld Grey Toon Corner? -- where they sought to mimic key dynamics of the Road Hole, as Mackenzie wrote of their 440-yard two-shotter.
"A group of trees forms a corner of the dogleg instead of the Station Master's Garden and the green itself is situated on a similar plateau to its prototype."
Today's fifth features a rear greenside bunker Jones later added to stop balls from running down a hill, creating an impossible recovery, something that only happens at St. Andrews when a ball finishes directly against the boundary wall.
Long gone from the original design was their homage to the Old Course's Home hole, complete with Jones and Mackenzie's version of the Valley of Sin. It appeared on the original seventh at Augusta National, where a vast bunkerless putting surface sat slightly below today's Perry Maxwell green, one that Jones agreed to replace in 1938 at the suggestion of several players, including Horton Smith, who had already won the Masters twice.
Mackenzie pointed out that just as at St. Andrews, players had to attack the original 340-yard seventh hole from the proper angle "for par figures to be attained." Run-up approaches were almost required "as it will be exceedingly difficult to retain a pitch in the usual position of the flag."
Just like St. Andrews' finishing hole, the old seventh was drivable in certain conditions, most famously by Byron Nelson in his 1937 Masters opening-round 66. At the time the lowest score in tournament history, Nelson's round is believed to have featured 32 shots and 34 putts. He went on to a two-shot victory over Ralph Guldahl.
Shifting to the back nine, two more holes with strong Old Course bloodlines stand out. One remains similar to the original, while the other has been severely altered.
Mackenzie likened Augusta's 425-yard 14th to the Old Course's sixth hole, and more than any hole on the course today it carries a visible strand of St. Andrews chromosomes.
Originally, the uphill 14th featured a massive fairway bunker since filled in, but the tee shot placement requirements remain. The right side affords a clean view of the green, while the left side view is semiblind. Jones and Mackenzie highly recommended a run-up approach to best deal with the wave-like front ridge.
"There's no question that the 14th green reminds me of No. 6 at St. Andrews," Tom Watson says. "You have the up and over and it falls away from you quickly."
Perhaps the more surprising Old Course tribute came at Augusta's par-4 17th, where the original played 400 yards to a green complex inspired by one of St. Andrews' two par 5s.
"Remember the 14th at St. Andrews?" Jones asked Keeler. "The mound on the right, which you always have to figure on and play carefully to get in position for your approach? Not a great, big mound, but amazingly well placed by nature or whoever placed it. This hole on our course will have a similar mound similarly placed; it must be avoided on the second shot. And the green will be somewhat similar."
Mackenzie expected the combination of the massive mound and a severe drop-off to the rear of the green would make the old 17th "undoubtedly" one of "the most fiercely criticized holes," particularly since he said the goal was to "make the turf of such a character that an indifferent pitch will not stop on the green."
Jones despised the wet conditions of American golf and vowed to Keeler more than a year before Augusta's January 1933 opening that they intended to keep the course firm and fast.
"Hazards are set about a green to cause the player to produce a proper shot, depending on the various circumstances. The prettiest design may be nullified by keeping the green saturated. For the player who can get the ball into the air decently, the hazards might as well not be there."
Watson laments the absence of second shots played short of greens, citing Crenshaw's memorable 8-iron run up to the 14th green en route to his 1995 win and José Maria Olazábal's epic 5-iron into the 17th (1999) as favorite moments in Masters history.
"The run-up golf just hasn't been a part of Augusta in recent years," says Watson. "The players who win there now are always flying the ball to the green. They're not running the balls onto the greens anymore. Bobby Jones wanted players to run the ball onto the greens."
While the combination of course changes, equipment advances and softer approaches blurs the intended ties to St. Andrews, Watson has little doubt that the ability to play Old Course-style approach shots once existed as the architects intended.
"Byron Nelson told me that when he played he had to run the ball onto many of the greens," the two-time Masters winner said. "The fifth hole was long enough that you had to play a 3- or a 4-iron, and you ran the ball up the slope to try and keep the ball on the green there."
But it was at the 14th where Watson saw firsthand how it was done.
"Andy North and I were playing a practice round at Augusta one year, and I invited Byron to play the back nine. On 14 we hit our drives, and we get up there for the second shot, and Byron says, 'This is the way you used to have to do it.' And he took out a 3-iron, ran it up and hit it six inches from the pin. He landed it a good 20 to 30 yards short of the green, where it rolled, then took the break and ran right up to the hole. Andy and I looked at each other and said, 'He's the man.' "
Few recall that Nelson played an Open at the Old Course in 1955 (T-32). The idea to make the voyage came from his friend and legendary Francis Ouimet caddie Eddie Lowery. Upon arriving in St. Andrews, Lowery arranged for Nelson to receive a guided course tour from four-time Walker Cupper Leonard Crawley, who became the longtime golf correspondent for the Daily Telegraph and was considered one of the Old Course's great students.
On his first Georgia visit in 1947, Crawley immediately noticed the primary ancestral ties between Augusta National and St. Andrews old.
"They have not copied one single hole," he said. "They built 18 great holes, every one of which is perfectly fair and provides a problem. It seems to me that each one demands that a player shall firstly and foremostly use his brains."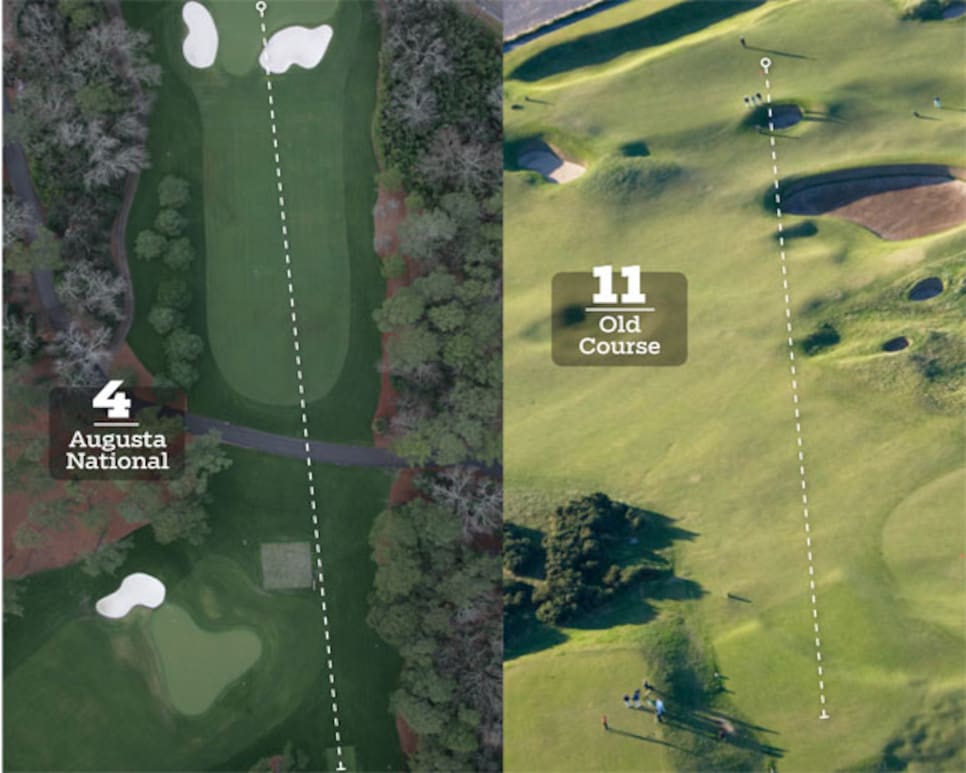 Close Cousins: Featuring a small opening into its plateau green, the fourth at Augusta was a tribute to the Old Course's 11th (Iain Lowe).