News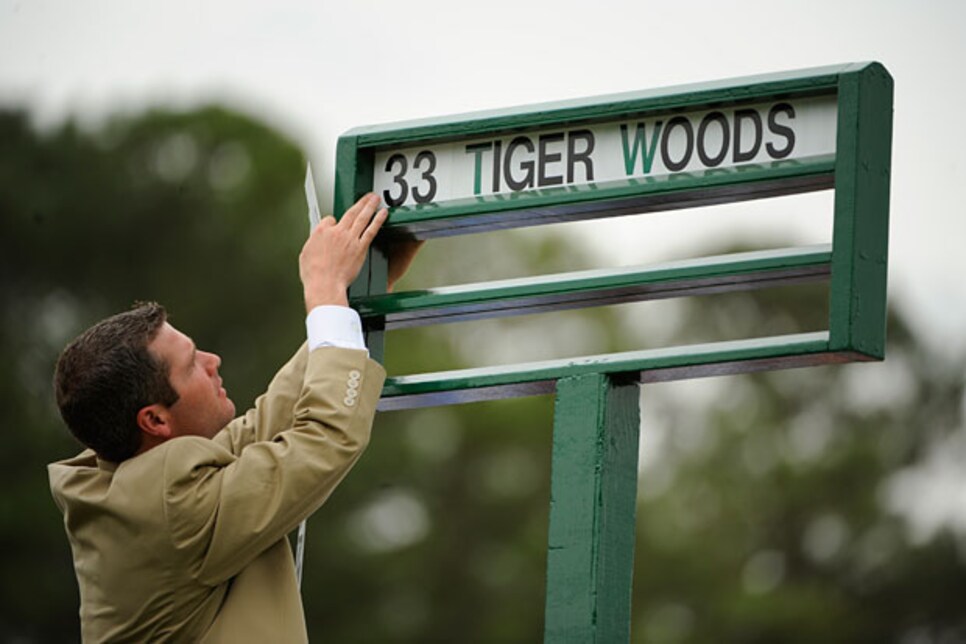 The coverage of Tiger Woods' return to golf had its ups and downs.
Tiger Woods' return Thursday was handled admirably -- assuming viewers only hoped to see a portion of the most hyped comeback in modern sports history. ESPN was given special permission to show Woods' final preparations and his highly anticipated first tee shot. Because Masters.com's new "Featured Group" link was locked into back-nine coverage, viewers didn't see Woods again until the regularly scheduled telecast began as he played the seventh hole.
There was one option for following Woods' complete round: radio. With a retro feel and dramatic vibe thanks to announcers Bob Papa, Kevin Kugler, Mark Malone and Jim Gray, listeners willing to ignore a few too many "Masters memories" were treated to compelling play-by-play coverage of Woods on holes two through six via Westwood One's syndicated broadcast (it was also available for the first time online and via the Masters mobile application).
When Woods reached the 18th green nearly six hours after his comeback started, Nick Faldo suggested Tiger's newfound appreciation for the patrons "reminds me of Sir Paul McCartney, who acknowledges everyone's shouts." Soon after, Tiger holed out for his 68 and Jim Nantz, who normally would slip in some sort of Beatles pun about the patrons refusing to hide their love away, instead noted crisply that "some fans were clapping, some weren't."
ESPN's mysterious decision to put Curtis Strange in the Butler Cabin with Mike Tirico paid no dividends even though Strange delivers his vacuous comments with a sense of urgency. His eagerness to sound authoritative fell flat when he said Woods could stay in contention on the weekend if "he doesn't make any stupid mistakes."
And there was an awkward Fred Couples interview when Strange asked, "What are you up to?" (Um, Curtis, have you checked the Champions Tour money list lately?) It will probably never happen, but Strange's opinionated colleague at last year's British Open, Tom Weiskopf, would be a much better fit here.
Online And In Your Pocket
According to IBM's David Balcom, Masters.com (the tournament's official website) was redesigned to accentuate the "elegance, simplicity and beauty of the course." Maybe he was referring to the Hootie Johnson version of Augusta National that is quietly coming undone.
While Balcom's description could be applied to the magnificently simple and flawless mobile phone application, the new-look website took a solid, serviceable platform and turned visits into work. Thanks to an obsessive-compulsive emphasis on beauty over brains, Masters.com used archival and 2010 images as backdrops for dramatic effect. But to keep those images largely unobstructed, readers hoping to locate basic information were required to navigate small menus with tiny fonts restricted to the upper portion of the webpage. The new black backdrops were somber and the leader boards glitchy, including an incorrect listing of scores after Friday's cut was made. An emphasis on video included a promising new feature allowing for users to select a small camera icon, which took them to a player's scorecard. Any score enclosed in a yellow box offered video highlights of the player, but only occasionally were bogeys shown.
Isobars, Angles and Skydiving
Masters Live, the CBS-produced online telecasts available to DirecTV viewers, streamed more reliably than in the past, though Thursday's "Masters Extra" coverage lacked announcer audio for about 10 minutes and ended shakily with Nantz telling producer Lance Barrow that he "didn't think the cough button was working." No, it wasn't.
Ably hosted by Ian Eagle and Matt Gogel, Amen Corner Live remains golf's best pure viewing experience thanks to perfect pictures, amazing sound work, timely replays from past Masters and the announce teams' conscious effort to stay quiet when the sound engineers capture player-caddie strategy discussions.
Also new to the Masters.com video console was a built-in "replay" feature allowing viewers to rewind feeds back 30 seconds. That proved useful in reliving Bobby Clampett's relentlessly self-indulgent commentary track on the "15 & 16 Live" channel.
Clampett was stationed without a broadcast partner on the 15th and 16th holes and constantly brought the discussion back to himself. There was a plug for his new book, a reminder that he's coming to the Champions Tour soon, and most surprising of all, a story about Masters crystal goblets proving fleeting.
Clampett found out the hard way after his were damaged in a move and the club refused to replace them.
Thursday's approaching weather meant plenty of references to isobars and pressure gradients, green-lighting Clampett to remind us he's a pilot. Friday, Justin Leonard was seen on the 16th green and, Clampett noted, "I have a slow tempo in my putting stroke, just like Justin."
Worse, he sounded unprepared when talking about how the 16th green induced one player's poor chip shot, thus highlighting "the brilliance of Alister Mackenzie" and his use of "angles." Robert Trent Jones created the current 16th hole in 1947.
37 Hours And Most Of It Really On
Golf Channel produced an astounding 37 hours of coverage aided by 25 staffers on club grounds or working out of Augusta CC's severely over-accessorized Wallace House. More cast and crew were stationed in Orlando, and the revolving door of talent kept things fresh during lengthy pre-network coverage telecasts and the always-stellar post-game coverage.
Notah Begay III turned out to be a welcome addition, thanks to insights into pal Tiger's game. For a guy who had never done a studio show, Begay appeared at ease and grew bolder in his commentary as the tournament evolved. The ubiquitous instructor Michael Breed, a former Augusta National assistant professional, offered useful information in front of the new touch-screen monitor that looks to be a solid addition as long as they utilize the larger, easier-to-see option.
Regrettably, there was a shift away from past years when Golf Channel called upon more writers and dignitaries via remote shots from outside the media center, giving viewers a wired-in sensibility. This seemed especially annoying when so much time was devoted to plugging the network's John Daly and Donald Trump shows. The low point came Sunday when Golf Channel inexplicably followed the first broadcast of its "Live At The Masters" post-game show with a rerun of Daly's show instead of an immediate Live rebroadcast.
A Third Round Unlike Any Other
With the game's biggest stars on the course making Saturday afternoon moves, the "Masters Extra" online feed struggled to handle the bandwidth strain of fans clamoring to witness history. It was the best evidence yet that the Masters folks need to add another hour of third-round coverage.
Compared to ESPN opening with its coma-inducing Harry Connick Jr. voiceovers, CBS came out firing with a thrilling montage of classic Masters shots, followed by strong production values throughout the day. (Only one audio glitch left us with AM radio sound for a minute, while the first page of the leader board was not left up long enough several times.)
Freed from "How I Met Your Mother" plugs and other relentless promotional obligations, the commentary proved surprisingly frank. Prior to the event Nantz said he wasn't hosting "Face the Nation," suggesting he'd steer clear of Tiger scandal talk. But after Woods' sixth tee obscenity-laced rant and perhaps emboldened by Augusta National chairman Billy Payne's Wednesday scolding of Woods, Nantz confronted analyst Nick Faldo with a pointed question about how Tiger "vowed he was going to show more respect to the game."
Faldo seemed surprised, countering that Woods is under "incredible scrutiny, and I'm sure he's going to fail at times."
When Tiger reached the 15th hole, outspoken media critic and unabashed Woods fan David Feherty morphed into a creepy Little League dad. When suggesting Tiger was just looking for "one decent swing," Feherty followed up with a desperate, "Come on!" Feherty later uttered a weird Archie Bunker grunt when Tiger's second shot bounced over the 15th green. After a chip to eight feet, Feherty said it would be a "huge blow" if Tiger missed the birdie putt. It was not clear who the blow would strike: Tiger or Feherty.
Signing on 40 minutes before the final grouping went off allowed CBS to set the narrative, introducing non-golf viewers to the key combatants before showing us a thrilling afternoon. A virtual repeat of Saturday's Tiger debate featured Nantz barely containing his disdain for Woods' on-course behavior by telling Faldo that the prior day's obscenities were "really disappointing." Faldo pled ignorance saying that he had not heard much while getting his microphone hooked up, but he thought it would be "a really easy fix" for Tiger.
In a post-round interview with Peter Kostis asking excellent questions, Woods took exception to a query about trying to control negative on-course emotional outbursts, contradicting his Monday press conference remarks. "People are making way too much of a big deal of this thing," Tiger said, suggesting that when he's making bogeys, "I'm not going to be walking around with a pep in my step." Kostis also deftly slipped in a question about Woods' next start, and received a noncommittal answer.
Producer Barrow was in a no-win situation when it came to Woods and decisions to show him when other players were passing him on the leader board. Avoid Tiger, and the non-golf audience feels cheated. Focus on him as he stumbles and you deprive the golf fans of Fred Couples' early run or Anthony Kim's late charge (which CBS only honed in on after Kim eagled the 15th).
There were a few minor technical glitches Sunday, notably a lack of full sound when Tiger holed out on No. 7. But CBS' sound team was on top of key exchanges between Phil Mickelson and caddy Jim (Bones) Mackay at Augusta's beguiling, make-or-break back nine par 5s. Unfortunately Faldo didn't get the memo that viewers want to hear the always lively Mickelson-Bones exchanges, choosing to stampede over both discussions even though hole announcers Kostis (13th) and Feherty (15th) sounded ready to let those unique-to-golf conversations tell the story of an epic Masters.
Finally, why are announcers quick to pin poor shots on the new grooves? Ian Baker-Finch said this about Woods' relatively short approach shot on No. 3 that flew over the green: "Interesting fact for you here as we watch Tiger at the third, is this is the first tournament he's played with the new grooves in his wedges," said Baker-Finch. "Now I've seen him many times go long with the wedges, and that's because he's got the V-grooves for the first time." Baker-Finch added as Woods chipped long, "I just think that's just a lack of play with the new clubs." Actually, it's more likely just the lack of play. Fact is Woods has had grooves conforming to the new rule in his irons for years, meaning he's well aware how a ball reacts off them. Plus, he was one of the first to practice in earnest with wedges with the new grooves last season so he's had plenty of experience with them. Finally, the change in grooves is not going to send a ball sailing that far over the green on a shot that short. If equipment is to blame, perhaps it was the fact Woods wasn't used to the 62-degree wedge he put in play for the first time.