News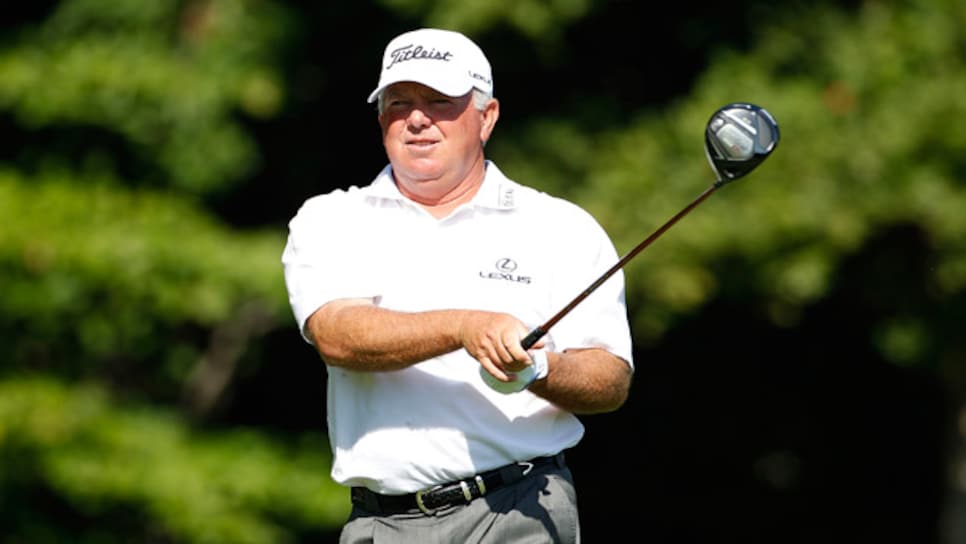 O'Meara had nine career runner-ups on the senior circuit before picking up his first win.
was always among the best on the PGA Tour when it came to wrapping up victories in the final round, his nerves rarely failing him.
He just hadn't been having a whole lot of luck doing it on the Champions Tour.
That all changed Sunday, when the two-time major winner knocked in a 4-foot par putt on the first playoff hole to defeat Michael Allen and win the Senior Players Championship, his first individual victory on the Champions Tour.
"It's a thrill. It's been a long time coming," O'Meara said of his first individual win since the Dubai Desert Classic in 2004. "This is a demanding course. It's a class field. It's a senior major championship. So I feel like I hit the jackpot."
O'Meara had a three-shot advantage on the back nine at the TPC Potomac at Avenel Farm, but a bogey on No. 16 shrunk his lead, and Allen charged into contention with birdies on three of the last five holes. Both finished at 7 under.
In the playoff, O'Meara hit a perfect drive and Allen wound up in the rough, setting the stage for O'Meara -- a nine-time runner up on the over-50 tour -- to pick up the elusive victory.
"I played a little more conservative on my second shot, because I knew he was going to have a tough pitch to get it up and down," O'Meara said. "I'm just thankful that ball went in."
Loren Roberts (68) finished third and Jeff Sluman (66) took fourth. Charles Schwab Cup points leader Bernhard Langer rallied to shoot a 67, good for a ninth-place finish.
Allen had several chances to close O'Meara out before the playoff, but rued a couple of squandered opportunities despite shooting 66. He missed birdie putts on Nos. 15 and 18 that could have given him the lead.
"I've had a lot of second-place finishes that felt pretty darn good, and this one doesn't feel quite as good," said Allen, who was second last week at the Viking Classic on the PGA Tour.
O'Meara seemed to be in control of the tournament, but had to withstand a furious rally by Allen. The scenario was all too familiar for O'Meara, who in many of his second-place finishes on the Champions Tour fell prey to a golfer with a hot hand.
"You can't control the other player, but there does come an element of luck," the 53-year-old O'Meara said. "You can play well, and just somebody else does something more spectacular. It kind of seemed that way. I never gave away a tournament when I had a chance to win, it's just that somebody else did something better."
O'Meara teamed with Nick Price to win at the Legends of Golf event in April, but said finally winning a Champions Tour event on his own held a lot more meaning, especially after a tough couple of years personally and professionally.
"Winning with Nick, that was a win, but it was a team win," said O'Meara, who withdrew from his last Champions Tour event. "Not to take anything away from that, but sooner you've got to win individually. I've come so close.
"Going through my divorce, getting remarried, having all the personal stuff going on off the course, I was the guy that was there, down, up, all over the place. And it's just finally great to have one come my way and come out on top."