News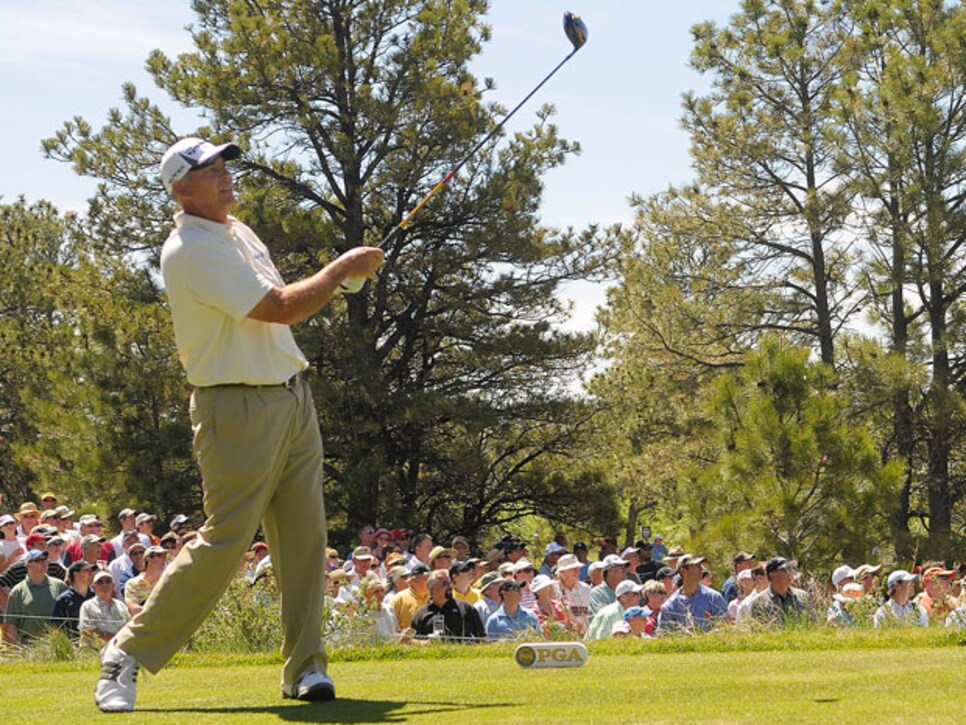 Tom Lehman clinched the win with a par on the first playoff hole.
PARKER, Colo. (AP) -- Tom Lehman has always prided himself on outlasting his flashier opponents by playing steady if unspectacular golf.
Never was that more evident than Sunday when Lehman won the 71st Senior PGA Championship with a par on the first playoff hole, where Fred Couples and David Frost double-bogeyed after terrible tee shots.
Lehman began the sudden death playoff on No. 18 with a solid shot down the fairway before Couples' only bad tee shot of the tournament veered left into the shrubs, forcing him to take a drop.
Frost's tee shot ended up in the left bunker and he pulled his second shot left of the gallery. He cleared out dozens of pine cones in between him and the green before striking his ball, which was nestled in a shrub, across the green.
"That was just a bizarre playoff," Lehman said. "I'm not sure I've ever experienced anything like that. I turned to my caddie and I said, 'How many shots have they taken?'"
Frost and Couples finished with 6s before Lehman's birdie putt from 12 feet came up a quarter roll short. He smiled, tapped it from there, pumped his right fist and cradled the silver trophy.
"I think I had an advantage from the start because I had just finished," Lehman said. "The longer you have to wait I think the tougher it gets to play in a playoff."
Frost had waited 45 minutes, Couples half an hour.
"And I basically just finished signing my card and went back and hit it," Lehman said.
Just getting into the playoff took the kind of gapless golf and dogged determination that Lehman is known for. After bogeys on three of his first five holes, he huddled with his caddie and promised not to beat himself.
He didn't, finishing the last 13 holes bogey-free at 3 under.
"And I really didn't do anything exceptional," Lehman said, "but I didn't make any mistakes."
Lehman's first individual Champions Tour triumph -- he teamed with Bernhard Langer to win the 2009 Liberty Mutual Legends of Golf -- was worth $360,000.
Couples and Frost each took home $176,000 of the $2 million purse, which was of little consolation to Couples, who has energized the Champions Tour this season, winning half of the six events he entered before coming to Colorado, where the thin air favored his strong drives -- but not in sudden death.
After congratulating Lehman, Couples put his head down and stormed toward the clubhouse, where he quickly grabbed a couple of irons out of his locker and bolted for the parking lot.
"It's pretty disappointing," was all Couples had to say as he hustled to a waiting car.
Behind back-to-back eagles on Nos. 15 and 16, Couples had a chance to win this tournament outright in regulation but his eight-foot putt for birdie on 18 missed by an inch. Just as he was putting, a wind gust of about 25 mph came, but he didn't back away.
His tap-in left him with a 69 and in a tie with Frost (67) and Tom Lehman (71), who joined the playoff at 7 under par by sinking a 4½-foot putt on 18 in only a slight breeze.
Frost simply ran out of miracles on the 73rd hole.
"I didn't have enough guts to aim it way out right and bring it back like Tom did," Frost said. "But I won't let one hole bother me when I played so many good holes out there yesterday and today."
Frost was tied for 45th at 5 over par after 36 holes -- a dozen shots behind Couples, who led at the halfway mark -- before shooting 65-67 over the weekend.
Lehman began the day as the co-leader with Jay Don Blake, whose eagle on No. 7 gave him a two-shot lead that was short-lived.
Blake, who hasn't won in 396 starts, sauntered onto No. 8, took a couple of practice swings with his 4-iron -- and topped his tee shot 30 yards into the bushes.
"I just totally shanked one, shanked it right into a ditch," Blake said. "From then on, I felt like I couldn't really be at ease at hitting some good iron shots. I was pretty cautious all day. That kind of put me in a bad frame of mind."
After taking the penalty and carding a double-bogey, both Blake's game and hopes of winning for the first time since 1991 unraveled.
"It gets in your head," said Blake, who finished with a 76, tied for eighth place at 2 under for the tournament.
It was cooler and calmer Sunday at the picturesque Colorado Golf Club, but the pin placements were the toughest yet. The ever-shifting winds added to the adversity the golfers faced at the 3-year-old course co-designed by Ben Crenshaw.
Crenshaw said he wants to fatten the fairways on his 7,464-foot monster for any future majors.
Lehman was the only golfer to shoot four rounds under par here.
"I loved the course from the moment I laid my eyes on it," Lehman said.