News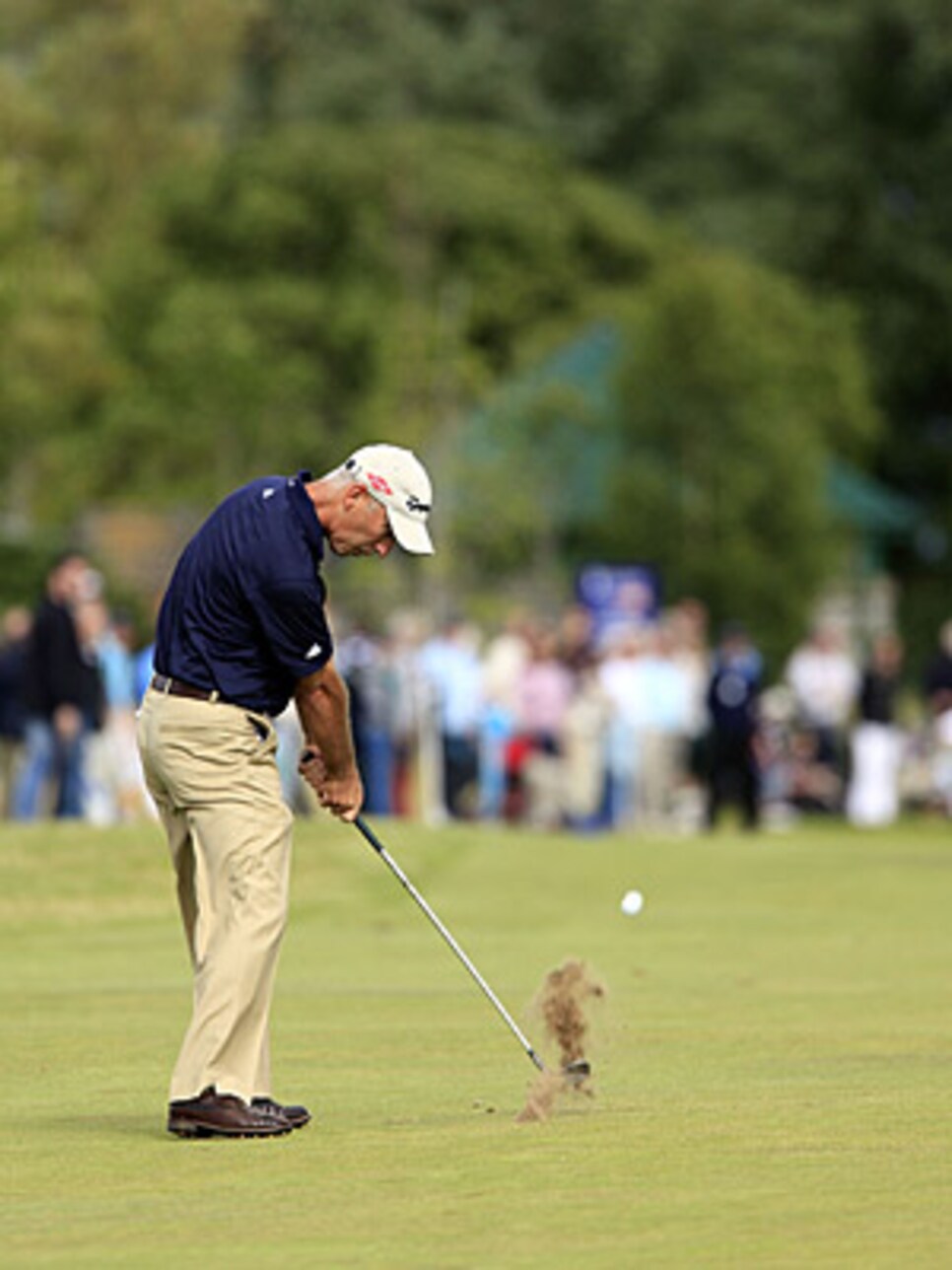 Pavin credits his wife, Lisa, with assuming many of the Ryder Cup responsibilities so he can focus on playing.
SAMMAMISH, Wash. -- When Corey Pavin was reminded Wednesday that he almost won the recent Travelers Championship at age 50, despite ranking 194th in driving distance on the PGA Tour, his reply was swift.
"Shocking stat," he said, tongue planted firmly in cheek.
It certainly is no surprise that Pavin is contending in tournaments the way he always has -- on creativity and guile and a short game folks pay gurus big bucks to try to attain. But at the U.S. Senior Open on tight and testy Sahalee CC, where Pavin figures to factor just a week after he was runner-up to Bernhard Langer in the Senior British Open at Carnoustie, it is at least minor news that Pavin's form is so good.
Being United States Ryder Cup captain hasn't usually been kind to the game of the man charged with organizing the Americans in the biennial competition. From Ben Crenshaw to Curtis Strange to Hal Sutton, the duties -- combined with the captaincy coming at a point in their lives when priorities were starting to change anyway -- have tended to sabotage their play.
Pavin, however, has played solidly in 2010. In addition to his runner-up finish at Carnoustie, he was second at the Cap Cana Championship and T-3 at the Montreal Championship on the Champions Tour. Before nearly winning the Travelers, Pavin was T-7 at the Crowne Plaza Invitational at Colonial CC, where he is a past champion and chose to play instead of the Senior PGA Championship.
"Why is that, huh?" Pavin said when queried about not falling off the competitive map while serving as Ryder Cup captain. "It's one word: Lisa."
Pavin credited his wife for handling a lot of the Ryder Cup preparation, which has allowed him to focus on golf. "She's done all the behind-the-scenes stuff," Pavin said. "I'm involved, obviously, but I'm not in the day-to-day type of things very much. It's a true joint effort with her, and I wouldn't be playing as well as I am if Lisa wasn't doing all that. It's allowed me a lot of freedom with my time."
Tom Lehman, the 2006 American Ryder Cup captain, has another theory why Pavin's game has persevered. "I'm not surprised, he's been a great player for a long time and in some ways becoming the captain adds a little bit of something to you," Lehman said, "that maybe you feel better about where you're at professionally and maybe it takes a little pressure off. All I know is Sahalee is a really good course for him. He's going to be another tough guy to beat this week."
The pace of Pavin's captaincy will quicken over the next few weeks, of course. Eight members of the American side will be determined off the points list following the conclusion of the PGA Championship Aug. 16. Pavin will make his four captain's picks Sept. 7. Until he sees who the eight qualifiers are, Pavin is trying not to get burdened with hypothetical situations.
"I'm basically waiting for the PGA to end," Pavin said. "When that ends and I have eight guys who are definitely on the team, then I'm going to get serious about the four players who I think will complement those eight the best. There has been an extremely small amount of conjecture on my part, because to me it's a waste of time and energy to think about that very much."
Lehman knows Pavin's options, with four captain's choices, will be much be much better than his in 2004. "It's a nice situation to be in," Lehman said. "Picking four guys knowing who the other eight are -- you have the opportunity, I think, to ... pick the guys who you think are going to fit best. What do you need? Do you need experience? Power? Do you need this or that? Those four picks will make it much easier for him."
As for Tiger Woods, currently ranked eighth on the qualifying bubble, Pavin doesn't believe he is going to be in the position of having to make Woods a pick. "I expect him to play well the next couple of weeks and make it on points," Pavin said, noting Woods will play the WGC-Bridgestone Invitational, where he has been dominant, prior to the PGA at Whistling Straits.
For now, Pavin is concentrating on trying to become the first U.S. Open champion to win the U.S. Senior Open since Hale Irwin in 1998 and 2000. The flagstick-seeking 4-wood he hit on the 72nd hole at Shinnecock Hills in 1995 to secure his Open victory is far from a distant memory. "I don't think a week has gone by that someone hasn't said something to me, and it's usually not more than a day or two no matter where I am," he said.
Pavin will be carving low fairway woods on many holes at tree-lined Sahalee. "There is not as much room side-to-side as some other places," he said, "so I'm trying to hit a lot of low, hard shots off the tee. For me, when I want to put the ball in play I try to hit it low, and there are a lot of 3-woods out there for me."
There aren't many players who have gotten such high mileage out of so little horsepower, who delight in denying bigger, stronger men. The late Paul Runyan, "Little Poison," two-time PGA champion and later Sahalee's first head professional, was one. Deane Beman was another. Will future golf generations include a Pavin-like performer, or is he an endangered species?
"If I'm a dinosaur," Pavin said, "I hope I'm a T-Rex or something."