A Passion Shared By Father And Son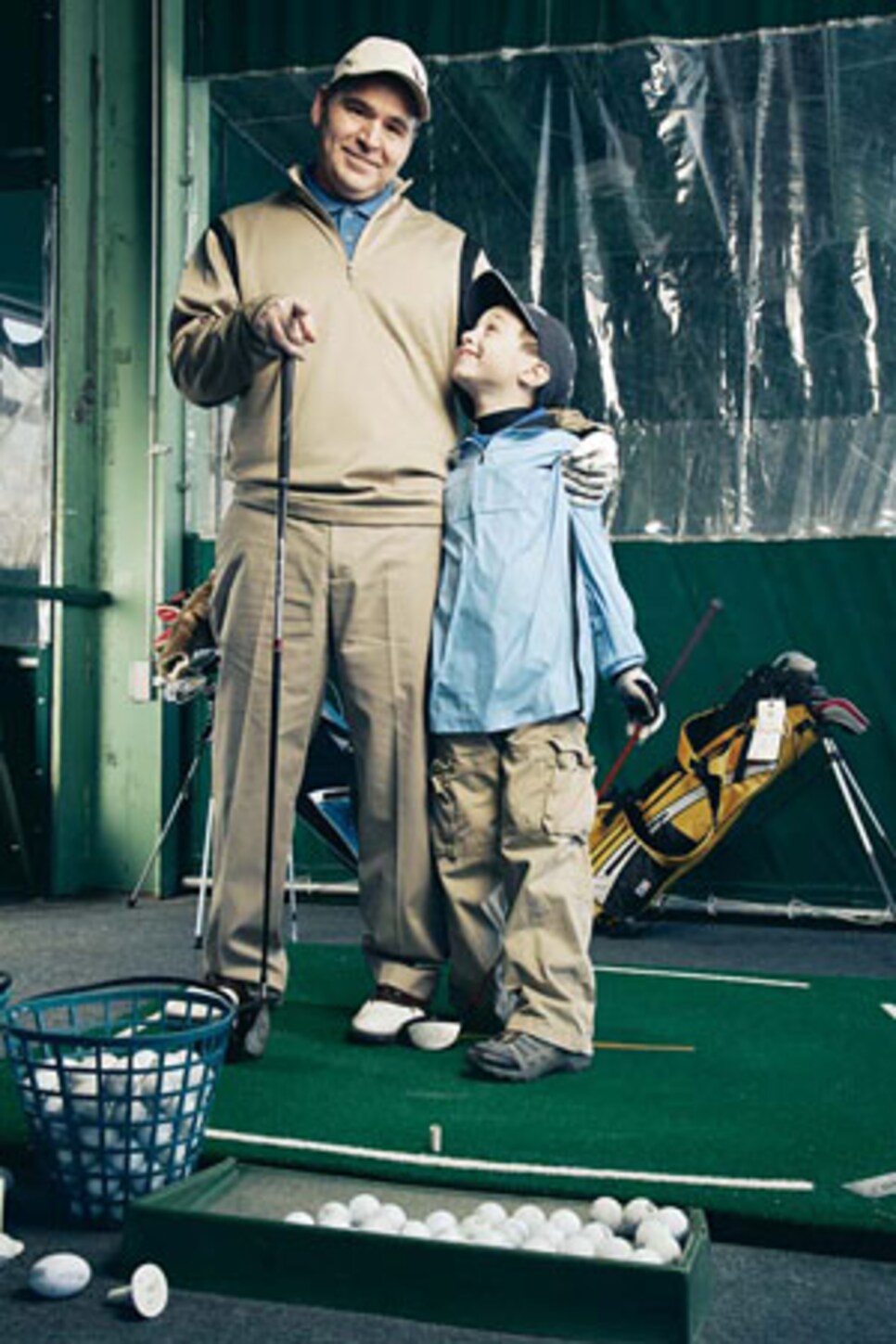 The day my son was born was the happiest of my life. Before we even left the hospital my dreams were far ahead in time. Where would Michael go to college? Would he become a hockey goalie like his dad? How long until the Sundays of watching football and tackling each other in the living room?
My dreams, however, soon became a nightmare. In our hearts, my wife, Nicole, and I knew something was wrong. When Michael was 2, he could cite his numbers 1 to 100 and the alphabet forward and backward, but he forgot the only word he could speak: Daddy. He flapped his arms, walked on his toes and would only spin his toys. Nicole began buying books on autism. Then I finally had to accept the truth, too. One day I came home from work and saw Michael banging his forehead on our hardwood floor and slapping himself in the face. I scooped him up and hugged and kissed him like I would never see him again.
Michael has Asperger's syndrome, which is at the higher-functioning end of the autism spectrum. Now 8, he attends a mainstream class and has a very high math competency. His problems are in social interaction. He has trouble recognizing body cues, so having a reciprocal conversation with him can be difficult. We had to teach him how to have empathy for others. It's because of the amazing efforts of my wife and Michael's physicians and therapists that he has progressed as much as he has. Michael now has a best friend. It's our hope that one day he'll be independent, have a job and drive a car.
Michael loves electronics, especially his Nintendo Wii. To my surprise, he fell in love with Wii golf. The way the game is scored, the numbers of the clubs and how loft affects distance--it all feeds his passion for math. Because he liked the video game so much, we bought him plastic clubs. The day I gave them to him, he broke them from swinging too hard. That afternoon I took him to the range so he could try real clubs. He did so well I asked him if he wanted to take golf lessons, and enthusiastically he said, "Yes!"
Michael can't catch a foam football tossed to him because his eyes have trouble tracking moving objects. We'd tried soccer, but he couldn't grasp the moving ball and teamwork necessary to score. That day at the range was an epiphany: A golf ball doesn't move until you hit it. I grew up in Brooklyn, N.Y., and never played golf, so you'll have to excuse me for not thinking of it.
I told Michael's story to the manager of the range and asked him to recommend an instructor who teaches in a structured manner, like a drill sergeant. (Michael doesn't respond well to "wishy-washy.") PGA professional Brian Flanagan of Fairview Golf Center in Elmsford, N.Y., would prove to be a godsend.
Michael's first lesson was a struggle. He wouldn't let Brian touch him to adjust his grip or stance. But Brian was encouraging and gained Michael's trust faster than anyone outside our family ever had. Brian started gearing the lessons around math, and every week I watched in amazement as Michael hit the ball better and better. Two of Michael's central traits--not getting nervous from people watching him and being able to fall into intense periods of focus--are perfect for golf. He hits his driver 110 yards with a slight draw and can blast a ball out of a bunker with his wedge. You should see his face light up when he drains a 20-footer.
Six months after Michael began taking lessons, I started taking them. At 44, I discovered the game I used to mock is the most challenging and rewarding sport in the world. Now on Saturdays my son and I take lessons from Brian, and on Sundays we go play nine holes. Michael calls these days "Michael and Daddy Day."
So instead of my son following in my athletic footsteps, I'm playing his sport, the one he convinced me to try.