News
Phil Mickelson: 'I'm Much More Emotional' Than Tiger Woods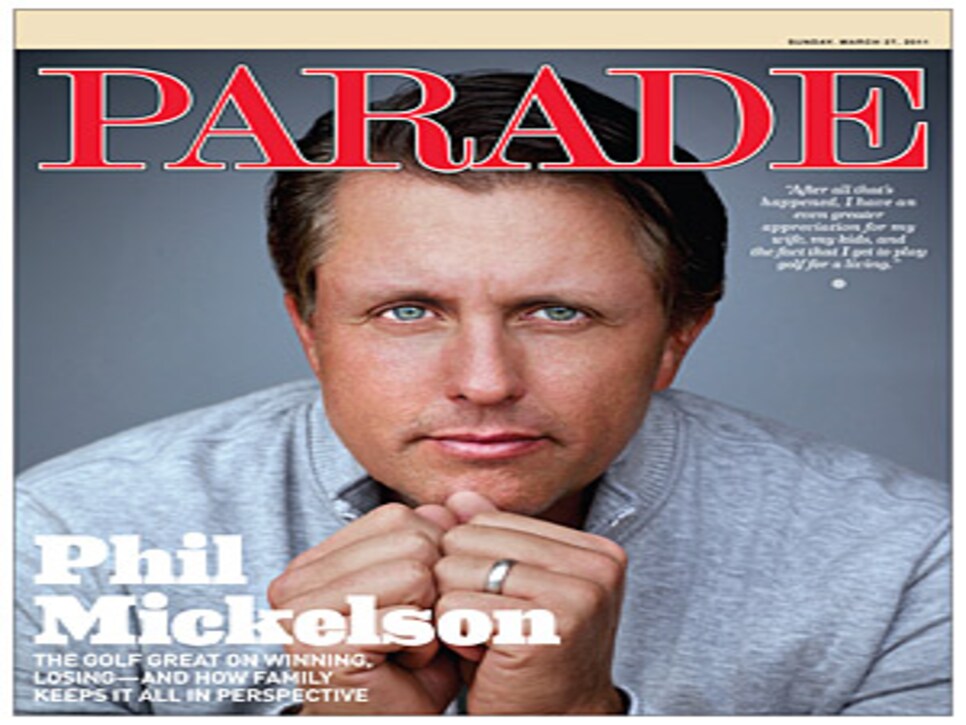 "Last year was not a great year other than winning the Masters," Phil Mickelson said.
In these exclusive extras from PARADE's March 27 cover story, Phil Mickelson opens up about his family, game, and Tiger Woods.
What's in store for 2011.
"Last year was not a great year other than winning the Masters. That saved the year. I didn't accomplish a lot of things I had wanted to, and to be fair, I was derailed for some other reasons. I'm really confident in 2011. I'm excited for a couple of reasons: I feel great and I'm able to practice and work on my game and not have that affected, and my strength is back.
"Also, I've been working with Butch for four years and a lot of the changes we've implemented have taken effect--my golf swing is my golf swing and where it is today is where it's going to be for the rest of my career. I'm not going to be making any changes, trying anything different. All I'm going to try to do is refine it. Enhance my touch, keep my short game sharp, enhancing my shot making, hitting fades and draws and stuff with irons -being able to get to different pins. And my driver is my driver. If I want to hit it in the fairway, I'll hit a 3-wood or an iron off the tee. I'll hit a reasonable amount of fairways with my driver, but if I'm a little bit erratic, that's just the way I'm going to play. So what's exciting to me is that it's not a year of change it's a year of refinement and I see that as an opportunity to try and be creative, hit shots, shoot low scores and not worry about the technique."
The biggest difference between his style vs. Tiger Woods' style.
"Throughout his career he's been able to maintain a level of high performance consistently, whereas I'm much more emotional. I'll have highs and I'll have lows and I'll be much more up and down. He is very even keeled and somehow he's been able to be even-keeled at the highest level of performance. For me, I need emotion and adrenaline and excitement to get me to those highest levels and then consequently, there's always at some point going to be a fall out. I've never been able to stay at the highest level for a sustained period of time, whereas he has found a way to do it."
He's never going to be a conservative golfer.
"No, because I like winning. I'm not the kind of person that accepts getting a paycheck for a top ten finish. That's doesn't do anything for me. I love and really enjoy winning and to win on the PGA Tour you have to take risks, that's the only way. There are way too many guys that are too talented and too good for tournaments to be handed to players because everybody else failed. That's not what's going to happen and I think it holds some of these young guys back from wining more tournaments because they're either afraid or tentative to take on risk to take on shots or they just don't enjoy the challenge, they fear failure. You can't fear failure in this game because you're going to fail a majority of the time. It's the successes that you'd rather dwell on. That's part of my overall belief in being successful on the tour."
On keeping his nerves in check.
"When I play my best I'm nervous. It's kind of what keeps me on edge and allows me to play well. When I'm not nervous I get complacent and I don't think as sharply or see things as sharply. When I'm thinking creatively on a shot and trying to get to a tucked pin, I usually hit a much better shot. I need an element of nervousness and I need an element of challenge to be able to see a clearer picture of what I'm trying to do to hit that shot."
How he maintains the drive.
"I love the game of golf and it's been a big part of my life. It's helped me not just when I'm on the course, but it's helped me when I'm off the course deal with issues as well. I really realized how much I loved the game of golf when Amy got sick, when Amy was diagnosed with breast cancer because I found that it was a great way for me to deal with some things. To go hit a few golf balls or go chip or putt--to just have a little bit of time to myself. And also when there were tournaments that I missed because we were getting treatment, I realized how much I really missed playing when it was taken away or when I wasn't able to compete. I realized how much I enjoyed it because I always thought I [would] retire a little bit younger than I'm now thinking I'll retire."
On his special family traditions.
"My favorite little tradition is that I take my kids to breakfast before school. It's my time with them. Now that they have school and they have after school stuff and homework, at night I don't really get a lot of time with them, especially time when they're focused. They're usually pretty tired after that so it might be holding hands watching a show--we always have dinner together, that's a given, too. But my deal is taking them for breakfast. Amy doesn't usually come...she's always welcome to but usually doesn't and I'll take one a day and if I don't have enough days I'll take them all, but I really love getting them one on one. It's my opportunity to ask them about what's going on in their life, how things are going at school, what kinds of tests they have coming up this week, how their friends are doing--things like that. And it's the time I cherish the most."