News
The U.S. Open, Like Every Major, Has Its Own Unique Challenges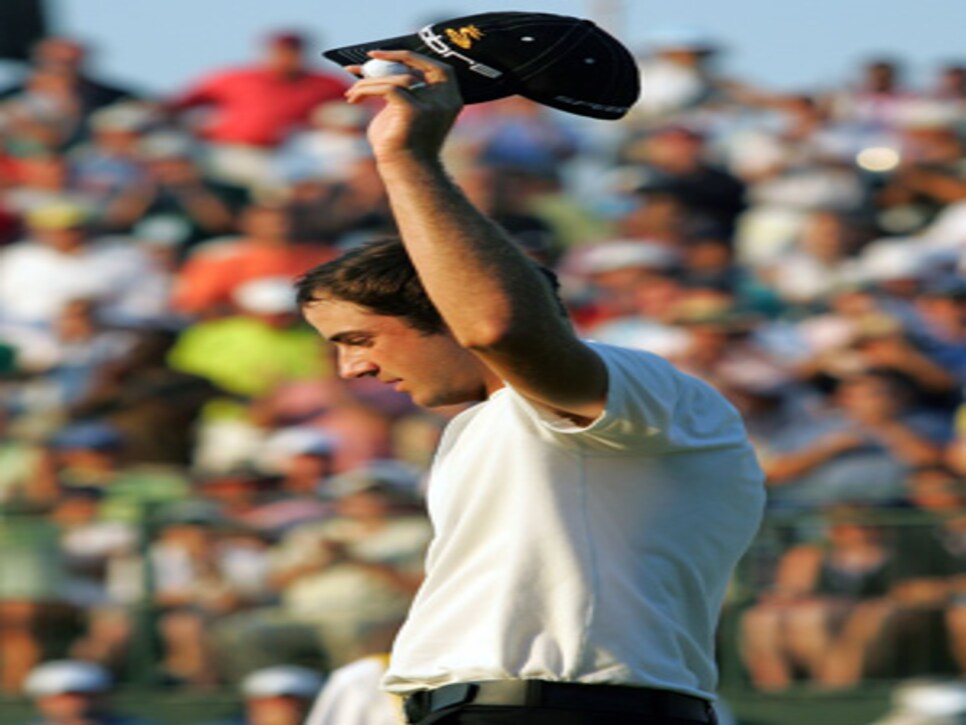 Ogilvy overcame all the challenges the U.S. Open presents when he won at Winged Foot in 2006.
At the point in my career when I became exempt for all four major championships, I naturally started to "take aim" at each one. That sort of approach is nothing new, of course. Over the years many players with serious ambition have done the same to varying degrees. Jack Nicklaus used to take two weeks off before a major and play the host course multiple times. Greg Norman and Nick Faldo made similar early site-visits and so do Tiger Woods and Phil Mickelson in the modern era.
Preparing for a Masters is relatively straightforward. Augusta National is all about fast, big-breaking putts and sidehill lies. Besides, going there every year gives me a jumpstart on my practice. I can even do some of it sitting on the couch with my eyes shut.
For the British Open I know I'm going to be hitting lower-than-normal shots. I'm going to be bumping and running around the greens. I'm likely going to be faced with strong crosswinds, "flier" lies and pot bunkers. And I'm going to have to putt with a gusting breeze tugging at my posture. Some of that is hard to re-create beforehand, but at least I know what I have to do.
Then there's the PGA Championship, which is really just an amped-up PGA Tour event. There is nothing too special I need to work on for that week. I just hope I arrive playing well.
Which brings me to the U.S. Open (a championship I was fortunate enough to win in 2006 at Winged Foot). It is different from the other majors in that it is one of the few American events where I know going in that the course will be really firm. So it takes more time to figure out what I need to be good at if I'm going to have a chance of winning.
I do know a few things, though. To me, the U.S. Open isn't quite the complete test of golf that it sometimes claims to be. The fairways can be so narrow that even the straightest hitter is going to miss a few from the tee. So at least six times in every round, I'm going to miss a green in regulation. That's the best I can ever see myself doing.
That means six times a day I've got to figure out how to make par using only one putt. In other words, my ability to get down in less than three shots from inside 80 yards is going to be tested. If I do miss a fairway, that's often as close as I can get to the green in two shots.
One thing I see guys doing in the month or so before the U.S. Open is working with a new hybrid club. Something like a 7-wood, a club that has at least a chance to advance the ball a decent distance out of long grass. I credit Mike Davis of the USGA for that. Since he introduced the concept of "graduated rough" to the championship about five years ago, we haven't been mindlessly hacking out nearly as often. If we're good enough, he gives us an opportunity to move the ball maybe 180 yards instead of only 50.
Anyway, that's how I prepare physically. Preparing mentally is something else. The U.S. Open is the ultimate test of patience. I know I'm going to have to prepare myself for the feeling that I am playing badly even when I'm not. I have to convince myself that par golf -- or even one or two over -- is good. It's just so different from any other week on tour, where grinding for pars means you are really not performing well at all.
The final piece of the U.S. Open puzzle is short putting. One of the less well-known aspects of the event is that, over the course of each day, the greens tend to deteriorate quite sharply. That's not the fault of the venue or the greenkeeping staff. It's just that the surfaces are so close to the edge that as each round goes on they get steadily worse. And by Sunday they are almost brown, just the way the USGA likes them. "Not dead but dying" is definitely their thing.
The superior putters in the field love that, of course. They can still hole out on greens that are both bumpy and fast. The best putters always identify themselves over the last nine holes of any U.S. Open -- more there than at any other major.
Which, come to think of it, is a pretty good slogan for America's national championship.