News
My Town: John Smoltz's Atlanta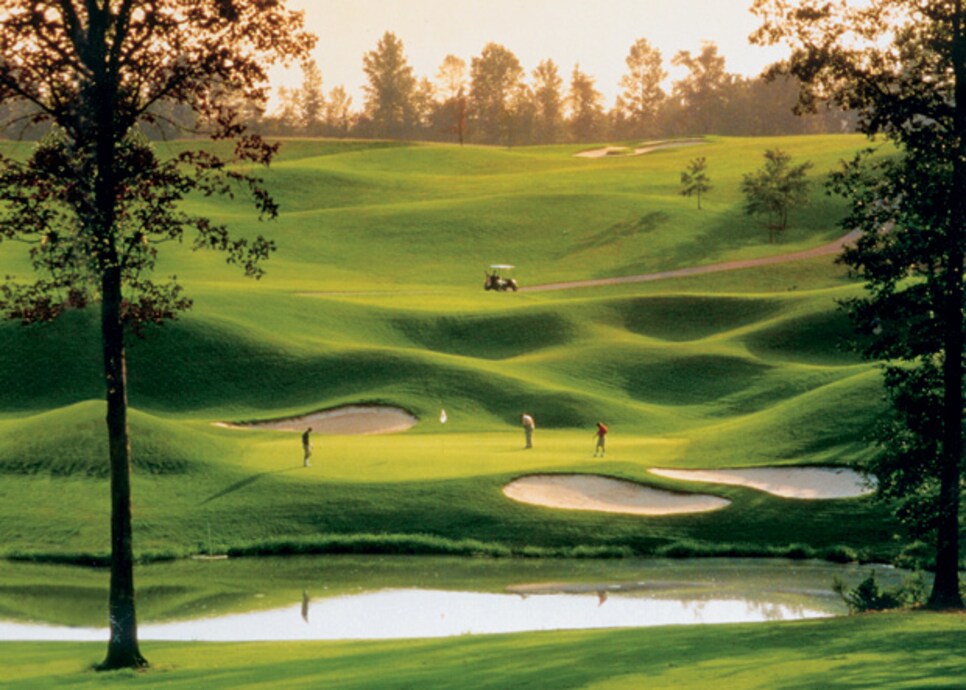 Château Élan features three golf courses and some fine restaurants.
For more than two decades, pitcher John Smoltz made a living making opponents look foolish. With a mid-to-upper 90 m.p.h. fastball and a slider that was equally nasty, the future Hall-of-Famer racked up more than 3,000 career strikeouts while playing mostly with the Atlanta Braves. But now, the big right-hander is more concerned with competing against himself on the course.
"As a pitcher, when you let go of the ball, what happens after does not always indicate how well you threw it. There are a lot of other factors," Smoltz says.
"But when I finish a round of golf, I know that everything I did is all me." And Smoltz usually does pretty well. The 43-year-old carries a plus-handicap and has been known to give friend Tiger Woods a run for his money getting just two strokes a side. Smoltz may have a "self-made swing," but he takes his golf game seriously, as evidenced by his Ball Ground, Ga., home
, which boasts three practice greens and nine tees.
With Georgia's terrain, the choices are pretty unique. I always enjoy playing at two of my home courses, Hawks Ridge GC and the GC of Georgia, since I live right in between. Hawks Ridge is always in great shape and has a lot of risk-reward holes, while the GC of Georgia has two different courses -- and by different, I mean night and day. One is a shotmaker's course where you hardly hit driver, and the other is a links-style course.
For public options Woodmont G&CC, north of the city in Canton, is a great course designed by Robert Trent Jones Jr. Out west on I-20 there's Tom Fazio's "The Georgian" (aka The Frog). It's also a fun place to play. And if you don't mind driving a little bit, head east to the Oconee, which is one of five courses at Reynolds Plantation open to the public.
Northeast of Atlanta is Château Élan, a very nice resort featuring fine restaurants and three courses. It's a great place to relax as well as play golf...In the other direction from Atlanta there's Callaway Gardens. It's a resort that probably is better for a family trip since there are more things to do. There are a lot of outdoor activities, including plenty of walking trails and gardens of azaleas. Both places also have very nice spas with excellent service.
I spent most of my 22 years in the Atlanta area going to the ballpark and back home and not having any reason to eat out. It's funny how rarely I've done it. That said, I really like Cabernet, in Alpharetta, and Chops Lobster Bar in Buckhead. Both are great steakhouses. And of course, the Capital Grille is always good. If you're in the mood for a sports bar, try Jocks N Jills at the Galleria Mall or go a little north to Barnacles in Norcross, where I'm an owner.
For a variety of outdoor activities, you should visit Stone Mountain Park. For nature lovers there are opportunities to hike and camp. It also has a theme park with plenty of stuff for kids. When you're there, you should be sure to see the Confederate Memorial Carving, which depicts Robert E. Lee, Jefferson Davis and Stonewall Jackson. It's carved right into the mountain.
Another outdoor place to consider is Lake Lanier, which has great boating and fishing. And, of course, you can always take in a Braves game at Turner Field during the baseball season. They should be an exciting team this year.