News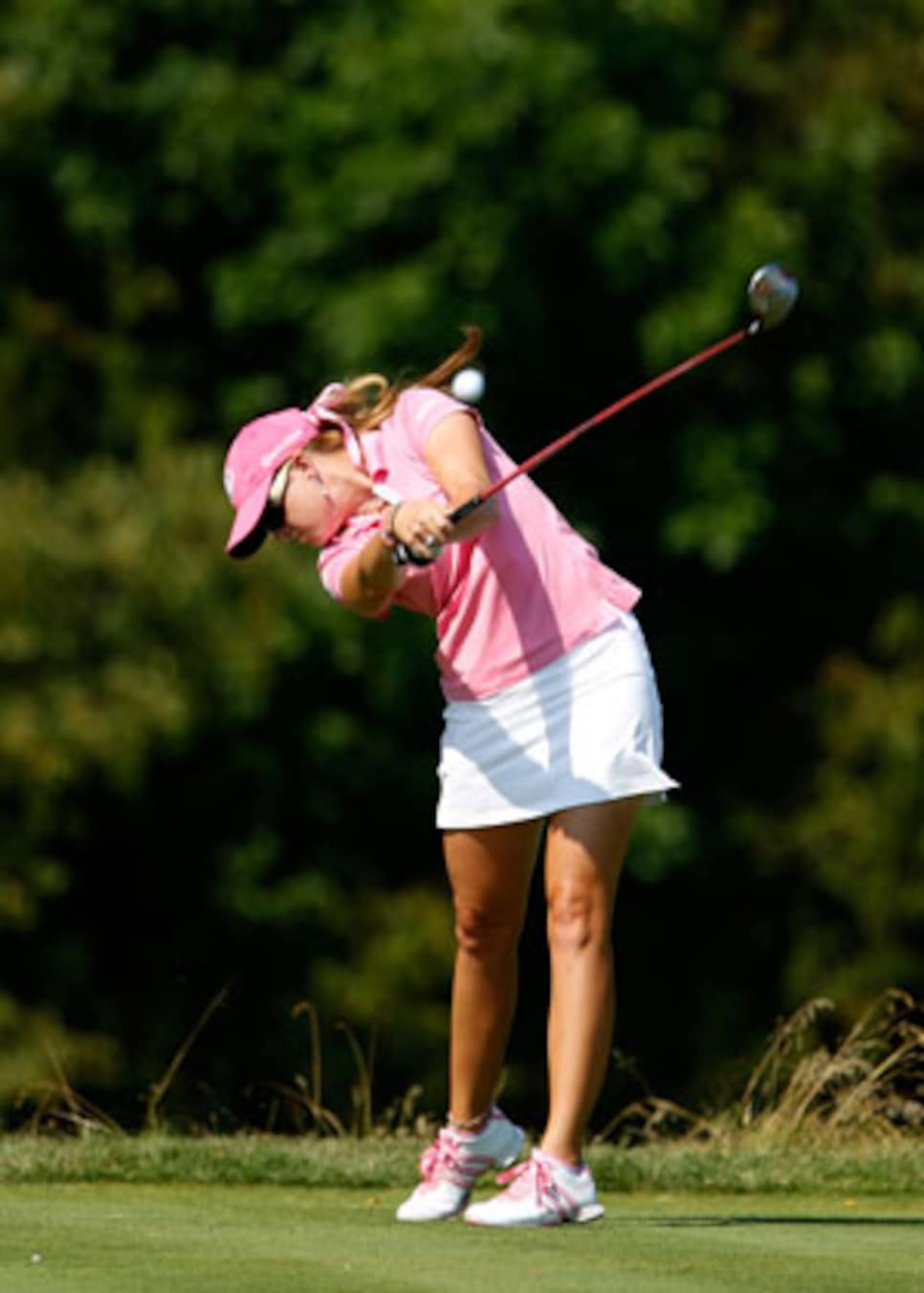 Creamer was the only player under par for the week.
OAKMONT, Pa. (AP) -- Paula Creamer flinched in pain as shot after shot punished a left thumb that hurts so badly she couldn't play for four months. Somehow, the worse she felt, the better she played.
Creamer shed the title of being the best women's golfer to not win a major, never wavering during a four-shot victory Sunday in the U.S. Women's Open and putting away a field that couldn't match her confidence or steadiness.
Creamer made it look easy after beginning the final round with a three-stroke lead that never dipped below two shots, finishing the tournament with a 3-under 281. Na Yeon Choi of South Korea shot a 5-under 66 to tie Suzann Pettersen of Norway for second place at 1-over 285.
It wasn't easy. Not even close.
Limited to 40 practice shots before each round by a still-healing hyperextended left thumb that required surgery in February, the 23-year-old Creamer found the best possible way to limit the pounding on her hand: take as few strokes as possible.
Creamer, known as the Pink Panther for all-pink attire, ended with a 2-under 69, far better than the 75 she averaged during previous Women's Open final rounds. She faded badly near the finish the last two years, and she missed the cut at last week's Jamie Farr Classic won by Choi. But this time she was as strong as her thumb is weak.
It had to be; she punished that thumb by playing 52 holes during the final two days, 23 on Sunday, because of Friday's rain suspension.
"I was in pain, but I was trying to do everything to not think about it," Creamer said.
Lifting the silver trophy that goes to the winner? That was easy, too.
Her lead briefly down to two strokes after four holes, her two biggest confidence-building shots of the day might have been long, par-saving putts on No. 7 and 8 -- even as Choi was charging with the tournament's second-best round. Song-Hee Kim had a 65 on Sunday and finished 13th.
Creamer, from Pleasanton, Calif., had two bogeys -- laying up out of a bunker on the par-5 12th during the second -- only to all but wrap it up by hitting to within 10 feet out of the thick rough on the par-4 14th. She then dropped a 10-footer for one of her four birdies.
Flashing a bit of a smile for the first time, she hit another exceptional mid-iron to 4 feet on the 442-yard 15th and made that, too.
Right about then, she knew a major was finally hers. Two weeks after Cristie Kerr won the LPGA Championship by 12 shots with domination, Creamer won with determination.
"Without a doubt, I've matured over the last couple of months," said Creamer, so bored during her layoff she attended the Masters as a spectator. "It was hard. I've prepared for this for the last three months and it makes everything so much better."
Creamer played only her fourth tournament since that operation forced mechanical changes in her game because her right side is much stronger than her left. After playing 29 holes Saturday, she feared unwrapping her throbbing thumb because "it might explode."
Her game certainly didn't, even if she worried back in February the injury might prevent her from regaining the form that has allowed her to win nine times as an LPGA golfer.
Don't think she wanted this tournament, this title? She first studied DVDs of Oakmont Country Club a year ago, watching the 2007 U.S. Open won by Angel Cabrera. A valuable lesson it was, as Sunday's pin placements were exactly the same as three years ago.
Creamer stayed poised as most of the contenders around her kept tumbling.
Two years ago, Creamer shot a 78 after starting the final round down one to leader Stacy Lewis. Last year, a third-round 79 at Saucon Valley put her out of contention before she recovered with a 69 to tie for sixth.
Brittany Lang, the first-round leader with a 69, was within two shots before bogeys on the 15th and 16th dropped her six back at 287 despite her final-round 69. Lang, Yang and former world No. 1 Jiyai Shin tied for fifth at 286, one behind In Kyung Kim of South Korea.
Wendy Ward, in second place when the final round began, took a triple-bogey 7 on No. 1 and was gone from contention. Kerr, the world's No. 1-ranked player, tried to charge with consecutive birdies on No. 2 and No. 3, but fell back with four bogeys in the next six holes. She tied for 17th.
Alexis Thompson, the 15-year-old Floridian who is the successor to Michelle Wie as the next potential big star in women's golf, trailed by five before taking a double bogey on No. 1. She was the second-longest hitter during her fourth Women's Open, but was held back by a series of three-putts while tying for 10th.
Only Choi didn't fold but, down seven before the final round began, she couldn't pull off the biggest comeback in tournament history. No golfer has rallied from more than five down in the final round.
All nine of Creamer's LPGA victories came as she led going into the final round.
Creamer is the 12th first-time winner among the last 15 majors. Until Kerr won the LPGA and Creamer won the Women's Open, the United States had won only eight of the last 39 majors.