News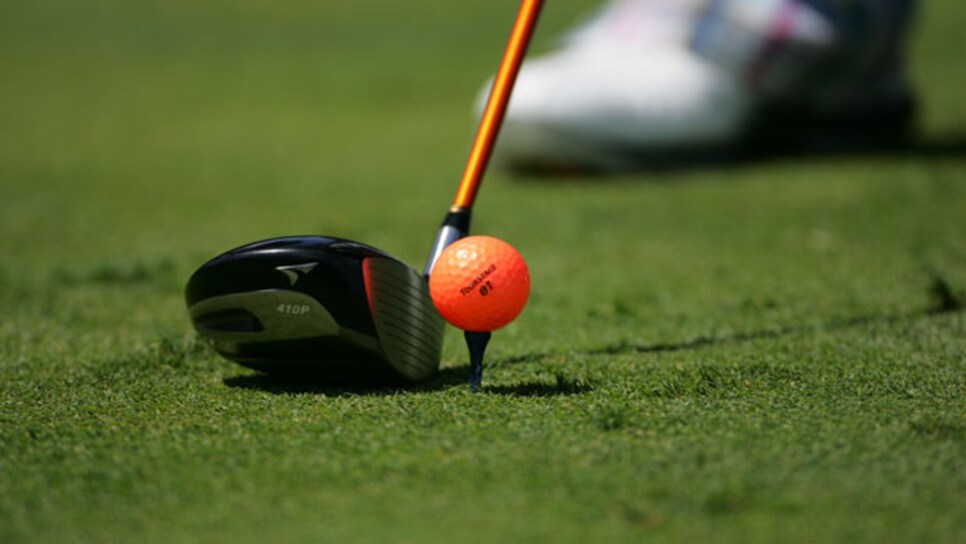 At the Bridgestone Invitational, Katsumasa Miyamoto used an orange-colored version of the X-01 B+ ball from TourStage, a Japanese golf brand and sister company of Bridgestone.
Many sports fans are familiar with the term "combine" as it relates to professional football -- the six-day event where players are put through a series of drills, tests and interviews so coaches and general managers can assess their strengths and weaknesses. Now a variation of the concept is making its way to golf with Trackman Combine, an initiative that will set shotmaking standards at various distances for all types of golfers.
Trackman is generally regarded as the pinnacle of radar-based launch-monitor devices and is widely used by PGA Tour players and equipment-company reps to gather swing and shot data to get players dialed in to their equipment. Trackman Combine, however, takes the system to another level, allowing players of all ability levels (not just tour pros) to assess their shotmaking skills from several distances.
Here's how it works: The person administering the test (to find out where Trackman Combine is available, go to trackman.dk/contact) sets targets at 60, 70, 80, 90, 100, 120, 140, 160 and 180 yards along a single target line, ideally with minimal elevation change. The player then starts at the 60-yard shot and hits four balls to the target, with Trackman recording the distance and how far off line each shot is, with the administrator letting the player know the distance of each shot. "There's a rhythm to the test," says Matt Frelich, a PGA professional who works for Trackman. "Giving a player the distances allows them to stay focused on each shot."
The player then moves through each distance, four balls at a time, and completes the first round by hitting four drivers immediately after completing the 180-yard shot segment. After finishing the driver segment, the player repeats the process, starting with the 60-yard shot. In all, 80 shots are struck, which takes an hour or less.
"Eighty balls is a lot of shots," said Frelich. "But it is necessary to gather meaningful data." Upon completion of the test, the results are uploaded to Trackman's website and are available for the player to review. An e-mail also is sent to the player so they can study the stats later on as well.
So what is the player looking at? In addition to average distance from the pin at every yardage, average driving distance, average off-line distance, the player can also determine his percentile rank for every shot category (this can be compared to any specific handicap group -- in other words, an 8-handicapper can see where he or she stacks up against others in the 5- to 10-handicap range or even against a tour player) as well as a final aggregate Trackman Combine score.
What did I learn after going through the paces? Well, I'm pretty dialed in on the 100- and 140-yard shots (only 3 and 1.7 yards off, respectively) but boy, do those half-shots need work. I was almost 10 yards long on the 60-, 70- and 80-yard shots. No wonder I'm not making enough birdies. My overall aggregate score (a calculation that takes into account how close to the target the player is, both in terms of distance and accuracy for all shots) was 65 -- a little on the low side for a 4-handicapper and way off the current high of 86 set by Luke Donald. But after I add a lob wedge to accommodate those shorter shots, I'm confident I'll inch up a little in the standings.
"Trackman Combine is designed to let players know what shots to work on and perhaps what clubs need to be added or subtracted from the bag," said Frelich. "Some will say, 'Isn't that what lessons are for?' And that's true. But they should think of this as the first lesson to get them started."
Earlier this year Tim Clark and Vijay Singh, among others, put Srixon's Z-Star Tour Yellow ball in play. At the WGC-Bridgestone Invitational, Katsumasa Miyamoto used an orange-colored version of Tourstage's X-01 B+ ball. TourStage is a Japanese golf brand and sister company of Bridgestone, and the X-01 B+ has a construction similar to Bridgestone's Tour B330-S ball.
Phil Mickelson was experimenting with his driver again at Akron, this time putting a shorter shaft in his Callaway FT Tour driver. Lefty, who had used a 45-inch, 73-gram Mitsubishi Fubuki shaft, dropped down to 44 inches and added 20 grams of weight when switching to a 93-gram XX Mitsubishi Diamana Blueboard. To keep the swingweight in Mickelson's preferred D2 range, Callaway added 10 grams to the carbon composite head of his driver, while bending the hosel to make the lie angle slightly more upright...Ryo Ishikawa used a half-mallet Yonex prototype putter at Firestone. Ishikawa had been using an Odyssey Black Series 9 putter...After using Callaway's FT-3 driver for several years (including during his U.S. Open win at Pebble Beach), Graeme McDowell switched to an 8.5-degree Callaway FT Tour driver at Firestone. McDowell was T-7 in driving accuracy with the new club.