News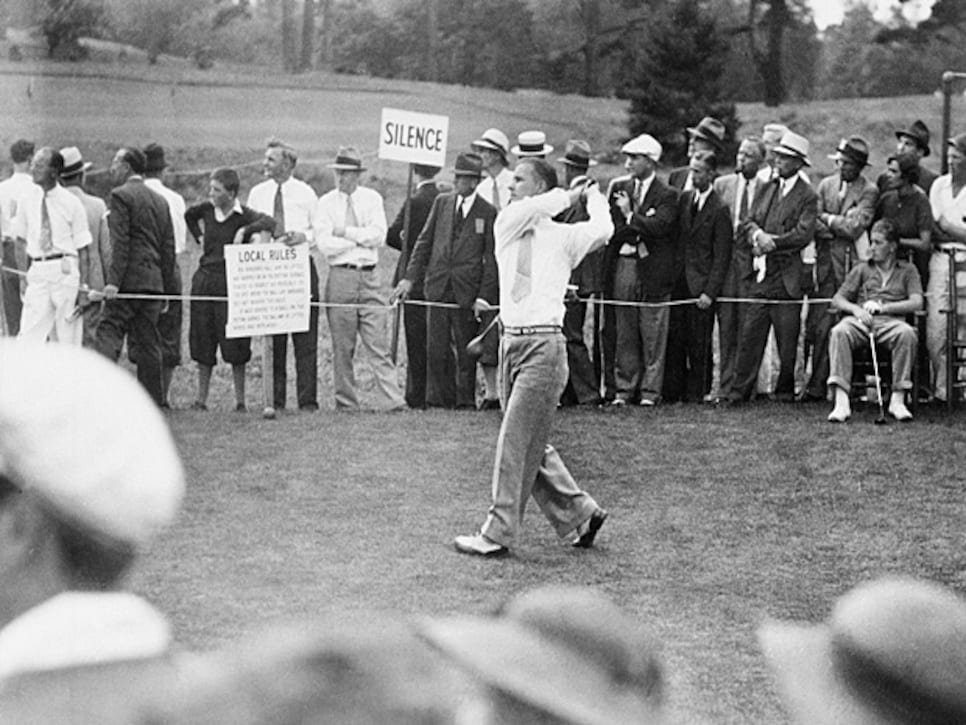 Johnny Goodman tees off at the 1934 U.S. Amateur at Brookline.
OMAHA -- Golf heroes can become faint echoes as their time passes, especially in a world that scurries so swiftly that yesterday can seem like long ago. The latest is sometimes confused for the greatest.
This week, though, on the occasion of a big tournament in his hometown, Johnny Goodman ought to be remembered.
There are legends at Omaha CC competing in the U.S. Senior Open, men like Tom Watson who made their mark, who made history. Yet none did what Goodman achieved 80 years ago when he won the U.S. Open as an amateur. He is the last golfer playing merely for pride and sport to capture the championship, and the odds of an amateur ever winning it again are slim indeed. In the last 50 years, Jim Simons, at Merion GC in 1971, has come the closest, when he contended deep into the final round, eventually finishing in a tie for fifth.
Not only does Goodman have the distinction of being the last amateur to win the U.S. Open, but he won the 1937 U.S. Amateur too. That makes him one of just 11 golfers to have won both titles -- an elite roster comprised of Jerome Travers, Chick Evans, Bobby Jones, Francis Ouimet, Goodman, Lawson Little, Arnold Palmer, Gene Littler, Jack Nicklaus, Jerry Pate and Tiger Woods.
All but Goodman, Pate and Woods (not yet the current minimum age of 40 to be voted on) are in the World Golf Hall of Fame, which partly explains why there is lobbying from a cadre of Nebraska golf people to see Goodman re-nominated this year for consideration in the Veterans Category, which is determined by the Hall's board of directors.
"As time has gone on, he sort of got lost," says John Tomasiewicz, an 86-year-old Omaha golfer. "Lot of the younger people around don't even know who Johnny Goodman was. I'm very interested in seeing Johnny get some more recognition."
Whether Goodman is eventually chosen for the Hall of Fame or not, his story is worth telling. From Gene Sarazen to Lee Trevino to Vijay Singh, golf certainly isn't void of players who overcame meager upbringings to become one of the best. Yet Goodman's ascent to the golf heights given where he came from may top them all.
One of 10 children born to Lithuanian immigrants who tried to scratch out a living amid the grim meat-packing plants of Omaha's south side at the start of the 20th century, Goodman, born in 1909, was orphaned when his mother died and his father ceased being a meaningful influence on Johnny's life. He was trying to look after his siblings when he needed someone to look after him.
"He came from nowhere, the absolutely lowest point of poverty," says Dan Zadalis. "Johnny was from a broken, poor family, and my dad's family took him in and kind of adopted him for a while."
Dan's father, Matt, was Goodman's pal. One day the boys were kicking around a railroad track that bordered the Omaha Field Club. They saw golf -- although they didn't know what it was at that moment -- on the other side of a fence. They found golf balls on the tracks, saw children their age carrying bags for the adults, wondered what that different, happy world of play was all about.
Soon Johnny and Matt discovered there was money to made from toting the clubs of others. They became caddies, fell in love with the challenge of playing themselves and got good at it. When Walter Hagen came to town for an exhibition, he requested the best caddie at the club. Goodman earned his bag.
Goodman was quiet, serious and determined on the course, a likable striver in whom others saw potential. He was fortunate to be befriended not only by the Zadalis family but later the L.B. Websters, whose son Wendell was a good friend. It also became another second home for Goodman.
"Wendell brought him home because he didn't have anywhere else to live. He lived with us for four or five years," says Joyce Webster Kachergis, 88, who was 16 years younger than Wendell. "We lived in a great big house in Omaha. My parents adopted two other children. They were a very good, kind family and took people in who needed help."
Johnny made the most out of the largesse, although the golf course became his true sanctuary, the place that he felt most comfortable.
When Goodman beat Bobby Jones in the first round of the 1929 U.S. Amateur at Pebble Beach it was an upset for the ages, a stunning ouster of golf's biggest star. But that remarkable day on the Monterey Peninsula was only an appetizer to what would occur four years later in the U.S. Open at North Shore CC outside Chicago.
After shooting a second-round 66 -- a score that tied Sarazen's U.S. Open record -- Goodman hung on, despite faltering in the final round with a 76. His 287 total edged Ralph Guldahl by one stroke. Four years later, at Alderwood CC in Portland, Ore., Goodman won the U.S. Amateur. In doing so, he became just the fifth amateur to win both titles (after Travers, Evans, Jones and Ouimet) and found himself on the cover of Time magazine.
But Goodman spun his wheels away from competition, struggling to find a comfortable niche and rewarding work in his hometown. He suffered a broken arm in a car accident that affected his swing. He drank heavily.
"One time I was with my brother Wendell when he went to visit Johnny," says Kachergis. "I stayed in the car, and Wendell went in to see Johnny in his house. After a while, Wendell came out and said Johnny was not in very good shape. Wendell was very sad about it."
Seeking a fresh start, Goodman and his wife, Josephine, moved to California but as Goodman biographer Michael Blaine details in The King of Swings, his troubles continued when he was laid off from a job as a representative for Canada Dry. "Jobless and without a pension," Blaine wrote, "Goodman was at sea."
Goodman nearly died from cirrhosis of the liver as he neared his 50th birthday, languishing in a coma for several weeks and receiving the last rites before rallying. At 50 he stopped drinking and turned professional to give lessons at Bellflower Golf Center, a par-3 course and driving range near Los Angeles.
"He has completely recovered from his serious liver ailment and has returned to playing golf," Bellflower said in a press release announcing Goodman's appointment. "Johnny, who again packs 160 lbs. ('my best fightin' weight') on his 5 ft. 8 1/2 inch frame, says his once flawless swing has a few rusty creaks in it, but fellow golfers attest Johnny is back busting par again."
Goodman lived another decade, passing away at 60 on Aug. 8, 1970. He is buried in his hometown, where within the last decade a municipal layout formerly called Applewood was renamed Johnny Goodman Championship Golf Course in his honor. "But he's still not appreciated to the point that he should be," says Dan Zadalis, another who hopes the Hall of Fame will reconsider Goodman.
"I remember Johnny as a nice fellow," says Kachergis. "He had a very tough start in life, and despite that he became a great golfer."
Goodman never got a parade in New York, like Bobby Jones or Ben Hogan, but he got one in Omaha after he won the Open.
As Blaine noted in his biography, an Omaha newspaperman, W.E. Christensen, captured the scene: "Happiest of all the cheering thousands were the caddies from Omaha's golf courses who, afoot and on bicycles, followed at the rear tires of Johnny's car throughout the 20-block parade and laughed at police attempts to make them keep a distance."
He was only 23, a lifetime ahead of him. He was a hero.