The Loop
Golf helping NFL coach get over lockout woes
PONTE VEDRA BEACH, Fla. -- Even amid a growing crowd on Sunday at the Players, Jack Del Rio couldn't help but stand out. Walking the course in a Jacksonville Jaguars polo, the burly head coach of the hometown NFL team seemed to be enjoying himself on a beautiful day, chatting with fans and taking in the action.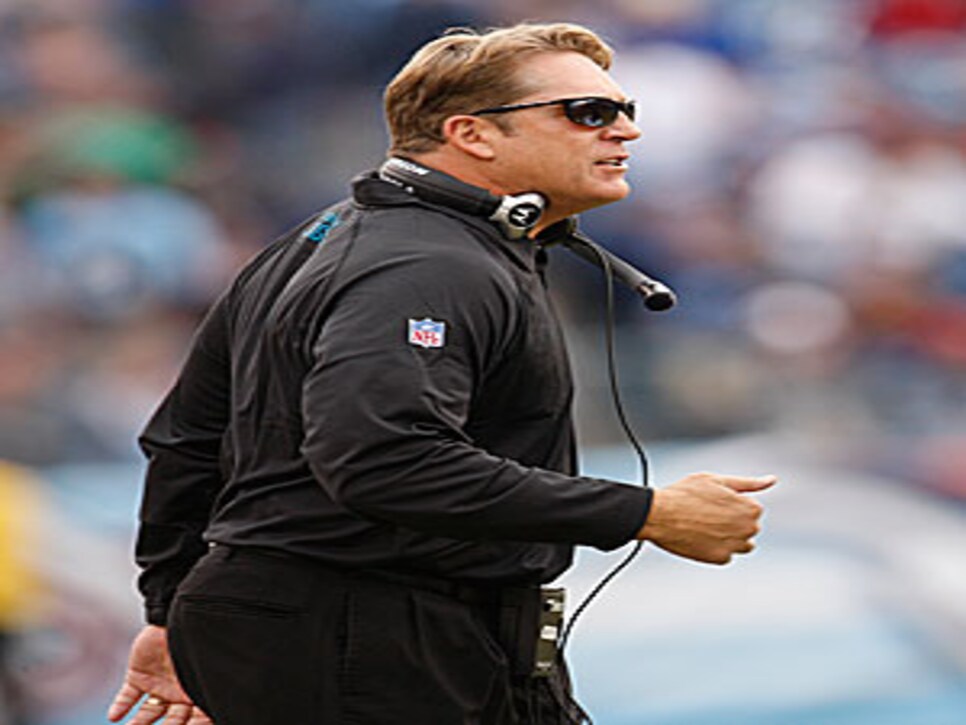 "I love golf and I love being able to come out here and see the best players in the world going at it," he said before adding that TPC Sawgrass' Stadium Course is "a great place to watch the best play."
With the NFL currently locked out while the owners and players struggle to come to terms on a new collective bargaining agreement, Del Rio has more time on his hands. But that's not why he's here. This is the ninth straight year he's attended the tournament, a streak that began when he took the Jags job in 2003.
"It's something I look forward to," he said. "It's a good time socially, but it's a great time just being out here."
Before his tenure with the Jaguars, Del Rio spent 11 years playing linebacker in the NFL for five different teams. He was also an assistant coach for the Super Bowl XXXV champion Baltimore Ravens.
More golf could be in Del Rio's future if the lockout continues, though he's hopeful to resume his normal schedule soon.
"As we continue here in May and June, there may be a little more time for (golf) if we're not spending that time with the players," he said. "But obviously we'd like to have them in to be doing what we do this time of year."
Follow on Twitter: [@AlexMyers3
](http://twitter.com/AlexMyers3)
](http://twitter.com/AlexMyers3)