News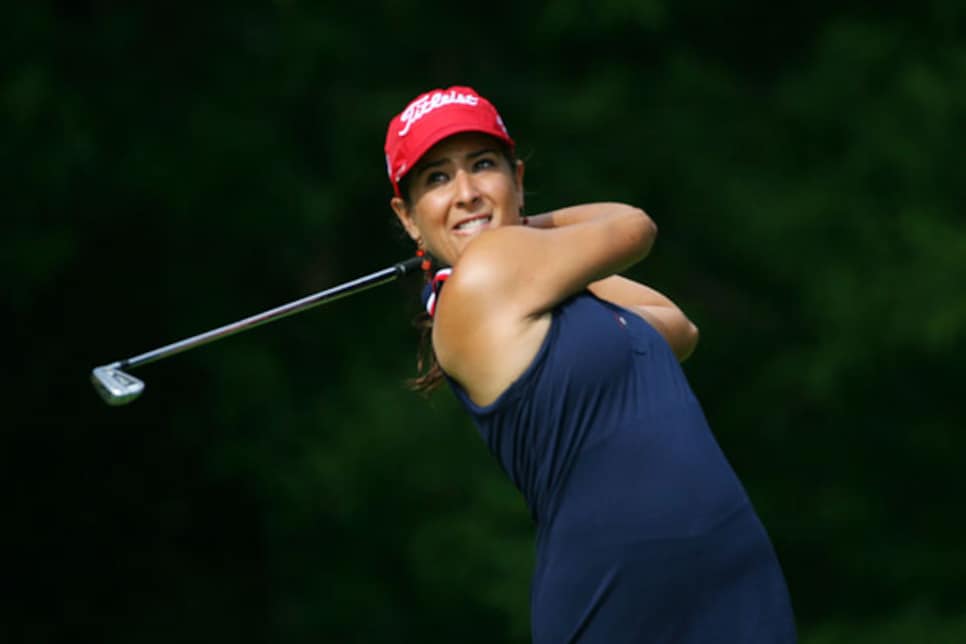 Uribe, a native of Colombia, will be around for the weekend at the Evian Masters.
EVIAN-LES-BAINS, France -- Thunderstorms and rain greeted the ladies on the second day of the Evian Masters. The chilly, wet conditions hampered play and scoring but didn't dim the enthusiasm and commitment of three unique Evian Masters wildcard invitees -- Columbia's Mariajo Uribe, India's Smriti Mehra, and Russia's Maria Verchenova.
"A primary objective of the Evian Masters is to develop ladies golf throughout the world," emphasized Franck Riboud, Group Chairman and CEO of Danone in his press conference with LPGA Commissioner Michael Whan this morning. This year participants come from 22 countries.
That diversity is represented on the leader board as well. Mika Miyazato of Japan shot a five-under 67 in the second round to take a one-shot lead over France's Gwladys Nocera. South Korea's Jeong Jang is third, while first-round leader co-leader Morgan Pressel slipped to a fourth-place tie after shooting 72.
Although none of the three Masters wildcard invitees are among the leaders through 36 holes (Uribe is T-67 and made the cut for the weekend), all are still making an impact.
Russia's Verchenova is playing her second Evian Masters having finished T-73 last year. In 2008, she was also the first Russian to play in the Ricoh Women's British Open. The 24-year-old from Moscow's best performance in her third season on the Ladies European Tour was a T-12 at the Lalla Meryem Cup in Morocco. She also tied for ninth at the Comunitat Valenciana European Nations Cup in Spain teaming with fellow Russian Anastasia Kostina, a Duramed Futures Tour player.
"My father has been my coach, golf is not supported in Russia, and my younger sister has potential too" Verchenova said. "All the young generation is playing tennis, there are no golfers really. I am trying to be a role model to attract others."
Living in Germany for the past year, Verchenova has started designing her own golf clothes -- a summer collection -- which she is wearing this week. Verchenova is doing this in conjunction with the deceased Austrian ski hero Toni Sailer's company, which is adding a golf line to its ski fashions. In the fall, she is off to the U.S. to the LPGA Q School; the LPGA card is a top objective for the extroverted, stylish Maria. She would rock with the girls.
Diminutive, attractive Mariajo Uribe, native of Bucaramanga, Colombia, turned pro in July 2009. Playing in her first Evian Masters, she enthuses "I just love it, it is so pretty here."
Just 20 years old, she studied for two years at the International Junior Golf Academy in Hilton Head, SC then attended UCLA on scholarship for two years. There, she was a two-time All American First Team (2008, 2009) and won three events. After qualifying for the LPGA by finishing T-12 at Q Schol, she tied for eighth at the Lorena Ochoa Invitational last year. In 2007, Uribe won the US Women's Amateur.
At home in Columbia, she is a member at Ruitoque Country Club, a Jack Nicklaus design. Uribe starting playing golf in 1999 after traveling with her older sister Sylvia to various tournaments where she got hooked on the game. Lorena Ochoa is her role model for more than her playing ability.
"Ochoa was great with the fans, everyone, more than just a golf champion," Uribe said.
Mariajo has a vision. After winning the U.S. Amateur she created her foundation "Fore" to build centers providing extracurricular activities in Columbia's small towns and offer an environment for homework and studies where teachers can help kids. Additionally, Fore installs more than 50 computers per center to grow learning and usage.
"My goal is not just making birdies and eagles or being No. 1, but helping kids to grow, particularly girls," she said. "This gives me focus, satisfaction. When I retire, I want to have made a contribution."
India's Smriti "Simi" Mehra is a veteran golfer, learning the game at the prestigious Royal Calcutta Golf Club by following in the footsteps of her mother, Billy, a former leading amateur golfer in Southeast Asia. The personable 38-year-old has been breaking barriers in the golfing world since turning pro in 1994. Her invitation to play the 2010 Evian Masters recognizes her efforts for golf in India plus her status as India's top female golfer. Mehra played for eleven years on the Futures and LPGA Tours but "was lonely in the US."
Mehra has had an exceptional impact "outside the ropes" by co-founding the WGAI (Women's Golf Association of India) to give local talented Indian women golfers a place to make a living through golf. Today, there are 16 professional players with hopefully 10 events during the winter months throughout India. Today Hero Honda and DLF are providing some support, but sadly, corporate sponsorship in India for golf is lacking and there is no governmental aid.
When not playing tournaments, Mehra spends her time teaching disadvantaged children from all walks of life through the Golf Foundation of India. Many are young caddies or their relatives and she helps them grow and develop their talents.
"Someone is guiding me," Mehra said. "Something from inside me pushes me to continue golf and helping all. I am very stubborn and a fighter."
She hopes to inspire the next generation of India's golfers.
"I want to give back to the kids and help them to reach their potential and dreams."
Future golfing generations will owe a huge debt of gratitude to ladies like Maria, Mariajo and Simi and to the vision of the Evian Masters in developing ladies golf.