News
Golf Channel's Brandel Chamblee invokes Nicklaus, the Kardashians, likens Tiger Woods' comeback to 'watching a piece of fiction'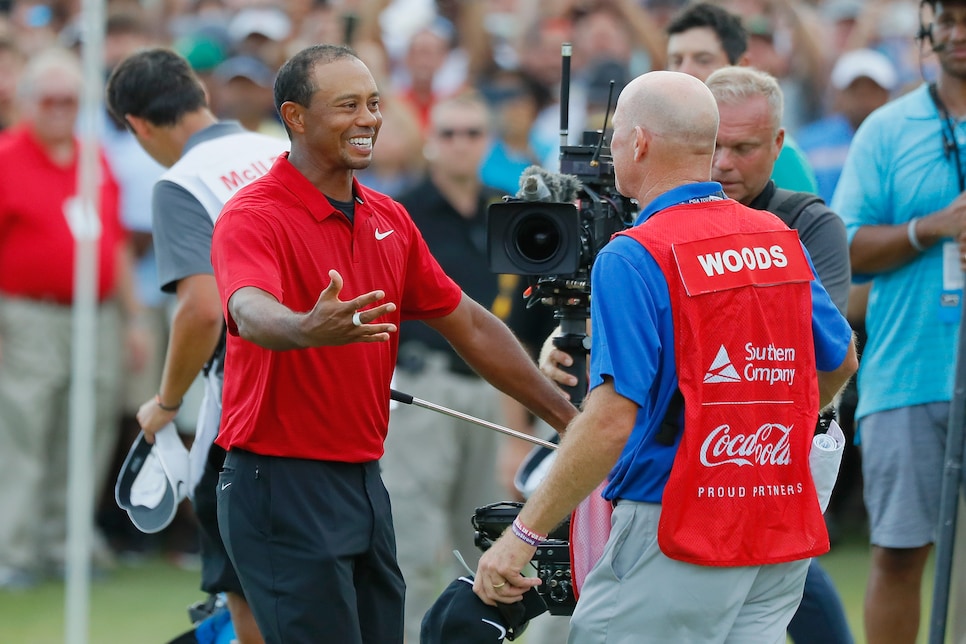 The place to turn in the wake of anything in golf remarkable or remarkably unforgettable is Golf Channel for Brandel Chamblee's analysis, love it or hate it.
Nothing of late will be more remarkably unforgettable than Tiger Woods' victory in the Tour Championship on Sunday, his first win in five years, and Chamblee did not disappoint, invoking everyone from Nicklaus to the Kardashians.
"I couldn't believe what I was watching," he said. "I felt like I was watching a great piece of fiction. This is the greatest comeback in the history of golf.
"Dan [Hicks, on NBC] was just alluding to this was the most improbable comeback in the history of sports, for a lot of different reasons. We know his injuries. He came back from emotional and psychological toil the likes of which nobody has ever been hit with in the game of golf.
"He was working on a different swing. He had no teacher for the first time. And then he had the chipping yips. Nobody has ever been able to overcome those, but Tiger certainly did.
"But beyond that, as I was watching him play the game and then I finally realized he's capable of hitting all the shots, watching him through the year and through this day and just now in that interview, he gives the impression of something much, much deeper.
"He gives the impression of somebody who's purified by golf, that he's gone through these sad realities of life. He's gone through the surgeries and the scrutiny. And he's come out the other end and he just wants to play the game right. And he also wants to conduct himself in a way that is consistent with the traditions of this game. It's a completely different Tiger Woods.
"You saw a gracious loser this year in Tiger Woods. You saw a humble winner in Tiger Woods. When he putted out [at 18] that reaction was as much an appreciation for the crowd as it was for his ecstasy in the moment. It wasn't the same sort of animated Tiger Woods we've seen in the past. This was much more existential than all of that.
"It's hard to put into perspective his appeal. His appeal comes from a lot of different aspects. Nobody's ever played golf like Tiger Woods, no disrespect to Jack Nicklaus, who many would argue is the greatest player of all time. But Jack never won a major championship by 15. He never won one by 12. He never won four majors in a row. He never made 142 cuts in a row.
"But then there's this enigmatic side of Tiger Woods. Jack never built and tore down his golf swing. Tiger Woods has never stopped building and tearing down his golf swing. That is enigmatic. It defies explanation. And Tiger gave us so much of with his golf game and gave us so little in the media center. It made him somewhat controversial and polarizing, but interesting.
"And then the issues he's had off the golf course really did bring sort of a Kardashian element to everywhere he went. You put that all together and his appeal is unlike anything."