News
Bob Goalby, winner of 1968 Masters, dies at 92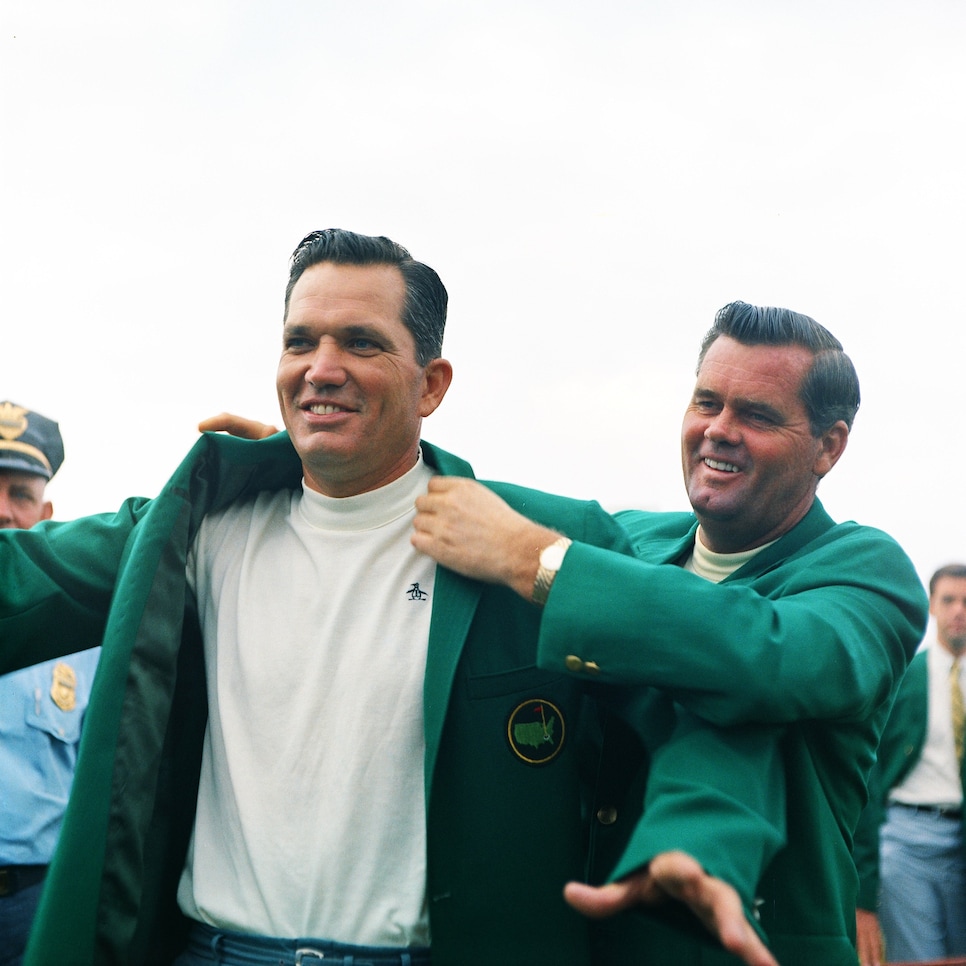 Bob Goalby, who won the 1968 Masters, died on Thursday. He was 92.
A son of a coal miner and child of the Great Depression, Goalby grew up in humble confines in Belleville, Ill. With money tight Goalby would get his golf in by hopping the fence at nearby St. Claire Country Club, where he also caddied. He earned a football scholarship to the University of Illinois, which he lost when he was found playing baseball for Southern Illinois. After he quit college, Goalby was drafted into the military, serving in the Korean War.
When he returned from the service he briefly worked at a golf club in Connecticut before turning professional in 1952, breaking through at the 1958 Greater Greensboro Open. It was his first of 11 PGA Tour titles.
Goalby is best remembered for the 1968 Masters, although not so much for his win but how it was delivered. That was the Masters where Roberto De Vicenzo tied Goalby's 72-hole score but signed the wrong scorecard, delivering the green jacket to Goalby.
"The presentation ceremony wasn't what it could have been," Goalby told Golf Digest's Guy Yocom in 2018. "I sat next to Roberto and did what I could to console him. There's video of me patting him on the leg. I felt no elation, nothing like you'd expect from winning the biggest tournament of your life. It was awkward. It was tragic for Roberto, but it was equally unfortunate for me. I never did get full credit for what I'd done. I played damned well, especially the last day."
Though it was Goalby's only career major, he did finish runner-up at the 1961 U.S. Open (finishing one stroke behind Gene Littler) as well as at the 1962 PGA Championship (a shot behind Gary Player). Goalby played for the United States at the 1963 Ryder Cup, racking up a 3-1-1 record in an American rout (23-9) at East Lake.
Goalby was instrumental in the players split from the PGA of America to form the PGA Tour in the late 1960s and spearheaded a similar initiative years later when starting the Senior PGA Tour. He worked for NBC Sports as a broadcaster for more than a decade in retirement. Goalby had three sons, one of them, Kye Goalby, a successful golf architect. Jay and Jerry Haas were his nephews, with current PGA Tour player Bill Haas his great nephew.
In spite of this diversified résumé, Goalby is forever linked to the 1968 Masters, and though he had nothing to do with the ruling he was the target of abuse. "I received hate mail like you wouldn't believe," he told Yocom, "telling me I was the worst son of a bitch who ever lived. One guy wrote, 'They ought to put you and Sonny Liston in a sack of concrete and dump you in the ocean.' The negative-to-positive ratio was 10-to-1 negative. The letters piled up, and every one of them hurt."
However, near the 50th anniversary of his triumph, Goalby said his win was finally getting the respect it so long deserved.
"History is being kinder to me. Young people especially don't know about the controversy because it was so long ago. To them, I'm just a Masters champion. They'll say, 'That's so cool. What year did you win? Can you tell me about it?' And I tell them about how I shot 66 on Sunday, the overflowing parking lot and the letter Bobby Jones wrote me about my shot to the 15th. Time is allowing me to be at peace and to feel even more proud and satisfied."