The Loop
'Gitmo at play': Photographer's stark photo of makeshift green
The U.S. Naval Station Guantanamo Bay, Gitmo, has a golf course, loosely defined. It is nine holes of rocky terrain that requires players to bring along patches of artificial turf from which to hit shots to hard tiny greens.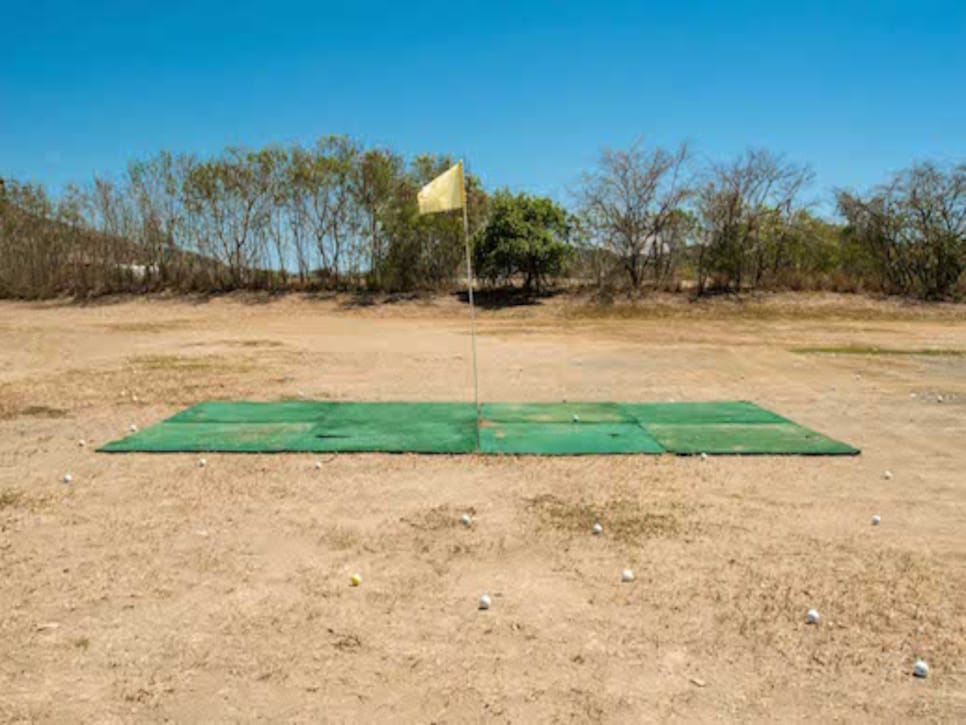 The course is called Yatera Seca, but is better known to those stationed there as the Lateral Hazard Golf Course.
It was there that documentary photographer Debi Cornwall ventured one day, with an escort, according to military regulations. But it wasn't the course that caught her eye. It was the adjacent driving range.
"My parents are both avid golfers," Cornwall said from her Brooklyn home, "and I've walked a course or two with them. I have a sense of what golf looks like: lush green, well-tended landscapes. So the makeshift peat stacked around the hole, dropped on top of dirt, with balls everywhere on the Lateral Hazard driving range, really struck me."
The above photo, showing eight squares of artificial turf with a flagstick planted in their midst appeared in her photo series, "Gitmo at Home, Gitmo at Play," that appeared in part in the New York Times' Lens blog recently.
The series, culled from two trips she made to Guantanamo Bay on the southeastern side of Cuba, earned honorable mention in the 2014 International Photography Awards, Deeper Perspective Category. The series can be seen in its entirety at her website.
"I spent 12 years as a wrongful conviction lawyer bringing civil rights lawsuits across the U.S.," she said. "When I stepped away from litigation last year and returned to documentary photography, I wanted to look at some of the same issues that concerned me as a lawyer, but from a new perspective. Guantanamo, this mysterious offshore place where more than half of the remaining 149 detainees had been cleared for release but were still held, some up to 12 years after arriving, seemed like the perfect place to go."
She was required to abide by a "no-faces rule," preventing her from taking photos of people, whether detainees, guards or civilians. "I was told that Gitmo is the best posting a soldier can have,' so I looked to residential and leisure spaces for both detainees and guards as a window into the human experience of life there.
"My goal was to get people looking at Guantanamo who might not otherwise have thought twice about it, and perhaps to get those who already had strong opinions to think about it a little differently. That seems to be happening. I've been contacted by people from all walks of life — from veterans who served there to high school students doing term papers. That is really gratifying."