News
Georgia knocks off New Jersey for PGA Jr. League Championship crown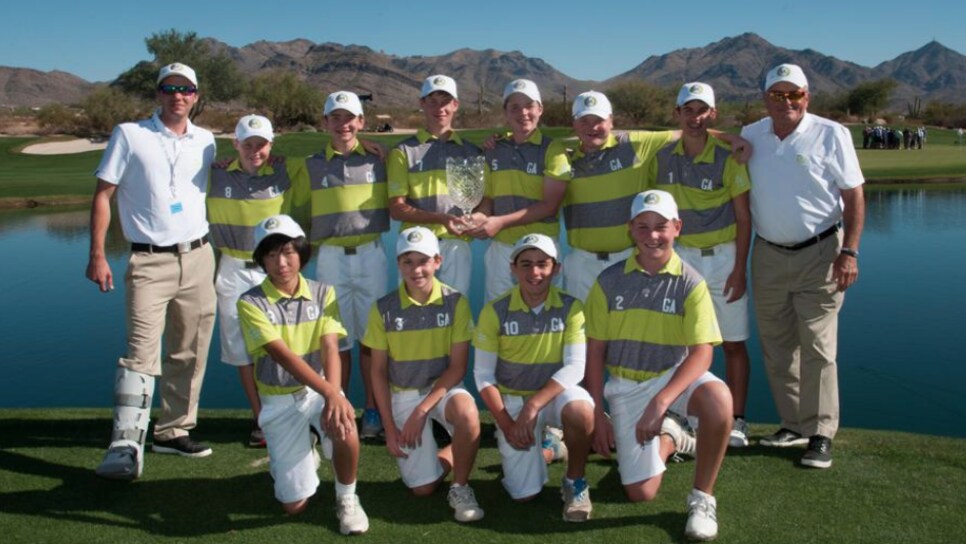 Team Georgia closed out an undefeated season in sterling fashion at Grayhawk Golf Club, edging out New Jersey to win the sixth PGA Jr. League Championship.
"It means a lot to the team," said Georgia captain Patrick McCrary, a PGA pro at TPC Sugarloaf near Atlanta. "They worked hard to get here, and it's been a long road. We couldn't be more happy for these kids."
Georgia took an early lead through three holes on Sunday in Scottsdale, but the co-ed New Jersey club fought back with three consecutive birdies, highlighted by 12-year-old Katie Li draining a 60-footer at Grayhawk's 13th.
The match reached the the 465-yard par-5 18th hole, where the Georgia trio of William Love, Harris Barth and Lucas Jinglov earned a conceded birdie by reaching the green in two, sealing the W for the Duluth-based squad.
"They played hard, and I couldn't ask for anything more," said Anthony Latham, head of the New Jersey team. "They never quit."
Both teams went 3-0 in round-robin play to reach the finals, with Georgia winning 29½ out of 36 possible points.
In the third-place match, Team Ohio (Columbia Station) defeated Team Texas (Houston) 7½-4½. Team California (San Jose) took fifth place over Team Arkansas (Little Rock), 7-5. Team Illinois (Chicago) won the seventh-place match over Team New Hampshire (Atkinson), 7-5.
The 80 boys and girls competing in Arizona comprise eight Regional Champion teams from a record 42,000 kids who played in PGA Jr. League during 2017.
The Golf Channel will air a two-hour showcase on the PGA Jr. League Championship on Dec. 5 at 8 p.m.