PGA Tour
High winds suspend play in Genesis Invitational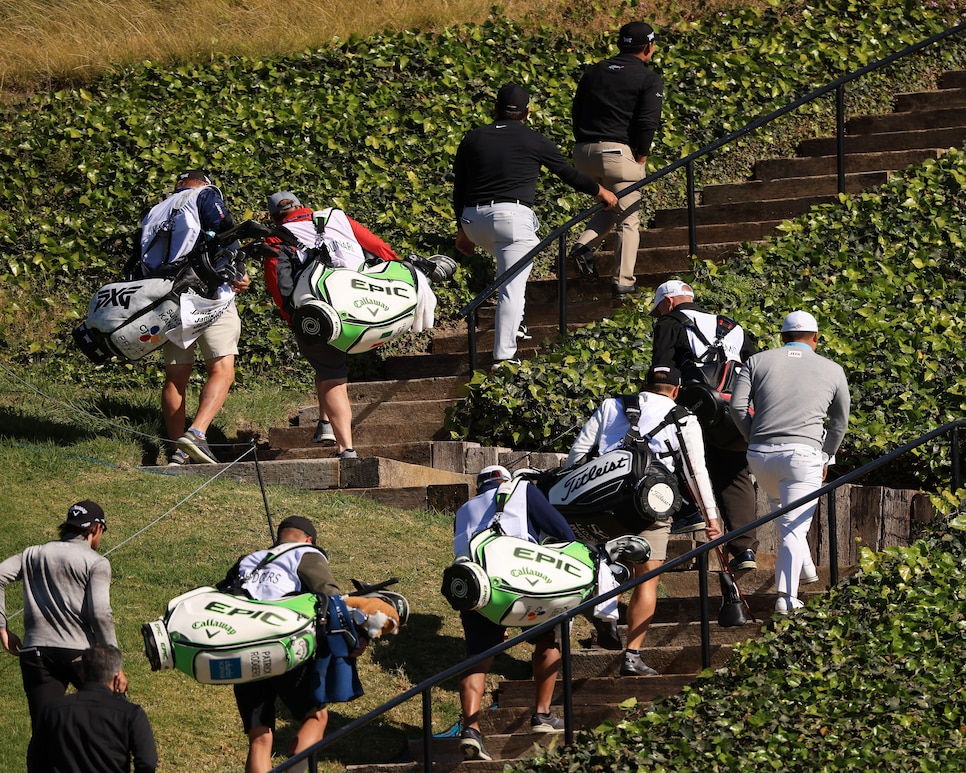 Golfers, caddies and staff return to the clubhouse after play was suspended due to high winds during the third round of the Genesis Invitational.
Sean M. Haffey
The third round of the Genesis Invitational on Saturday has been suspended due to high winds, just as the final threesome was standing on the first tee at Riviera Country Club.
The horn blew at 10:09 a.m. local time, and players were immediately instructed to head back to the clubhouse. PGA Tour officials said the stoppage was necessary because balls were not staying in place on the putting greens on most holes. At 11:30 a.m., the tour announced play would resume at 12:20 p.m, only to reverse that decision. Play is now scheduled to resume at 2 p.m.
Riviera's extremely firm and fast greens certainly played a role in the stoppage. Multiple players remarked that this is the fastest they've ever seen the putting surfaces here—that, plus their undulating nature combined to make the course virtually unplayable.
Some players expressed surprise that the greens were cut on Saturday night, given the high winds forecasted.
When play stopped, Sam Burns held a four-shot lead over Max Homa, who eagled the par-5 first shortly before the stoppage. The final threesome of Burns, Tyler McCumber and Jason Kokrak had not started their rounds.
The National Weather Service issued a wind advisory for much of the Los Angeles area, saying the strongest winds were forecast from 3 p.m. Saturday to 3 p.m. on Sunday. It predicted north to northeast winds between 15 mph and 20 mph, with gusts up to 40 mph.