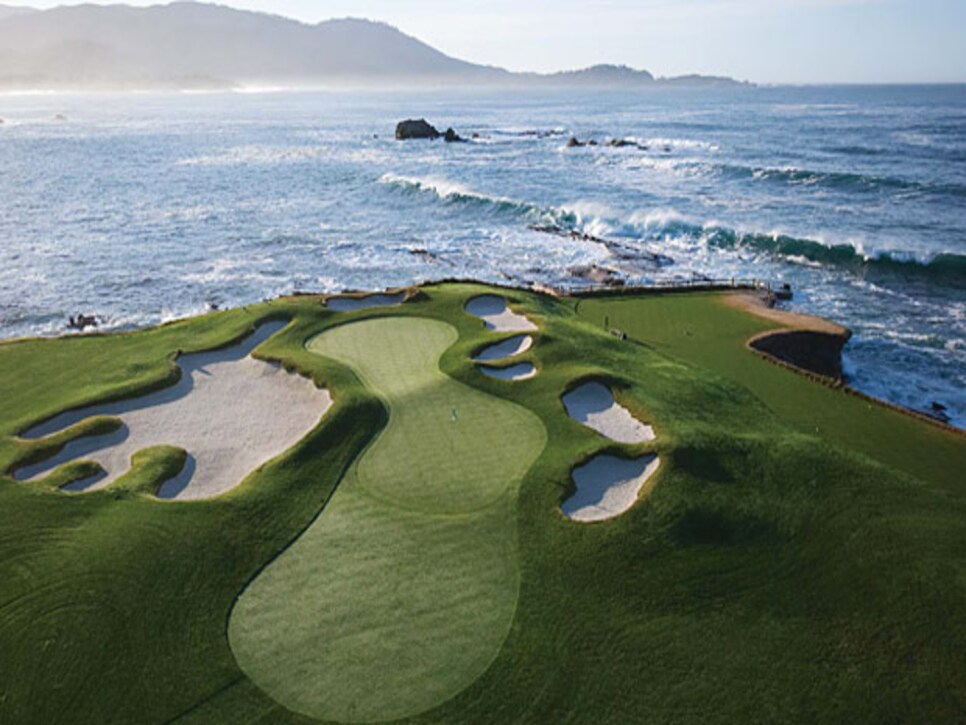 Living on the edge: The sea wall that borders the daunting 208-yard 17th and the tee box of the par-5 18th.
PEBBLE BEACH, Calif. -- Watching amateurs play a course that's been set up to host the best golfers in the world is like watching someone crawl to the top of a skyscraper. It can be done, but it's not going to be pretty and it's probably going to take a while.
While seeing such a display might not be the best way to predict what will happen once next week's U.S. Open starts, it is a good indicator of how celebrities Drew Brees, Mark Wahlberg, and Wayne Gretzky, and contest winner Peggy Ference will do in Wednesday's Golf Digest U.S. Open Challenge. And if conditions remain similar to what they were two days before, we are in for a brutal battle against Mother Nature, pressure, and of course, thick, thick rough.
It was impossible not to notice this last aspect while surveying Pebble Beach on Monday afternoon. In the first group I watched come down the par-5 18th hole, a man called someone over to look at something in the rough. He wasn't asking for a ruling or pointing out where he thought buried treasure was hidden. He just wanted to show off how gnarly his lie was. Then he got over the ball, took a huge swing and made a loud grunt as he chopped through the grass. The ball dribbled all of 10 feet.
And this wasn't a 30-handicapper. He smoothed his next shot from about 125 yards onto the back of the green. But as he walked toward his ball, he showed signs of an injury, shaking his wrist over and over.
A few minutes later, a woman hit driver on the par-3 17th hole. Her ball landed about 10 yards short of the green in the rough, bounced backwards a yard as if it had hit a stone wall and buried deep beneath the surface. When a caddie finally located it, he tossed it out to the walkway for the woman to hit, as if to say only players with their names on their golf bags have any business attempting to hit from such a lie.
"It's baaaaad," 11-year caddie Ruben Ramirez said of the rough. "It's punishing."
On most holes, there appears to be about three yards of a first cut and then another few yards of a second cut, where players can advance the ball. Once it gets past that, however, all bets are off and it essentially becomes a one-stroke penalty. At least.
Ramirez doesn't think the pros are going to find it much easier come next Thursday when the 2010 U.S. Open starts. That's why in a pool among the Pebble Beach caddies, he's chosen four-over as the winning score.
If that sounds crazy, then remember that Ernie Els and Miguel Jimenez were both three-over when they tied for second in the 2000 championship, finishing 15 shots behind Tiger Woods. How does this year's course stack up?
"There's been a 180-degree change since then," Ramirez said. "It's tougher."
While the rough has stayed constant, Ramirez says the biggest difference is how the hazards and bunkers, all 96 of them, will play -- as in they will come into play more often. This was something the USGA intended to do by widening fairways to bring them closer to the dangers that lurk on nearly every hole.
Once a player is in a bunker, he'll also have a tougher time getting the ball out since the grass has been grown high around the perimeters. Let's just say Dustin Johnson's up-and-down for birdie on No. 18 to win the AT&T earlier this season might have been a little more difficult if he had to navigate his ball over the tall stuff.
Ramirez said Mike Weir played in a wedding party a few weeks back and he was told by another caddie that the former Masters champion shot an unofficial one-over-par round. As for a really good low-handicap player (let's say a 3 like Drew Brees), Ramirez thinks the course is playing three shots a side harder than it usually does. For the higher handicapper, the difference should be even more apparent.
And for those flirting with breaking that magic number of 100 or whatever their goal happens to be come Wednesday, if the wind is blowing from the west like it was Monday, a difficult closing stretch of three holes will become even harder, with 16 and 17 featuring a right-to-left crosswind and 18 playing dead into the breeze.
In other words, chances are Ben Roethlesberger's record score in this event of 81 at Bethpage Black last year isn't likely to be challenged.