News
Furyk, Weir added as Presidents Cup assistant captains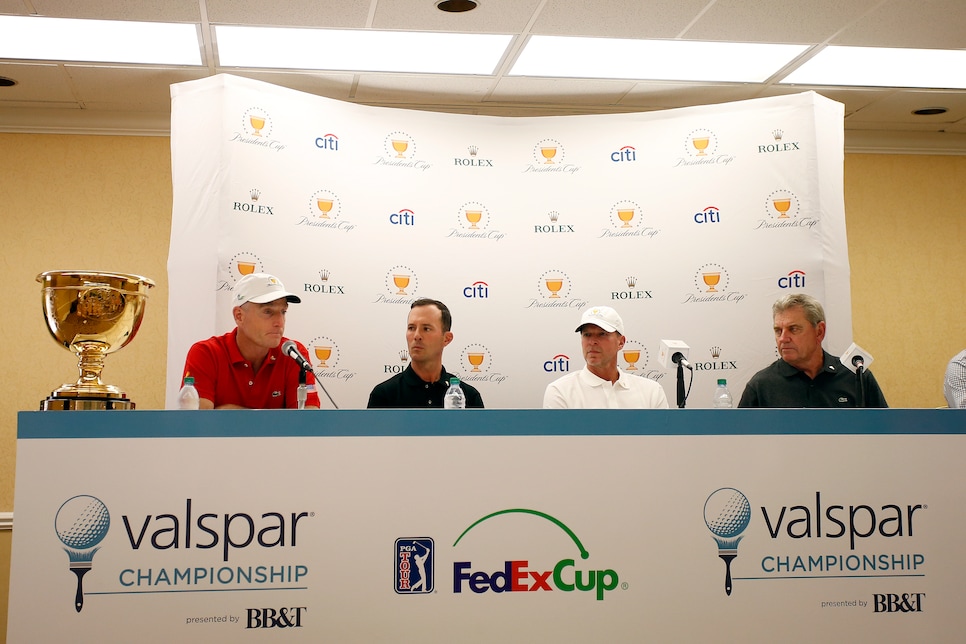 Steve Stricker has gotten the band back together.
With his selection Tuesday of Jim Furyk to be his fourth assistant captain for the 12th Presidents Cup this fall at Liberty National in Jersey City, N.J., Stricker has surrounded himself with contemporaries who were part of the U.S. brain trust for last year's winning Ryder Cup team under captain Davis Love III.
Furyk, who already was named U.S. captain for the 2018 Ryder Cup in Paris, joins Love, Tiger Woods and Fred Couples. Only Couples was not on the leadership team when the U.S. stormed to a 17-11 victory over Europe at Hazeltine National to reclaim the Ryder Cup for the first time since 2008. Couples, however, was U.S. Presidents Cup captain, going 3-0, and he was an assistant to Jay Haas at the 2015 Presidents Cup in Korea, which the U.S. won by a point to improve to 9-1-1 in the series.
This year's Presidents Cup is Sept. 28-Oct. 1. The two captains announced their selections at the Valspar Championship in Palm Harbor, Fla.
"It's continuity, and that's what we're striving for," said Stricker, who has been an assistant in the Ryder Cup and Presidents Cup the last two years. "It's to provide an environment where the players are relaxed, and they know what to expect from one team event to the next. That was my goal coming in.
"We want to take what we did at the Ryder Cup and keep that rolling into the Presidents Cup."
Meanwhile, on the International Team side captain Nick Price, serving a third term, added more fresh blood, selecting former Masters champion Mike Weir of Canada to go with South Africa's Ernie Els, Australia's Geoff Ogilvy and Tony Johnstone, who has been brought back by fellow Zimbabwe native Price a third time.
Coincidentally, Furyk and Weir are exactly the same age, being born on May 12, 1970.
"One of the things we were trying to do on our side … was to make sure we got guys who in the future could be captains," said Price, perhaps stealing a page from the American strategy. "There's no better example than Mike Weir. Mike has great passion for the Presidents Cup and we have played together on numerous occasions," Price said. "I'm just so happy to have him and his enthusiasm on the team."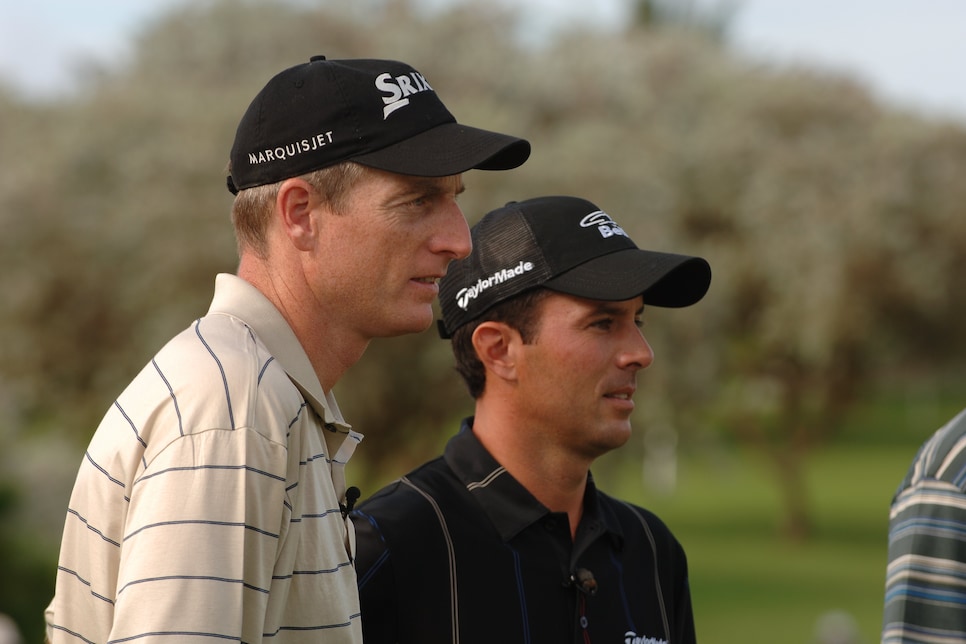 Montana Pritchard/PGA of America
Weir, who won the 2003 Masters, has battled injuries in recent years. He played on five Presidents Cup teams for the Internationals, going 13-9-2 despite the Internationals' losing record overall. Most memorably, he defeated Tiger Woods in singles, 1 up, in the 2007 edition in front of his countrymen at Royal Montreal.
"It's been a few since I've been on the team, but I was always looking forward to being on this side of it," Weir said. "Nick's always been a guy I've looked up to in my career. I've always thought the Presidents Cup was done the right way and my experiences in it have been phenomenal. To be part of that I'm really excited for."
Furyk, 47, who was named U.S. Ryder Cup captain in January, still has hopes of playing for the U.S., having been on seven Presidents Cup teams and nine Ryder Cups as a competitor, the second most for America behind Phil Mickelson's 11 Ryder Cup appearances. He is 20-10-3 in Presidents Cup play, including a 5-0 record in 2011 in Australia.
"I love to play my way onto those teams, but if that doesn't happen I would have a hollow spot not to be there. So, it's an honor to get the call from Steve," said Furyk, who was a late addition to Haas' captains' contingent after injury prevented him from playing in the 2015 matches in Korea.
As to juggling the Presidents Cup and Ryder Cup -- plus building a house and working on his charity foundation -- Furyk said being a part of the U.S. Presidents Cup team, "will definitely help me in those preparations" for the Ryder Cup. "I'm excited about the opportunity to have to balance my time."