Courses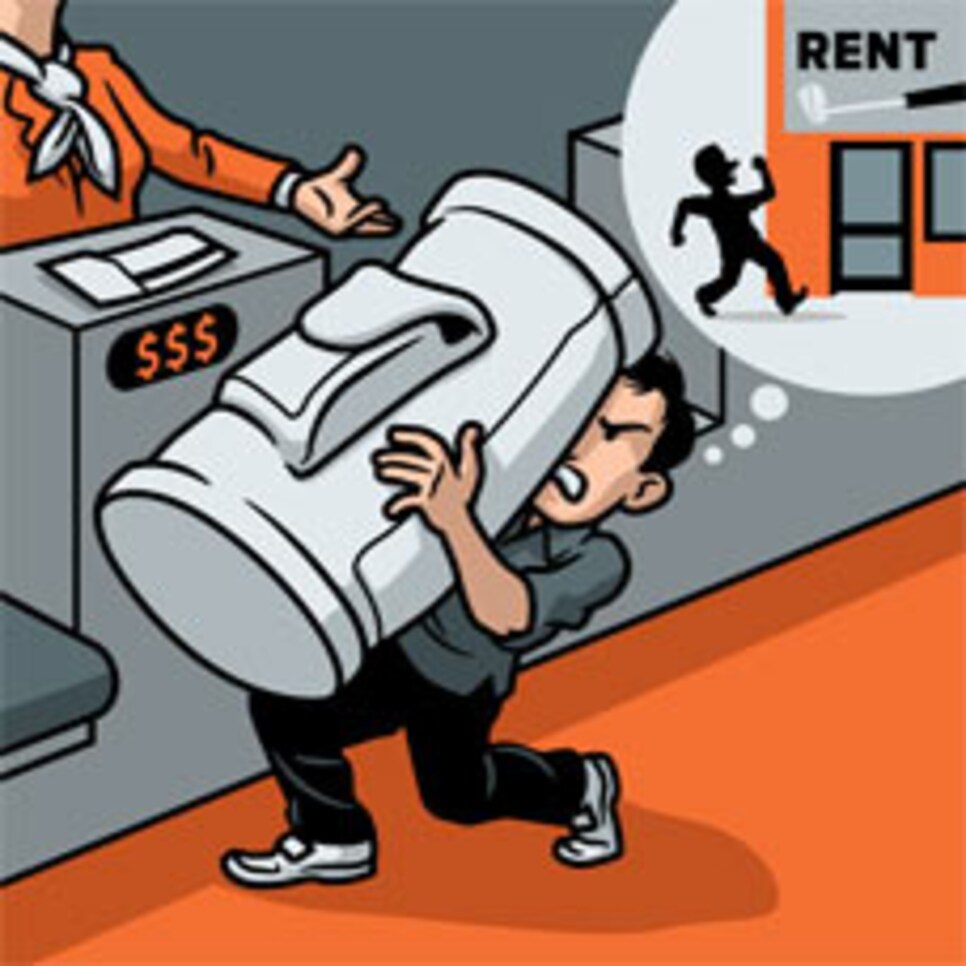 Thanks to the rising cost of checked baggage, the Frugal Golfer might soon become the fickle golfer. That's right: I'm thinking seriously about using rental clubs rather than taking my trusty sticks on the road.
Just look at the numbers. As of December, American Airlines charged $15 for the first checked bag on domestic flights, $25 for a second checked bag and $100 a bag after that. Continental, Delta, US Airways and United have similar fees. If you fly JetBlue, your first checked bag is faree. Then it's $20 for your second and $75 for each additional bag. Southwest doesn't start charging until you check a third bag ($25). Of course, double all of these numbers for a round-trip ticket.
If you're thinking of renting, it's worth calling ahead to your destination and asking what type of sets are available. Naturally, price and quality vary. Torrey Pines charges $50 for a rental set (with a twilight rate of $35). This includes a pack of four Titleist NXT balls and your choice of Titleist or Cobra clubs with regular or stiff shafts. At Bethpage Black, a set of Adams clubs costs $30 a day. At Capitol Hill, in Prattville, Ala., a set of "current" Callaway clubs is $40.
Shipping your clubs is another option, but it's not always cost-effective. Websites such as golfclubshipping.com and theluggageclub.com will pick up your sticks at your door and deliver them to your destination. On shorter trips -- Tennessee to Florida, for example, or Connecticut to Myrtle Beach -- you can expect to pay about $75 each way. The longer the journey, the more it will cost.
Depending on where you're traveling, more options might be available. Golfclubsaway.com, serving customers in Florida, Arizona and Las Vegas, lets you pick out a rental set online and then delivers the set to your destination. CEO Gary Miller founded the company more than a year ago after going on a two-day trip to Florida and paying $95 for a rental set of old, mixed brands. He says traveling golfers deserve better.
"We're not dealing with a lot of serious, single-digit handicappers," Miller says, "but if you use us, you know what you're going to get: a good set with the lofts you asked for and the shaft flex that fits you."
In 2008, Miller says his company had 4,500 customers. The cost is about $35 a day for corporate outings, closer to $50 for just one bag, with no charge for delivery or pickup. Golfers can choose from 10 sets in the Nike, Callaway and Cobra lines. "The bulk of our business has been the golfer going on a short trip from the Northeast to Florida, but if the airlines keep raising the prices for extra baggage," Miller says, "it'll definitely work in our favor."
Right now, the price of lugging your clubs, shipping or renting can be about the same, but on one- or two-day trips it seems leaving your clubs at home is an option. And there's nothing the Frugal Golfer likes more than having a few options, especially if costs continue to go up.