News
From Battlefields to Fields of Green
Playing Scotland and Ireland with combat-injured veterans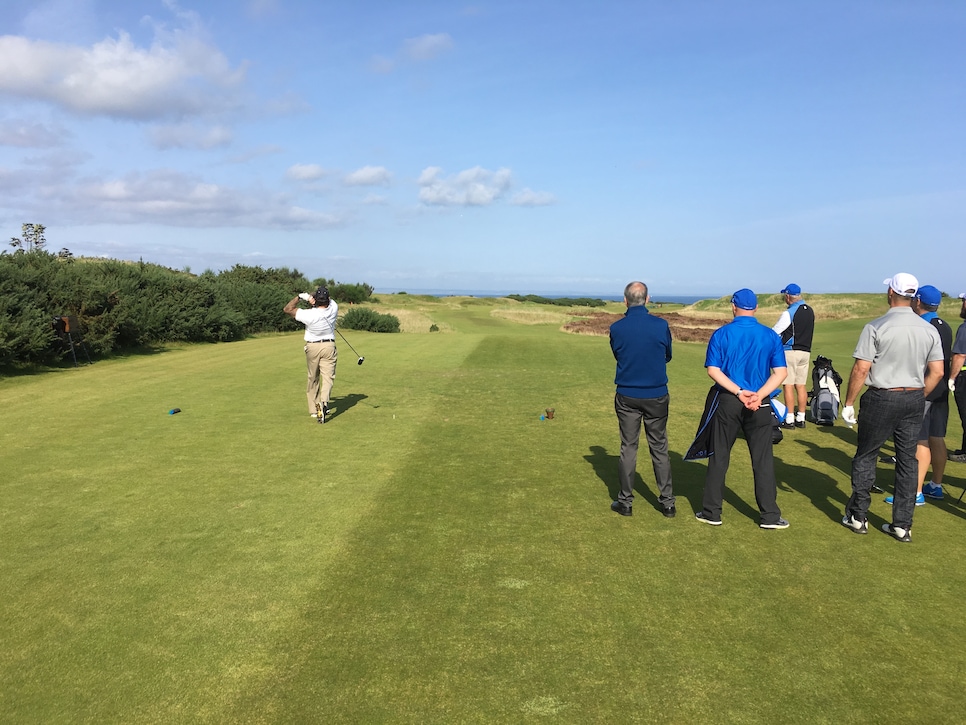 U.S. Marine Sergeant (Ret.) Trevor Allenby will always remember that horrible day in Fallujah in 2005. He was on his second tour of duty, having fought in the initial invasion of Baghdad. He was hit in the left elbow by a Daisy Chain IED, causing left-arm damage and paralysis. He nearly died and received the Purple Heart for his bravery. Allenby also has a grade 2 Diffuse Astrochytoma brain tumor, which was likely caused by exposure to a Gulf War burn pit.
For Allenby, seizures can happen at any time. He requires constant medication.
Fortunately, golf has been a central part of his life since he was 8 years old. Despite minimal use of his left arm, he says the game has kept him going, even through his darkest hours.
When Allenby returned from his first Fairways for Freedom trip, to Northwest Ireland in September 2016, he told his doctors that he didn't have any stress at all while in Ireland, and stress is one of the main reasons he gets seizures. So he was eager to come on his second trip last month. He is the first to tell you that the game of golf—and more specifically the Fairways for Freedom international trips for combat-injured veterans—have made a huge difference in his physical and emotional well-being.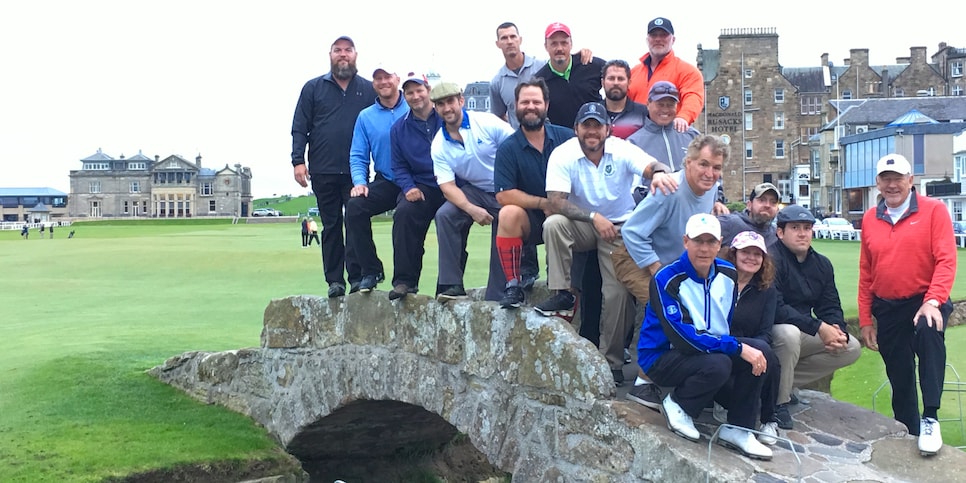 Photos by Alison McLaughlin Image Mill
Allenby was one of 24 combat-injured veterans who spent a week in either Scotland or Northwest Ireland last month, enjoying the breathtaking links courses and basking in the welcoming local culture as part of a recovery process from their injuries. The first week, a group of 14 Special Forces veterans visited six amazing courses along the east coast of Scotland, from Aberdeen's Cruden Bay up to Inverness' Royal Dornoch, and then back down the coast, finishing at Kingsbarns, on the outskirts of St. Andrews. The following week, a second group of 10 combat-injured veterans toured Northwest Ireland. Each group was accompanied by a special set of seven "ambassadors" who sponsored them on the trips. (Six of the seven ambassadors on the Scotland trip had sponsored veterans on previous Fairways for Freedom trips.) The veterans and ambassadors played golf together almost every day and socialized on and off the course, building an undeniable sense of camaraderie and perhaps lifelong friendships.
The two tours were conducted by Fairways for Freedom (www.fairwaysforfreedom.US), a 501 (c) (3) public charity that designs and implements international golf trips and retreats in the U.S. and whose mission includes "helping veterans recover from their injuries through holistic programs and through the game of golf." Fairways for Freedom was founded three years ago by me and my wife, Patricia Donnelly, PhD, a sport psychotherapist. Says Dr. Donnelly, who conducts sport mental sessions as well as Veterans Yoga Project therapies and other mindfulness training with the veterans during the week: "The veterans are truly inspirational. They never complain about their injuries. They do not regard themselves as heroes [although they certainly are], but rather feel they were just doing their jobs. It's gratifying for me to see them using sport psychology and mindfulness techniques to help them with their golf games—and even in their everyday lives."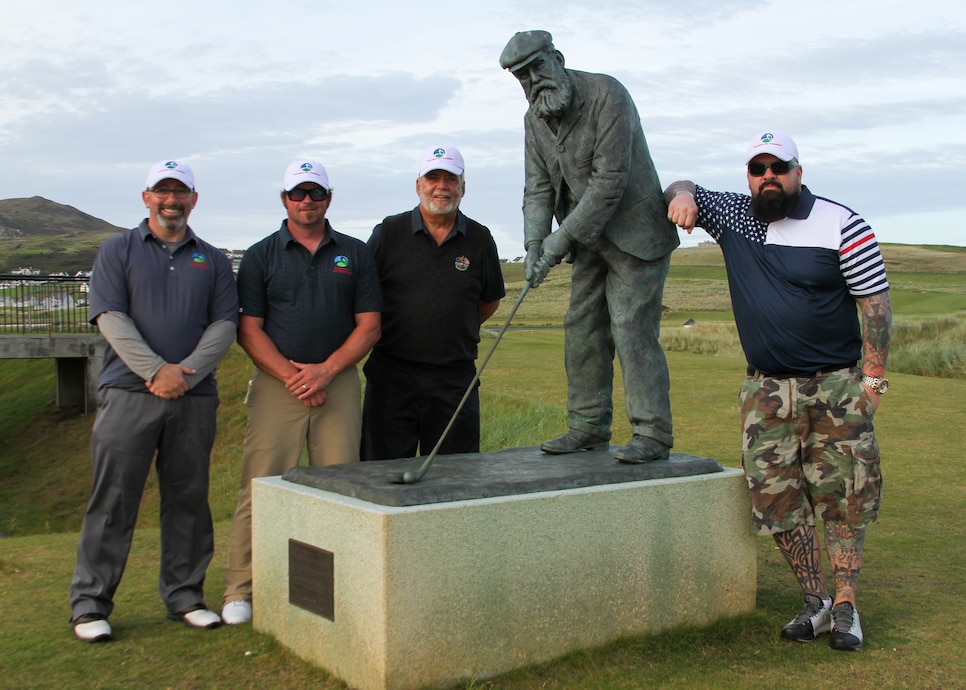 Photo by Alison McLaughlin
Allenby felt so strongly about the positive effects of his first experience in Ireland that he convinced his friend, Tim Van Epps, to join this year's trip to Ireland as an Ambassador. Their everlasting friendship was replicated several times over by other veterans and ambassadors on both the Ireland and Scotland trips. And that's one of the goals for the staff of Fairways for Freedom: seeing injured veterans discover a means of relaxation—and a sense of purpose—plus building relationships with other veterans and civilians through golf.
In addition to golf, all the veterans took part in mandatory daily yoga classes and mindfulness sessions with one or sometimes two mental-health experts. (Guest psychologist Dr. David Joseph helped Dr. Donnelly conduct sessions on the Ireland trip.) And of course, the full Irish breakfasts and dinners provided a relaxed setting to talk informally with the ambassadors. The veterans learned from the business expertise of the ambassadors, but the ambassadors absorbed as much from the veterans, namely what true sacrifice is all about.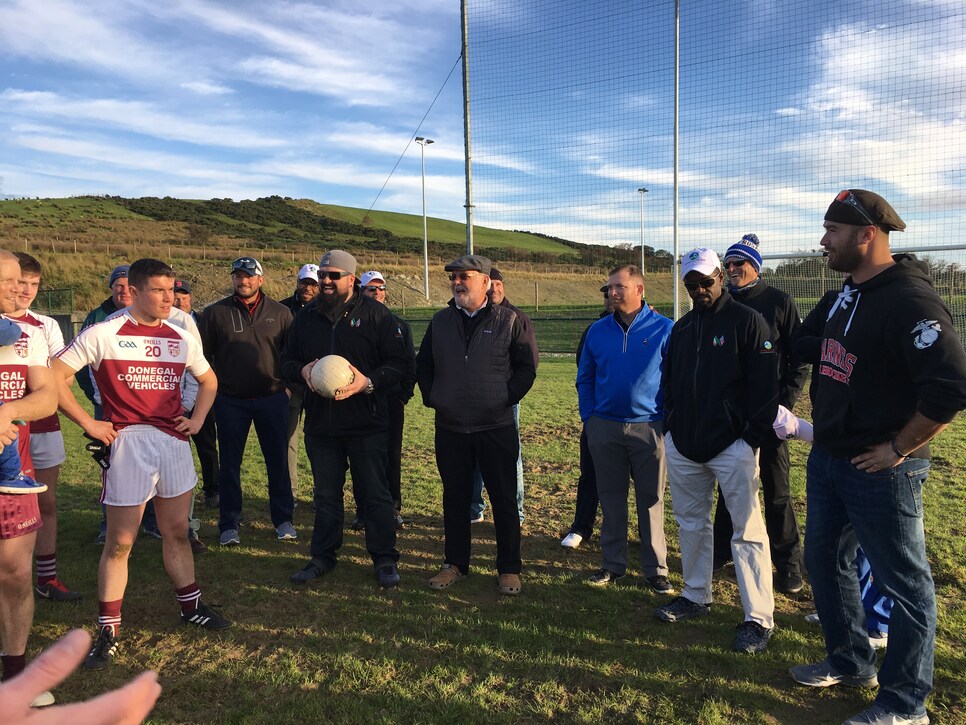 Corporate sponsors of this year's trips, as in past years, included Titleist (donating a dozen logoed ProV1s to each participant), Smathers & Branson (donating customized needlepoint American flag wallets and competition prizes), Octagon (donating logoed shirts and hats), and ProTag America, a division of Eco Golf (donating personalized bag tags and challenge coins). The Ireland trip was facilitated through the North & West Coast Links Golf Ireland travel company, based in Galway. Delta Airlines provided discounted travel for the veterans to Scotland. Most of the courses offered complimentary tee times for the veterans. One of the ambassadors on the Ireland trip quietly provided a private jet for the 10 veterans, flying them directly to and from Newark to Donegal. He also donated Sunice rainsuits for every participant. A special Fairways for Freedom partnership with Ship Sticks allowed the veterans to ship their clubs at a significant discount, and the ambassadors received a smaller discount.
The Scotland group stayed at the Marcliffe Hotel in Aberdeen, the Kingsmills Hotel in Inverness and at the Fairmont Hotel in St. Andrews. The Ireland group stayed at the Rosapenna Hotel & Golf Resort for the entire week.
Dr. Donnelly is also responsible for the selection and vetting of the veterans, who were identified through various groups, including SOCOM in Southwest Florida, Clearpath for Veterans in Chittenango, N.Y., Clearpath for Veterans New England and the Boston chapter of the Salute Military Golf Association (SMGA). Even though they are all combat-injured, their injuries are not always visible. Many are dealing with Post Traumatic Stress Disorder (PTSD) and Traumatic Brain Injuries (TBI).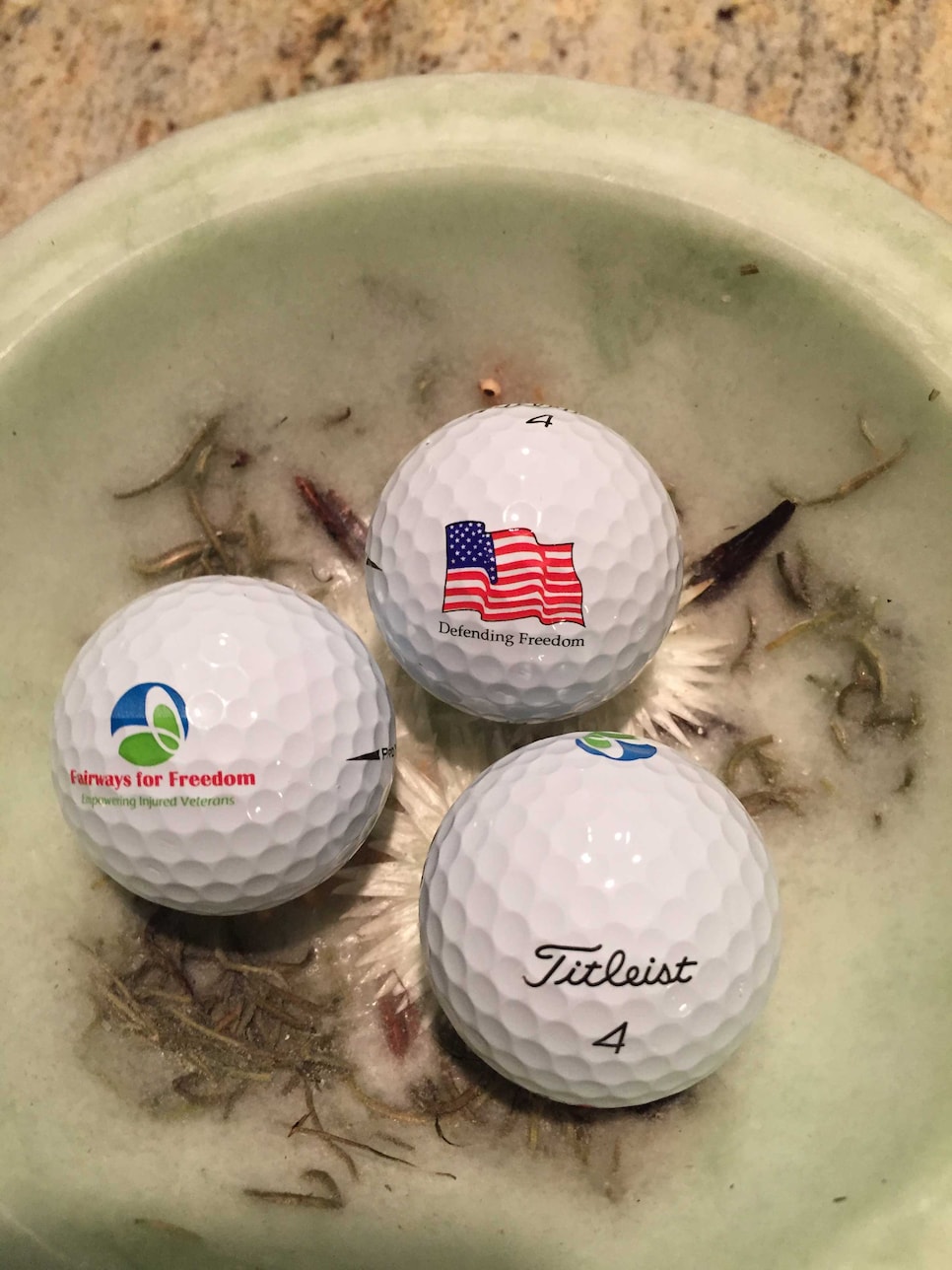 The veterans on the Northwest Ireland trip, in addition to Allenby, included:
• Marine Corps Lance Corporal (Ret.) Justin Curran
• Army Sergeant (Ret.) David Duren
• Sergeant Major (Ret.) Special Mission Unit Scott Germain • Army Sergeant (Ret.) John Girouard
• Army Sergeant Johnny J. Glenn
• Marine Corps Sergeant (Ret.) Justin Phillips
• Green Beret Special Forces Medical Sergeant (Ret.) Greg Stube
• Army Ranger (Ret.) Charles Weber
• Army Sergeant (Ret.) Anthony Webster
Navy SEAL Chief Warrant Officer FIVE (Ret.) John Sanabia, who volunteers for Fairways for Freedom as its Military Spokesman, served as its Logistics Coordinator on both trips.
For seven days, the veterans and ambassadors on the Ireland trip played some of the most spectacular courses in the world, like Rosapenna's Old Tom Morris Links and Sandy Hills Links, and Ballyliffin's Glashedy links, recently named the host site of next year's Dubai Duty Free Irish Open. Other courses played were Portsalon and Narin & Portnoo.
The veterans on the Scotland trip included:
• Army Ranger Sergeant Major (Ret.) James Anderson
• Army Special Operations Captain (Ret.) Matt Anderson
• Army Special Operations Forces Master Sergeant Grant Derrick
• Army Special Operations Master Sergeant (Ret.) Bobby Farmer
• Army Special Operations Forces Sergeant First Class (Ret.) Israel (Izzy) Hillyer
• Special Forces and Navy SEAL Sergeant Jonathan P. Howard
• Army Special Operations Forces Chief Warrant Officer (Ret.) Rob LaVeyra
• Marine Corps Special Operations Command Sergeant Major (Ret.) Tracy Linch
• Rhode Island Army National Guard Sergeant (Ret.) Michael McCombs
• Special Forces Sergeant First Class James Neagle
• Navy Chief Petty Officer (Ret.) Jason Weaver
• Marine Corps Gunnery Sergeant (Ret.) Thomas Williams
• Army Special Operations Forces Major (Ret.) Chris Windisch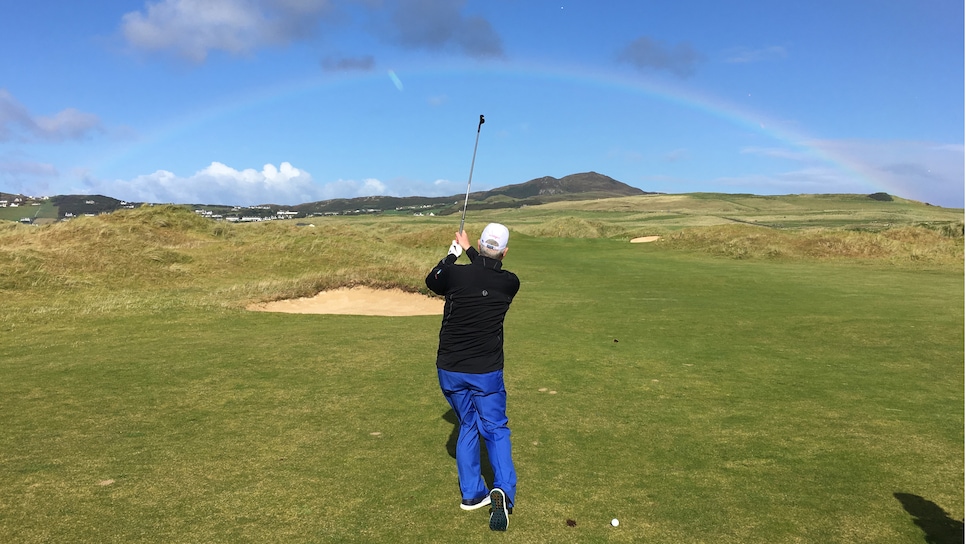 Photo by Alison McLaughlin
In Scotland, the group also played Nairn and Castle Stuart, stopping just long enough after their round at Kingsbarns for a group photo on the Swilcan Burn Bridge. One of the Scotland ambassadors, Gary McEntee, joined the veterans on the bridge at The Old Course. "My appreciation of our country's veterans has been greatly enhanced by participating in the Fairways for Freedom program," McEntee said at the end of his second trip. "I've been able to personally thank our veterans for their service, which we benefit from every day. The bond of friendship and mutual respect continues long after the close of our trips."
Army Master Sergeant (Ret.) Bobby Farmer, who has been awarded three Purple Hearts and participated in the Scotland trip, echoes that sentiment. He serves as a mentor to other veterans who are looking for guidance. As a result of these trips, Farmer has also started playing golf regularly with his wife and young son. "I'd rather focus on the strengths I have from being in combat, than dwelling on reliving the past," he says.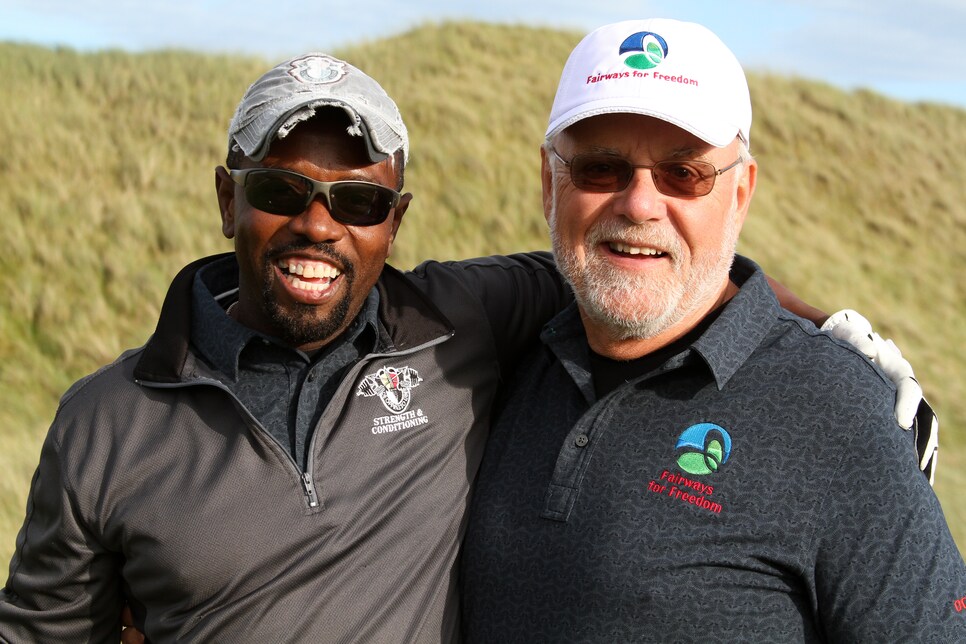 Photo by Alison McLaughlin
Johnny Glenn, who served with Farmer in the same unit and battalion and took part in the Ireland trip, also has been awarded two Purple Hearts for various injuries in 10 deployments, including shrapnel in his leg, a TBI (Traumatic Brain Injury) and a gunshot wound. Glenn took to the game in Ireland with natural skill and an incredibly positive attitude, always a smile on his face no matter where his ball was headed. "This trip was totally amazing, to spend a week and not have any responsibilities except hitting the ball and attending the sessions," Glenn says. "Walking down the fairways with guys who have walked down the same paths in their lives creates tremendous bonds. You should see our group texts! We're already planning a smaller golf outing on our own."
Which just shows what golf on these courses and in these settings can do for the mind and spirit, especially after what these astonishing individuals have faced on and off the field of battle.
Photo by Alison McLaughlin
MORE PHOTOS FROM THE FAIRWAYS FOR FREEDOM TRIPS TO SCOTLAND & IRELAND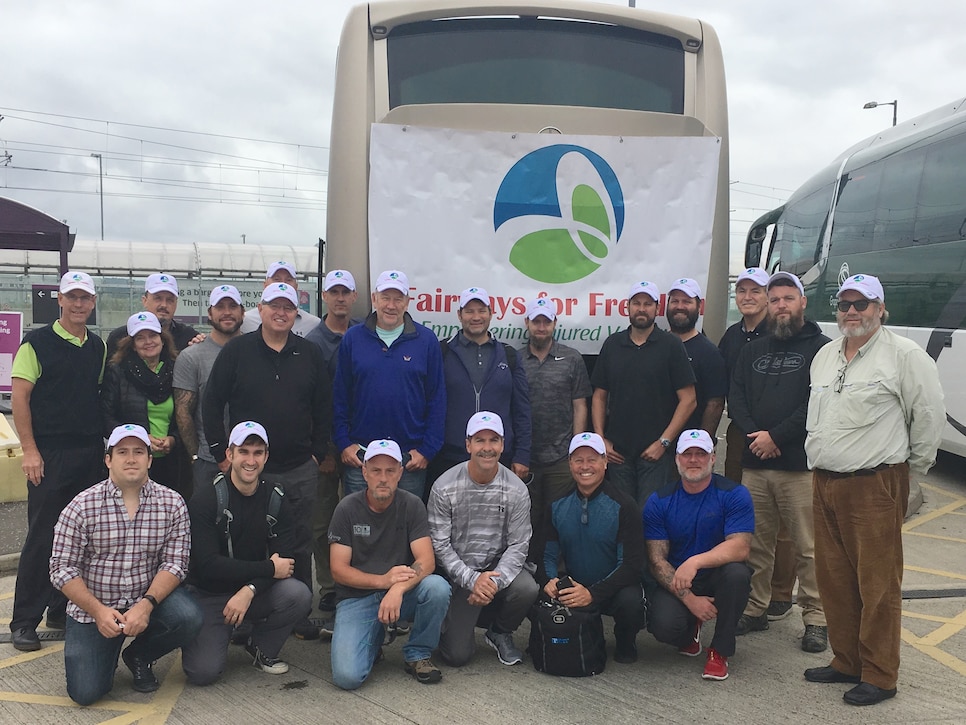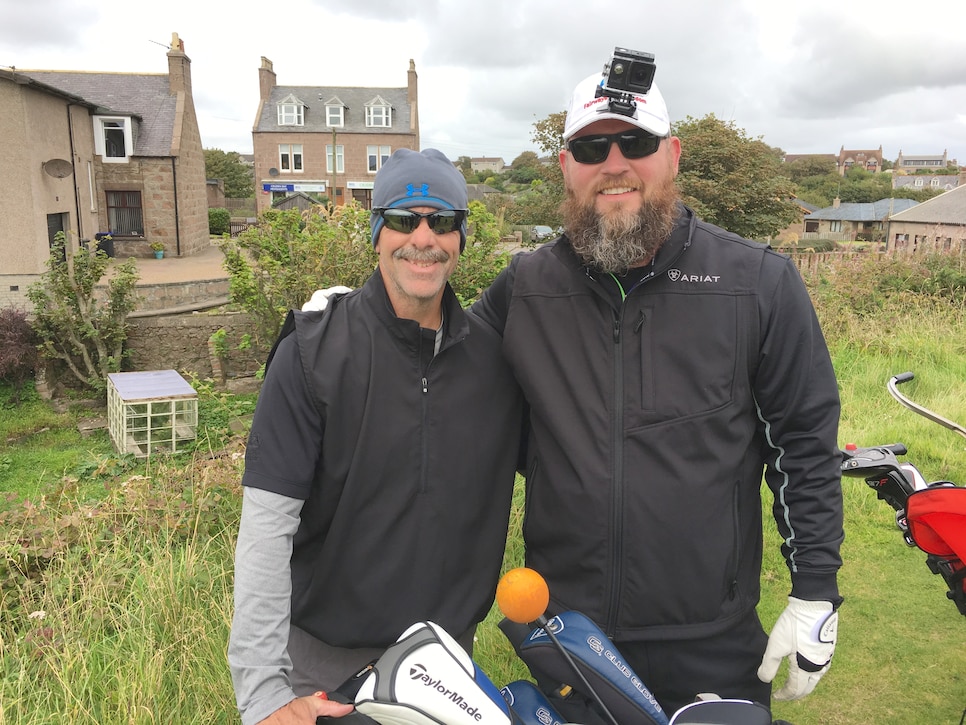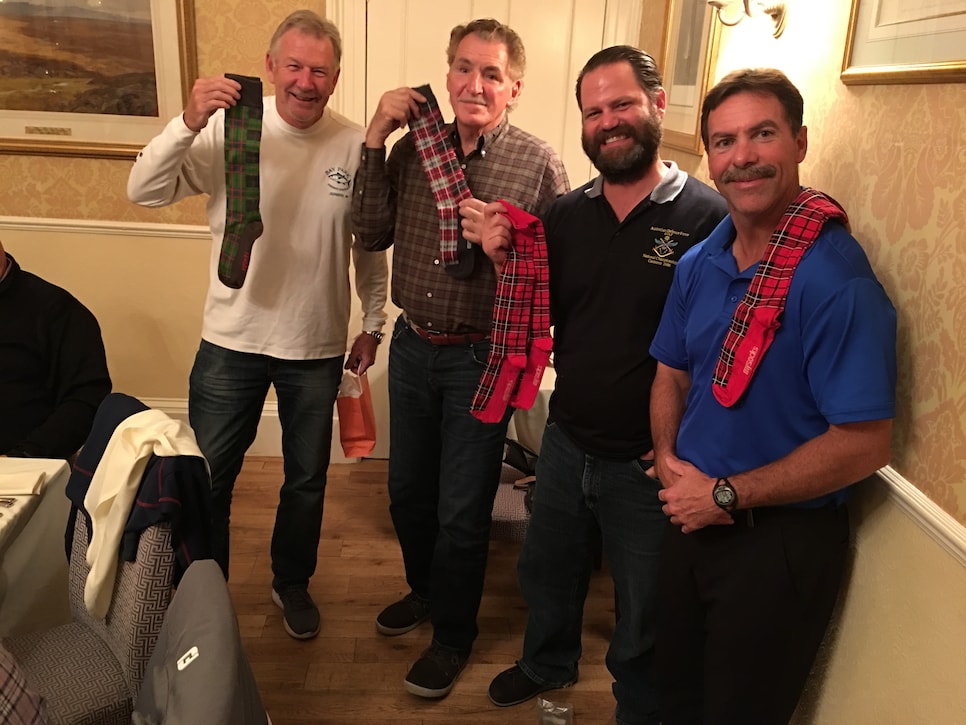 Photos by Alison McLaughlin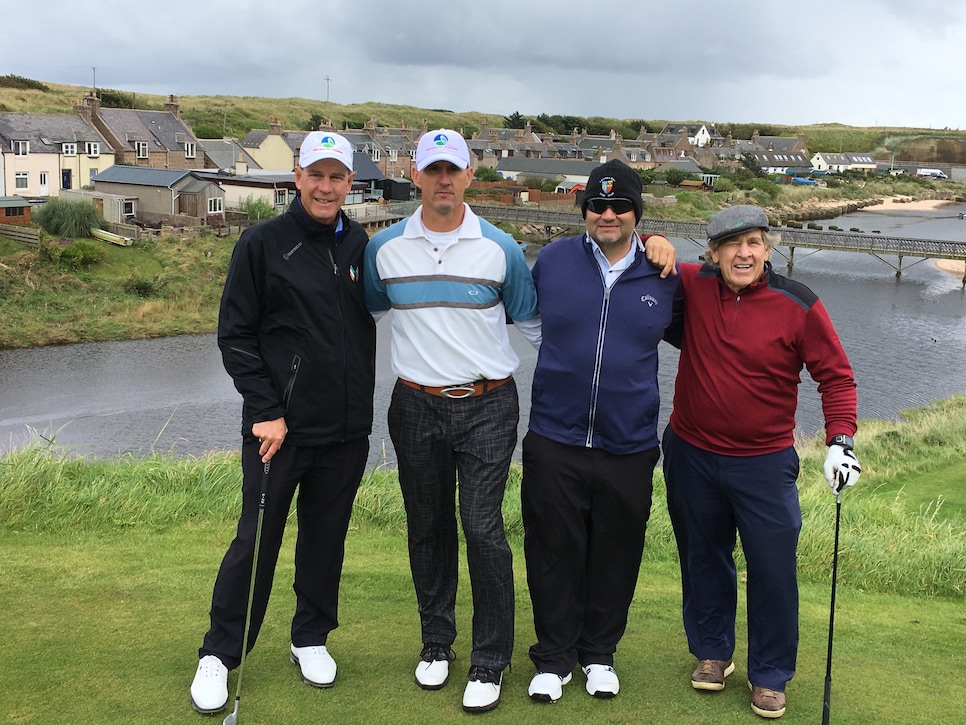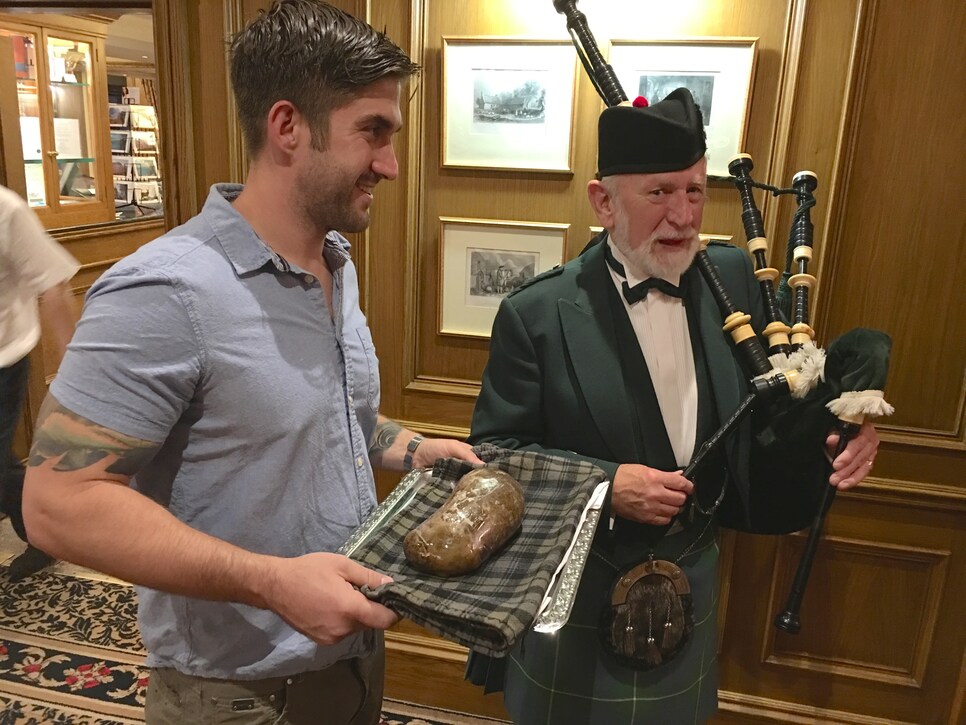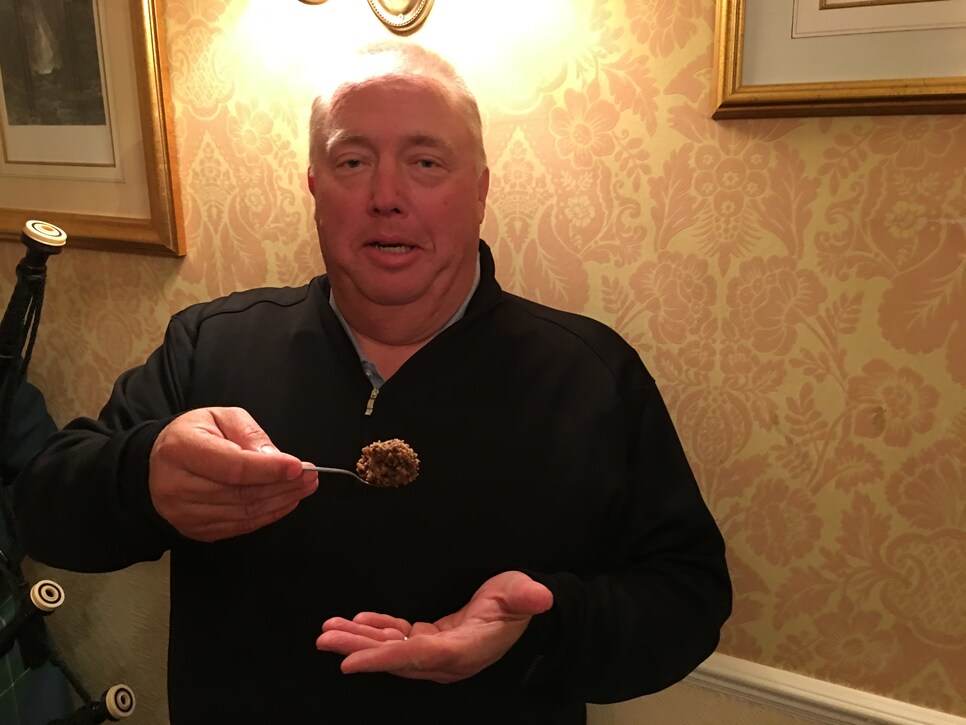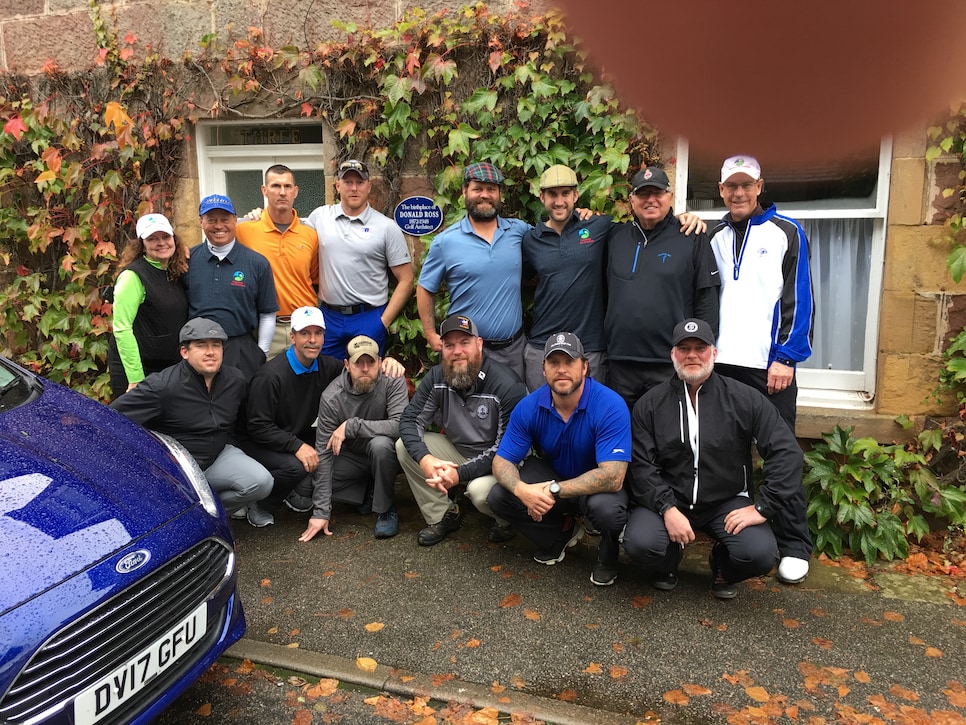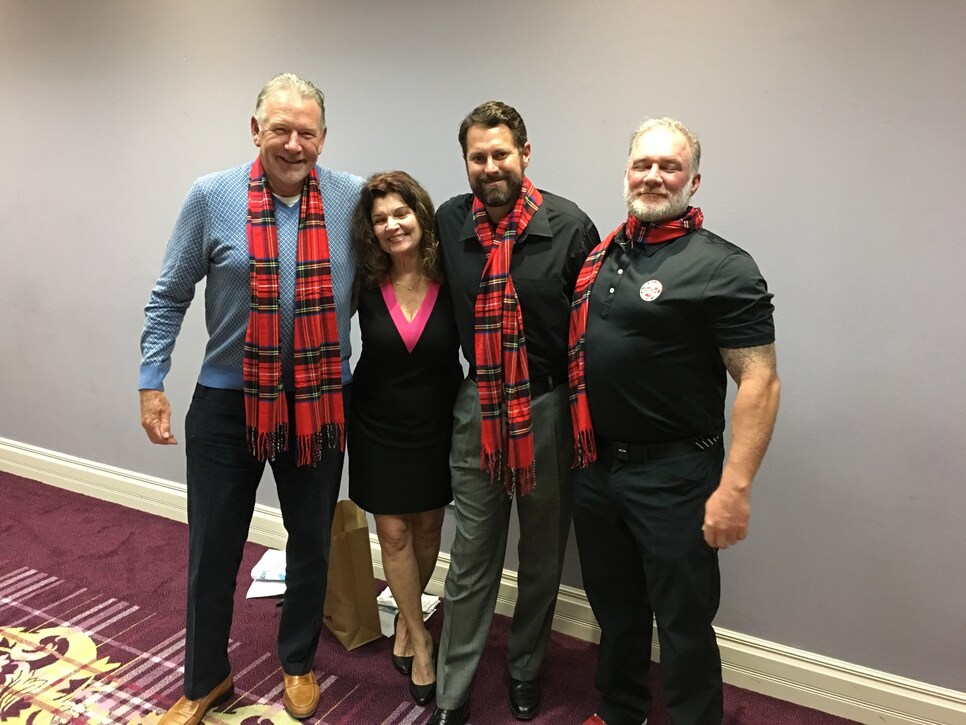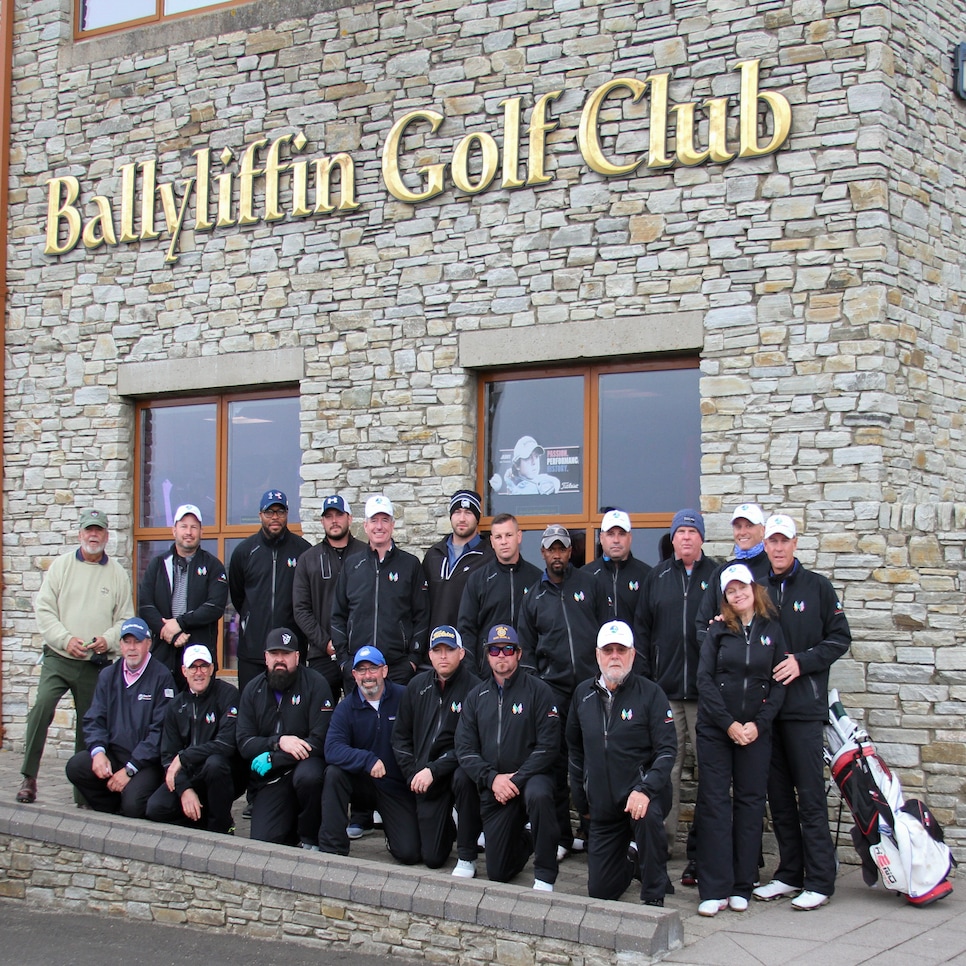 Photo by Alison McLaughlin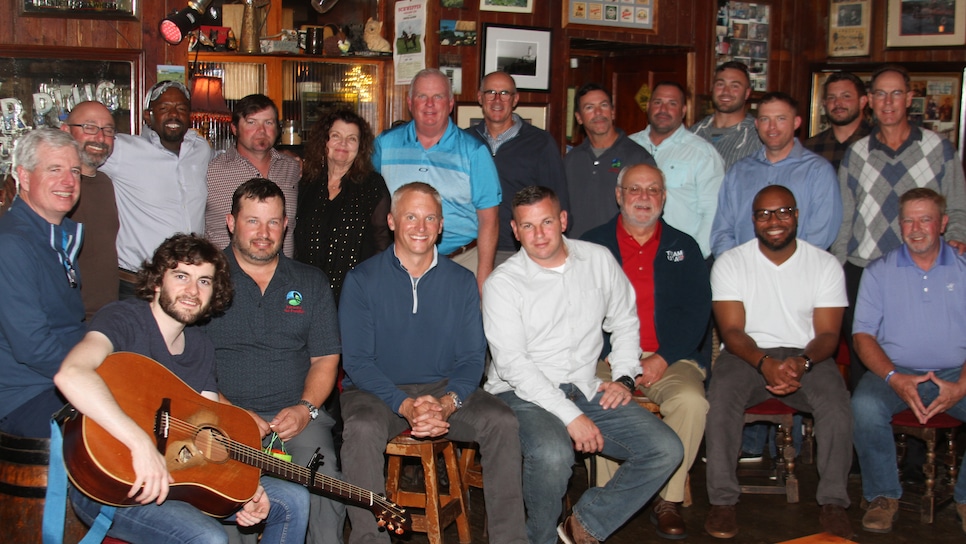 Photo by Alison McLaughlin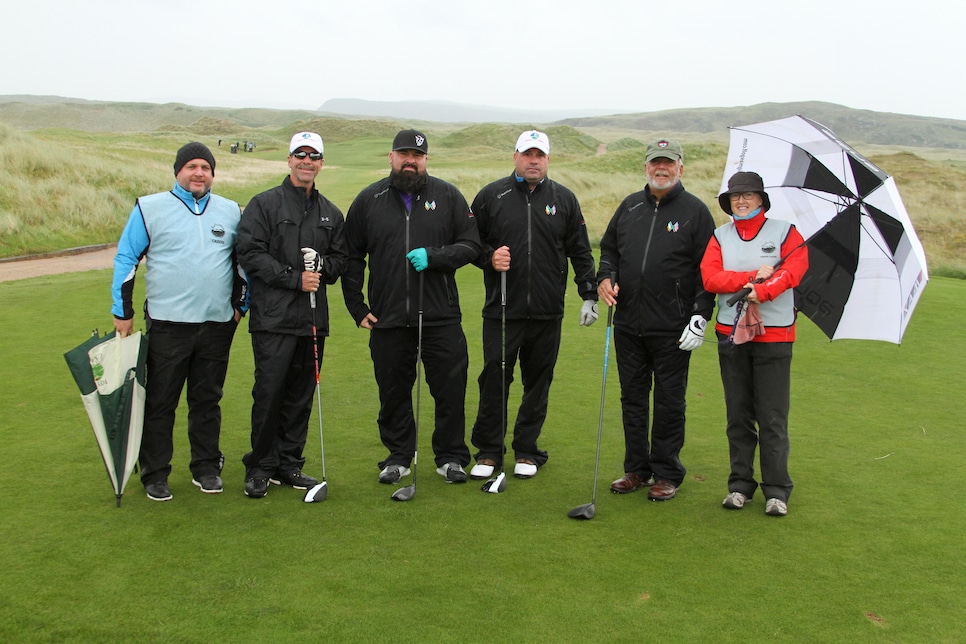 Photo by Alison McLaughlin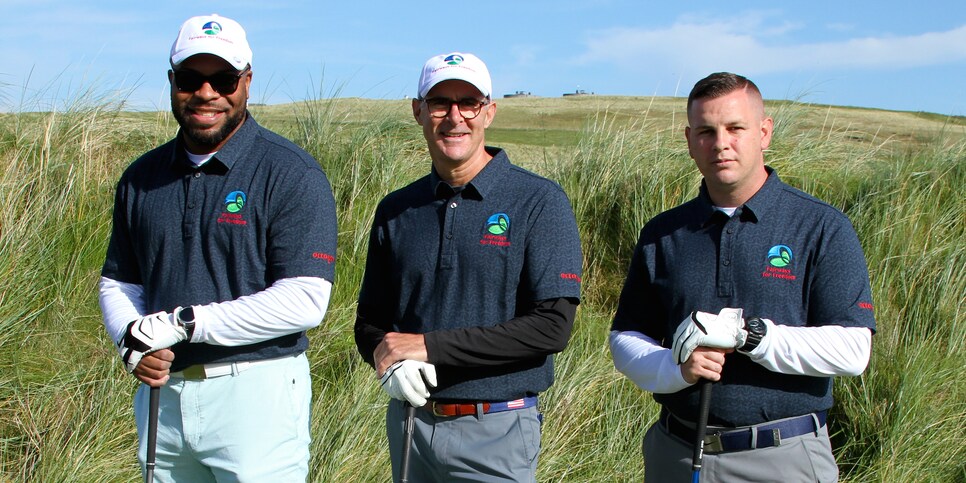 Photo by Alison McLaughlin