The Loop
For golfers aboard flight that crashed into Hudson, new movie is chance to relive their life's most surreal moment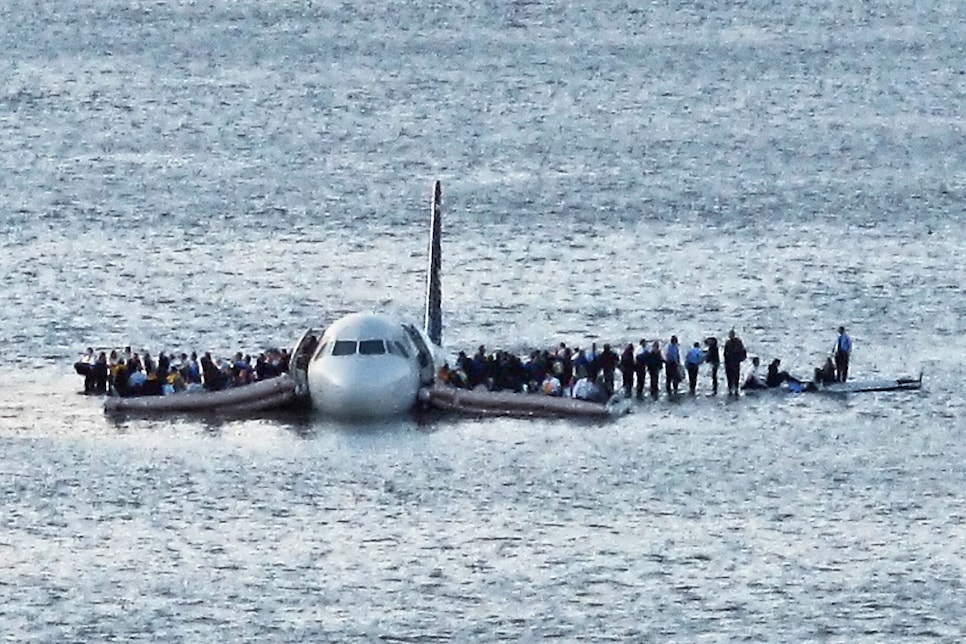 The trip began with a crisis, or what felt like a crisis at the time. When you end up crash landing in a river, these are the sort of definitions that tend to change.
The day was Jan. 15, 2009, and for six golfers from Chicopee, Mass., an early wrinkle surfaced when their flight to Myrtle Beach was abruptly canceled. Pressed for time and anxious to get south, Jeff Kolodjay, his father Rob, and four others were left to consider renting a van and driving through the snow. Then another option opened up: a flight to Charlotte that would at least put the men closer to their destination.
Eager to avoid driving 13 hours with five men in a smelly van, Kolodjay snagged the last six seats on US Airways Flight 1549 to Charlotte. Panic turned to relief. With four days of golf in front of them, Kolodjay and his cousin Jim Stefanik stole off to the Laguardia Airport bar to toast their good fortune. "I remember thinking it was the best $10 beer I ever had," Kolodjay said. "It was like euphoria. A golf trip like this is something you look forward to for months."
In the bar, Kolodjay and Jim discussed holding an evening putting contest at the Legends Resort as soon as they rolled into Myrtle Beach. When it was time to board, Jeff found his seat at 22A and started flipping through the New York Post. In the seat across from him, a man slipped on an eyeshade to grab a quick nap.
"It was just this quick jaunt," Kolodjay said. "I was ready to send some beers up to my dad and my cousin in the front of the plane."
There would be no drink service. Instead, the 208 seconds that followed would be inspiration for international headlines, TV specials, and now a movie, "Sully," about how Flight 1549 lost its engines and required an emergency landing by Captain Chesley "Sully" Sullenberger in the Hudson River.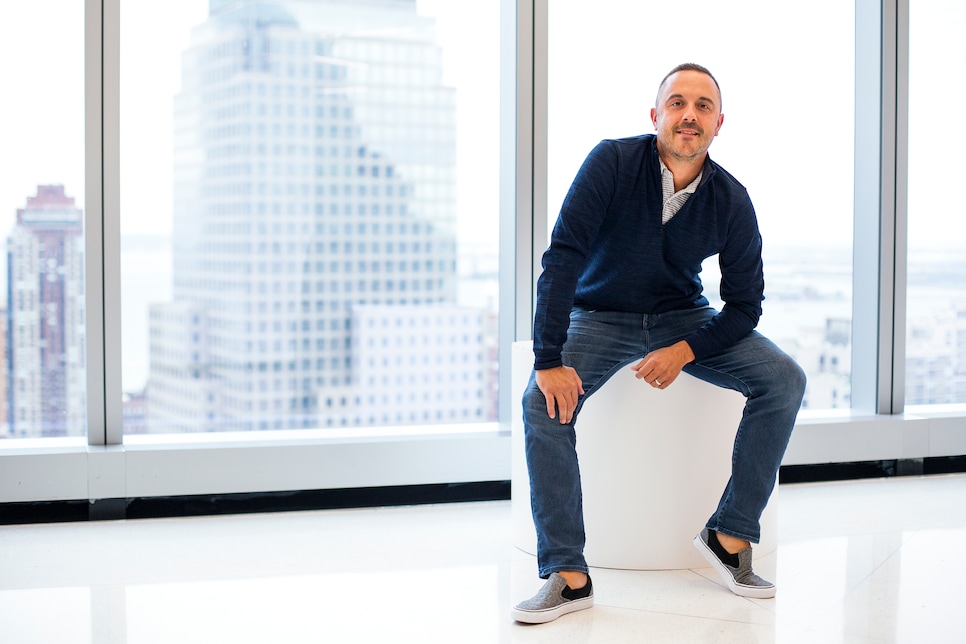 Among the small characters in the film are Jeff Kolodjay, his father and Jim Stefanik. The men appear a handful of times for roughly five minutes, but it was enough to trigger harrowing memories of the most surreal episode of their lives: a golf trip that began with concerns over tee times and ended with six men perched on an airplane wing in the frigid Hudson, grateful to be alive. Kolodjay has already seen the film three times.
"It's a hard thing to forget," said Kolodjay, who is now an executive at American Express. "I think in some sense it mellowed me out. I began to realize that I'm only going to be here once, and in many ways I'm on borrowed time. I'm 38 now. I easily could have been dead at 31."
Kolodjay and Stefanik both played college golf at Central Connecticut State, and for a half dozen years helped organize the same trip over the Martin Luther King Jr. holiday weekend, always revolving around the central tenets of 36 holes of golf, drinks at night, and in his words, "whatever else Myrtle Beach had to offer."
About 90 seconds into the flight, though, it was apparent this trip would be different. Still leafing through the Post, Kolodjay felt a rumble, then looked out the window and saw fire streaking from the plane. The man across the aisle pulled off his eyeshade and asked if everything was OK.
Kolodjay's response: "Honestly buddy, I don't think so."
A central conflict of the Clint Eastwood film revolves around the hectic ensuing moments, how Sullenberger, recognizing that the engines were lost after hitting a flock of geese, wrestled with whether to try to return to an airport or make the unprecedented decision to land in the Hudson.
"I think everyone was in their own little zone trying to cope with death or whatever was about to transpire."
At the time, in seat 22A, Kolodjay wasn't aware of any of this. He just knew the plane was sputtering, and had veered hard left toward the river. As the plane descended, his mind raced, the scenes from his life rolling before him like cards on a Rolodex. He thought of his father teaching him to play golf. He thought of his wife, six months pregnant with their first child. He even contemplated the cruel timing of having recently bought a life insurance policy that hadn't been finalized.
As the film depicts, there was only a brief, haunting communication from the cockpit, when Sullenberger, played by Tom Hanks, informs the cabin to "brace for impact." There were 155 people on board, and all now had to consider what appeared imminent.
"You knew something was wrong, but hearing those words is when you thought this could be it," Stefanik said.
Said Kolodjay: "I think everyone was in their own little zone trying to cope with death or whatever was about to transpire."
At impact, Kolodjay recalls the initial sensation of water. It was freezing, and rising, but it was also something. If he was dead, he figured he wouldn't have even noticed that. Even then, though, fear persisted. The plane could still sink with them all on it, or it might still explode. It was only as he made his way up the aisle and out the door into the frigid open air that he sensed he might survive.
Later, after passengers escaped to the wing of the plane and unloaded into awaiting ferries, did the magnitude of the event set in. The media attention was massive, and Kolodjay emerged as a central attraction. He was interviewed live by Brian Williams and shown talking on his cell phone to his pregnant wife. New York Magazine described him as "The Face of Flight 1549," including a suggestion that Casey Affleck should play him in the movie (the real actor's name who plays him is 34-year-old Sam Huntington).
What soon became apparent, though, is the real leading man of this story was Sullenberger, the solemn voice from the cockpit who somehow steered the plane to safety. At the time of the landing, passengers didn't know what caused them to end up where they did. Some figured terrorism. But when they looked up and noticed they had landed on a river and still survived, they knew the captain had pulled off something extraordinary.
"None of it would have mattered if he dipped a wing a foot to the left or right," said Kolodjay, who also credited first officer Jeffrey Skiles for following Sullenberger's lead during the flight. "He piloted the hell out of that airline. I owe my life to him. My whole family does."
In the seven years since the Miracle on the Hudson, Kolodjay thought he had been given ample time to process this unusual part of his history. But then the movie came out, and he was forced to relive it all over again. Of the three times he's seen the movie, one was with his 7-year-old son, Gabe, the then-unborn child he feared he'd never meet as the plane sputtered in mid-air. Another time, he went with his family to a showing in Chicopee, when a handful of women got word that a survivor of the crash was in theater. Kolodjay was helpless against them.
"These freaking women were hugging me like crazy," Kolodjay said with a laugh. "It was like they met Leonardo DiCaprio."
Of course lost in all the frenzy surrounding the flight was a golf trip that would have to be postponed. There were six sets of golf clubs rinsed in the river, all of which were returned rusted months later. Kolodjay has only held onto a single glove and a Scotty Cameron putter that he hangs in his office, a reminder of what he survived. Through connections at Titleist, the six men were treated to a day of fitting and new gear at the company's Fairhaven, Mass. headquarters.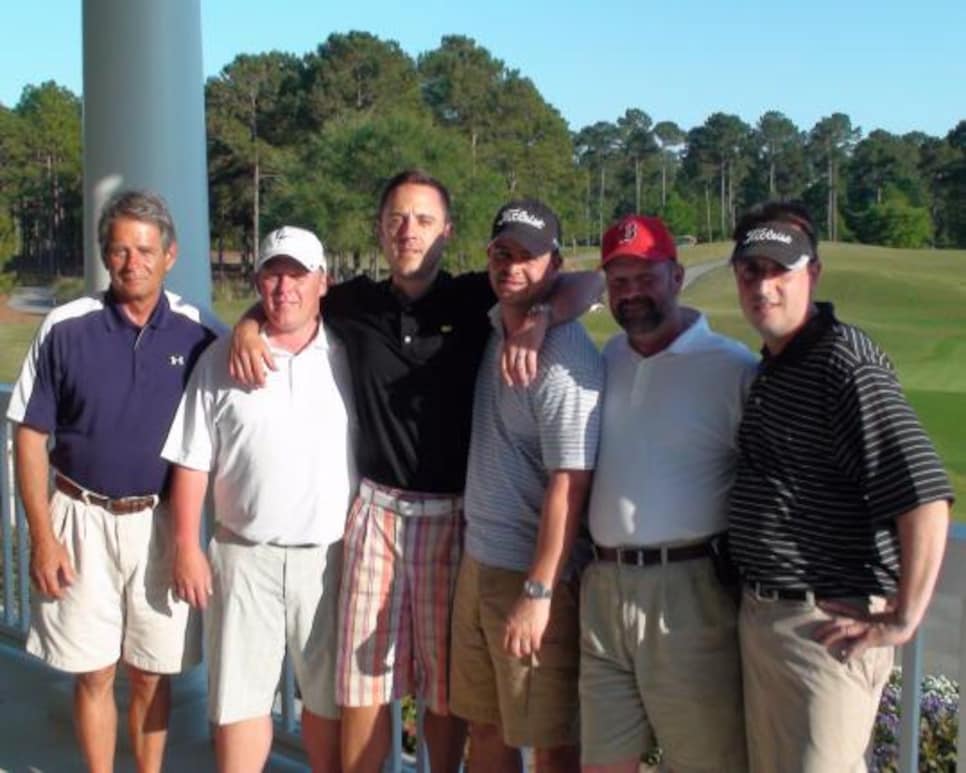 But perhaps the best keepsake is the new perspective the ordeal afforded them, apparent even when the men finally followed through on the Myrtle Beach trip several months later (they drove, of course). If golf had been a serious pursuit at some point, it has since receded in importance, a source of connection more than competition.
"I just want to go out and have fun when I play," he said. "I actually think I'm a better player now because I'm just going out and having fun and having some laughs. It's made me more patient. It's made me appreciate my time on the golf course."