News
For all that he's been through, Marc Leishman's Bay Hill victory comes with added meaning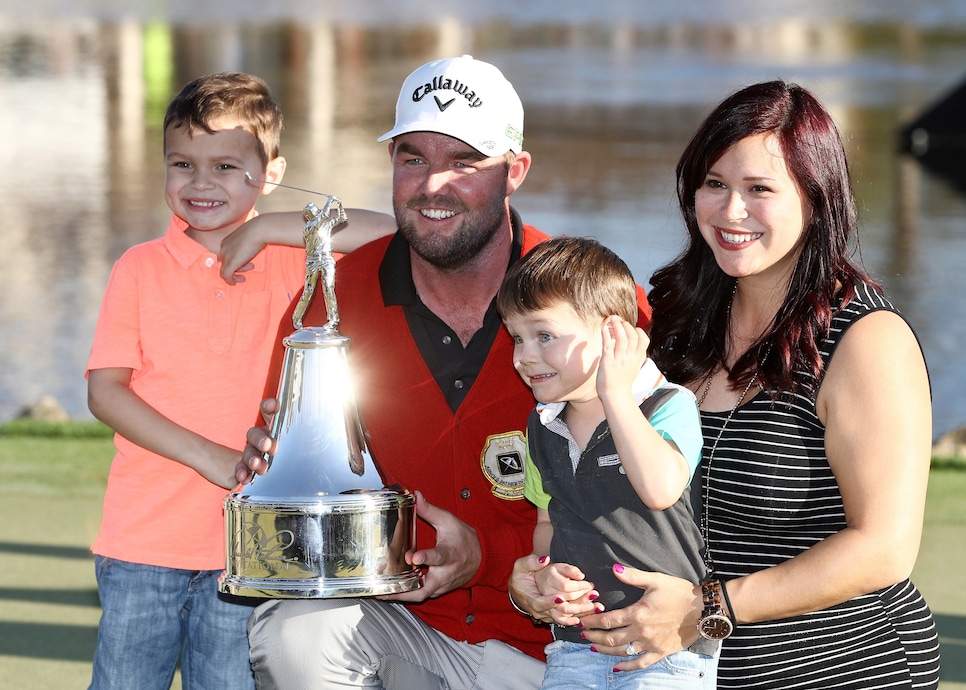 ORLANDO — Maybe the stars align more often than we know. Maybe golf, crazy as it seems, has a way of making some sense, delivering recompense at just the right moment.
Marc Leishman, a husky Australian with a toothy grin, missed the 2015 Masters, the last in which the late Arnold Palmer hit a shot, because of a rare medical emergency that almost killed his wife, Audrey. On Sunday at Bay Hill Club, in the first year that the Arnold Palmer Invitational is missing its namesake, Leishman earned another trip to Augusta National by surging to victory.
"It's obviously a very special week," said Leishman, 33, ranked 62nd in the world. "Mr. Palmer was an awesome guy who I was lucky enough to meet a few times at this tournament. To honor him is huge. Another reason why it's so special this week is this if the first time I've won a tournament with my family here. So, to have Audrey and the boys here … it just all came together.
"And I guess the Masters, too, right? So, I don't know, it's just an unbelievable feeling."
Thanks to a seeing-eye 51-foot eagle putt on the par-5 16th hole followed by two par saves slathered in guile, Leishman finished with a three-under 69 and 11-under 277 total at Bay Hill's Championship Course. The win, worth $1.566 million, was Leishman's first since the 2015 Nedbank Challenge and his second on the PGA Tour after the 2012 Travelers Championship.
A stroke behind were the 54-hole co-leaders, Charley Hoffman and Kevin Kisner, who both stumbled with Sunday 73s on a sunny and blustery day that was unpredictable until the finish.
And then it just seemed cool. And special. Leishman must have used the word 50 times on Sunday. Special. Well, yeah.
Just before the Masters two years ago, Audrey was stricken with toxic shock syndrome, and she was placed in an induced coma as a Hail Mary attempt to save her life. Marc barely ate or slept as she lay almost lifeless. All he managed to eat was a few nibbles of fruit from a basket sent by a fellow tour player. That was Hoffman, whose wife Stacy is one of Audrey's closer friends on tour.
"He's a super guy and they're a great family, and I couldn't be happier for him," Hoffman said earnestly. "They have been through a lot, so how could you not love their story? But I wish he would quit beating me."
As it turns out, Hoffman was runner-up in Leishman's Travelers Championship victory, too.
Leishman has been playing well all year but kept beating himself, having shot 73 in the final round of each of his last three 72-hole finishes. Not this time. He kept mistakes to a minimum and putted brilliantly. But always something more is required in a victory. In this case, a bit of serendipity.
That putt at 16, he'd seen it before.
"I actually hit that putt on Tuesday and I missed it, I think, about three feet left," Leishman said. "It doesn't break too much. I was over that putt, and I actually remembered that I hit that putt, so I backed off, took another practice swing and adjusted my read. Not like six inches, I adjusted it like two feet and then made it. So, practice pays off."
Fortunately, Leishman was able to keep at it. When Audrey fell ill and was given a slim chance of surviving, Marc started coming to terms with the fact he would likely have to quit the game and stay home to raise his two young boys. "I was ready to give it away," he said.
On Sunday, the boys were there, and so was Audrey, pregnant with their third child, a girl.
"It's hard to put into words," Audrey said. "He's worked so hard, and we've been through so much. This year has been an amazing year. I'm finally starting to feel healthy, we're expecting a baby girl this July, and I've never been there when he's won."
And something else was there, too. Satisfaction, though only in measured amounts. Leishman is a fine golfer, but he can't go back to looking at golf as more than a game.
"Yeah, it certainly changes your perspective on life going through something like that," Leishman said of Audrey's ordeal. "It certainly makes golf … I want to do it well, but it makes it less important. It's not life and death. We have been in that situation, and it's not fun."
No, fun is getting handed a trophy and satisfying the demands of a 5-year-old boy. Leishman's son, Harvey, had kept pestering him about his lack of tournament hardware. Apparently, the kid understands the value of winning.
"He would say, 'Daddy, why don't you ever win the trophy?' " Leishman explained. "So that's nice to get that now, to go and get that trophy."
Leishman was disappointed, of course, that Palmer wasn't there to congratulate him, as he had been for the previous 38 winners of his event. He missed another Palmer moment. But that was OK. Audrey's hug was more than enough.