Final exam with Jack Wagner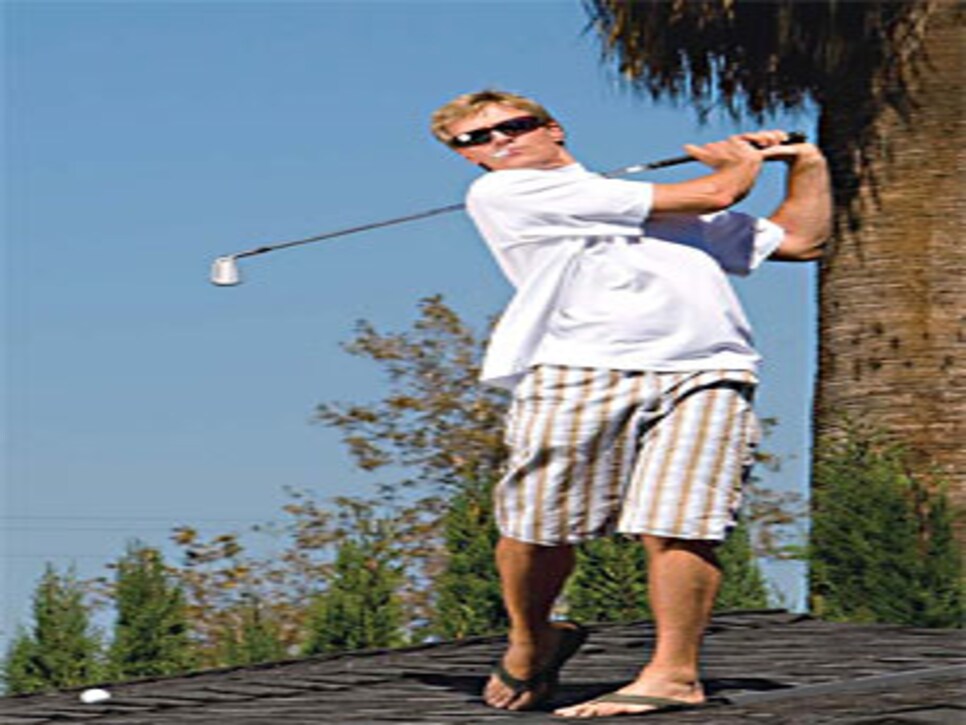 Jack Wagner, who stars on the daytime soap opera "The Bold and The Beautiful," photographed on Sept. 25, 2007, on the roof of his home in Sherman Oaks, Calif.
Golf Digest / You're Hollywood's best golfer according to our new ranking, but another Bel-Air member was No. 1 on our 2005 ranking. Who was that? (Answer: Dennis Quaid.)
Jack Wagner / Dennis Quaid. We're range buddies. We used to play a little bit in a gambling game, but that dried up. The last time we played I think I gave him three a side. When that Golf Digest ranking came out, he came over and hugged me and apologized. He said, "Dude, I don't know how it happened. Sorry." I just said, "Can I bum a cigarette?"
GD / Speaking of Bel-Air members on our list ... one plays mostly at Lakeside and admits to playing by his own rules. Who are we talking about?(A: Jack Nicholson.)
JW / Is it the other Jack? His locker's right around the corner. Probably the greatest part of that membership is that I can talk to guys like Nicholson and Bob Loggia and Bob Newhart. I get to pick their brains about their careers. Jack and I talked 15, 20 minutes the other day. His best line was about the movie "Something's Gotta Give." He said: "I've done about five pictures with scripts like that where any moron could've played the part." He said it like only Nicholson could.
GD / Your former "Melrose Place" co-star and current girlfriend, Heather Locklear, made our Hollywood ranking again this year. What's her handicap, and what's the one tournament she plays?* (A: 36; Michael Douglas & Friends tournament.)*
JW / I know her tournament is the Michael Douglas. She also plays in the Jack Wagner Golf Classic for Leukemia and Lymphoma. Her handicap is trying to concentrate, because she's so beautiful, nobody can keep still around her. Make sure you put that in there. I could use the points.
GD / You've played in all 18 Lake Tahoe celebrity tournaments. Michael Jordan has played in 12. How many times has Jordan finished ahead of you? (A: Never.)
JW / I'd have to say zero. But there was a time when Michael was a 1- or 2-handicap and could really play to it, so I have no mercy for him. We used to travel together -- me, Elway, Jordan, Lemieux and Danny Quinn. We took probably three golf trips in the mid-'80s. Jordan has beaten me on many occasions, and it's usually been for money.
GD / Which Bel-Air member began his film career 11 years ago in "Bottle Rocket"? **(A: Luke Wilson.)
JW / Luke Wilson. I played with Luke one time. We were at No. 8, a par 5, at Bel-Air, and I killed a drive. Luke had been hitting it terrible, but he killed his drive on that hole. The guy he was riding with had hooked his tee shot, so they were back a ways when I took Luke's ball and threw it about 100 yards back up the hill. Now, here comes Luke looking for his ball. He comes over to my ball, and I say, "This is mine, Luke. I think you're back up there." He goes, "Oh, oh, sorry. Sorry." And he takes the cart about 100 yards back up the hill to his ball. We were all laughing when I waved him back down the hill to where his ball had been. He hasn't spoken to me since.
GD / What tour player and his son won the Father/Son Challenge the past two years?(A: Bernhard and Stefan Langer.)
JW / It's gotta be either the Haases or the Stadlers. Peter Wagner, my son, just won the Bel-Air Junior Club Championship. Parred the last three holes. One-putts, up and down. Us Wagners don't hit greens. We chip and putt.
GD / What is Tiger's career-low round on tour?(A: 61.)
JW / 62? [Told 61.] My all-time low is 62 at Bel-Air, but it was in match play, and I had two putts given to me from four feet. I'm playing only about once or twice a month. Full-time job. Full-time father. Full-time blonde. Gotta pay attention to that new blonde. You know what I'm saying?