Final exam with Sugar Ray Leonard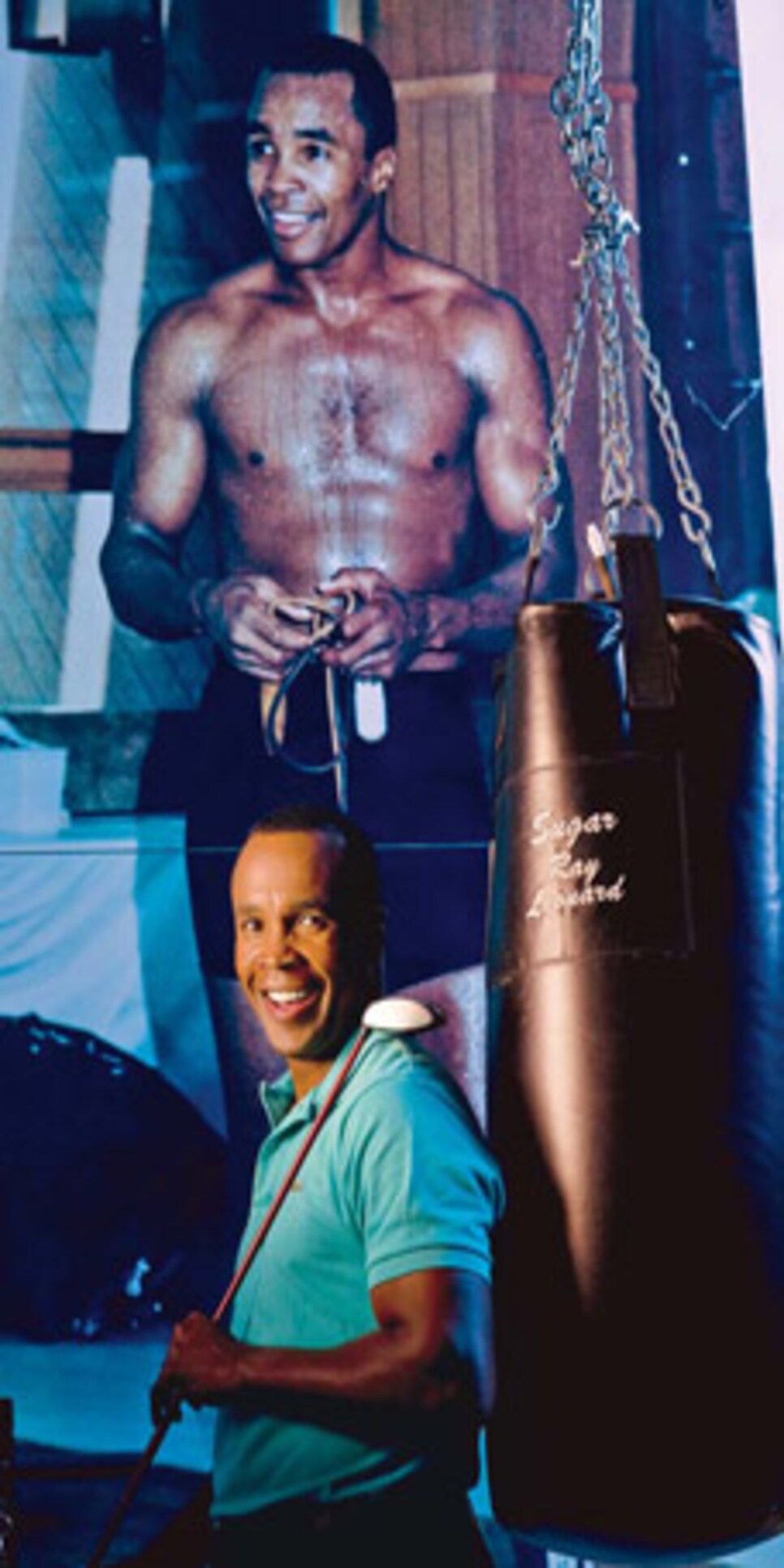 Sugar Ray Leonard, 51, photographed in the gym at his home in Pacific Palisades, Calif., on Nov. 1, 2007.
Golf Digest / Which boxer told Golf Digest in 1998, "I'd rather be fighting in front of 100,000 people than teeing off in front of 10."? (Answer: Oscar De La Hoya.)
Sugar Ray Leonard / The only fighter I know who's a good golfer is Oscar De La Hoya. I took up golf when I came to Los Angeles in 1991. My friend [R&B singer] Johnny Gill said, "Ray, let's play golf." I said, "Golf? Brothers don't play golf." But from then on, it was, Holy cow, where have I been? I love it. If I had discovered golf when I was fighting Duran, Benitez and Hagler, I'd have been on the golf course all the time -- and I would've convinced Duran to come with me. [Laughs.] I've been trying to convince Tommy Hearns for years, but he still wants to fight.
GD / Your show, "The Contender," on ESPN, just concluded its third season. Tiger Woods contends in almost every major, but do you know how many times he has finished second in a major? (Answer: four.)
SRL / That's a tough one, because I never see Tiger being No. 2 in anything. Maybe three times? [Told four.] Tiger inspires me. After I watch him play, I head over to my home club, Riviera, and try to emulate him. Sometimes it doesn't translate that easily. I play to a 16, but there are times I can play to a 12 or a 14 if I use course management. If I try to emulate Tiger, I'm a 17. I've met him a couple of times, but we've never played golf.
GD / You won a gold medal in the 1976 Olympics. Do you know who won the Masters that year? Hint: He has something in common with you. (Answer: Ray Floyd.)
SRL / Hmm. Ray Floyd?...I got it? In 1976 I never would have watched the Masters. In my neighborhood, you didn't watch golf. You watched football and boxing. I know who Ray Floyd is now, but I wouldn't have known then. I grew up in northwest D.C. You didn't dare go on a golf course.
__GD /Which boxer told Golf Digest, "I've never prayed before a fight, not really. But at celebrity golf tournaments, in front of all those spectators, I say to myself, God, I don't ask for much..." ? __ (Answer: Leonard.)
SRL / That sounds like me. I said that little prayer when I played with President Clinton. A friend from Riviera called me one day and said, "Ray, do you want to play golf with the president?" I knew it was b.s., so I told him to have the president call me at the house. So then I get a phone call: Mr. Leonard, this is Sergeant So-and-So, and the president will see you at Riviera at 3 o'clock. I said, yeah, right. But because I live across the street, I had to go just in case it was him.
So I go there and putt around, and an hour passes, and I figure, Shoot, he got me on a prank. I'm walking back to my car and I see these guys touching their ears, and all of a sudden President Clinton walks up to me and says, "Ray, you're first off the tee." I hadn't played in months, but on the first hole I hit it about 250 down the middle. I shot a 41 on the front. We took a picture, he signed my scorecard and it's hanging in my basement.
GD / Which famous boxing promoter has hair that looks like U.S. Open rough? (Answer: Don King.)
SRL / Of course it's Don King. I've never heard Don even say the word golf. It's a quiet game, but if Don ever took it up, it wouldn't be quiet anymore.