Final exam with Smokey Robinson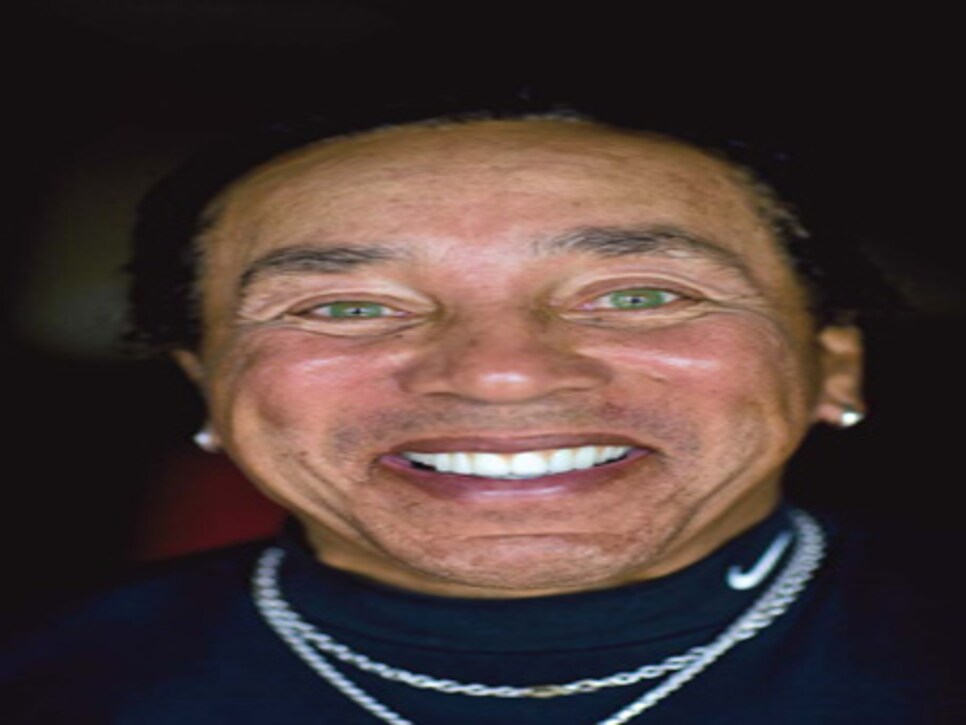 Golf Digest / Tiger Woods is only five major–championship wins behind golf's all–time leader in that category. You were born in the same year (1940) as that Hall of Fame golfer. What's his name? (Answer: Jack Nicklaus.)
Smokey Robinson / Jack Nicklaus. I've been following golf since before I even started playing. Ron White was one of the Miracles with me, and he was a fanatic. He was one of the people who started me playing.
SR / I think mine. I don't know that Bob plays golf, does he? I had no idea. That's weird! I know Bob really well, and have for years. I'd love to tee it up with him! I've played all sports in my life—basketball and football in high school, summer–league baseball. I had aspirations of being a pro baseball player. But golf is the heroin of sports. There's nothing like it. If you call me at 4:30 a.m. and say, "Smokey, let's get up and shoot some hoops or play softball," I'd hang up on you. But if you call at 4:30 and say, "Let's go play some golf," I'll say, "Where?"
GD / The New York Times described one of the newer golf clubs on Long Island as "hip" and "anti–country club." The story said you've played this club, which lists an initiation fee of $600,000. What's it called? (A: The Bridge.)
SR / I've played a few clubs on Long Island, so I don't know which one you mean. I've played everywhere in the world—Spain, England... I just came back off a world tour, and the airline lost my clubs. It took almost a month before I got them back. But back to where I play: I live in L.A., where I belong to MountainGate and Pacific Palms. In Las Vegas, I belong to Spanish Trail. But I'm not really a country–club golfer. I play golf wherever my buddies and I want to go that day. We just love golf. Wherever they've got holes and flags, look for us.
GD / Your biggest hit, "Being With You," was released in March 1981, a month before this eight–time major champ won the Masters. Who is he? (A: Tom Watson.)
SR / Would it be Tom Watson? I probably watched it. When I do concerts I'm working at night, so thank God for TiVo. I TiVo tournaments and transfer them to DVDs. I watch all the majors with intensity, man. I'm a real Tiger Woods fan. I haven't had the pleasure of meeting him yet, but I have all of his stuff on disc from the time he was an amateur. I'm a Tiger Woods collector.
GD / Two of your biggest hits include the word "tears" in the title. Name the songs and the last major winner to sob on the 18th green. (A: "Tracks of My Tears," "Tears of a Clown" and Tiger at the 2006 British Open.)
SR / I was going to say Ben Crenshaw, but it was Tiger. I cried when I saw that. Most people who watched probably shed a tear. The songs, of course, are "Tears of a Clown" and "Tracks of My Tears." If I ever performed somewhere and didn't sing those songs they'd probably throw stuff at me. [Laughs.]
GD / What tour player wrote and sang "All My Ex's Wear Rolexes"? (A: John Daly.)
SR / Probably Peter Jacobsen. [Told Daly.] That's right! I'm sorry. John came to one of my concerts, and I tried to get him to come up and play the guitar, but he wouldn't. He has a standing invite to play with me anytime.
GD / You're a Detroit native and Motown legend. What Grammy–winning Motown artists performed at the 2004 Ryder Cup opening ceremonies outside Detroit? (A: The Funk Brothers.)
SR / Don't know—who was it? The Funk Brothers? This is news to me. I don't know if those guys even play golf! They should've called me. Are you kidding? Of course I'd play. Especially something as popular and renowned as the Ryder Cup. I'd have done two hours of my songs for them.