Final exam with Rush Limbaugh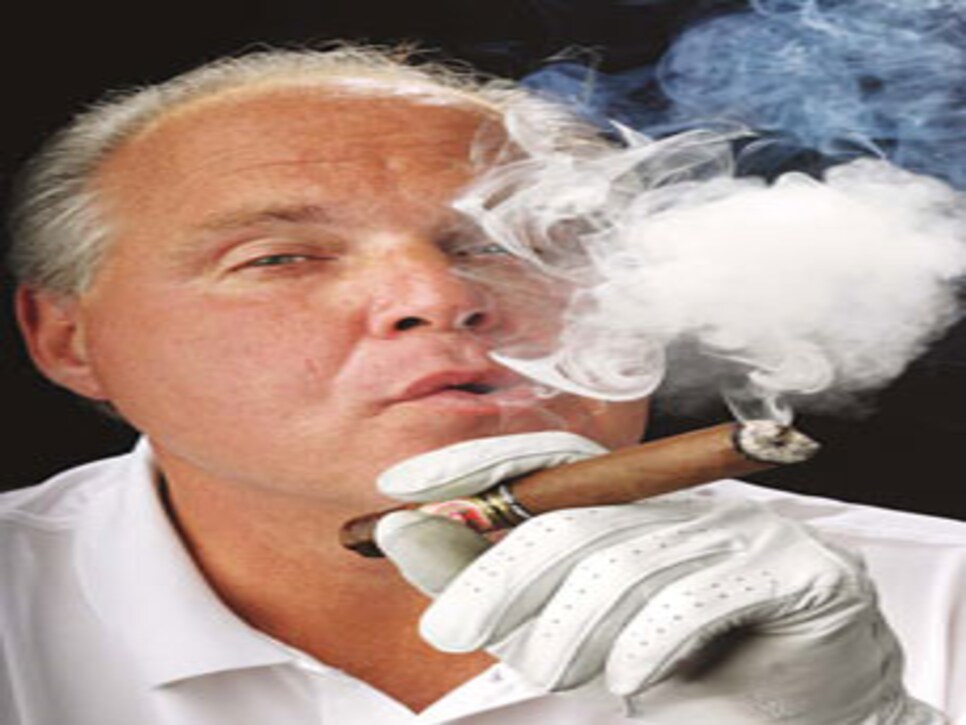 Golf Digest / Most PGA Tour pros are Republicans, but one major champion and former world No. 1 told Golf Digest that he's a registered Democrat. Name him. (Answer: David Duval.)
Rush Limbaugh / Scott Simpson? [Told Duval.] That's interesting; I played with Duval at the Bob Hope, and he was telling me how he loved [Republican] Alan Keyes. I guessed Scott Simpson only because I know he's a big Democrat. Paul Azinger's one of us, so he brought Simpson to the studio one day so we all could rag him. I'm not surprised tour players are Republicans. They're the best example of entrepreneurialism in professional sports.
GD / What's the name of the course in Kennebunkport, Maine, where George H.W. Bush, father of the president, plays golf during the summer? (A: Cape Arundel Golf Club.)
RL / Illegal Immigrant National?* [Laughs. Told Cape Arundel.]* Oh, yes. I played there with President Bush, as I'm a trustee of The First Tee and he's honorary chairman. My primary course is the Everglades in Palm Beach. I also play at Seminole, Pine Tree, The Floridian and The Dye Preserve. I play two or three times a week. I'm a 14.7.
GD / Back in '93, some U.S. Ryder Cup team members balked at the invitation to visit the White House and President Clinton. Which player said, "I don't know what we'd have to talk about. I don't agree with anything he has to say"? (A: John Cook.)
RL / I don't remember who said that, but I remember the incident. When invited, you have to go to the White House, no matter who is president. It's a sign of respect for the office.
GD / What woman in 2002 caused a stir at Augusta National by demanding in a letter that the club admit women members?(A: Martha Burk.)
RL / It was Martha Burk, and I loved what Hootie Johnson and the membership did. Most clubs would have cowed in fear and called a meeting to reach a "common goal" and all that. Not Augusta National. I've played there 10 times, by the way. My first time, I was hosted by Jack Stephens. I believe my best score there is 99.
GD / You attended Southeast Missouri State. What college will Michelle Wie attend this fall?(A: Stanford.)
RL / I don't know, but I got into a lot of trouble the last time I answered a Michelle Wie question. At the Hope, I said, "It's time to get a win." That caused a firestorm, as it was portrayed as anti-Wie, mean-spirited, extremist. I've been told her father is a regular listener of my show and that the family wasn't upset with what I said.
GD / We understand you were considered for the spot in the "Monday Night Football" booth that went to Dennis Miller. If you were offered a spot in the 18th tower of an NBC golf telecast, who would be sitting beside you? (A: Dan Hicks and Johnny Miller.)
RL / Johnny Miller and Dan Hicks. I enjoy Johnny Miller immensely because he's not afraid of what people are going to think of him after he says it. He's fearless. And in our society, more and more, people are running around offended by syllables, even. People are afraid to say anything. It reminds me of the days of the old Soviet Union, where people would have to go into the bathroom to say what they were really thinking.
GD / What's the first name of the surprise winner of the U.S. Women's Open in 2003?(A: Hilary Lunke.)
RL / I don't know. [Told Hilary.] Well, the name Hilary is not on my mind all the time.* [Laughs.]* But I thank God for people like Hillary Clinton. They make my job easier.