Final exam with Jimmie Johnson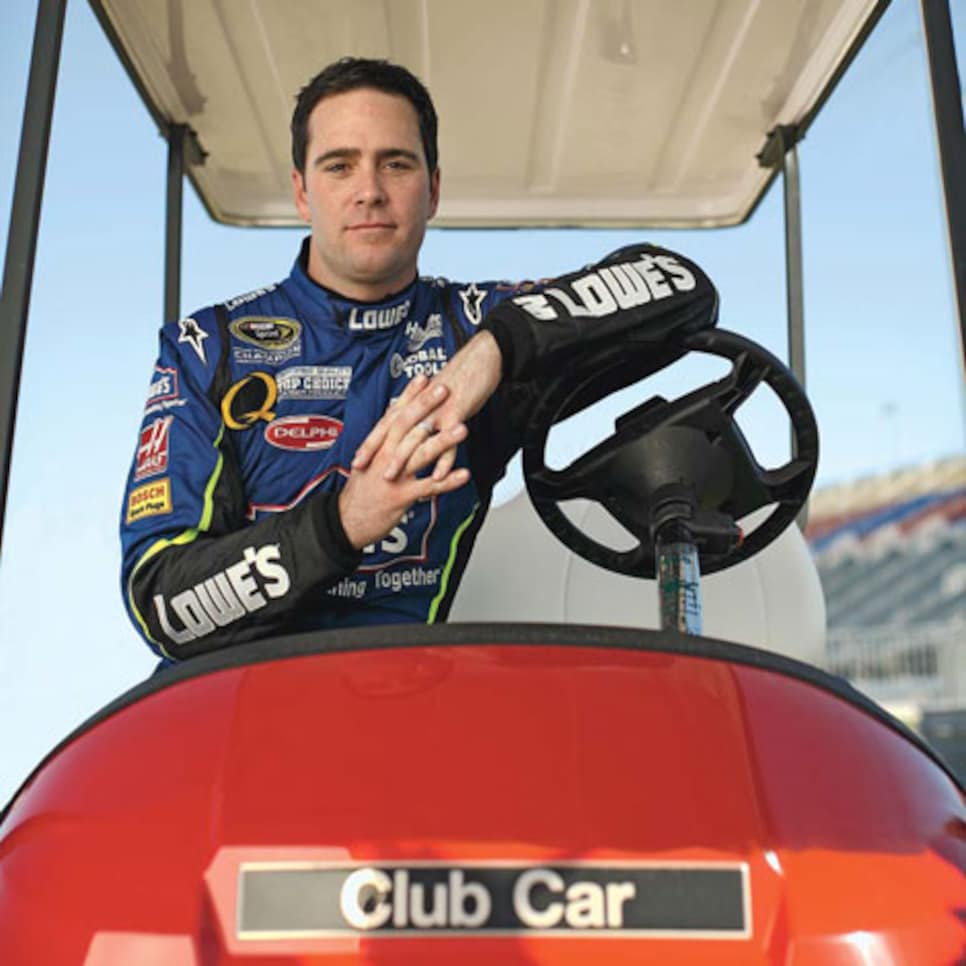 Jimmie Johnson, 32, photographed at Daytona International Speedway on Jan. 8, 2008.
Golf Digest: NASCAR's season begins Feb. 17 at the Daytona 500. Which event drew the larger TV ratings last year: the Daytona 500 or the Masters? (Answer: Daytona, 10.1; Masters 9.1.)
Jimmie Johnson: Our numbers are pretty big, so I'll say the Daytona 500. But I turn on the Golf Channel more often than you'd think. I rotate between that and the Speed Channel, Fuel TV and ESPN.
GD: Who's the best NASCAR driver on Golf Digest's ranking of the top athlete-golfers? (A: Dale Jarrett, plus-1.4 Index.)
JJ: Dale Jarrett -- he's good. I didn't really start playing until the fall of 2006, so I tell everyone I'm a 25-handicap. If I get all 25 shots, I usually win a lot of holes. I really need to sign up with the USGA and get a true handicap. Nobody wants to give me 25 anymore.
GD: Who earned more prize money in '07: you or Tiger Woods? (A: Tiger won $22.9 million, including the $10 million FedEx Cup bonus; Johnson won $15.3 million.)
JJ: I'd think Tiger, but without that FedEx bonus, I'd win! [Laughs.]
GD: NASCAR has its Nextel Cup; the PGA Tour has the FedEx Cup. True or false: Golf's four major championships have no title sponsor. (A: True.)
JJ: I can't recite all the majors, but I know the Masters is one. I just played Augusta National, which was phenomenal. My host was Frank Dowd, a member from Charlotte. Once you turn down Magnolia Lane, you realize you're entering a different world. You kind of escape into the experience and the history. I shot 97 and 100.
GD: The Daytona 500 means 500 miles, but approximately how many miles does a golfer walk in 18 holes? (A: About five miles.)
JJ: I've always wondered that, especially when I walked Augusta for the second day, and my calves were on fire. *[Told five miles.] *That doesn't surprise me. After you walk for four or five hours, you realize it's a long way. I enjoyed walking it, though, and I don't think we played any slower than riding in a cart. Plus, you get such a better feel for the course, get some exercise and have more time to chat with the guys in your group.
GD: You were born in El Cajon, Calif., about 20 miles from where the U.S. Open will be played in June. Name the course. (A: Torrey Pines' South Course.)
JJ: Torrey Pines, and I haven't played it. I was pretty young when I moved out of San Diego to start racing around the country. I hosted a charity golf tournament last August at a public course in San Diego called Riverwalk. We raised almost $600,000 for the Jimmie Johnson Foundation. We had Jeff Gordon, Kyle Petty, Juan Pablo Montoya, Nick Lachey and Gavin DeGraw. I'm hosting another charity tournament with Lachey the Saturday before the Super Bowl.
GD: You broke your wrist on a golf course in late 2006. How did it happen?
JJ: I thought it'd be a great idea to surf on top of the golf cart, but it wasn't the smartest thing I've done. It was in Florida, at a friend's golf tournament. I was horsing around, got up on top of the cart and tried jumping off the top. With the plastic cleats on the plastic roof, when I went to jump, I just slipped. I didn't jump out; my feet just kind of came back, and I went straight down, right on my wrist. At first it seemed really funny, but when I was sitting there with a broken wrist, attitudes changed. My wife gave me one of those deals where she didn't say anything at all. That was plenty. Thing was, I wasn't driving that cart. That's why I was bored and ended up on top. I have to drive the cart to stay occupied, and I'll get it going as fast as that governor will allow. If you do a little work with the governor, I'm sure you can speed it up. [Laughs.]