The Loop
Even par in a 50-minute round? Welcome to the Speedgolf World Championship
At this year's Tour Championship, Kevin Na -- a player known for taking his time around the course -- garnered attention for racing through his final round. Between running off the tee box and abbreviating his pre-shot routine, the 33 year old finished his Sunday trek in just under two hours, to the delight of fans and onlookers. Better yet, it wasn't as if Na was "throwing" his round: he recorded birdies on his final four holes for an even-par 70. For a sport that's been bogged down with time-consuming accusations, Na was hailed as a hero.
While it was an impressive performance by tour standards, Na's fast feats would have been anything but at the 2016 Speedgolf World Championship.
"Speed golf" is a simple concept: try to shoot as low as possible in the quickest amount of time. The two figures are added to comprise a player's score. For example, if a player fires an 80 and takes 60 minutes to compete the round, the tally for the day is 140. Aside from this caveat, the standard rules and regulations of the sport apply.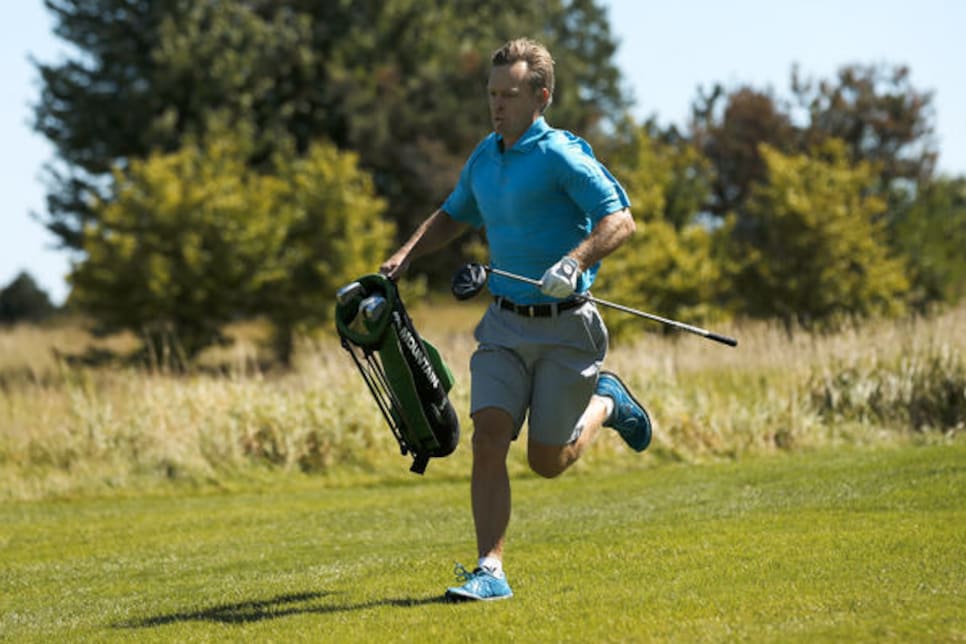 Not that speed golf looks like your usual weekend game. Each contestant plays solo, with tee times separated by eight minutes. Instead of 14 clubs, most players have just six or seven sticks, carried in lightweight/Sunday bags. Most putt one-handed, keeping the other firmly attached to the bag. There is no time for a practice swing.
With such restraints, one would surmise the scores would run high. Not so much.
This year's winner in the Elite division was Jamie Young. The 52 year old from Kenosha, Wisconsin turned in an even-par 72 in just 50 -- 50! -- minutes in the first round of the tournament, held at Chicago's Glen Club. Young followed up with a 77 in 51 minutes on the second and final day to win by four over a trio of entrants. One of the silver medalists, Mack MacLain, had the fastest times with 41 and 45 minute rounds, respectively.
Young was a former college golfer at Oklahoma, but he's more than your usual hacker. He's competed in the Ironman Triathlon, as well as marathons in New York, Boston, and Chicago. It's this array of talents that facilitates his speed golf success.
"My focus is more on breathing, not like a regular golf tournament where you're feeling the pressure,'' Young said to Chicago's Daily Herald. "This tournament, though, I focused on shooting a good golf score."
Sadly, because he's a registered amateur, Young could not take home the event's $10,000 prize.
On the bright side, that 50-minute excursion puts your five-hour round to shame, doesn't it?