News
The European Tour has itself a monster leader board for the final round of its 2021 opener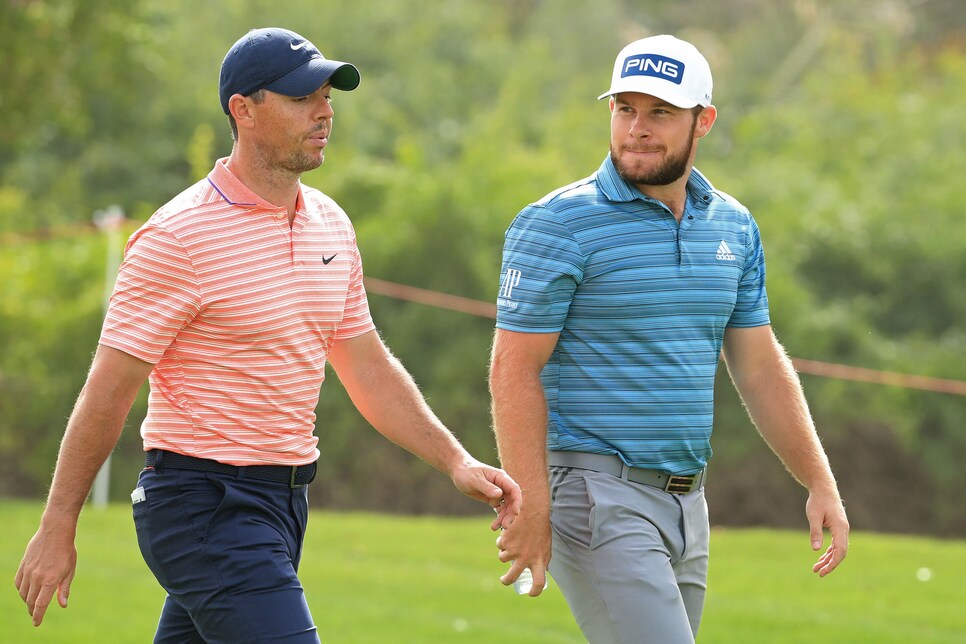 Rory McIlroy will start Sunday's final round at the Abu Dhabi HSBC Championship one stroke ahead of Tyrrell Hatton.
Andrew Redington
A leader board prominently featuring maybe three of the five top-20 players in the starting line-up— let's say Rory McIlroy (World No. 6), Tyrrell Hatton (No. 9) and Tommy Fleetwood (No. 19)—would have been just about everyone's dream scenario heading into the final round of the seventeenth Abu Dhabi HSBC Championship. And that is exactly what the first European Tour event of 2021 is about to provide. With the exception of Justin Thomas and Matt Fitzpatrick, both of whom missed the halfway cut, the elite has risen to the top of the original 132-man field.
"A pretty cool group to be a part of," was Hatton's verdict on all of the above and yes, the details are mouth-watering. With 18 holes to play over the 7,642-yard Abu Dhabi Golf Club lay-out, McIlroy leads at 13-under-par 203, after a third-round 67 that included five birdies and an eagle. Hatton's three-putt par on the 18th saw him finish with a disappointing 71 on Saturday that has him one stroke back and, in turn, one ahead of Fleetwood. The hirsute Englishman shot a 67 that included his first dropped shot in 41 holes at the short 15th.
Which is not to say the most prominent protagonists will necessarily have things all their own way come Sunday in the desert. Led by Scotsman Marc Warren and David Lipsky of the U.S. at 10 under, as many as 13 others are within six shots of the leader. Still, it would surely come as something of a surprise if the eventual champion was not a member of the most recent European Ryder Cup side.
The highlight—and biggest break—of McIlroy's round came at the 582-yard par-5 10th. Maybe 90 yards short of the putting surface in two shots, the Northern Irishman holed out for an unlikely 3 that was worth maybe two shots. As he was quick to admit afterwards, had his ball missed the pin it actually struck at pace, a "tricky up-and-down to save par" would have ensued.
"Today was a little better than yesterday," said McIlroy, who has seven previous top-three finishes in this event. "It was so blustery and a type of golf I'm not used to playing here in Abu Dhabi. It's usually not as windy, so you feel like you have a chance on every hole. But this week there has been more scrambling involved and longer putts for birdie. I thought I did well today though. And yes, the big stroke of luck on 10 really helped. I was headed over the green there. Sometimes that is the sort of thing you need to be in contention at golf tournaments. Besides, apart from that, I played well and drove the ball much better. I'm really encouraged by that."
Less enthused was Hatton, who played 23 holes Saturday (also wrapping up a second round halted by Friday darkness) in a somewhat desultory level par.
"It was a difficult day," he lamented. "Conditions were tough. But I'm pretty disappointed. Coming back this morning I didn't finish off my second round too well. And nothing went my way in Round 3. I hit a couple of decent shots that ran into terrible lies in bunkers. And quite a few putts burned the edge or lipped out. I tried my best though. It was just one of those days where not much went my way. The good thing is I'm still in contention. A lot can happen in 18 holes, so hopefully things go my way tomorrow."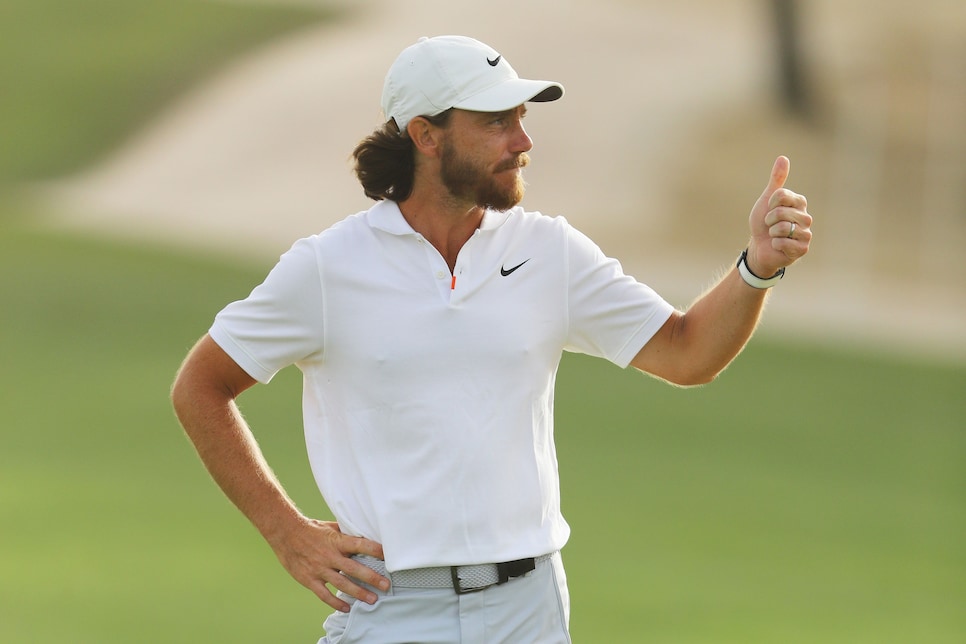 A Saturday 67 from Tommy Fleetwood leaves him two shots off Rory McIlroy's lead with 18 holes to play.
Warren Little
McIlroy was just as philosophical. Having spurned so many genuine chances to win in the past, the four-time major champion is taking nothing for granted.
"I can't go into tomorrow thinking it's going to be my turn," he said. "I want to make it my turn. I have to go out there and continue to hit the ball as I did on the back nine today. If I can do that, I'll be in with a really good chance."
Still, for all that he is well down the aforementioned leader board (T-63) after a third-round 75, European Ryder Cup skipper Padraig Harrington will surely be a happy man should the leaders perform with anything like distinction in the final round. Although all three will almost certainly retain their places in the Old World side that will tee-up at Whistling Straits later this year, Harrington will want all three to qualify as of right. And as soon as possible. Last time out in France, McIlroy, Hatton and Fleetwood, 25 percent of the home team, contributed 40 percent of the points that beat the Americans. They really are rather good.