Editor's Letter: Golf At The Ends Of The Earth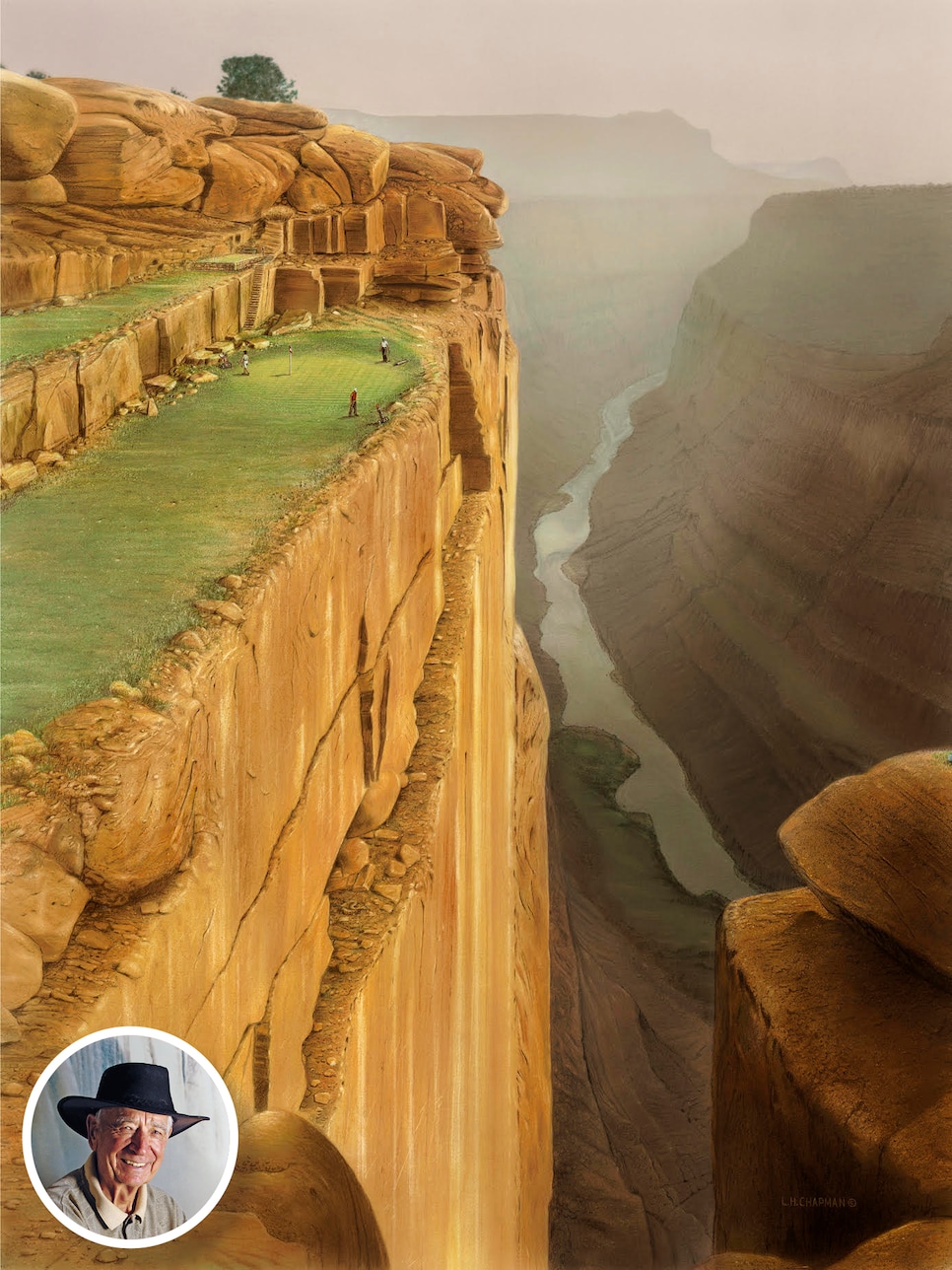 Grand Canyon: Loyal H. (Bud) Chapman; Photo by Dom Furore
If you look up Loyal H. (Bud) Chapman in the Minnesota Golf Association handicap directory, you'll find he has a 6.1 Index at Minneapolis Golf Club. Bud is 95 years old. At the time I last spoke with him, in August, he had shot his age 3,671 times. He plays five days a week, and it has been three years since he didn't shoot his age. He once bettered it by 21 strokes—a 71 at 92. But none of these facts are what makes him important in the history of golf.
Chapman never built a golf course, but his imagination pioneered remote architecture and wildly avant-garde design. He's the artist who drew "The Infamous 18 Golf Holes" that were published first in Golf Digest starting in 1975—holes perched on Iguazu Falls in South America, in California's redwood forest, in the Alps of Switzerland, in the Fujiyama Gardens of Japan, on the Larsen Ice Shelf in Antarctica, and more. The paintings were considered so realistic at the time that a squadron of Navy pilots flew to Zimbabwe on holiday to play the holes over Victoria Falls, only to discover it was a course of fiction.
Years before Dick Youngscap hired Bill Coore and Ben Crenshaw to plop Sand Hills Golf Club in the middle of 19,600 square miles of the starkly remote Sandhills of Nebraska, Bud was sketching even more exotic locales. You could say Chapman begot Youngscap, who begot Mike Keiser, who begot a whole movement toward Faraway Design—not only unencumbered, but inspired, by how difficult the journey was to get to the ends of the earth to play golf.
And once you got there, the hazards were ever more hazardous. As Pete Dye once said: "Bud's innovative thinking influenced many designers to make the contours a little steeper and bunkers a little deeper and generally to think outside the box with new designs, and, in a way, Bud made a great contribution to the game."
The inspiration for Chapman's designs came from a lifetime of adventure and golf. He started as a 12-year-old caddie at Interlachen Country Club in Edina, where Bobby Jones won the third leg of his Grand Slam in 1930. Bud often caddied for LPGA Hall of Famer Patty Berg, who paid him 75 cents a loop plus a dime tip. During World War II, he began drawing a hapless soldier named Willie Washout in comic strips for military newspapers and eventually flew B-29s as an Army Air Force navigator. Bud was headed to the Pacific for action when the Japanese surrendered. After the war, he went to art school and set up a lucrative business doing realistic illustrations for advertising. Through the 1960s, he raised a family and continued to prosper.
In the early 1970s, Chapman was "rolling in money" when he abruptly left the art world and took up treasure hunting in the Caballo Mountains of New Mexico. "It was the adventure of a lifetime," he says, "like 'Raiders of the Lost Ark,' real life-and-death stuff. We were searching for gold and silver in those mines, and we came so close. I worked with geologists and drillers, and the payoff was always a bit deeper than we could dig. I ended up dead broke."
On that final expedition, in despair, Chapman recalled his dual passions for art and golf, and the idea for the Infamous holes was hatched. "I couldn't wait to get back home and start painting," he says.
Chapman sent his first four holes to the editors of Golf Digest, who agreed to give him a free ad in exchange for the rights to publish his artwork. The reader response was immediate and motivating. Bud finished the remaining holes, which were published by Golf Digest in three- and four-hole installments over the next several years. Copies of his acclaimed art appeared in background sets for the movie "Caddyshack" and on the walls of Europe's leading clubhouses. He paid off his bank loans with proceeds from selling prints, and enough prosperity returned to keep him on the golf course. (Giclée prints can be purchased at tpkgolf.com, and original paintings are available for purchase through agent Vlad Gribovsky.) The late Mark McCormack, the sports agent as illustrious as Bud's golf holes, once offered to represent Chapman, but he declined, fearing the work would keep him from playing golf. He went on to win the Minnesota Senior Open and Senior Amateur championships and compete in a number of USGA events.
He told me this summer he often thinks back on his life and realizes that good comes from bad. If he hadn't gone broke, his art wouldn't be world-renowned. If he hadn't lost everything, Bud Chapman wouldn't have become infamous.