News
Former Patrón CEO brings his winning formula to golf balls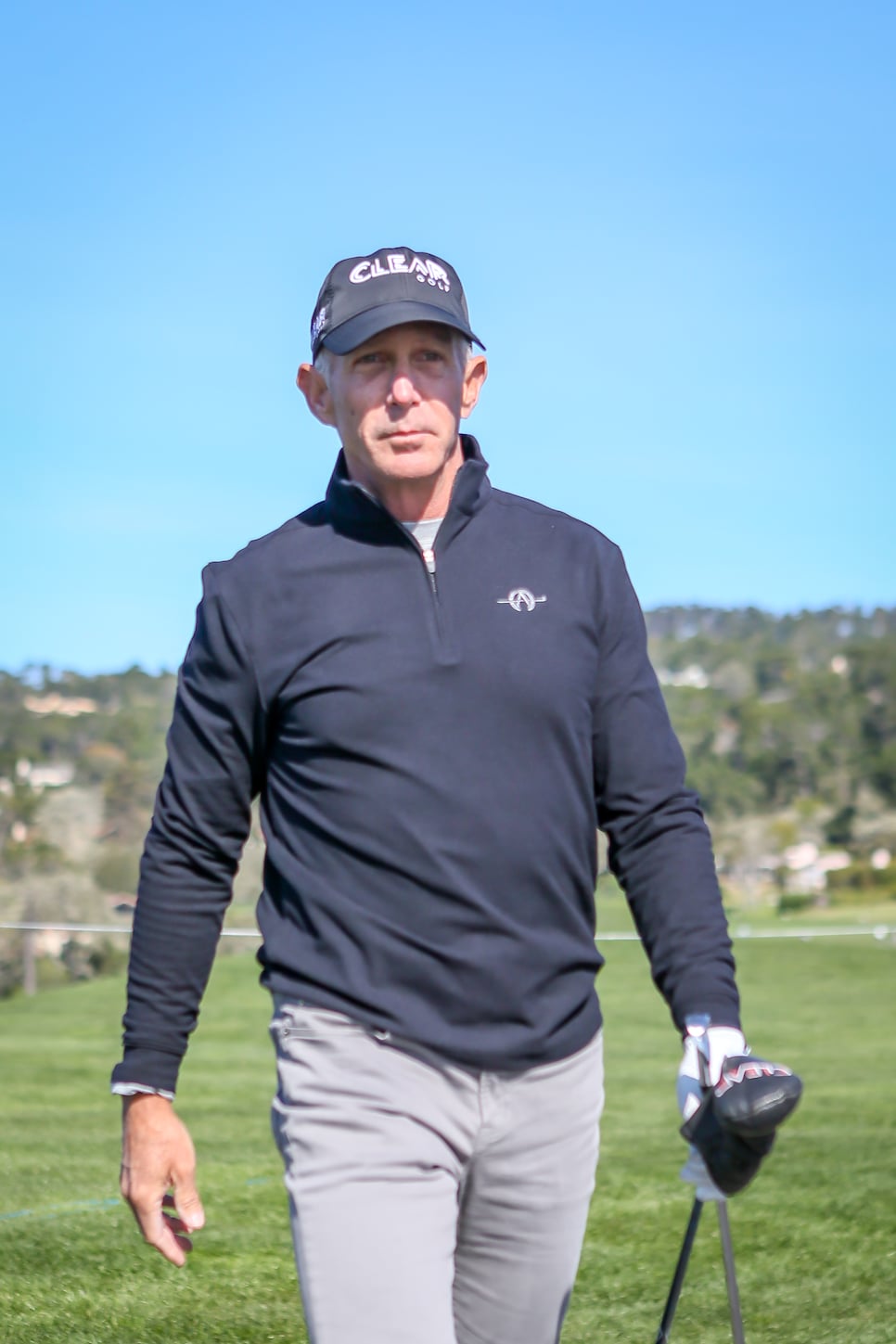 Ed Brown is not a well-known name in golf industry circles but, as the saying goes, give him time. The former CEO of Patrón, Brown took the fledgling tequila and turned it into a powerhouse, ultra-premium brand. He's also an accomplished race-car driver, being part of the team that won the Rolex 24 at Daytona in 2016. A graduate of the University of Texas, it's no surprise that Brown is thinking big about the golf space as well. A fine player in his own right who tried his hand at professional golf, Brown is now CEO of Clear Sports, makers of the high-end Clear golf-ball line. In this interview with Golf Digest equipment editor E. Michael Johnson, Brown talks about his golf background, the parallels between tequila and golf balls and how a round of golf with a former New York Yankees outfielder eventually led him into the golf industry.
Tell me about your golf background?
I was quite good as an amateur and actually tried to play professional for a couple of years. My dad said, "Here's $10,000 and when you're out of money you'll have to go to work." I tried for a couple of years but during that time I realized there had to be a better way for me to make a living. I played a lot early in my business career at Seagram's and Patrón because golf is such a good business tool. But then I started racing cars professionally and I did that for 15 years. I didn't touch a golf club during that time. Once I retired from racing in 2017, I got the golf bug all over again, maybe even worse. Once I sold Patrón I played even more. Graeme McDowell is a good friend of mine and we play in the AT&T and Dunhill Links each year, and a couple years ago we made the cut at the AT&T. Being a scratch player that is not easy to do. That was one of the most fun weeks I've had on the course in a long time.
How did you get together with Clear founder Garry Singer and what attracted you to the Clear brand?
I met Garry through Paul O'Neill, the former New York Yankees outfielder. Paul had asked me to play golf and he was one of the ambassadors for Clear. Garry started telling me about the golf ball and he sent some to me and I thought it was a great golf ball. I didn't really like the logo or the packaging but that wasn't really mine to say at the time. I had recently sold Patrón and Garry asked me to come on board. I didn't really want to go back to work so soon but he convinced me.
What were some of the changes you implemented?
I immediately made changes to the logo and packaging. It also was a membership program at first, to which I told him, "I guess you're in sales prevention then." They had to make it accessible to everybody. I saw a lot of synergies between premium beverage/alcohol and premium golf equipment. My wheelhouse is ultra-premium products and how to push the price points with the consumer and how do you explain yourself to that consumer to be able to sell them.
What gave you confidence the golf space was ready for an ultra-premium golf ball?
I felt the golf business in general was ripe for this. There had been some success with brands such as PXG. I'm friends with Bob Parsons and have had many conversations with him about the golf club industry, and I think he's done a great job of pushing the price points in golf clubs. The golf ball is an important piece of equipment for the better player. It was intriguing to get into the dynamics of that and figure out how we could market this golf ball and get it out there and explain to people that it's the most important piece of equipment you use.
Fair enough. But golf clubs are a durable. You're going to have them for several years, maybe more. And while Patrón is a consumable, you know that you're going to be able to enjoy the entire bottle. A golf ball can be lost in one swing. Given that, how do you convince golfers it's worth the premium?
That's a great question. If you look at golfers, we're all about as crazy as they come when it comes to looking for that unicorn that will help us play better. We're all chasing that. Golf balls are close to maxed out on distance. So, then you look at accuracy and that's a point of difference for Clear. Our tests show an incredibly tight dispersion. For good players, that's really important. I won't disagree that it's not an easy sell. But selling $40 bottles of tequila when everyone else was at $15 wasn't an easy sell, either. It'll take time. It takes an educational process and a key part of it for us was getting a tour player to use it.
You have that player in Charl Schwartzel, who played very well at the 3M Open with the ball. How difficult was it to get a player—especially a former Masters champion—to sign on?
I've done some very difficult things in my career and getting a tour player was one of the hardest things I've ever done. I thought it would be easy, because I know so many of them. Even with Charl, we hit it off right away and we probably played 20 rounds of golf together trying to convince him to play the ball. I didn't push him, though. My approach with tour players was always that I wouldn't ask them to change if they didn't feel it was something that would make them play better. We didn't want another Bubba Watson-type situation where there was an issue when he switched golf balls. That wouldn't help the player and it wouldn't help Clear. But Charl's play this year shows the ball performs. Now we have to educate the consumer.
Golfers take so much time looking for the perfect driver head and shaft. The same with irons and wedges. What I'm looking for with Clear is to start to fit people to the golf ball. We'll have a lineup of about five different balls we can do that with and get people into the best ball to suit their game. Golfers are a unique breed in that they're after whatever the best equipment is that will allow them to shoot their best round.
On the Clear website the description of the golf ball's technology is pretty cursory. Is that something you're looking to change as it's a category that tends to tout technology, or do you feel it's more of a branding play?
We'll push out the technology of the ball and why it's better. We're getting ready to launch a couple of balls, Proto 1 and Proto 4, in September. Proto 4 is the ball Charl plays and Proto 1 is the ball we developed for Justin Rose. Those will be the two lead balls for us and when we launch we will be very aggressive in talking about their technology and why people should be playing them. If you do that and you're consistent with your messaging and you never have to apologize for your product, you put yourself in a good position.
Are those the keys for developing a relatively unknown brand, and is it easier to build brand awareness now or 20 years ago when you were getting Patrón going?
It's a two-sided answer to your question. Because of social media and digital media, there are ways to target directly to your consumer in a more efficient manner. From that aspect, it's a bit easier. The other side, however, is that the consumer is far more educated because at the touch of a screen, they can research and find out anything. Twenty or 25 years ago you could make claims about your product and no one could verify it. Today you can't do that. Social media also is a place where people can badmouth your product if it doesn't live up to the claims. But on balance I think it's easier and more cost-effective. In the past you had to blanket all forms of media to reach the consumer. We're building a very good direct-to-consumer program with Clear because I think it will be difficult to beat out the big guys in the traditional golf retail space. We also have incentives for club pros, even if bought through our website. The consumer can put in what club they belong to and the pro still gets the incentive. But to make a dent we need to go primarily direct-to-consumer.
Is part of the appeal to this brand that it's not a well-known brand and it gives golfers a feeling of "look what I have that you don't" on the first tee?
Absolutely. I don't care if it's golf balls, tequila or tissues. Consumers will pay a little bit more because they want to have something somebody else doesn't. There's something cool about having a different ball than everyone else in your foursome. There's a mystique to that. But it has to perform as promised.
What's the most exciting part about being in the golf business for you?
I want to be disruptive and change what has been the norm, but I want to do it in the right way. When I started with Patrón, Cuervo was the monster tequila brand and people tried to get me to talk badly about Cuervo. I wouldn't do that. They opened the door so consumers knew what tequila was in the United States. It's the same in this. I'll never badmouth Titleist, Callaway, TaylorMade and others because they really opened the door for all the other golf ball brands. There's a lot of quality golf balls. But what gets my blood flowing is the ability to be disruptive. I think we can shake things up a little bit.