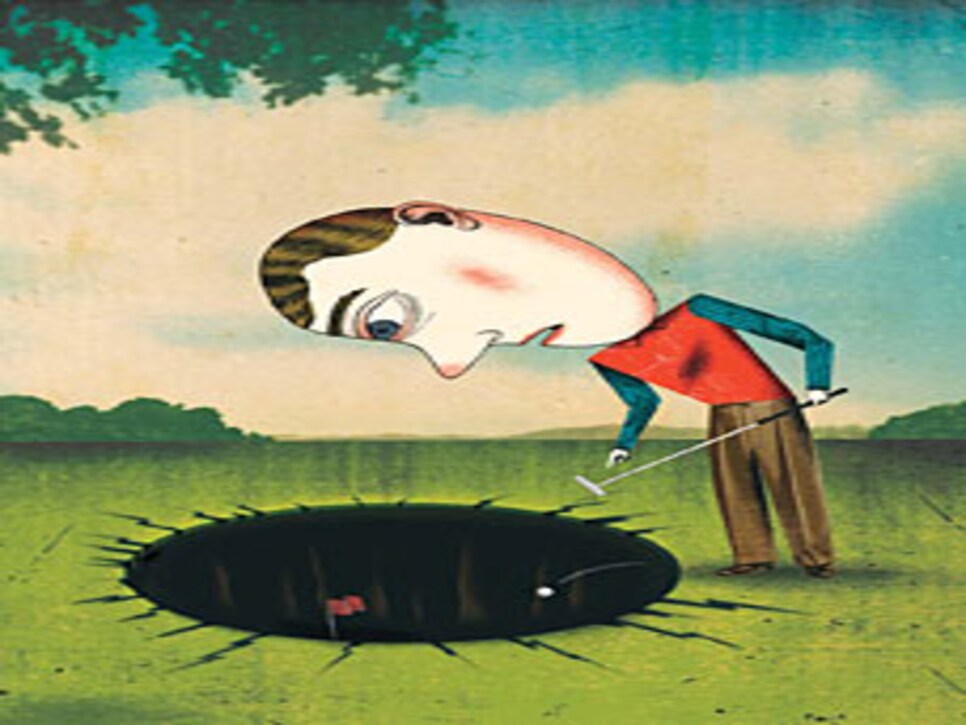 The game has withstood centuries, wars, depressions and even elections. Given the financial meltdown of late 2008, and the subsequent anemia confronting American wallets, how might the game fare in 2009? Button up your rainsuit.
The economic pressures facing today's golf facilities have been well documented. As always, name clubs will be largely unaffected, but, says Casey Alexander, special-situations analyst for Gilford Securities in New York, "marginal private clubs that are charging $18,000 before you put a tee in the ground and are not exceptional golf experiences" will feel the pinch. "People are likely to find them less necessary," Alexander says. "Some are going to outright close." Public and resort courses also are feeling pressure, but the upside is better deals for the consumer.
Just as a stratum of clubs will feel the heat, so will golf companies. In recent months, the stock of publicly traded equipment companies has come under pressure. Such stocks are seen as proxies for consumer spending, which is likely to slow in a recession. Still, these large, well-capitalized firms that have the ability to compete on price will prevail, says Alexander, while the smaller companies will feel the greatest impact. "The more leveraged that your success is to the success of the industry, the more pain you are likely to feel," he says.
The professional tours are not immune to downturn, either. As the PGA Tour looks to 2009, it has a handful of economic and competitive challenges to face, including a bit of a player grab by the European PGA Tour. The Europeans will launch the Race to Dubai, a season-long cash-fest that will replace the venerable Order of Merit competition and reward the tour's top money-winner with a $2 million bonus. The race will culminate with a $10 million, limited-field purse in November. The obvious threat to the PGA Tour is that U.S.-based players might be tempted to play more events in Europe to qualify for the gobsmacking finale. (The minimum number of European tournament entries required for eligibility is 12.) Some top U.S.-based players, including Vijay Singh, Anthony Kim and Camilo Villegas, already have expressed interest.
Then there are cash- and confidence-starved American consumers whose dim outlook has already taken a toll on stalwarts such as Major League Baseball, NASCAR and even the mighty NFL, which has warned league staffers about revenue shortfalls for the 2008-'09 season. Neal Pilson, former president of CBS Sports and now a television-industry consultant, summed it up: "While sports in general might be recession-resistant for a period of time, anyone who thinks sports is recession-proof is dreaming."
PGA Tour commissioner Tim Finchem strikes a veteran tone when asked about challenges facing the tour in 2009.
"You just have to react to it," he says. "It's like worrying about the weather to some extent, but you've certainly got to have your raincoat on. You've got to work harder to deal with it. You've got to make sure that you're doing what has made you successful before, because we've been through these before, and we've come through them quite well."
Despite the tour's financial reserve built through the years, the immediate concern is the viability of its sponsor base: Will post-meltdown sponsors have the wherewithal to carry out their sponsorships agreements? Finchem expresses confidence in long-term deals with broadcasters and sponsors. According to the tour, its network TV deal is locked in through 2012. Other than three "opposite events" (tournaments on the PGA Tour calendar that are played opposite major championships or WGC events), every PGA Tour stop is contractually sponsored through 2010, and a majority of events are signed through 2012.
The biggest question mark on the 2009 PGA Tour is the Wachovia Championship. With the impending purchase of Wachovia by Wells Fargo, the sponsorship and the championship remain in limbo. According to Ty Votaw, the tour's executive vice president of communications and international affairs, Wells Fargo can still be expected to stage the event. "They assume the contract of Wachovia," he says. "They're the successor organization."
Wells Fargo isn't so sure. Company spokeswoman Heather Schow told Golf Digest on Oct. 30, "We are still separate companies, and no decisions have been made as to how Wells Fargo and Wachovia will combine their sponsorship activities."
Broader concerns lie in the tour's overall sponsor mix. In 2008, the PGA Tour calendar had six tournaments title-sponsored by automobile manufacturers and 14 tournaments titled by financial-services/insurance companies.
"Fact of the matter is that if somebody comes up and says, 'Look, we can't pay—sue us,' that's not in the best interest of the tour," says Alexander, who foresees some negative pressure on the tour in 2009 but expresses confidence in the tour's ability to withstand it. It's the organization's lesser tours—the Champions and Nationwide tours—where he believes the greatest impact could be felt.
' who thinks sports is recession-proof is dreaming'—Neal Pilson
The LPGA Tour faces a more immediate set of challenges. Eight of the organization's events have lost or will lose sponsors after 2009. ADT did not renew its contract for the season-ending event after the 2008 event, and McDonald's, which has backed the LPGA Championship since 1994, will exit that role after 2009. The LPGA, in a strategic and branding initiative, has taken ownership of that tournament and likely will eschew a traditional title sponsor in favor of a small handful of promotional partners (similar to the PGA Tour's Players Championship). Chris Higgs, senior vice president and chief operations officer for the LPGA Tour, says the strategy will pay off for one of the tour's most prestigious championships, but finalizing such a deal might not be easy. One industry insider who has sold LPGA tournament sponsorships says that finding one title sponsor in this economy is hard enough, and "finding three different partners who would add up to what one title spends might be even more difficult."
Safeway has withdrawn from its LPGA event in the Phoenix area, and though Higgs says the tour is "confident" about the event returning, "the terms under which we return are going to be an evolution."
Beyond juggling sponsors, the LPGA is facing the renegotiation of expiring television contracts. The tour's five-year contract with ESPN concludes at the end of 2009, as does its deal with the Golf Channel and a vitally important contract with Korean broadcaster SBS. (SBS also sponsors an LPGA event that is up for renewal after 2009.) Part of a revamping of the LPGA's TV strategy might be to shop a new seven- or eight-event television package. Higgs confirms that the existing TV deals are in renegotiation, but he would not address the package. "Our plan has always been to have revised TV contracts in 2010, and we are working toward that," he says. "As to the package concept," he adds, "that would be premature and not in our interest to start having specific conversations with you about what deals we're trying to strike with different networks."
So what of the players in all this? How might a tightened global golf economy affect their income? Jeremy Elliott is the director of golf at player-representation firm Career Sports Entertainment. To clients such as Ryuji Imada, Parker McLachlin, Matt Kuchar and Roland Thatcher, Elliott has been offering a little straight talk.
"Its quite simple," says Elliott. "There's going to be less money going into the sport from individual player deals to tournament sponsorships. That's just a fact that we're dealing with, and were going to have to deal with for the foreseeable future."