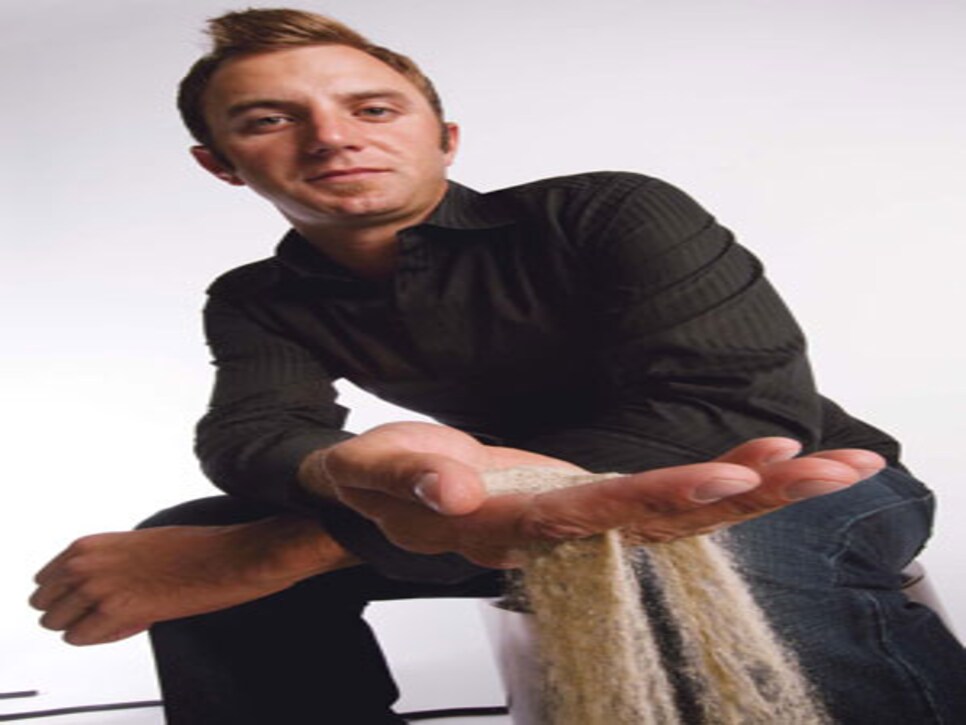 , the man at the center of one of the most controversial endings in golf history, emerged from August's PGA Championship
with something Americans might value even more than winning. A reputation as a stand-up guy. No temper tantrums. No finger-pointing. No Why me? Like an old cowboy, Johnson dusted himself off and ambled into the night. The way he handled the final-hole rules violation at Whistling Straits was the way he dealt with the final-round 82 that cost him the U.S. Open
at Pebble Beach. It's also how he handled roadblocks as a kid, including his parents' divorce and his involvement in a burglary as a 16-year-old. Now 26, Johnson has smoothed his rough edges while freeing up his undeniable talent. And by winning the BMW Championship in September, Johnson became a favorite for player of the year. Not only can he hit a golf ball miles, he dunks a basketball and wears a soul patch above his chin. The guy is cool, powerful, resilient and, perhaps, the next great American star.
Have you been dreaming about your finishes at the U.S. Open and PGA?
Not really; I'm pretty good with stuff like that. I don't let it bother me. It's not the first time something crazy's happened at a major, and it won't be the last.
Outside of the PGA, how many times in your life have you been penalized for grounding your club in a bunker?
Never. But I never should've hit it there. If I hit it down the fairway, I've got nothing to worry about.
Why didn't you read the rules sheet that week?
Look, we get rules sheets every week that say things like, "It's OK to move rocks in bunkers this week." When I read the rules sheet for the PGA in the trailer afterward, it didn't say anything unusual. Obviously, I know you can't ground your club in the bunker. I just didn't think that was a bunker. With the amount of people who were around -- and standing in -- what they call a bunker there, there's no way I could've known. If the people hadn't been there I probably would've realized it was a bunker.
Before the PGA, Golf Digest counted every bunker at Whistling Straits and came up with 967. How many should be there when the PGA returns to the Straits in 2015?
How much worse would it have been if you had made that putt on 18, thought you'd won a major, and then learned you hadn't?
I definitely thought about that, and it definitely would have been worse.
Let's go back to Pebble Beach. You're leading the U.S. Open by three shots in the final round when you triple bogey the second hole. How did that affect you as it was happening?
As it's happening, it's all going so fast. On Monday, looking back and trying to figure out what went wrong, and even after all the stuff at the second hole [a shot left-handed, two wedge shots to reach the green and a missed three-foot putt] and third hole [lost ball, double bogey], I didn't feel like I was out of it. I still had a chance to win. I just needed one putt to drop, and it would have been a different story.
It doesn't sound like you stewed over that one any more than the PGA. No tears?
Not at all. I'll take a lot of good things from both. I just need to be more patient with my swing and my routine. I do well Thursday through Saturday, but sometimes on Sunday I rush things. Rush the swing, rush the putting stroke.
When was the last time you cried?
Probably when my grandmom passed away a couple of years ago.
What did she pass on to you?
The importance of a good attitude and the right way to treat other people. People might think those major-championship losses are the worst things that have happened to you. But you made some mistakes early in life and even as recently as 2009 (DUI arrest). What did you learn from those times? The big thing is surrounding yourself with the right kinds of people and with people who have your best interests in mind.
Who did you hear from after the U.S. Open and PGA? Any surprising messages?
You can't imagine how many nice messages I got. I have a whole book full of them. Phil left me a really nice voicemail and so did Butch [Harmon]. Michael Jordan checked in, too, and we hung out the week after the PGA in Vegas.
What did Michael tell you?
Michael just gave me support, told me I played well, that it was a tough break what happened and that everyone sort of feels the same way -- that it was impossible to tell I was in a sand trap.
What'd you do with M.J. in Vegas?
We played some golf. He's really competitive. Really competitive. It was fun.
I did. He didn't play his best. I'm glad I wasn't playing against him the afternoon before, when he shot 69.
You're a hoops player. Did you get to play any basketball with M.J.?
We didn't, but we went out to dinner and hung out a couple nights.
I know you can dunk a basketball. What's your best throw down?
Yeah, I can still dunk, but I don't play much anymore. If I played for a few days in a row, my best would probably be a reverse or an alley-oop. The fantasy is, I'm running the lane, I catch it from M.J. and throw it down.
Where do you rate yourself among the tour guys who play hoops?
Hard to say, but I know Gary Woodland can ball. He played college ball. He can also move it off the tee. Two on two in hoops and long drive, we'd be tough to beat.
Is it true that you could palm a basketball as a seventh-grader?
I could palm it as far back as I can remember.
You seem to spend a lot of time in Vegas. What do you like about it?
I just like it there. Good weather. Good times. It's fun.
What's a typical day for you in Vegas?
Work with Butch. Maybe play some golf. Then have a nice dinner and a little gambling.
What's your game of choice?
You get loud at the craps table?
If I'm feeling good I do.
You began working with Butch in April. What was the first thing he told you about your swing?
The first thing he said was that he wasn't going to change a lot with my clubface even though I get it closed at the top. He said I could change it, but that I probably wouldn't be able to play golf because that's how I had played my whole life.
What has he changed about your swing or game?
Getting deadly from 150 yards and in, because with my length I have a lot of those shots. And in terms of mechanics we shortened it up a little bit, especially with shorter irons. Everything's more together. I'm also learning to move it left to right. I've always worked it right to left. But it's important to be able to get to some of those back-right hole locations on a Sunday. I did it at the PGA quite a few times.
Who are your closest friends on tour?
I'm pretty close with a lot of guys, like Nick Watney and Steve Marino, D.J. Trahan and Charlie Warren. Phil and I have become pretty close. I'm buddies with everybody.
You and Phil have played a lot of practice rounds together this year, which makes it easier for Butch, who works with both of you.
Phil's someone I looked up to as one of the best in the world. We play a lot of Tuesday games against each other. I remember playing at The Bridges with Phil after I got my card a few years back. We started hanging out a lot this year.
You guys play for a couple bucks?
Couple hundy or couple thou?
What's your most memorable match with Phil?
Probably the most memorable so far is at TPC Sawgrass this year. We were back and forth all day. My partner was Hunter Mahan, and Phil was playing with Scott Piercy. I had indies against Phil, and we were dropping putts on top of each other. Phil made a 30-footer at 15, and I made a 15-footer on top. On 16, the par 5, the pin was middle left, and Phil hit it back right about 40 feet with a lot of curve, and I hit it pin-high left on the fringe, about 20 feet, both for eagle. Naturally, we're talking trash. And Phil always says, "I've got a funny feeling..." Like his long putt's going to go in, just runnin' his mouth. And, of course, he buried it. So then I said, "I have a funny feeling..." and I knocked it in on top of him. It was a dagger, and Hunter and I ended up winning.
Who's longer, you or Phil?
I don't have him by much; he moves it good. But I've got him. And he doesn't hold back on the driver.
What have you learned from Phil?
Just watching how he reacts to people is helpful. I sign autographs and try to be as nice to people as possible, and I do pretty well with that. I understand the importance of it.
Your grandfather, Art Whisnant, was a great basketball player, wasn't he?
He's in the Hall of Fame at the University of South Carolina, and he's still around. He's been a big part in my life for as long as I can remember. He helped out financially. Most of my family are good athletes.
In high school my dad started in baseball, football, basket- ball and soccer. He didn't pick up golf until after high school, became a scratch golfer and eventually played mini-tour events. He was a club pro. Now he and a buddy make decals for the sides of trucks.
Did you aspire to play another sport before settling on golf?
Not really, but I was also a pretty good baseball player. I played pitcher and shortstop. I brought the heat. I didn't know where it was going all the time, but it was coming in fast. I threw a little sidearm, so I could also throw a left-to-right curve. I didn't play in high school because I was into golf.
How good were you when you were young?
I remember when I was 14 or 15, shooting 64 three days in a row at Golden Hills in Lexington [S.C.]
How far were you hitting it then?
I hit it like 300 when I was 16.
How often do amateurs in your pro-am groups overswing trying to keep up with your tee shots?
A lot of them do for a couple of holes, but then I get 'em to calm down and swing a little smoother. Of course, you'll get the guy who hits it sort of far, and he's coming out of his shoes all day.
And when you aren't on the golf course, what do you do for fun?
I love being on the water, wakesurfing and wakeboarding. I'm not thinking about golf. I'm just wondering if my cooler's got enough ice to make it through the day.
Rich Lerner* is a commentator and essayist for the Golf Channel.*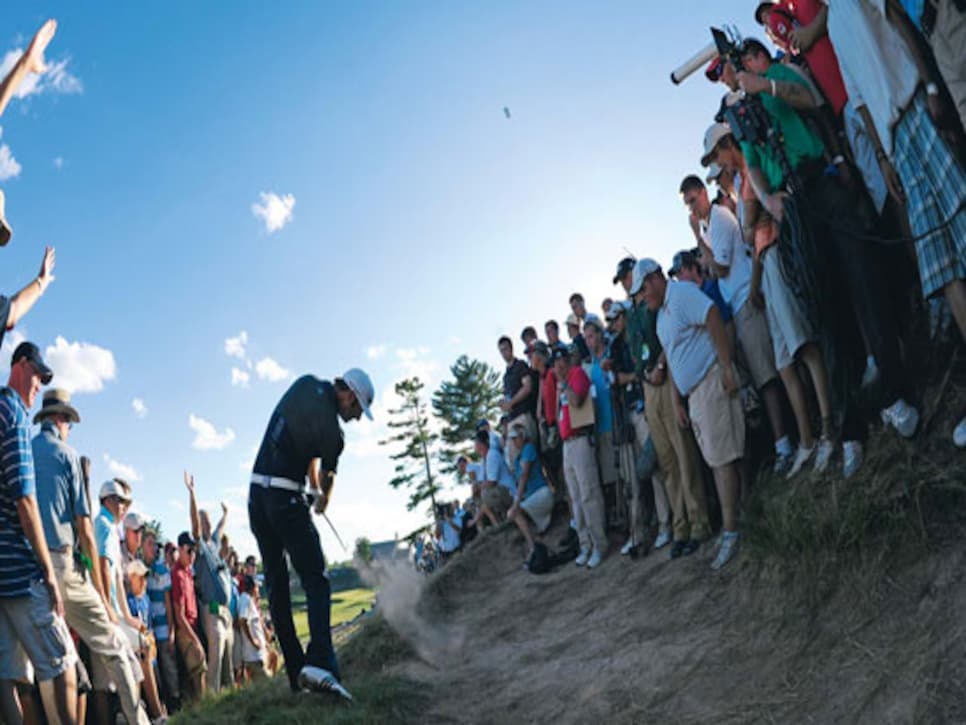 __Johnson was penalized for grounding his club in this bunker at Whistling Straits.