LIV GOLF MIAMI
Dustin Johnson, Bubba Watson say suitors are lined up to purchase stake in their respective LIV teams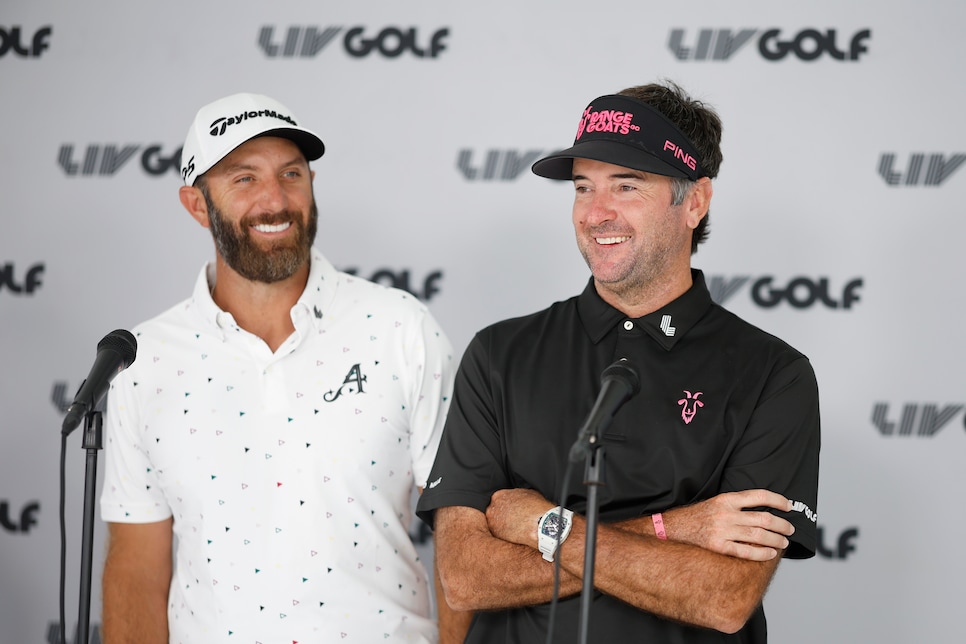 DORAL, Fla. — It's taken a season and change, but Bubba Watson and Dustin Johnson say their LIV Golf franchises have attracted interest from a variety of potential buyers.
Speaking at LIV Golf's $50 million season-ending team championship in Miami, two-time Masters winner Watson said he had been fielding requests from others to purchase his RangeGoats team as far back as April.
LIV Golf has a 48-player roster split into 12 teams of four. The league, which is financed by Saudi Arabia's Public Investment Fund, owns 75 percent of each franchise while each captain has a 25 percent stake.
Captains include major winners like Watson, Johnson (4 Aces), Sergio Garcia (Fireballs) and Cameron Smith (Ripper GC).
Watson would not reveal the price he'd set on his RangeGoats, which includes LIV's 2023 season-long individual champion, Talor Gooch, as well as Harold Varner III and former DP World Tour star Thomas Pieters.
"The evaluation, it's not a small number," Watson said at Trump Doral. He is also part owner of the AA baseball team, the Pensacola Blue Wahoos. "We're pretty high up. Luckily, I've had a franchise, I've been part of a baseball team, so I know how things work and run and been part of those discussions about things.
"[We have had] anywhere from 10 to 20 people have asked to buy the RangeGoats. There were three in Singapore [where Gooch won the LIV Singapore event], and then after Singapore the floodgates opened, there was even more. There's been talk this week. I met with people this week."
Added Johnson, the 2016 U.S. Open winner and 2020 Masters champion: "There's quite a bit of interest. Each team is going to differ. We'll get more into that in the offseason once we are done after this week."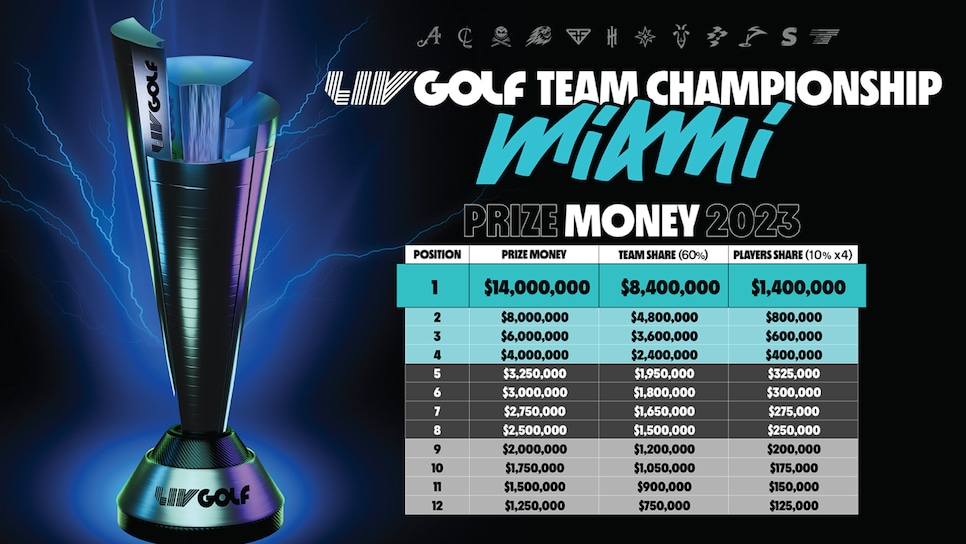 Without Watson or Johnson revealing who the potential suitors were, it's difficult to know what companies LIV franchises would attract and how the investment would work. Perhaps the value in purchasing a LIV team would hinge upon a buyer receiving a percentage of the team's prize money and sponsorship deals. In 2023, Joaquin Niemann's Torque GC had collected $12.5 million before Miami, while Johnson's 4 Aces had won $11.25 million. Bryson DeChambeau's Crushers GC had amassed $9.5 million.
"I do know with the RangeGoats is one you mentioned. It is true there's a lot of interest from individuals who want to buy the team," Norman said. "I would say five months ago that was completely off the table. Now we can sit back here and just entertain what would that mean."
This week, the winner of the team championship will split $14 million among its four players. Second prize will take $8 million and third place $6 million. Even last place at Doral will split $1.25 million.
In terms of sponsorships, the Majesticks GC were ahead of their peers having attracted a digital advertising company, Seamless, as well as OKX, a cryptocurrency exchange, and apparel company Redvanly.
"I don't want just some random company; I don't care how much money it is," Watson said.
Niemann then interjected, "But yeah, there's also a number, right?"
"All that's out the window for the right number."