News
Top Golfer Doctors in America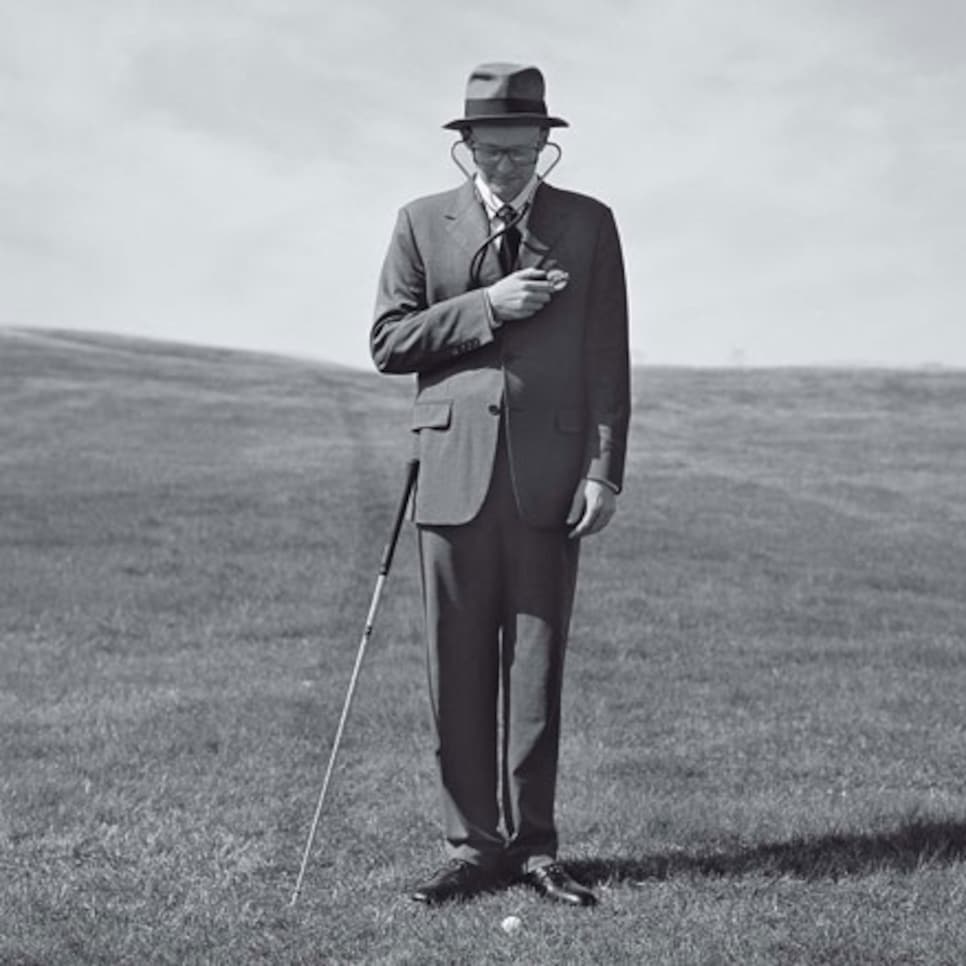 Like many doctors who deal with critically ill patients, cardiologist James Ryan of Columbus, Ohio, knows when to call for help from other experts. In the case of a high school golfer who in 1999 had undergone two open-heart surgeries in five days, Ryan called in several, including Jack Nicklaus, who happened to be visiting his mother at the Ohio State University Medical Center, where Ryan serves as director of nuclear cardiology. When Nicklaus said he'd be happy to visit Ryan's young patient, the doctor asked the boy's mother if her son could handle another visitor. "She asked if it was necessary, and I told her, 'This guy is the best in the world at what he does.' When she said OK, Jack came in, and that kid who'd been hurting physically and emotionally sat bolt upright in bed," Ryan recalls. "Jack could not have been nicer. He gave the boy his home number and told him to call anytime. Then he came back the next day. I couldn't believe the difference it made."
Nicklaus won't be turning to medicine as a second career, nor are the physicians in our first-ever ranking of doctor golfers likely to play golf for a living, but the intersection of golf and medicine is worth noting. Doctors in our Top 100 are very good players--so good, in fact, that several might've been able to play professionally. Mary Budke (No. T-19), now practicing emergency medicine in Eugene, Ore., won the 1972 U.S. Women's Amateur. Oklahoma City urologist Brad Kropp (No. 14) played Monday qualifiers for PGA Tour events while working on his game in Hilton Head Island before turning to medical school. David Sibley (No. 43), a cardiologist in Birmingham, Ala., worked with Bob Toski in hopes of turning pro before deciding that medicine would be more fulfilling. Many more have played serious amateur golf even after establishing themselves in medicine. Vermont radiologist Terry Coffield (No. 23) competed in the 2002 U.S. and 2003 British Mid-Ams; Oklahoma City orthopedic surgeon Rick Ruffin (No. T-16) played in the 1996 U.S. Amateur at Pumpkin Ridge and in five Mid-Ams.
Some, of course, knew medicine would be their future back when they played high school and college golf. For emergency-room doc Chris Lombardozzi (No. T-34, of Spartanburg, S.C.), who played in several high school championships and at Columbia University in New York, the choice was made before first grade. "I had surgery at age 5, and the doctor told me I could have as many milkshakes as I wanted," he says. "That sealed the deal."
Golf Digest's ranking of M.D.s and D.O.s (Doctors of Medicine and Doctors of Osteopathy) required a 6.0 USGA Handicap Index to make the Top 100.We know there are thousands of low-handicap dentists, podiatrists and chiropractors--even Ph.D.s--but those are rankings for another time.
For this compilation we included only doctors with current USGA Handicap Indexes, and that ruled out such golf notables as former tour player (and Golf Digest Professional Advisor) Bill Mallon, an orthopedic surgeon in Durham, N.C., who rarely plays these days. Another criterion: Doctors had to be practicing medicine as of this issue's August cover date. That eliminated such legendary amateurs as Dr. Ed Updegraff of Arizona, and the doctor who would have been co-No. 1 had we published earlier in the year--urologist Chuck Parsons, who plays to a plus-2.3. Parsons, an 11-time club champ at Springfield (Ohio) Country Club, was playing 150 rounds a year before his July retirement.
To locate candidates for our ranking we contacted medical associations, golf associations and doctors listed in the authoritative Castle Connolly annual guide, America's Top Doctors (4th Edition). We also considered doctors ranked in regional magazines and those brought to our attention by their colleagues. Our goal was to identify a mix of low-handicappers and high medical achievers. The biggest surprise? That some of America's most prominent medical specialists manage to maintain low handicaps despite--or because of, some claim--infrequent play. A common refrain: "My Index should be much higher, but I had a couple of good rounds and can't get rid of them."
Of note when examining our Top 100 is the number of orthopedic surgeons, widely known as the jocks of their profession. Fifteen made the list (urologists were next, with eight). If not for medical-privacy laws, several docs could name tour-player patients they've seen. At least one has operated on his club pro.
Each specialty seems to have an explanation for why its members made this list. We heard about the perfectionism of dermatologists, the attention to detail of radiologists, the precise motor skills of ophthalmologists, the easygoing nature of urologists and the advantageous schedules of anesthesiologists. (One admitted switching from surgery to have more time for golf.) Family practitioners might well be underrepresented because of their more erratic schedules. As for neurosurgeons? "We're handicapped by stress," says Luke Knox (No. 18) of Fayetteville, Ark. "We're always worrying about our patients."
Several doctors say they talk and play golf often with their patients, especially in small-town settings. University of North Carolina oncologist Mark Socinski (No. T-52) got to play Augusta National as the guest of a grateful patient. Boston neurologist Howard Weiner, a 12.9 and an acclaimed multiple-sclerosis and Alzheimer's specialist, once played the home course of an immobilized patient who wanted to experience the layout one more time--and did so offering advice from his cart. Stanford psychiatrist John Van Natta (No. T-28) has also played with golfers suffering from Alzheimer's. "They can remember the course," he says. "It's something they can still do."
Tournament play, doctors say, has put their profession into perspective. Says West Des Moines, Iowa, orthopedic surgeon Matt Weresh (No. T-8), who thought of trying for a walk-on spot at Wake Forest--until he realized Wake Forest didn't have walk-ons: "Now I realize there are more important things in life. It makes those four-foot putts not so important."