Richard J. Ferris, a businessman and a golf enthusiast whose contributions to the game were largely behind the scenes, including co-ownership of Pebble Beach Golf Links, died Sunday in Orlando of complications of ALS. He was 85.
A native of Sacramento, Calif., Ferris joined forces in 1999 with the late Arnold Palmer, actor/director Clint Eastwood and former Major League Baseball commissioner Peter Ueberroth to purchase the Pebble Beach Company from Taiheiyo Club and Sumitomo Bank of Japan, returning the resort to U.S. ownership. Ferris and Ueberroth then served as co-chairman of Pebble Beach for 20 years, during which time the iconic golf course hosted three U.S. Opens, two U.S. Amateurs and the annual AT&T Pebble Beach Pro-Am, a popular stop on the PGA Tour. A PGA Tour Champions event, the PURE Insurance Championship benefitting The First Tee, also has been held on the famed links since 2004.
Ferris stepped down in 2020 after being diagnosed with ALS, Lou Gehrig's Disease.
Beyond his involvement with Pebble Beach, Ferris also was integral to the management of the PGA Tour. He became a member of the Policy Board of the PGA Tour Champions in 1985 and then the PGA Tour Policy Board in 1993. He moved from independent director to Tour Policy Board chairman in 1994 and served in that capacity until 2007.
"What I've heard from [former PGA Tour commissioner] Tim [Finchem] and many others about Dick Ferris during his time as chairman was how tenacious he was. When he believed in something, he put his full energy and thoughtfulness behind it, and the tour was certainly the beneficiary of that tenacity," PGA Tour Commissioner Jay Monahan said in a statement on PGATour.com. "Looking back, the growth and acceleration of our business, thanks to his leadership, is simply staggering. Dick was a great friend and mentor to so many, and we will all miss his passion for how he attacked life."
Ferris, who became one of Palmer's closest confidants through commercial enterprises and their shared interest in aviation, was known as a tough businessman who rose to become chairman of UAL Corp., the parent company of United Airlines, Hertz Car Rental and Hilton and Westin Hotels. A graduate of Cornell University and the University of Washington, Ferris partnered with Ueberroth in several hotel ventures before enlisting the help of Palmer and Eastwood to purchase the Pebble Beach Co., which included not only Pebble Beach Golf Links, but also three other courses, including esteemed Spyglass Hill.
When the landmark deal was finalized in 1999, only Palmer, Eastwood and Ueberroth were listed as the primary investors in several news stories. Ferris didn't carry the same cache. He didn't mind, once saying, "to be involved with great partners in taking care of one of golf's greatest properties is as good as it gets."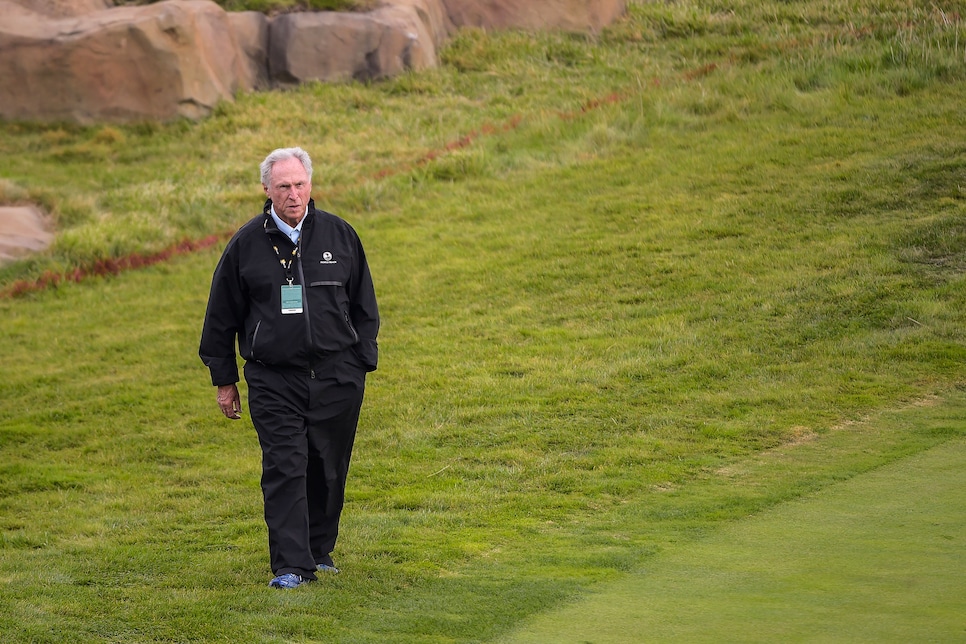 Ferris, seen during the 2015 Presidents Cup in South Korea, became a member of the Policy Board of the PGA Tour Champions in 1985 and then the PGA Tour Policy Board in 1993. He served as Tour Policy Board chairman from 1994 to 2007.
Chris Condon
Said Finchem in a first-person story for PGATour.com: "His partnering with Peter Ueberroth to acquire Pebble Beach is a major piece because of the impact it had. Dick's group took an iconic property and pretty much re-did it to the extent that it has the popularity that it has now. In doing so, their ownership also had a very positive effect on people in golf thinking how you could look at properties like that—iconic places—take them to another level and suddenly attract more people. For the PGA Tour, though, his group's ownership of Pebble Beach immediately partnered it with PGA Tour Champions to promote and strengthen The First Tee.
"You can have a lot of First Tee events," Finchem continued. "When you get to do one on a fairly regular basis at a place like Pebble Beach, it puts it on a whole different level with the television coverage and all the other residual benefits we have received. That was Dick. He knew what we were trying to do with The First Tee, and he did what needed to be done to facilitate things. I owe him a lot, the tour owes him a lot and First Tee kids trying to play the sport do, as well."
In September, the World Golf Hall of Fame announced that Ferris and Ueberroth would be honored March 9 with Lifetime Achievement Awards at this year's induction ceremony for Finchem, Tiger Woods, Susie Maxwell Berning and the late Marion Hollins in Ponte Vedra Beach, Fla., during the Players Championship.
Upon news of the honor, Ferris said, simply: "Giving back to the game and helping others has brought a lifetime of joy. To be so honored is humbling."
Ferris is survived by his wife Kelsey and three children. Funeral services are pending.