News
Despite spring's rough weather, officials—and northern venues—remain confident in a May PGA Championship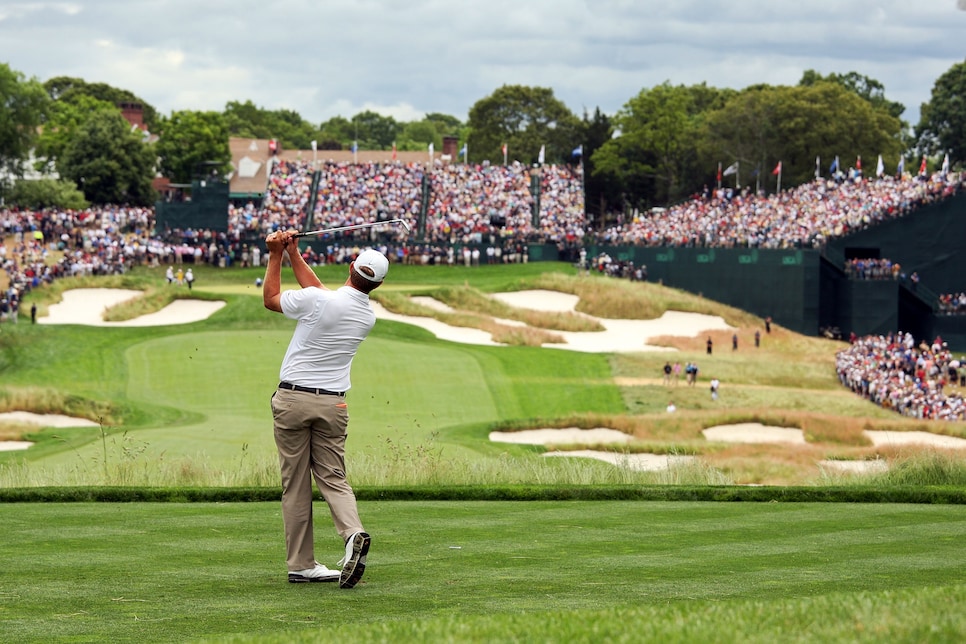 Photo By: Ross Kinnaird/Getty Images
There was no one specific image that stands out in Kerry Haigh's mind, or at least not one that he can recall. It is more of a montage, something you see in a movie that encapsulates two months of action into two minutes. And to Haigh, the chief championship officer of the PGA of America, each scene in this sequence was the same.
"Weather not great for golf," is how he described the climate this spring.
A glance out the window for many Americans revealed a similar sight. A dozen states in the North and Midwest experienced the coldest, wettest March and April on record. The conditions were a nuisance for the golf industry, delaying the opening of courses throughout the region. But for the PGA of America, they were more than that. They fed into the prospect of a potential nightmare scenario for the association.
This time next year, the organization will conduct its flagship event, the PGA Championship, for the first time in mid May. It's a date on the schedule that some feel is not conducive to major competition at northern venues in the United States, the fickle spring weather possibly wreaking havoc on the championship that's moving from its traditional August date as part of a larger change to the overall professional golf calendar. And it's not just in the actual playing of the event proper that is the issue, but also the 12 to 14 weeks preceding it that are needed to set up merchandise tents, corporate villages, and the entire infrastructure necessary to support a modern major championship. Bad weather could stall those preparations, a concern only amplified by what's taken place this year.
"This spring has been an interesting test," Haigh concedes. "All these Nor'easters, snow dropping not too long ago."
Yet, to many PGA of America officials—and the venues suited to host the PGA Championship—it's a test they feel they can pass.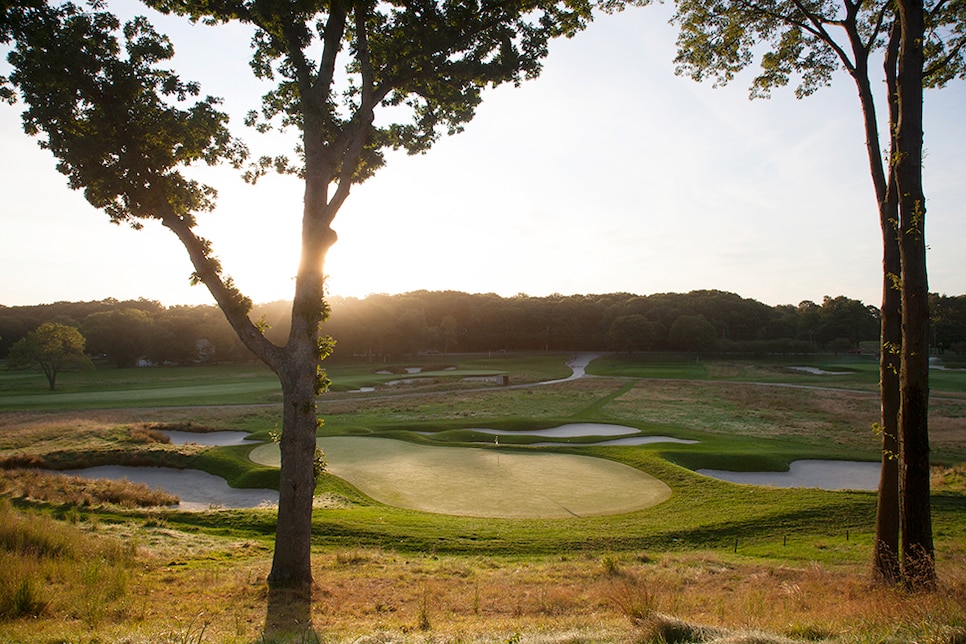 Let's start with Bethpage, which will face the brunt of the pressure next May by being the first course to host of the championship's new calendar spot. That in and of itself brings with it an inherent burden, one exacerbated by the fact this is the first time it will host a PGA of America championship. The 2024 Ryder Cup also is scheduled to come to the Long Island course, and a source told Golf Digest that officials view Bethpage as "essential" to the PGA of America's long-term plans.
This time last spring Golf Digest's architecture editor, Ron Whitten, went to the Farmingdale, N.Y., course to discover what a May PGA might look like, and came away with positive findings. "The place was wall-to-wall green," Whitten wrote. "Trees were fully leafed. The primary roughs, a hodgepodge of bluegrasses, ryegrasses, fescues and even a bit of Poa annua, were densely green, if a bit clumpy: shoe-top deep at one spot, ankle deep at another. Attribute that to different growth rates of the varieties of grasses. One sweep by a rough mower, and everything would be a uniform depth."
But that was after a tame winter and spring, and Andy Wilson, Bethpage's director of agronomy, conceded, "It's up to Mother Nature more than anything else. If she wants to beat us, she'll beat us and we'll recover."
So after She threw her best punch, has Wilson's outlook changed? Not in the slightest.
"We came out of this winter fine," he said. "We are a little behind a typical spring, but the course is green and the park has a spring look to it."
Wilson admits the rain, snow and cold complicated matters, and mentions the trees aren't as far along in leafing out as usual. However, all systems are operational. "The greens, fairway and tees are ready for the PGA," Wilson says. "The playing surfaces are very good right now. We will have to change some practices in taking care of rough, especially high rough, to leave certain areas undisturbed in the fall to have a good look in the spring."
A recent visit by Golf Digest confirmed as much. Contrasted against other Northeastern facilities, both public and private, you'd be forgiven if thinking Bethpage was sheltered in a dome the past six months. Aside from the fescue failing to brandish a golden tone seen in the summer months, the course is just as scenic, if not more so, than its turns as U.S. Open host in 2002 and 2009 or when it held the PGA Tour's Barclays in 2012 and 2016.
"Even with the unreasonable weather, we were very pleased with what we saw," said Haigh, whose team visited Bethpage for three days last week. "Pleasantly surprised, given the winter."
Wilson, who helped prepare the Black for the two U.S. Opens, goes so far in stating the course is better suited to entertain in May.
"For cool season grasses like poa, May provides better growing conditions," he says, while mentioning taming weeds will be slightly easier than in August. Adds Haigh: "The people, and players, are going to like what they see."
But what about the weather the week of? As of this story's posting—a date that will be a PGA Championship tournament round next May—it's a high of 60 degrees at Bethpage, with the forecast calling for rain every day this week.
To a person, every official proverbially shrugged, and rightfully so. There's only so much you can control, and weather doesn't fall in that purview. (Recall that wet weather hits the course both Junes when it hosted the U.S. Open, forcing a Monday finish for the 2009 championship.) Haigh offers an interesting counter, though, to those ridiculing the potential complications it could bring the tournament.
"We've been hosting the Senior PGA Championship in May the last 17 years, and we've had fewer weather delays and issues than the PGA in August," he says.
An important detail, the Senior PGA. Which turns our attention upstate to Rochester.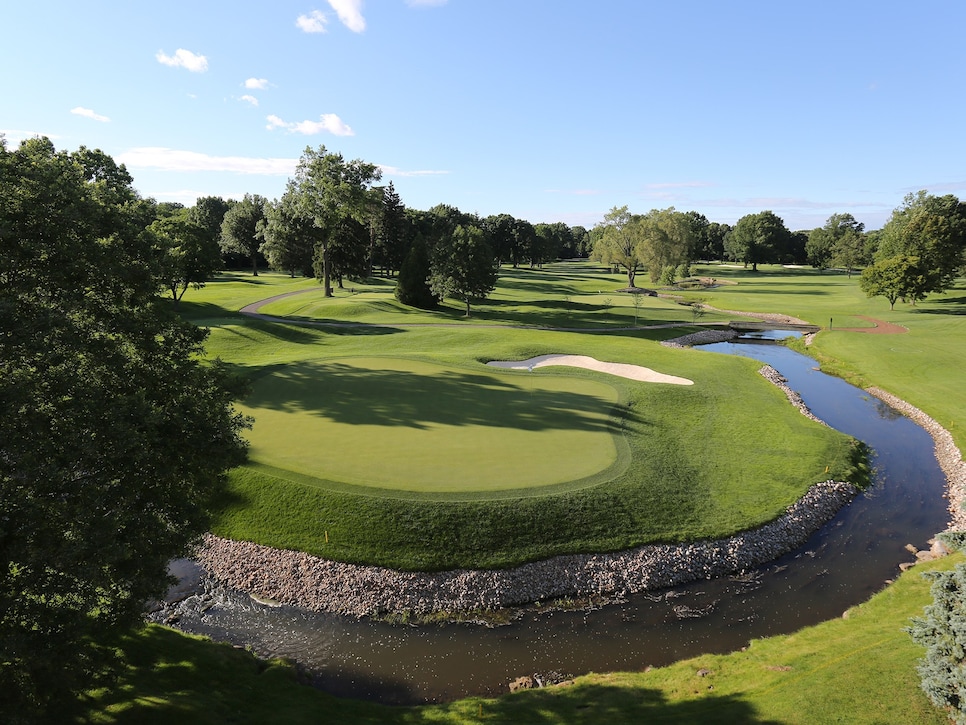 Even before the PGA's official announcement last summer that it was moving the date of the championship, some speculated that Oak Hill, scheduled to host the 2023 edition, could be in jeopardy as a May venue when the prospect of a date change was being discussed. The weather that northern New York experienced the past three months—record lows were recorded as late as mid-April—did little to alleviate these worries.
While granting the weather put his crew "a week or two" behind schedule, Jeff Corcoran, Oak Hill's manager of golf courses and grounds, seems far from stressed. "I believe that everyone has the perception that the weather in Rochester in May is cold, wet, and that we are still recovering from winter," Corcoran says. "In reality, the weather averages right around 70 degrees, with a low humidity making for excellent playing conditions."
Similar to Wilson's assessment of Bethpage, Corcoran thinks May is the preferred choice, saying the golf course has a tendency to be "more tired" from the stresses of the golf season at the end of the summer. He also notes humidity levels are higher, as is average rainfall, in August.
Corcoran doesn't have his head in the sand, and is the first to say he'd be a fool not to wish for a more milder winter in 2022-2023. But with conviction, he states another difficult weather spell wouldn't be the death sentence people are predicting.
"The majority of our cultural programs [such as aeration] will have been taken care of in the previous fall, so if history were to repeat itself and we had a similar spring, I believe our tournament preparations would not be affected," he said. He further elaborated that Oak Hill's staff will increase in number during tournament prep, with the sole focus on the 18 holes of the championship. Basically, a bad winter and spring would be tempered in effect compared to a "normal" year.
According to Haigh, that goes for set-up, too. Yes, working in the rain and snow is not ideal, and it could slightly delay the outside-the-ropes operation. But he's confident the majority of what needs to get completed in the three months leading up to the tournament can be done, no matter the weather.
Corcoran and Haigh are not just being company men. A source close to the PGA of America braintrust said the organization is "absolutely committed" to Oak Hill "not just for 2023, but beyond." However, an interesting conjecture came up. Oak Hill and the PGA will get a trial run in 2019, as the course hosts the Senior PGA Championship the last week of May next year. If—and make no mistake, it is a big "if"—the course truly isn't ready, the PGA of America has a four-year window to come up with an alternative plan, including finding a substitute venue.
It's worth noting that Oak Hill hosted the 2008 Senior PGA Championship in May without incident (save for the scoreboard; Jay Haas' seven-over-par 287 was the highest winning score in tournament history). Given the course's impressive track record, something would have to go severely wrong for the need to find a new home to be considered. Oak Hill did not suffer any real damage following this spring, and remains on track for the 2019 Senior PGA.
"Aside from the golf course, the Oak Hill membership and PGA of America staff have been working diligently on the planning for approximately two years," Corcoran said. To him, the course is ready.
Golf will collectively see, as Bethpage and Oak Hill will be on center stage soon. But what about those courses with PGA of America ties whose futures are unknown?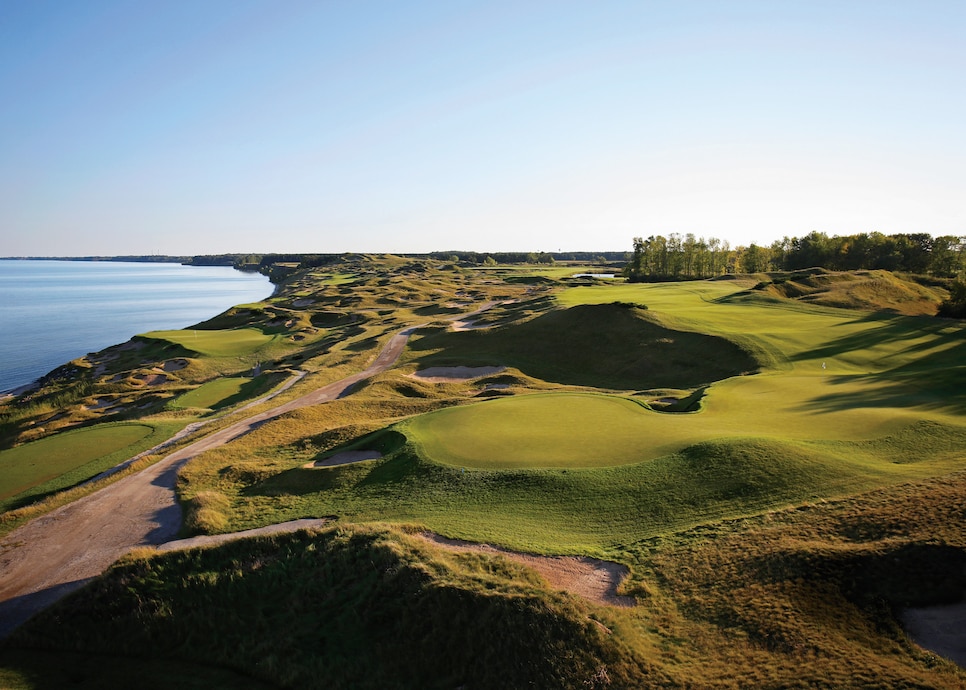 For one of the numerous selling points of the PGA Championship moving to May was the possibility of visiting sites unable to host in the past.
"Some of our more Southern venues would be even more appealing with less heat and more challenging playing conditions," Pete Bevacqua, PGA of America CEO, wrote in a story for Golf Digest last August. Most notably Texas (which hasn't hosted a major since 1969), Florida (1987), Alabama and Mississippi, the Great Plains and parts of California.
There was a caution, though: A handful of historical venues—specifically in the North—could fall out of the PGA rota. Bevacqua maintained this was not the case, but, coinciding with the PGA's announcement at Quail Hollow, the AP reported that previous northern hosts, such as Whistling Straits, would no longer be considered as viable options.
It's easy to understand why Whistling Straits is a potential casualty of the date change. Though it has become a Wanamaker mainstay, hosting the tournament three times in a 12-year span from 2004 to 2015, its locale 60 miles north of Milwaukee on the edge of Lake Michigan—a body of water whose environs are so vicious songs have been written about it—does not seem favorable to championship golf in May.
However, checking in with Michael Lee, manager of golf maintenance at Whistling Straits and Blackwolf Run, the current topography is far from an arctic, "Game of Thrones" scene.
"The nice thing about the Straits course is the fairways are sand based, so they warm up a lot faster than our other three golf courses," Lee said during the first week of May. "We don't have any evidence of turf loss, which is always a major concern." Certain interactions with the turf were delayed because of the weather, Lee said, although that allowed for work on other projects dealing with erosion areas or cart paths.
Not everything is quite up to snuff from the rough spring. "We're ahead and behind schedule," Lee says. Some of the things that require the grass to start growing, to fill in, for the course to play like summer conditions, are not happening.
And yet, the interminable cold the area experienced is not the worst-case scenario. A bigger problem for Lee is an unexpected warm week in late winter, followed by more snow and cold. The course has already started it's maturation process, causing everything to shut down.
"The analogy I always use is bringing a poinsettia plant right in, and then putting it in a freezer," Lee says. "It just goes into shock."
Moreover, while the aesthetic plays a vital role in a championship's presentation, Whistling Straits' links profile de-emphasizes the need for a panorama of green. "That's something we can get away with that others can't," Lee said.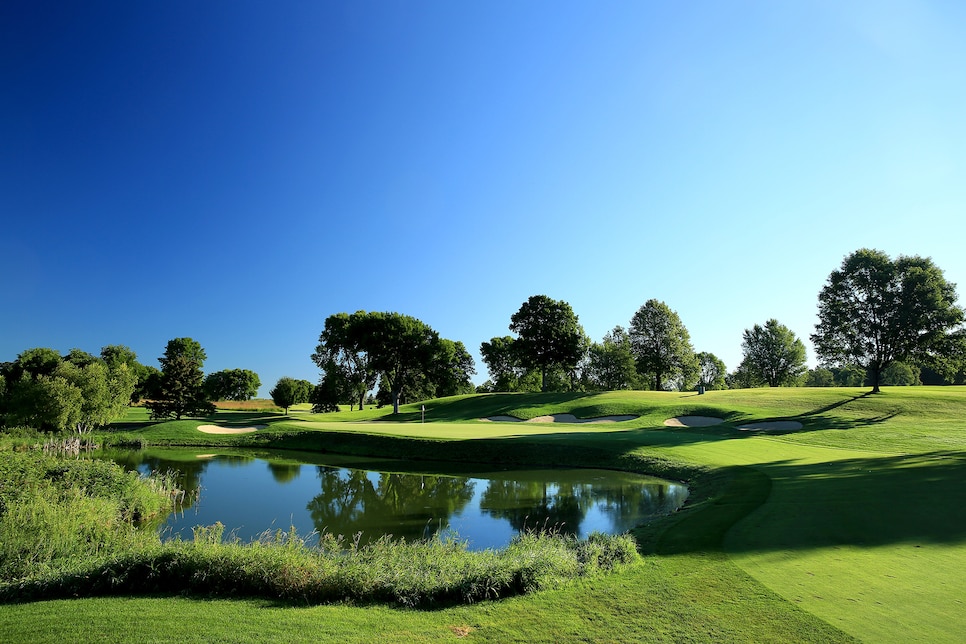 David Cannon/PGA of America via Getty Images
So would Whistling Straits be able to host the PGA Championship in its new date? It hinges on one question.
"Where is the rough in May?" Lee says. "The playing surfaces, we have a high degree of confidence to get those to be well-received, firm enough, championship-like. It's getting the fescue grasses high enough to provide the challenge they are looking for. That could happen and could not, depending on the spring."
Herb Kohler, whose American Club resort owns the course, told Golf Digest that officials deem the health of the fescue integral for Whistling Straits to host the championship, asserting it not only gives the course its primary aesthetic, but its character.
Certainly, not every historical course will be in the future PGA Championship running. Hazeltine National outside Minneapolis was another site mentioned in the AP report. Though the club said it had not been told it was no longer a PGA Championship candidate, some could construe that the PGA of America being so quick to return the Ryder Cup to Hazeltine in 2028, becoming the first venue to serve as repeat host, could be a peace offering.
Might Whistling Straits, set to host the 2020 Ryder Cup, be in this boat as well? Perhaps, but it should be noted that's not a sentiment shared by all at the PGA of America.
"We'd absolutely consider going back [to Kohler, Wis.,] for another PGA," Bevacqua told Golf Digest in 2017, noting the "off the charts" success the tournament had in 2015. "Every site has issues. Every site has positives."
An appropriate summation of the PGA Championship's new date. Haigh says the decision of change dates from August to May was not come to lightly, that historical weather patterns were studied and analyzed, and fans will like what they see.
"We anticipate the courses, the tournament, to be healthier," he says. "Maybe, even more interesting."
And that whatever frostiness towards the new date will soon be melted.