Cool Finds At The Annual Golf Show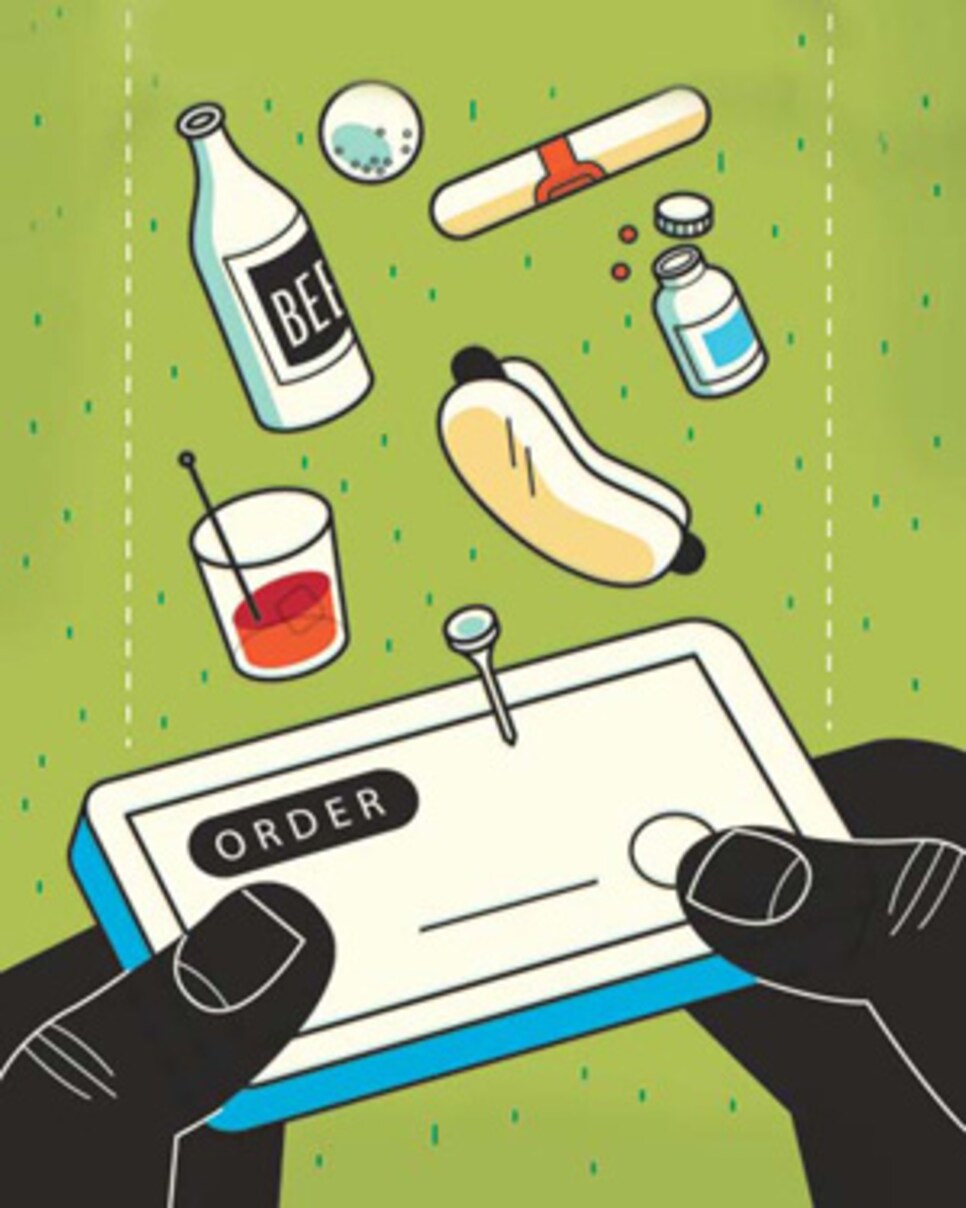 An especially annoying law of the universe is the Refreshment Uncertainty Principle, which states that the thirstier you are, the longer it will take the beer cart to reach your hole.
A possible workaround has been devised by Adam Emerson, a 26-year-old former professional online poker player from Plano, Texas. He has created a (1) GPS-assisted smart phone app, called SmartCart, that will let you order drinks, hot dogs, cigars, golf balls, Advil and anything else a golf club wants to sell you, and have your order delivered, pronto, to your location on the course. There are a few details to be worked out, including the app itself, but you can get updates by following SmartCart Service Systems on Facebook.
I met Emerson in Orlando, at the recent PGA Merchandise Show, an annual golf-product bazaar. This year's show was much smaller than the first one I attended, in 1992, but visiting every exhibit nevertheless involved roughly as much walking as playing 36 holes (which I also did). During my wanderings, I met Glenn Atkinson, who has been working on the golf-refreshment problem, too, but from a different angle. His invention is (2) Coolheads, which are headcovers that also function as insulated beverage coolers (mycoolheads.com
). You remove yours from your driver before you tee off, clip it (upside down) to the top of your bag, and load it with ice and a couple of beers. Unadvertised bonus: Not fussing with headcovers between shots can shorten a round by five or 10 minutes.
Coolheads clip to your bag with a carabiner (included). For your other headcovers, you might want to pick up some CoverGuards, which are stretchy, foot-long tethers that work like mitten clips (thecoverguard.com
). I used one during a research round at Rio Pinar Country Club, in eastern Orlando, and managed to play all 18 holes without losing my putter cover -- a personal best. I have one suggestion for the manufacturer: Think about also making CoverGuardGuards.
Last month, I wrote about the advantages and disadvantages of laser versus GPS yardage-measurement devices. I almost suggested that a way to settle the matter, once and for all, would be to combine a laser and a GPS in one unit but rejected the idea as excessively obsessive-compulsive. Well, on the first day of the show, __(3) Bushnell proved me wrong by introducing the Hybrid (bushnellgolf.com
)__. It's small enough to fit in a pocket, and it weighs less than my first-generation laser. It also complies with golf's yardage rules because neither its laser nor its GPS component measures anything but distance. And if $500 strikes you as too cheap for a self-given Father's Day present, you can run up the tab with accessories: golf-cart mount, pushcart mount, car charger and extra battery pack. Heck, why not pick up two battery packs and use the second to recharge the first?
Among the clear hits of the show were some unusual golf shoes, called (4) True Tour, which look a little like Earth Shoes and a little like Crocs: The front end is wide, allowing your toes to spread out the way they do when you walk barefoot, and there's almost no heel (truelinkswear.com
). A teaching pro who works for the company told me, "It took me a week to get over it, visually." But golfers learn to love the look, he said, and are often able to throw away their orthotics, like crutches at a revival meeting. The company's reps brought 300 pairs to Orlando but had to stop selling them after just a few hours because they were running out. By the time I got to the booth, they no longer had my size, but the ones I tried on -- which were half a size too small -- were still the most comfortable golf shoes I've ever worn. I ordered a pair ($159) in my correct size as soon as I got home.

Photos courtesy of companies.