Wins by 11
David Ford's closing 64 leads U.S. to victory in the World Amateur Team Championship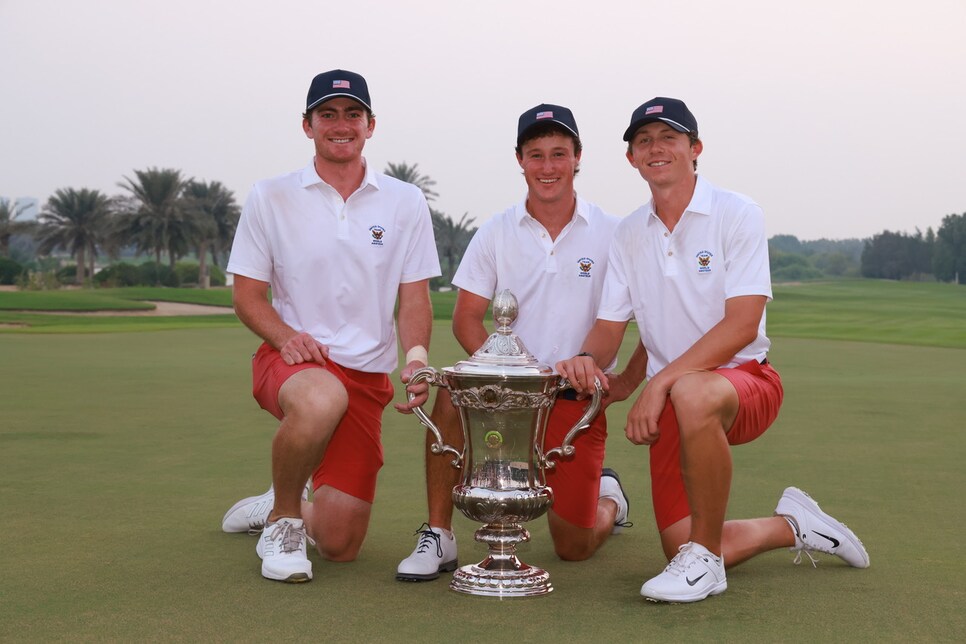 Steven Gibbons (503) 708-0376
University of North Carolina senior David Ford closed with an eight-under par 64 to lead the U.S. to an 11-stroke victory in the 33rd men's World Amateur Team Championship, earning on Saturday its first Eisenhower Trophy since 2014.
Ford's round at Abu Dhabi Golf Club in Abu Dhabi, UAE, included four birdies and an eagle on his first six holes and a front-nine score of 29 on Saturday. The American three-man team that included Nick Dunlap and Gordon Sargent completed 72 holes with a score of 36-under par 540. Norway and Australia tied for second at 25-under 551. Only a team's two lowest scores each day counted. Dunlap's final-round 68 was the other counting score for the U.S.
The individual champion was Kazuma Kobori of New Zealand at 16-under par 272, one shot ahead of Dunlap, ranked fourth in the World Amateur Golf Ranking. Ford, ranked fifth, and Sargent, ranked second, tied for fifth at 13-under 275.
The 30th women's World Amateur Team Championship will begin on the same course on Wednesday with the Espirito Santo Trophy at stake.